Hey there! This post may contain affiliate links. As an Amazon Associate, I earn a teensy commission from qualifying purchases when you buy through these links (at no additional cost to you). For more info, please check the full disclaimer.
If you feel nervous about getting a mammogram, you are not alone. Many women feel the same way. But remember that this scan can be a lifesaver if you know how to prepare for a mammogram beforehand.
A mammogram is essential to women's healthcare, as it can identify potential cancerous or non-cancerous tumors in the early stages. Appropriate preparation, knowing how the procedure is done, and what to expect after the scan can help ease the nerves.
What is a Mammogram?
Mammogram is an X-ray scan of the breasts used for screening and diagnosing breast cancer in women. Regular mammograms can detect early stages of breast cancer, even before the lumps can be felt.
According to the Radiological Society of North America (RSNA), mammograms precisely and accurately detect the presence of tumors in about 87% of women in the United States.
This blog will discuss how to prepare for a mammogram and what you can expect during the procedure so your appointment goes smoothly.
Read More: 15 Useful Tips to Prevent Cancer
Why Do You Need a Mammogram?
Mammogram uses X-rays in low dosages to capture images of the breast tissues. These images are either stored on a film or a digital copy is produced, which is then examined by an expert to detect the presence of lumps or any other abnormalities.
A mammogram can be used for screening and diagnosing breast cancer, which are discussed below:
A screening mammogram is used to detect the presence of breast cancer in people without any apparent signs or symptoms of breast cancer.
Periodic screening tests are performed for early cancer detection, so the treatment can begin when the tumors are smaller and easier to treat.
It involves two pictures of each breast taken from different angles so that the entire chest is captured.
The US Preventive Services Task Force (USPSTF) recommends that women over the age of 50 years should go for a mammogram once every two years.
Women younger than 50 at an increased risk of breast cancer due to a family history or history of ovarian cancer should talk to their healthcare provider before they prepare for a mammogram.
Read More: 10 Essential Yearly Health Screening Tests for Women
A diagnostic mammogram is performed on women that are suspected of breast cancer.
In the presence of lumps, abnormal discharge from breasts, breast pain, or other possible indications of breast cancer, healthcare providers also refer patients for a mammogram.
A diagnostic mammogram involves the regular screening test with additional X-ray scans of potential tumors, spot compression, and any other tests the physician may find necessary.
According to the American Cancer Society, fewer than one in ten women are called for further tests after the initial mammogram.
Read More: Breast Cancer Self-Check Guide (With Freebie)
How to Prepare for a Mammogram?
You are at a high risk of breast cancer or found a particular spot or a lump on your breast, and your physician has recommended a scan.
You might be super nervous as you prepare for a mammogram.
Here is a list of things you should know before your first mammogram appointment.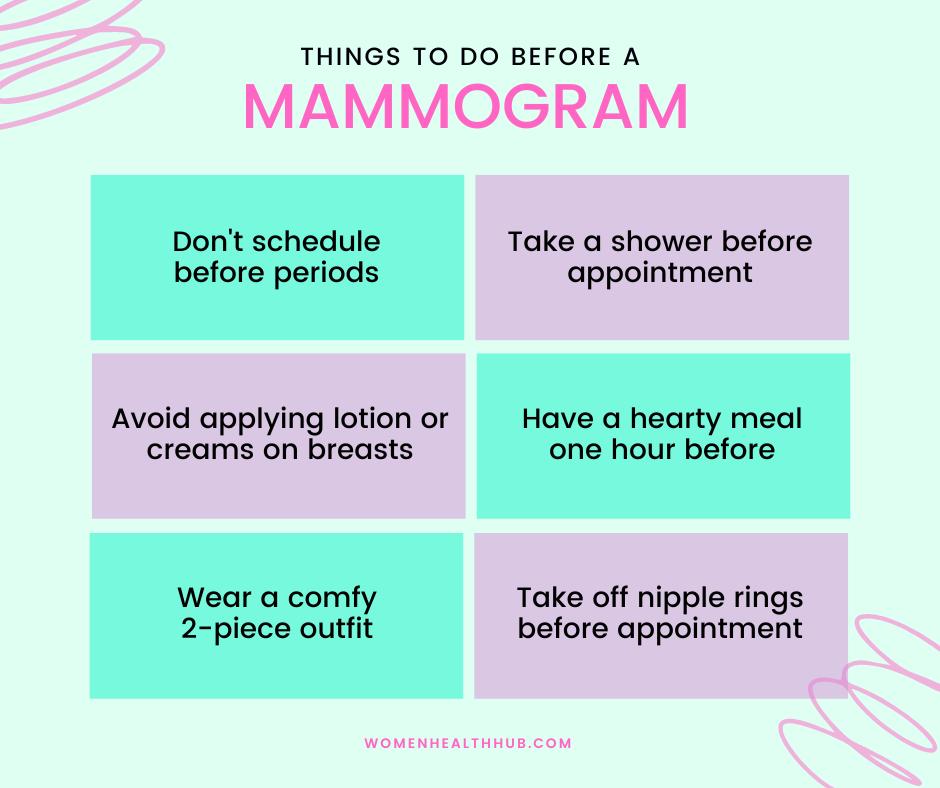 1. Consult Your Healthcare Provider
Before booking a mammogram appointment, consult your primary physician. They may know of a facility that specializes in mammograms and is better suited for you.
Your physician can also provide information about the procedure and help alleviate your anxiety. They can also recommend any additional tests or procedures based on your previous medical records.
2. Choosing the Facility
As you prepare for a mammogram, choose a facility specializing in the field and performing several mammograms daily. They will probably have experienced staff and state-of-the-art equipment.
Opt for a facility that is accessible to you easily so you can go to the same facility for future scans. Take your previous medical records that you think are relevant to mammograms or breast cancer.
3. Avoid Scheduling Before Periods
Before booking a mammogram session, track your menstrual cycle and ensure the appointment is not scheduled just before your periods start or the week before menstruation.
Many women have swollen and tender breasts at least a week before menstruation begins, which increases discomfort during the scan. The best time for a mammogram is a week after your period ends.
4. Avoid Cosmetics
Avoid using deodorants, perfumes, lotions, or creams on your breast or under your arm when you prepare for a mammogram. These products contain chemicals that can appear on the images as white spots that can be confused as abnormal growth on breast tissues.
Let your technologist know if you accidentally apply deodorant or perfume before your mammogram. They will provide wipes or ask you to wash the product from the affected area.
Read More: 50+ Breast Cancer Facts and Statistics
5. Shave Armpits
It's important to shave your armpits before your scheduled mammogram. The images also screen the axilla in the armpits, and they should be properly visible to detect early breast cancer signs.
6. Take a Shower
Experts also recommend taking a bath prior to your mammogram. It can help remove previous residue from creams or lotions that may distort the mammogram results. Plus, it's hygienic.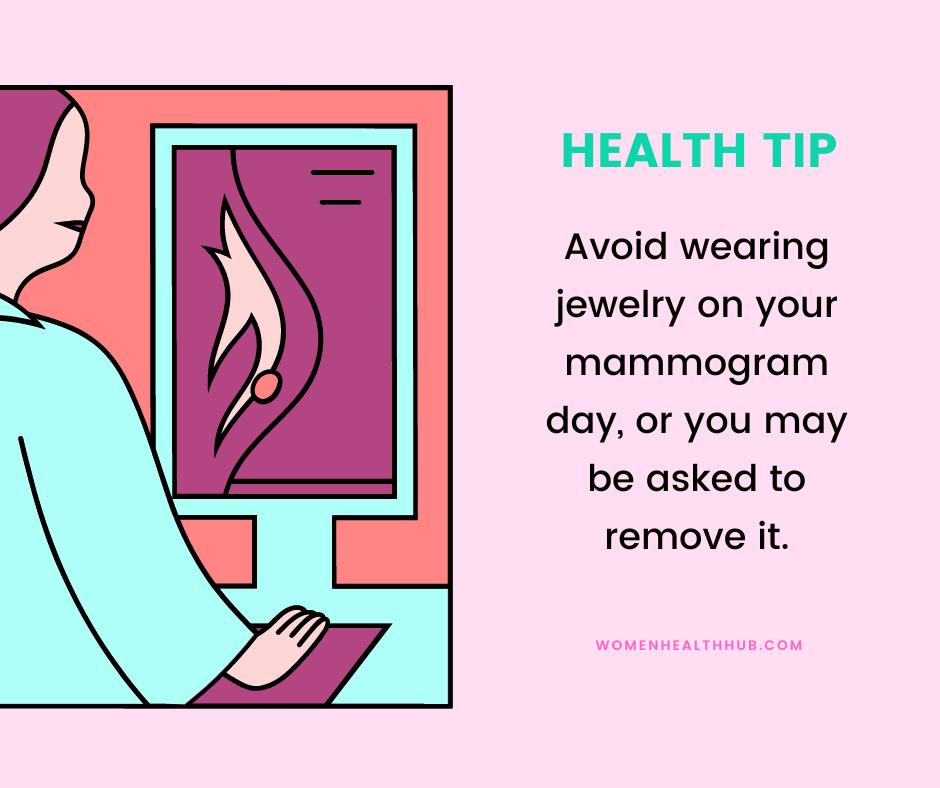 7. Reduce Your Anxiety
Going for a mammogram is scary, and many people feel anxious and jittery as they wait for their turn in the clinic's reception room.
As you prepare for a mammogram, remember that only one in ten women are asked to return for more tests. Even though the statistics are on your side, in the case of bad news, early detection merely increases your chances of surviving cancer.
8. Bring Your Support System
Bringing your parent or partner can comfort you and help you relax while waiting your turn. Having your support system by your side can alleviate anxiety and nervousness, making the experience less daunting.
You can bring your friends to the scan to lighten the mood. You can also ask your friend group to get screened together.
9. Skip Caffeine
As you prepare for a mammogram, you can follow your day-to-day routine. You can eat, drink, sleep, and exercise per your daily schedule.
However, a study has shown that caffeine restriction decreases breast pain in women. If you have breast pain or tenderness, abstaining from caffeine at least three days prior to your mammogram scan may be beneficial.
10. Eat a Healthy Meal
Experts also recommend eating a hearty meal at least an hour before a mammogram. This way, you will not feel hungry before the process. There are normally no restrictions for a pre-mammogram diet, so you can consume anything you like.
Read More: 70+ Best Breast Cancer Prevention Foods
11. Accessories
You will be asked to remove all accessories before the start of the scan. Necklaces and piercings can distort the images obtained from the scan and increase the possibility of false positives or negatives in the mammogram examination.
If you have nipple piercings, remember to remove them when you prepare for a mammogram.
12. Selecting an Outfit
On the day of the mammogram, wear a comfortable outfit. Ensure it's a two-piece ensemble like trousers, pants, or a skirt to remove your top easily. After you strip, you will be given a gown for the scan.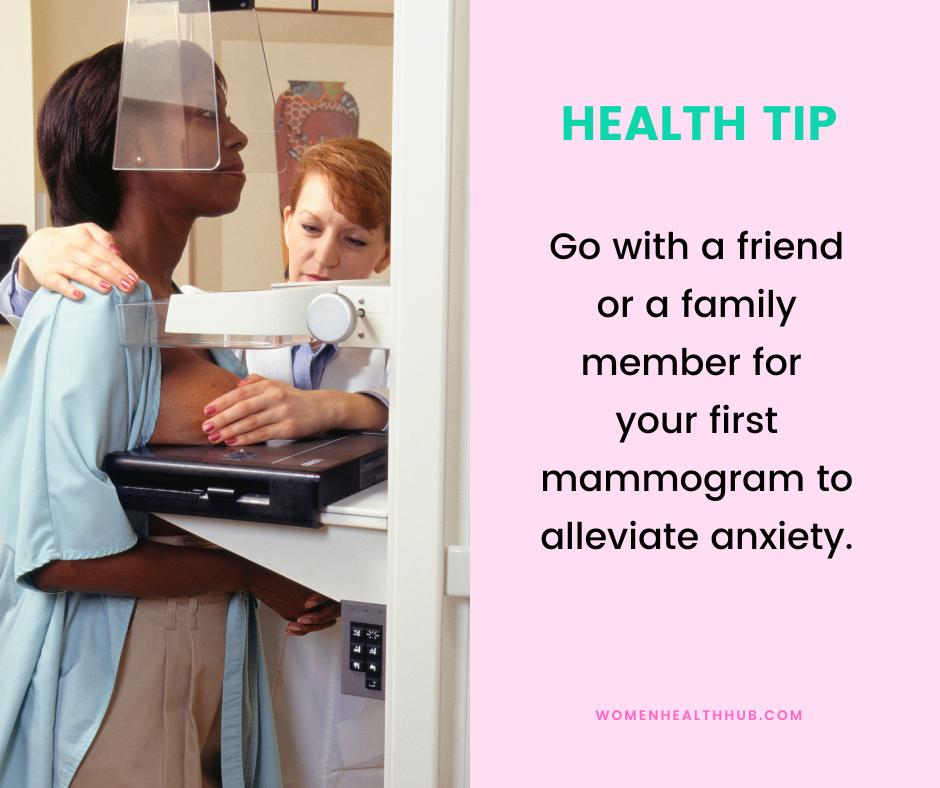 13. Medical History
Before taking the mammogram, discuss the concerns that compelled you to get a mammogram.
This may involve discussing recent changes in your breasts, breast implants, personal medical histories, like ovarian cancer or other relevant conditions, and pregnancy and lactation status. Also, disclose if there is a history of breast cancer in your family.
Read More: 11 Alarming Symptoms of Ovarian Cancer
What to Expect During a Mammogram?
Besides knowing how to prepare for a mammogram, it's also critical to know what to expect during a mammogram procedure.
When you arrive at the health facility, you may be asked questions about your health and your family's medical history. The receptionist will ask you to wait until your turn arrives.
Before the mammogram, you'll be given a gown and asked to remove your top and bra. You and the technician will be the only ones in the room.
The radiologist will then ask you to place your breast on a breast support plate, and another plate firmly pushes down onto your breasts.
Breast compression balances the distribution of breast tissues so that the X-rays are evenly delivered.
You might feel some pressure on your breasts, but if you are unable to tolerate the pain, you should inform the technician so they can adjust according to your pain threshold levels.
For the screening test, images from two different angles are taken. The first image will be from top to bottom, and the second will be from the side angle of the breast.
As the images are captured, you may be asked to hold your breath for 2-3 seconds. The exact process will be repeated for the second breast as well.
When you prepare for a mammogram, keep in mind that it takes less than thirty minutes to complete the entire procedure.
What to Expect After a Mammogram?
After the mammogram, the radiologists will examine the quality of the images to determine if they have an adequate view of the entire breast.
A complete result of the report will be sent to you from your healthcare provider. Call the health facility if you don't get the results within ten days.
Don't panic when asked for a follow-up, especially if it's your first mammogram. The first screening does not have previous scans for comparison and can reveal 'suspicious' findings.
The Bottomline
A mammogram is intimidating for any woman, but it's the right step for fighting against breast cancer. Earlier detection of breast cancer improves the quality of treatment and lowers the rate of mortality. As you prepare for a mammogram, consult your primary healthcare provider, avoid scented products, wear comfortable two-piece clothing, and ensure you bring support.
References:
https://tinyurl.com/mayoclinic-mammogram
https://my.clevelandclinic.org/health/diagnostics/4877-mammogram