Hey there! This post may contain affiliate links. As an Amazon Associate, I earn a teensy commission from qualifying purchases when you buy through these links (at no additional cost to you). For more info, please check the full disclaimer.
Rheumatoid arthritis (RA) is a battle against stiff joints and chronic pain. While various medicines play a crucial role in treating this autoimmune disease, many women also find certain home remedies for rheumatoid arthritis useful to curb the pain.
Most of the ingredients used in these methods decrease the severity of inflammation in the joints. They can be a powerful tool and complement conventional medicine, improving the overall quality of life.
This blog delves into different ways to treat rheumatoid arthritis pain at home using easily available ingredients and natural therapies.
What is Rheumatoid Arthritis?
Rheumatoid arthritis is an autoimmune disease in which the immune cells attack and destroy the cells of bones and cartilage. This damage results in inflammation of cartilage, deforming the joints and triggering pain.
According to Centres for Disease Control and Prevention (CDC), rheumatoid arthritis is diagnosed in 24.7% of women in the USA.
Following are the sites where the symptoms of rheumatoid arthritis are commonly seen:
Fingers
Hands
Wrists
Knees
Ankles
Feet
Toes
It can also affect other body organs, such as the eyes, lungs, and heart.
Read More: Best Treatments for Rheumatoid Arthritis in Hands
What are the Main Causes of Rheumatoid Arthritis?
Rheumatoid arthritis is a complex disease, and a variety of factors play a part in its onset and progression. Recent efforts to pinpoint its cause have shown inconclusive evidence.
Many elements have the potential to heighten the levels of inflammatory substances or trigger an overactive immune system. Some of these risk factors are discussed below:
Genes play an essential role in the onset of rheumatoid arthritis and are seen to be present within families.
Women are 2-3 times more susceptible to rheumatoid arthritis.
Rheumatoid arthritis is more common in women older than 65 years of age.
Obesity increases the burden on the weight-bearing joints, increasing the risk of rheumatoid arthritis.
Smoking promotes inflammation in the body and exacerbates the symptoms of rheumatoid arthritis.
Even though these factors are considered potential contributors, the origin of rheumatoid arthritis is unknown, and the interplay of these factors is not fully understood.
What are the Symptoms of Rheumatoid Arthritis?
In the early stages, rheumatoid arthritis tends to affect the smaller joints of your hands and feet. Over time as the disease continues to progress, it starts to affect the weight-bearing joints of the body, including knees and hips.
The most common symptoms associated with rheumatoid arthritis are:
Swollen, tender, and warm joints
Stiffness in joints, particularly after a period of inactivity
Chronic joint pain
Some other symptoms that usually occur as a result of inflammation in the body are:
Fever
Fatigue and tiredness
Weight loss
Decreased appetite
The symptoms of rheumatoid arthritis vary in intensity and tend to come and go. The period where these symptoms are apparent and affect the life quality of patients is called 'flares.'
Read More: Tips to Reduce Risk of Osteoporosis Fractures
What are the Most Effective Home Remedies for Rheumatoid Arthritis?
Natural remedies can play a significant role in helping with rheumatoid arthritis pain. While they may not be a definitive long-term cure, they can be used to reduce inflammation, offer pain relief, and improve overall health.
Some beneficial naturopathic remedies for rheumatoid arthritis are discussed below:
1. Ginger
Ginger is a common household herb famous for its unique flavor and smell in foods. It is also well-known for its anti-inflammatory properties and is an effective treatment for rheumatoid arthritis symptoms. Ginger reduces inflammation of the joints, swelling, and stiffness.
If you find fresh ginger repulsive, you can use ginger powder with a milder taste and aroma. Ginger powder decreases the production of inflammatory compounds in the body, reducing pain and associated symptoms of rheumatoid arthritis.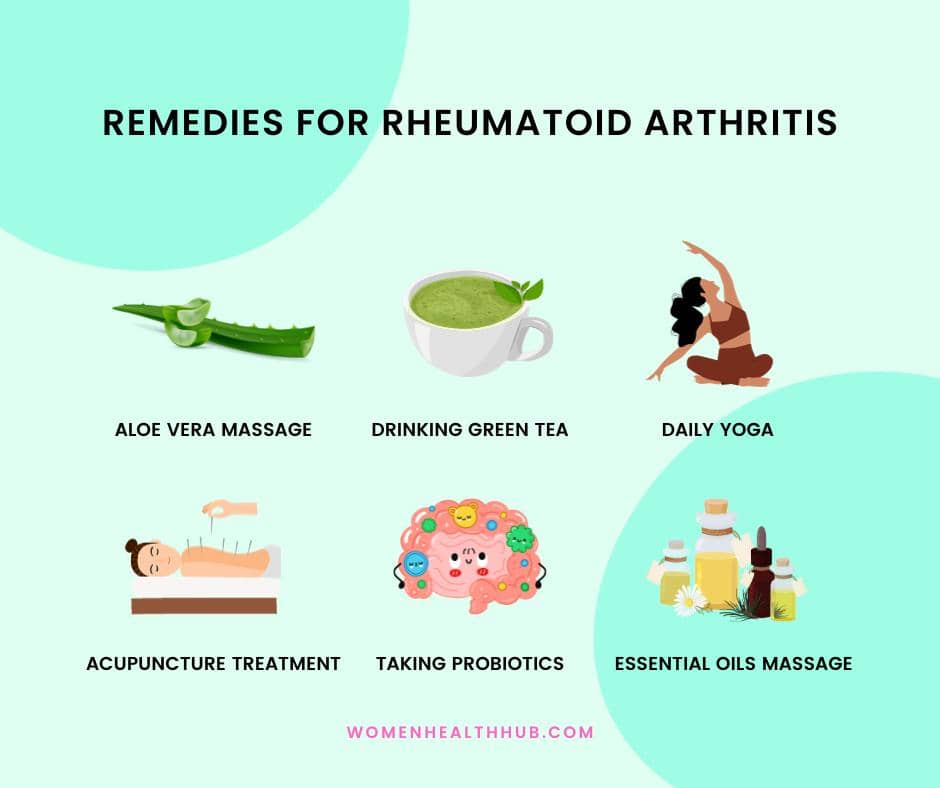 2. Willow Bark
Willow bark is derived from the willow tree. This plant has immense benefits for reducing pain, thanks to a prominent active ingredient called salicin. Research shows that using small amounts of willow bark can reduce rheumatoid arthritis pain and prevent disease progression. It is available as powder, supplementary tablets, and liquids for oral intake.
3. Turmeric
Turmeric is another popular spice widely used in India and Southeast Asian countries for helping with rheumatoid arthritis pain. Most of the medicinal properties of turmeric are due to its main component, curcumin.
Curcumin reduces the production of pro-inflammatory substances, preventing the degradation of cartilage and preserving the joint structure.
According to studies, the use of turmeric reduced the stiffness of joints in the morning and improved the ability of women to walk for longer durations.
Turmeric has the potential to interact with certain medications, and you should consult your medical health professionals to minimize the risks associated with its use.
4. Ashwagandha
Ashwagandha is a popular herb of typically Indian origin, used for stress management. Although there's limited research on the effectiveness of ashwagandha as a natural home remedy for arthritis pain relief, it may help ease joint stiffness and reduce pain signals passing through nerves. Drink ashwagandha powder mixed with milk to help with rheumatoid arthritis pain.
5. Green tea
Green tea is a refreshing and soothing choice to reduce rheumatoid arthritis pain at home naturally. Besides improving digestive functions and helping in weight loss, it also aids women with musculoskeletal issues.
Green tea is high in polyphenols which possess anti-inflammatory properties and protect women from oxidative stress. Green tea reduces disease activity and improves overall joint function, alleviating pain and stiffness.
Regular consumption of green tea proved to have a better anti-arthritic effect than irregular consumption.
Read More: Health Benefits of Peppermint Tea
6. Black Pepper
Black pepper is a common spice found in most kitchens but has a surprising potential — it is an integral part of natural treatments of RA.
Black pepper mostly depends on its component, piperine, for its therapeutic properties. Piperine reduces inflammation in the body, the primary culprit in rheumatoid arthritis.
Reduction in inflammation also diminishes tenderness and swelling of the joints. Black pepper has analgesic properties and reduces the perception of pain in women with arthritis.
7. Cat's Claw
Another superb yet often overlooked herb that can help with rheumatoid arthritis pain is cat's claw. This vine is often used in herbal medicine for pain management. Cat's claw is usually available in the form of dietary supplements. But because of the uncertainty around its effectiveness and possibilities of reaction to certain medicines, it's best to consult a doctor before taking cat's claw supplements.
8. Cinnamon
Cinnamon is probably one of the safest ways to relieve rheumatoid arthritis pain. It is a common spice used around the world as it imparts a characteristic flavor to the food.
Besides making food taste good, cinnamon has gained popularity due to its therapeutic effect. It manages inflammation and reduces oxidative stress on joints and muscles, reducing the activity of the disease.
Cinnamon also aids in weight loss, which is vital for women with arthritis, as excess weight puts additional pressure on the joints.
9. Aloe Vera
Aloe vera is a popular plant known for its anti-inflammatory healing properties. The glucosamine compounds in aloe vera can alleviate rheumatoid arthritis joint pain. You can either apply it directly on the inflamed region or consume it orally in the form of drinks or capsules.
Read More: Best Home Remedies for Bacterial Vaginosis
10. Yoga and Tai Chi
If you haven't yet tried yoga or tai chi to treat rheumatoid arthritis pain, you're missing out on some of the best home remedies for RA.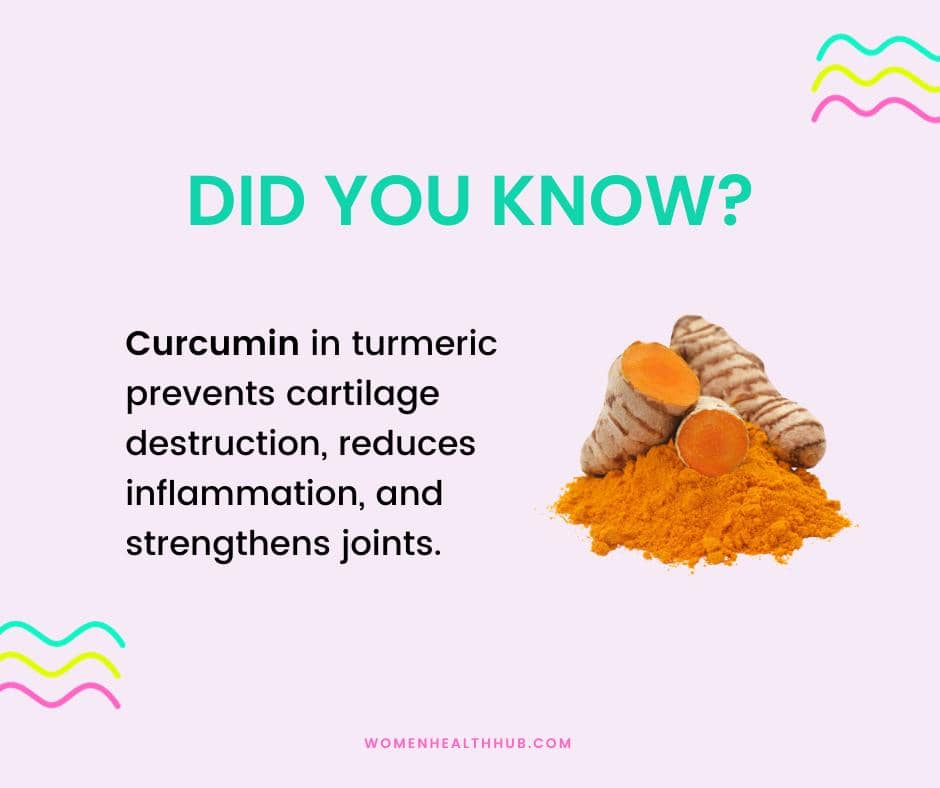 According to experts, both energizing yoga and tai chi are significantly useful in improving your quality of life as an arthritic patient. These physical therapies increase flexibility, relieve joint stiffness, promote stronger bones, and reduce the risk of falls in the elderly by boosting body balance.
11. Primrose Oil
Primrose oil is a carrier oil, often used as an effective home remedy for rheumatoid arthritis pain.
Primrose oil is extracted from the seeds of the evening primrose plant and is rich in essential fatty acids. Primrose oil contains gamma-linoleic acid (GLA), which the body digests into anti-inflammatory substances.
A study in which participants were given primrose oil for six months reported reduced pain and stiffness of joints in the morning.
Read More: Health Benefits of Lavender Tea
12. Essential Oils
Essential oils are the oily substance extracted from plants containing a wide range of therapeutic compounds. Essential oils have gained recognition as one of the most effective natural remedies for relieving rheumatoid arthritis pain in the knees.
These concentrated plant extracts reduce the production of inflammatory molecules, inhibiting the swelling of the joints and improving their mobility. Essential oils are also composed of analgesic substances that further reduce the sensitivity to pain in women.
You can use essential oils by applying the liquid on the bothersome joints, especially the knees, or add the oil to a diffuser and inhale the aromatic oil throughout the day.
Common essential oils recommended for rheumatoid arthritis are:
Eucalyptus oil
Lavender oil
Peppermint oil
Chamomile oil
Always use essential oils under the supervision of a health professional, according to the recommended mixtures and dilution ratios.
13. Thyme
Thyme is a popular aromatic herb rich in antioxidants and anti-inflammatory agents. Using thyme in your diet can offer incredible pain relief from rheumatoid arthritis. This herb can either be used in curries or a topping in salads. Some women also opt for drinking thyme tea by mixing dried thyme in a cup of boiling water with honey to add a dash of sweetness to this magical solution for pain.
14. Garlic
Garlic has numerous benefits for women's health and wellbeing. Garlic may be pungent and carry a repulsive taste, yet it has superb nutrients that make it a must-have food to reduce arthritis stiffness. In addition, research shows that garlic can help reduce cartilage damage – a common problem with arthritis.
You can either take garlic supplements for pain management or if you can endure the flavor and smell, add raw garlic to your salads. Some women also drink garlic tea to reap benefits from its extracts.
15. Hot and Cold Therapy
Both hot and cold therapies are fantastic home remedies for treating rheumatoid arthritis pain.
Hot therapy is a technique in which heat is applied to an inflamed region, allowing better blood circulation by opening the blood vessels and promoting more muscle movement. Cold therapy uses cold temperature to relieve pain and slow down circulation by constricting blood vessels.
Combining these therapies may help manage rheumatoid arthritis flare-ups, typically during weather changes or after strenuous physical activity.
16. Probiotics
Your gut health is also strongly connected with arthritis inflammation. Recent research has revealed that rheumatoid arthritis is linked to the microbiome present in the gut.
Imbalanced gut microbiota leads to a leaky gut that allows harmful bacteria and pathogens to enter the bloodstream. This causes the immune system to activate, increasing the risk of autoimmune diseases.
Probiotic supplementation restores the gut flora, tones down the activity of the immune system, and reduces the inflammation of the gut.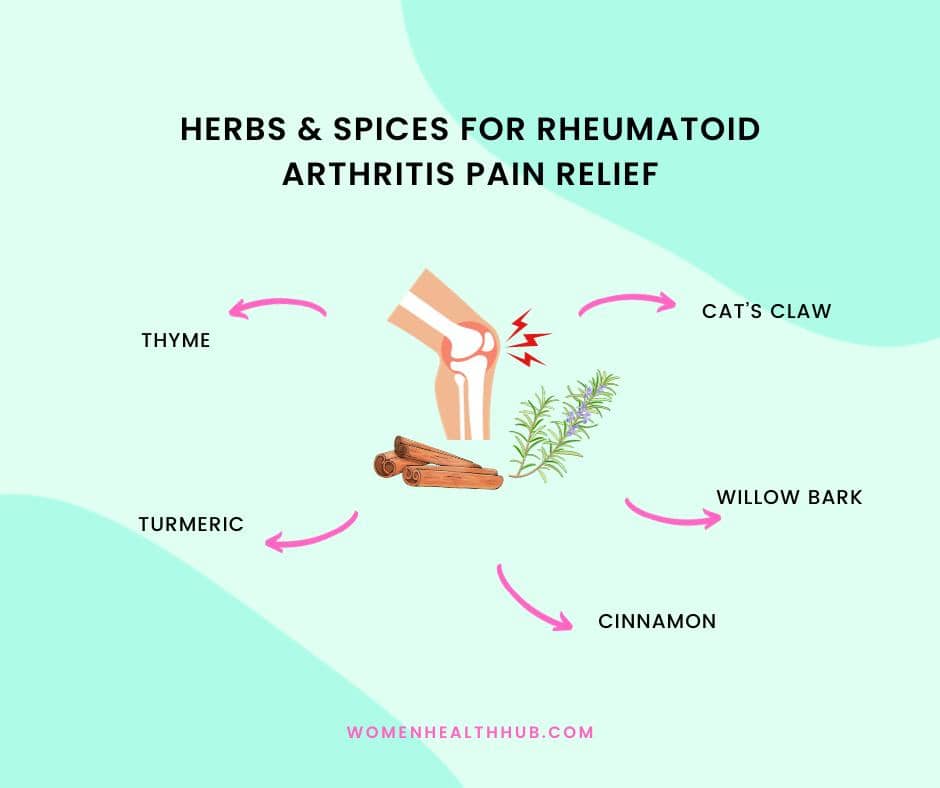 17. Fish
Packed with omega-3 fatty acids, essential fatty acids, and an array of micronutrients, fish holds tremendous potential for offering relief from rheumatoid arthritis pain.
It is also interesting to note that only fatty fish alleviate the symptoms of rheumatoid arthritis as they contain abundant Omega 3 fatty acids. Omega 3 fatty acid is only present in fatty fish and has anti-inflammatory properties, which manage inflammation, reduce pain, and improve joint function.
Common fatty fish recommended to women with osteoporosis or rheumatoid arthritis are:
Tuna
Salmon
Sardines
Black cod
Anchovies
Eating fish moderately can decrease the risk of rheumatoid arthritis in women, even counteracting other risk factors such as smoking.
18. Acupuncture
Acupuncture is a complementary therapeutic approach to manage pain holistically. The process involves inserting needles into the affected part and passing small amounts of electric impulses to stimulate the pain-relieving points.
Acupuncture works wonders to help with rheumatoid arthritis pain. A 2018 research showed that acupuncture has proven beneficial for reducing rheumatoid pain and can improve overall quality of life, along with other medicinal treatments.
19. Boswellia
Boswellia is a flavorful and enriching Indian herb extracted from tree resin. This herb is best known for its incredible anti-inflammatory properties. The research on the effects of Boswellia on rheumatoid arthritis pain relief is limited. However, experts suggest taking this herb cautiously to reduce arthritic inflammation in joints.
You may either take Boswellia supplements per your doctor's direction or gently massage Boswellia essential oil on affected regions.
20. Exercise
The idea of exercising while living with rheumatoid arthritis can be daunting. However, incorporating regular physical activity into your routine is one of the most empowering approaches to treat rheumatoid arthritis pain.
A sedentary lifestyle speeds up the progression of the disease and worsens the symptoms of rheumatoid arthritis. Daily exercise boosts the flexibility of joints and muscles, reduces morning stiffness, and hinders disease activity.
One way to improve your physical activity is by gradually increasing the duration of your strolls. Start with 5-10 minutes and steadily build up your stamina. After a while, you may begin to notice fewer and less severe symptoms.
The Bottomline
Rheumatoid arthritis occurs when your immune system attacks the skeletal muscle cells, causing swelling, pain, stiffness, and decreased mobility.
As there is no permanent cure for rheumatoid arthritis, most methods include managing the symptoms and inhibiting the disease from progressing to other joints and organs.
Various home remedies for rheumatoid arthritis hold promising results. Some common household spices like ginger, turmeric, and cinnamon or the popular beverage for weight loss — green tea have yielded favorable outcomes.
In addition, eating an anti-inflammatory diet rich in fresh vegetables and fruits, fiber, probiotics, and fish heals the gut and reduces inflammation intensity in the body. Regular exercise improves the flexibility of the joints and allows a greater degree of movement in women with rheumatoid arthritis.
Embracing rheumatoid arthritis natural remedies can help you integrate a personalized management strategy that works best for you.
References:
https://pubmed.ncbi.nlm.nih.gov/29759122/
https://pubmed.ncbi.nlm.nih.gov/19072521/
https://www.ncbi.nlm.nih.gov/pmc/articles/PMC9722708/
https://www.ncbi.nlm.nih.gov/pmc/articles/PMC2688199/
https://www.ncbi.nlm.nih.gov/pmc/articles/PMC7598204/
https://www.ncbi.nlm.nih.gov/pmc/articles/PMC8539185/
https://www.ncbi.nlm.nih.gov/pmc/articles/PMC5925010/
https://www.medicalnewstoday.com/articles/326599