Hey there! This post may contain affiliate links. As an Amazon Associate, I earn a teensy commission from qualifying purchases when you buy through these links (at no additional cost to you). For more info, please check the full disclaimer.
Herbal teas are widely used as potential natural remedies to cure various ailments and provide nourishment. One such popular drink is peppermint tea. Thanks to the incredible uses of peppermint tea, it is recommended by many health professionals as a powerful tonic.
In this blog, you'll discover some of the amazing health benefits of peppermint tea. You'll also learn whether there are any side effects of drinking this tea. Plus, the many ways you can consume this aromatic herbal tea.
What is Peppermint Tea?
Peppermint tea is loaded with essential nutrients. It is made from the infusion of mint leaves in hot water. Some people prefer mixing in lemon juice, honey, and other ingredients to add to its flavor.
The best part is that peppermint tea is free of caffeine and is not addictive. The leaves also have high concentrations of essential oils, adding to the many curative health benefits of peppermint tea. Additionally, there are rarely any side effects of peppermint tea.
What Are The Uses of Peppermint Tea?
While highlighting the many uses of peppermint tea, leading nutritionist Dr. Simran Saini from Fortis Hospital says:
PEPPERMINT TEA HELPS AID WEIGHT LOSS, REDUCES HEARTBURN, MAKES YOUR SKIN GLOW BY FIGHTING AGAINST ACNE, AND INDUCES SLEEP.

Dr. Simran Saini
Having been used for almost a hundred years, peppermint tea is loved for its pleasant smell and taste. Peppermint tea benefits can be evaluated through its importance in renovating ourselves. From relieving our upset stomach to having calmative properties that significantly reduce stress and mental pressure, it appears to be an important part of our lives.
Peppermint tea can…
🍵 help with weight loss
🍵 make your skin glow
🍵 cause anxiety relief
🍵 boost fertility
So drink it up today!
#peppermint #herbaltea #healthylifestyle
Popular Health Benefits of Peppermint Tea
Let's go through some common health benefits of drinking peppermint tea on your body:
1. Anxiety Relief
Research has confirmed that when you drink peppermint tea for stress, it calms you down and helps relieve symptoms of anxiety. Menthol acts as an antispasmodic – meaning it reduces mental and physical fatigue.
2. Migraines
Peppermint tea is known to eliminate different kinds of headaches because of its muscle-relaxing properties. Menthol boosts blood flow to the brain. If you live in a hot climate region, you can drink a cup to enjoy the coolness of peppermint tea during harsh weather and diminish intense migraines.
3. Sleep
Being free of caffeine, peppermint tea drink has been an ideal choice for short sleepers. It's one of the best teas for insomnia or anyone unable to enjoy long sleep hours. Since it's a muscle relaxant, peppermint tea before bedtime ensures a relaxing night's rest. The high menthol content relieves stress and aches in muscles, helping you snooze well.
Read More: 6 Best Herbal Teas for Sleep
4. Clogged Sinuses
Peppermint tea has numerous medicinal properties that prevent bacterial, viral, and inflammatory problems. Drinking peppermint tea for sinuses can relieve clogged nasal cavities, improve airflow and help you breathe better, especially during flu season when you are prone to nasal congestion, cold, or allergies. It loosens up the hard phlegm that settles in the nasal passage and is also beneficial for relieving episodes of cough.
5. Constipation
Constipation means if you have trouble passing stool at least 3 times a week or it's too hard to pass through the intestines. Peppermint tea benefits constipation. Menthol helps soothe the stomach and improves the digestion process. It allows the stool to become soft and easily move toward the rectum.
Thus, drinking fresh mint tea benefits the digestive tract after meals and can help relieve constipation.
6. Fertility
The uses of peppermint tea for fertility often go unnoticed. One of the most common conditions that cause problems with conception is PCOS. If you've struggled to have a baby, drinking peppermint tea to conceive can help with PCOS symptoms, boost sex drive, relieve stress, and as a result, improve pregnancy chances.
But be careful with its intake, as too much can harm your baby's health!
Read More: 15 Best Fertility Herbal Teas to Conceive Fast
7. Weight Loss
If you're planning to shed some pounds, the many uses of peppermint tea for weight loss make it a must-have drink. A cup of mint leaves tea makes you feel full for a longer period. Hence, you won't feel the urge to eat snacks and gain extra calories from binge eating.
8. IBS Symptoms
Since fresh peppermint tea benefits the digestion process, it's also a perfect home remedy to treat symptoms of irritable bowel syndrome (IBS). It can quickly relieve abdominal pain, bloating, diarrhea, constipation, fatigue, and food intolerance.
9. Healthy Skin
Hormonal imbalance often results in skin issues like serious acne or pimples. Luckily, the uses of peppermint tea for skin are quite effective. It contains anti-inflammatory compounds and antioxidants that diminish skin pores and redness caused by acne.
The antiseptic properties prevent bacterial build-up bacteria that might cause allergies. Peppermint tea slows down skin aging by giving it a much-needed facelift and carries out skin-repairing processes. Plus, this food boosts estrogen levels, balancing the hormones and promoting healthy skin.
10. Menstrual Cramps
If you drink peppermint tea daily, you might experience a change in menstruation symptoms. The incredible benefits of peppermint tea for menstrual cramps help reduce the severity of abdominal pain. It increases blood flow to the pelvic area, causing the muscles to relax and preventing mind-numbing period cramps.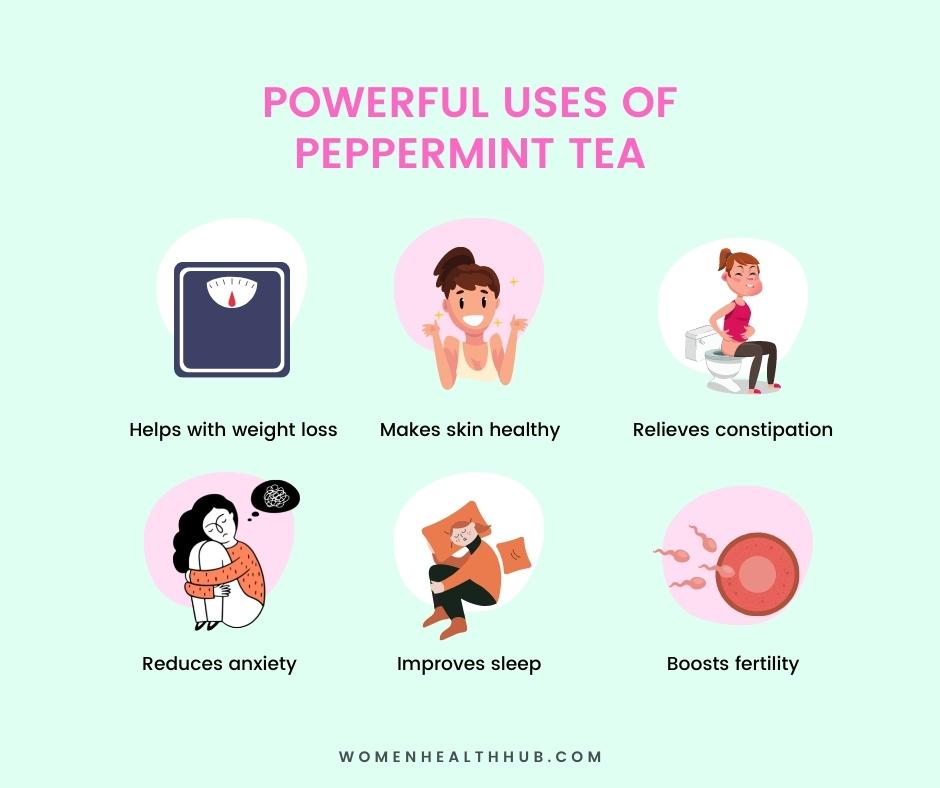 11. Blood & Gut Detox
Experts also recommend drinking peppermint tea for detox and blood cleansing. It directly affects liver function, which is linked to getting rid of toxins in your system. Thus, by regulating liver fluids, peppermint tea flushes out the bad compounds. Moreover, if you've had a heavy meal, drinking peppermint tea can improve the digestive process, ensure quick digestion, and remove harmful compounds.
12. Menopause
Peppermint tea is also an effective remedy if you struggle with serious symptoms of perimenopause or menopause. It can be an awful and painful time for you, especially because of the intense transition to a new phase of life. Many women experience stomach issues like bloating, cramps, hotness, and muscle aches. Thanks to the calming properties of peppermint tea for menopause, you can find instant relief from these hormonal changes in your body.
⚠️ Health tip ⚠️

Peppermint tea can reduce risk of heart attack by lowering your cholesterol.🍵❤️️💪

Learn more reasons why you should drink #peppermint tea daily.

13. Cholesterol
You may have an increased risk of heart attack symptoms because of high cholesterol. To counter dangerous heart diseases, start drinking peppermint tea daily.
The compounds in this herb are known to get rid of cholesterol by producing more bile. This fluid is rich in cholesterol, so the excess quantity in your body is utilized in bile production. It is also free of calories which reduces the dangers of cardiovascular diseases.
Some studies show it can also lower blood pressure, but it may not be safe if you're already taking medicines.
14. Nausea
During the first and second trimesters of pregnancy, many women experience nausea. It's also a sign of high or low blood sugar levels. Some women with symptoms of iron deficiency might also have serious nausea. If this bothers you often, make the most of the uses of peppermint tea to reduce nausea and vomiting. It helps break down the food properly and allows it to pass quicker.
Read More: 14 Early Signs of Diabetes in Women
Are There Any Side Effects of Peppermint Tea?
Peppermint tea is generally safe to consume for people of all ages. But despite the many uses of peppermint tea, the menthol compound might trigger side effects if you take various medications, have diabetes, or suffer from blood pressure problems.
Peppermint tea interacts with certain medications and is therefore not recommended for people taking organ transplant drugs.
If you take insulin or blood pressure meds, peppermint tea can further lower both and put your health at risk.
It's also not recommended for people with acid reflux or GERD. Since peppermint tea relaxes the stomach muscles, it propels the food back to the esophagus, causing heartburn. If you have stomach ulcers, avoid drinking peppermint tea, as it can aggravate the condition.
Read More: 25 Best Foods For Pregnancy Heartburn
Where to Buy Peppermint Tea?
If you're looking for the best quality peppermint teas, here are my favorite recommendations:
This herbal caffeine-free drink is one of the best peppermint teas to buy online. Trader Joe's Peppermint Tea contains organically produced leaves and acts as a healthy relaxant. Drink it before bedtime to enjoy a good night's rest or after a hearty meal to ensure quick digestion. You get 20 tea bags with this offer (aff link). So go on and order yours now!
If you're looking for a refreshing mint leaves tea, then go for Twinings of London Pure Peppermint Tea. It contains just the right amount of flavors and a delicious aroma that helps you savor every sip. You can make the most of the many uses of peppermint tea with their pack of 24 pods that'll last you a month. Buy it now (aff link) at a super low price!
Infused with refreshing peppermint tea leaves used by herbalists, Purely Peppermint Yogi Tea is a must-drink because of its amazing taste, enriching flavor, and aroma. It's so fulfilling that you won't feel hungry for hours. It allows proper digestion real quick and is a remarkable detox drink. Go ahead and order now (aff link) and experience the wholesome benefits of peppermint tea yourself!
Is it Okay to Drink Peppermint Tea Every Day?
Being a caffeine-free drink, peppermint tea can be safely consumed daily. You can enjoy it after each meal to aid digestion, in the afternoon to boost your energy, or before bed to ensure a good sleep.
Is it Okay to Drink Peppermint Tea on an Empty Stomach?
It is generally not recommended to have teas on an empty stomach. Since peppermint tea is already quite acidic, drinking it on an empty stomach can disturb the body's pH balance. As a result, you might experience heartburn. 
Instead, it's best to drink peppermint tea after breakfast and ideally, after dinner. It can help you sleep better and promote better digestion during the night.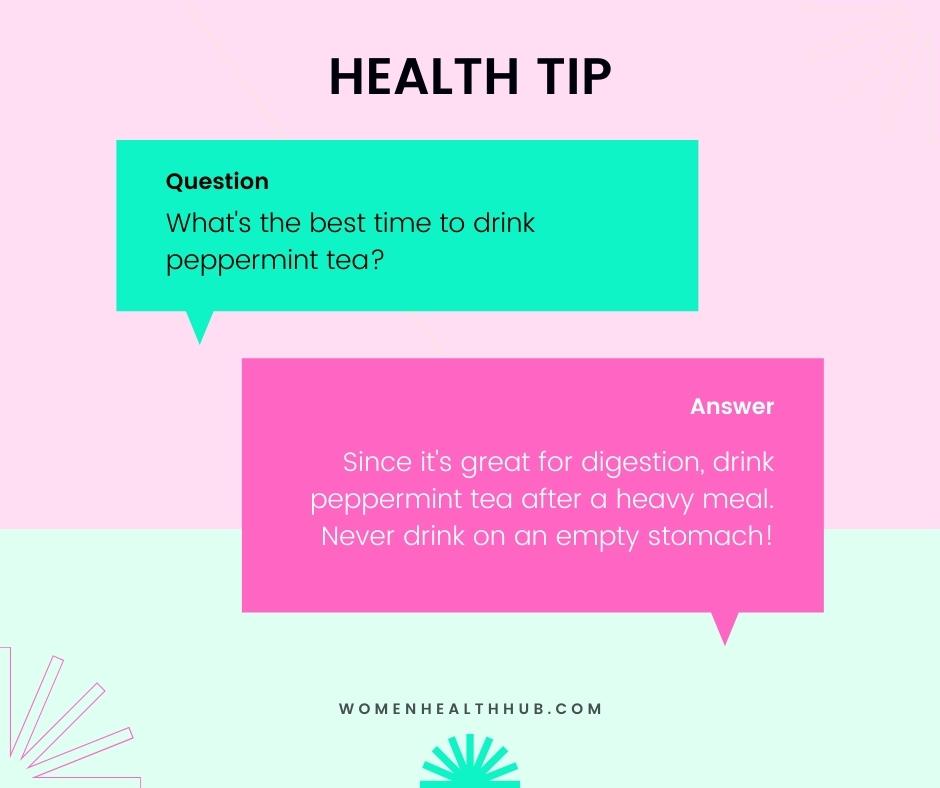 Is Peppermint Tea with Honey and Lemon Good for You?
Warm honey with lemon water is one of the best natural remedies for weight loss. It also aids better digestion, energizes, and gives the skin a glowing look. Add peppermint tea to the mix, and you have an incredible tonic for health!
Both healing ingredients further increase the various uses of peppermint tea. Peppermint tea with honey and lemon is known to improve oral health. They are integral for strengthening the immune system and preventing infections. Plus, lemon and honey with peppermint leaves promote better blood circulation to organs. If you suffer from nausea and headaches often, enjoy the many benefits of peppermint tea to relieve pain.
To make the honey-lemon peppermint tea, here's what you need:
6 oz. hot water
1 slice of fresh lemon
½ tablespoon of raw honey
1 drop lemon essential oil (edible)
1 drop peppermint essential oil (edible)
Combine all ingredients in a glass and stir until they are fully dissolved. Your hot cup of refreshing peppermint, honey, and lemon herbal tea is ready!
Can You Take Ginger and Peppermint Tea Together?
Peppermint and ginger regulate your body's functions. Both are popular digestive aids. Peppermint tea relieves constipation and controls appetite, while ginger encourages smooth digestion and removes free radicals. 
When taken together, peppermint ginger tea benefits are multiplied. Ginger gets rid of gases, while peppermint is perfect for nausea relief. You now have an incredible debloating and detoxifying solution to drink daily!
This simple 2-ingredient tea can be prepared by adding one teaspoon of loose peppermint leaves and a teaspoon of freshly grated ginger in hot water. Let it sit for 3-5 minutes until you notice the desired concentration.
Spearmint Tea vs Peppermint Tea – Which is Better? 
Many people often get confused between the two. Spearmint and peppermint are slightly different in taste but belong to the mint family. Spearmint has lower levels of menthol compared to peppermint. Hence, the refreshing peppermint tea is more flavorful.
Unlike spearmint, peppermint tea has a stronger and more peppery taste leaving your mouth with a long-lasting cooling sensation.
Spearmint tea is free of caffeine and offers a sweet and fresh taste. It's popularly taken for enhanced respiration and circulation. You may also drink it to balance your hormones and blood sugar levels. Peppermint tea, on the other hand, might not be safe for diabetics.
Both peppermint and spearmint teas are super healthy beverages – best taken after a heavy meal. Peppermint tea contains high content of vitamin A and C, and spearmint tea contains twice the iron content in it! 
In short, depending on your needs, you can take either of these drinks as they both carry similar benefits.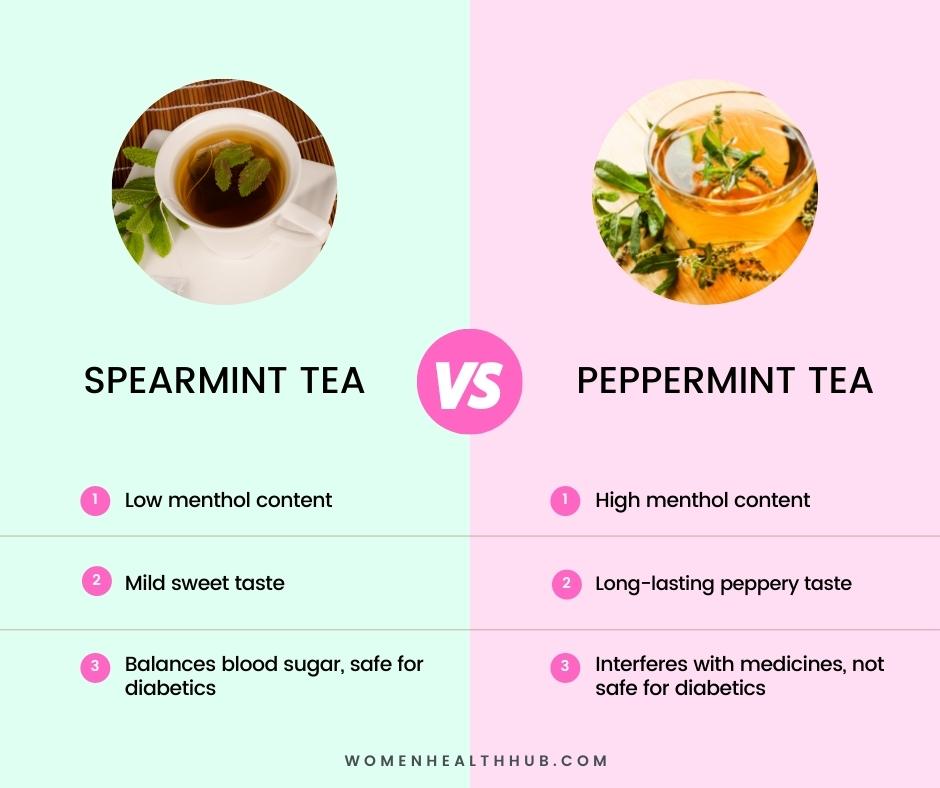 Can You Drink Peppermint Tea with Acid Reflux?
The short answer is that peppermint tea is not good for acid reflux patients!
Yes, it may be cooling and refreshing for many, but it's not an ideal drink for those suffering from GERD.
The menthol in peppermint tea relaxes your muscles. This also applies to your stomach, and the sphincter relaxes during digestion. As a result, the stomach content is sent back up in the form of heartburn. 
Can You Drink Peppermint Tea with High Blood Pressure?
Research has concluded that peppermint tea lowers blood pressure. Therefore, it's not recommended for patients with varying blood pressure as it might interfere with the medicines and cause harmful effects.
However, the uses of peppermint tea for treating hypertension are still being studied. If you often have consistently high blood pressure, you may drink peppermint tea to lower your BP naturally.
Is Peppermint Tea Safe During Pregnancy?
Whether you're in the first trimester of pregnancy or the last, you will need to be careful about caffeine intake for the entire journey. Experts recommend not drinking caffeinated stuff at all as it can affect the development of a baby.
Thus, a soothing cup of peppermint tea during pregnancy does sound appealing. It can get rid of anxiety and stress after a long day. You might find comfort from back pain and leg aches after drinking peppermint tea as well. Plus, peppermint tea benefits constipation which is a big struggle during these months.
However, this drink also tackles hormones. During pregnancy, your hormones are already messed up and with a few drops of peppermint tea, it may get a bit tricky for your body.
Experts suggest not drinking too much peppermint tea while pregnant as it can trigger menstruation. The ideal safe dose of peppermint tea in pregnancy is a maximum of 2 cups per day.
Some women avoid peppermint tea in the final months of pregnancy because they believe it induces preterm labor. Being muscle relaxants, peppermint tea leaves may cause contraction, quite similar to the ones before delivery. So women don't want to risk it! There's no report of peppermint tea leading to miscarriage.
Should You Drink Peppermint Tea With Antibiotics?
Antibiotics are powerful and can cause some painful symptoms despite curing infections. Peppermint tea benefits many antibiotic side effects, such as nervousness, anxiety, constipation, and increased heart rate.
You should also make the most of the uses of peppermint tea to treat the flu or cold. It's a soothing decongestant and contains many anti-allergenic compounds. Peppermint tea contains essential nutrients like potassium, calcium, and vitamin B that boost your body's immunity against viral infections.
Bottom line, peppermint tea is safe to drink with antibiotics, but it's always best to discuss it with a doctor. 
Can You Drink Peppermint Tea with an Ulcer?
Ulcers can be super painful and a refreshing cup of peppermint tea might sound delicious. But it will only worsen the symptoms. Stomach ulcers open up in the lining of your stomach. Since peppermint tea causes acidity, it will make you more uncomfortable than ever!
What is the Best Way to Drink Peppermint Tea?
Peppermint tea may be taken as fresh or dried leaves. They are often sold in loose form or tea bags. With every 1 cup of hot water, you will need one tablespoon of crushed fresh leaves or one teaspoon of dried leaves. 
For a sore throat, you can try peppermint tea with honey for an increased soothing effect. To enjoy a fulfilling and aromatic herbal tea, you can blend peppermint tea with other herbs. Peppermint chamomile tea is a perfect calming drink to enjoy a good night's rest before bedtime. Peppermint tea with lavender is a must-have drink to reduce anxiety and stress. 
Adding ginger to peppermint tea cures indigestion. Fennel seeds mixed with peppermint tea can be a strong detox drink for your liver, kidneys, stomach, and blood. Iced peppermint tea with chia seeds is often quite refreshing after a tiring day!
Try peppermint tea with milk to add more flavor to your drink and feel the magic in your tastebuds and body!
Bottom Line
Now that you know the many uses of peppermint tea, I'm sure you'll make it a part of your daily diet. Peppermint tea benefits your overall health, improves focus, and refreshes you. If you wish to live a healthy life and prevent diseases, start drinking peppermint tea today and see how it changes your wellbeing!
References:
https://pubmed.ncbi.nlm.nih.gov/16767798/
https://pubmed.ncbi.nlm.nih.gov/23061635/
https://www.ncbi.nlm.nih.gov/pmc/articles/PMC4103722/
https://www.sciencedaily.com/releases/2011/04/110419101234.htm
https://www.sciencedirect.com/topics/medicine-and-dentistry/peppermint
https://www.webmd.com/diet/mint-tea-health-benefits#1