Hey there! This post may contain affiliate links. As an Amazon Associate, I earn a teensy commission from qualifying purchases when you buy through these links (at no additional cost to you). For more info, please check the full disclaimer.
Feeling disgusted by garlic's strong flavor and foul smell? Think again! You might miss out on the various health benefits of raw garlic for women of all ages.
Besides being a vital cooking ingredient, garlic has been used for holistic medicine for over 5000 years.
The benefits of eating garlic are not just an old wives' tale. Most scientists have proven consumption of this bulb can keep you safe from a variety of health conditions.
While it's useful in treating typical disease symptoms, eating garlic also promotes mental peace.
In this post, you'll discover garlic benefits for your wellbeing and why you need to add raw garlic to your daily diet.
Why is Garlic Good for You?
Garlic belongs to the Allium family. Allium vegetables contain organosulfur compounds, which upon chopping or crushing, produce sulfur.
Thus, most of the health benefits of raw garlic come from allicin – a sulfur compound.
Now before you freak out, this isn't the bad kind of sulfur!
Studies show that high doses of this compound protect you from lead poisoning, help with diabetes, reduce the risk of cancer, and prevent severe organ damage.
Besides the potent sulfur compounds, garlic is an excellent source of iron, potassium, copper, calcium, and phosphorus. Being low in calories, it's ideal for weight-conscious people.
Garlic is also enriched with vitamin C, vitamin B6, and many nutrients. These minerals further increase the nutritional health benefits of eating garlic for women.
What are the Health Benefits of Raw Garlic for Women?
Let's go through some of the most unusual health benefits of garlic that you might not know.
1. Boosts Immune System
Raw garlic has antifungal and antibacterial properties that can help treat the common cold or flu.
Eating garlic regularly stops the growth of harmful microorganisms and destroys viruses.
The sulfur present in raw garlic further increases the absorption of zinc – a natural immunity booster. This will raise your body's power to fight diseases.
2. Promotes Hair Growth
Consuming cooked or raw garlic has many benefits for hair.
If you're suffering from severe hair fall from diabetes or any other disease, add this edible bulb to your diet.
The high amounts of Vitamin C in raw garlic inhibit harmful bacterial growth on the scalp and kill germs that might damage the hair follicles.
This way, eating garlic daily reduces hair loss, promotes hair growth, and rejuvenates their natural beauty.
3. Good for Digestive System
One of the many garlic benefits for women is that it helps with digestion. If you eat garlic first thing in the morning on an empty stomach, it'll kill off dangerous bacteria and reduce the risk of digestive problems.
Additionally, garlic increases nutrient absorption from the gut and helps remove toxins.
It's also known for its anti-parasitic properties. So if you have intestinal worms, raw garlic is the best home remedy to get rid of them.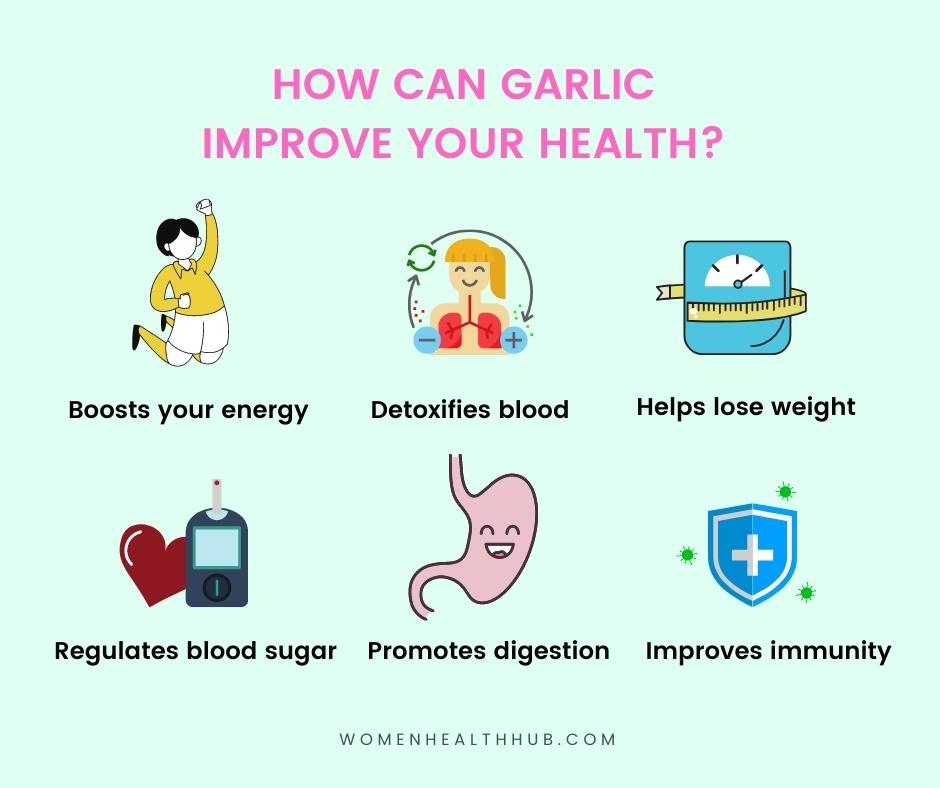 4. Prevents Skin Problems
Among the various health benefits of raw garlic for women is its miraculous effect on skin rejuvenation.
Allicin present in garlic prevents bad bacterial growth on the skin that may cause acne and other serious skin problems.
Improved blood circulation, reduced swelling, and increased antioxidant levels are some common health benefits of garlic for your skin. If you eat raw garlic in moderate amounts, you'll also notice minimal skin pores.
Besides, garlic oil is also beneficial for treating skin infections such as fungal infections, thrush, and warts. It has anti-cancerous properties, preventing skin cancers.
Applying garlic sunscreen further blocks harmful UV radiations from the sun.
5. Improves Brain Functioning
Want to slow down brain aging? Eating raw garlic benefits your brainpower by reducing oxidative damages.
The high antioxidants content reduces the risk of brain neurodegenerative diseases, such as Alzheimer's, Parkinson's, and dementia.
Plus, consuming garlic supplements can improve your memory and help you be more productive at work and learn easily.
6. Improves Fertility
Also among the main benefits of raw garlic for women is increased fertility, reduced risk of chromosomal defects, and enhanced sexual activity.
Sometimes, it even works as an aphrodisiac – yep, hard to imagine but true!
Garlic contains antioxidative compounds and vitamin B6. Both are necessary for promoting ovulation in females and increasing libido.
Other additional nutrients in this flavorful veggie ensure a healthy pregnancy in women as well.
7. Reduces Fatigue
If you've been feeling unnecessarily tired or lazy, it's time to add garlic to your daily diet.
Getting rid of tiredness and fatigue, and making you feel refreshed is yet another one of the incredible health benefits of raw garlic for women. Start taking garlic supplements regularly if you're into sports or heavy physical activity.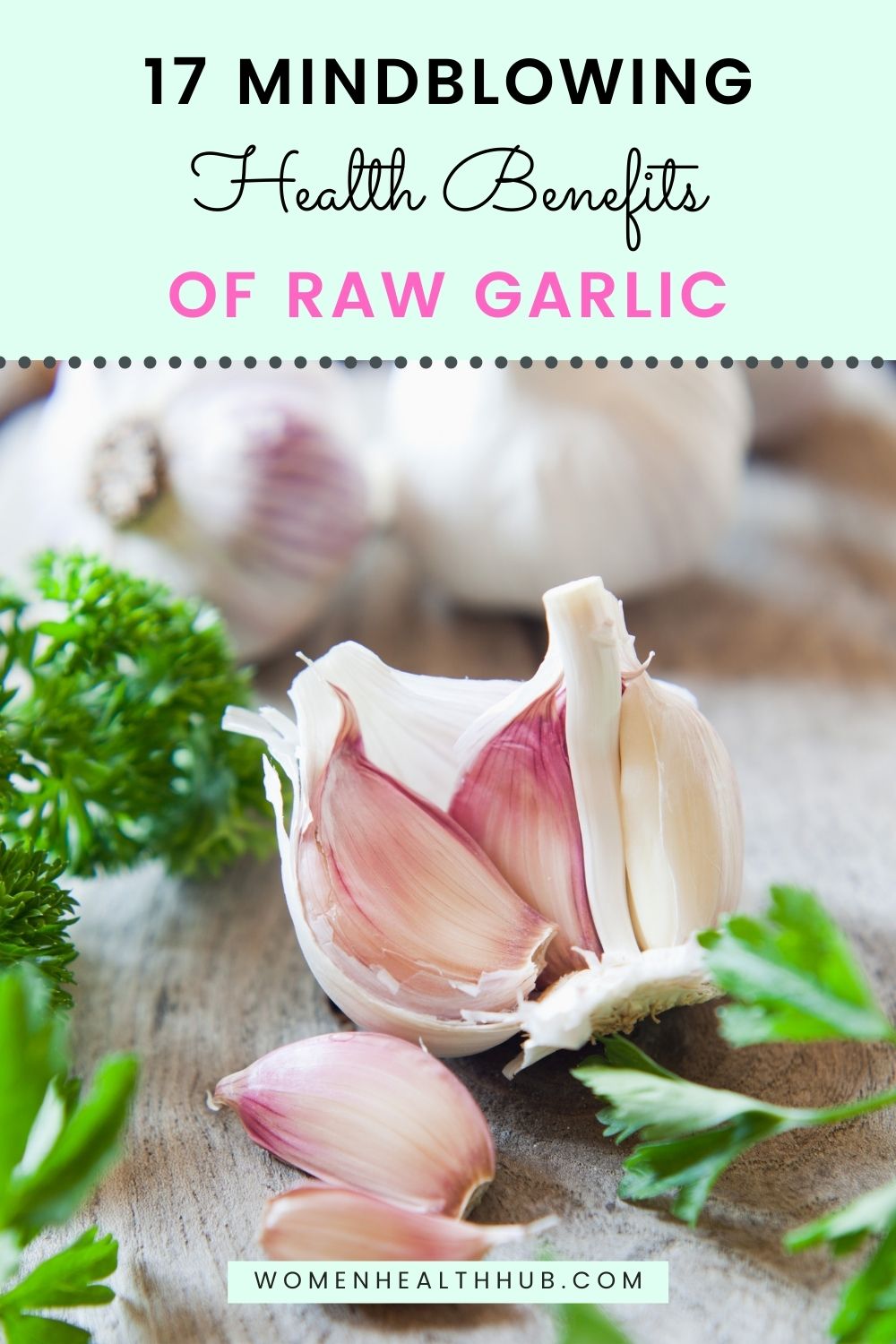 8. Lowers the Risk of Heart Problems
Eating raw garlic is popularly known to lower cholesterol levels.
The allicin present in garlic inhibits the production of LDL or bad cholesterol. This in turn decreases the risk of heart attack symptoms.
Garlic also reduces blog clotting. Eating raw garlic every day in controlled amounts unblocks arteries and prevents hypertension by managing blood pressure naturally.
9. Prevents Osteoarthritis
Garlic reduces joint inflammation and prevents cartilage deterioration, thus preventing autoimmune diseases such as osteoarthritis.
If you eat raw garlic every day, the cartilage in your joints stays elastic and flexible, and you will be at a lower risk of getting an osteoarthritic fracture.
Additionally, garlic is among the best foods to boost estrogen in women which further helps decrease bone loss. This is particularly beneficial for women over 40 years.
Read More: 10 Essential Health Screening Tests for Women Aged 20-39 Years
10. Helps with Menopausal Symptoms
Among many other home remedies, raw garlic has been proven effective for treating hot flashes during perimenopause.
8 out of 10 women experience hot flashes in their late 30s. These are transient episodes of excessive sweating and heat, mainly in the upper body.
Sometimes these menopausal and perimenopausal symptoms are so severe that you can't even sleep at night!
So if you are close to your menopause and suffering from hot flashes, eat 1-2 cloves of garlic every day to relieve the symptoms.
11. Promotes the Growth of Good Gut Bacteria
Bifidobacteria are among the good bacteria in our gut. It's a probiotic that kills foreign microorganisms, helps with constipation, relieves intestinal problems, and protects you from gut infections.
Eating raw garlic every day promotes the growth of bifidobacteria in women. If you often have recurring digestive issues, add raw garlic to your diet.
#DYK?

Eating raw garlic can help you get rid of stubborn digestive issues like constipation and intestinal worms. 💩🚽👌
12. Detoxifies Blood
Among other excellent health benefits of raw garlic for women is its blood cleansing quality that enables your liver to remove toxins. Again, allicin present in garlic boosts this detox process.
13. Helps in Weight Loss
Yet another healthy use of allicin includes the benefits of raw garlic for weight loss. Garlic enhances the metabolic activity and encourages weight reduction.
Start eating raw or half-cooked garlic with honey every day for noticeable effects.
Read More: 10 Amazing Beginner Exercises for Weight Loss
14. Regulates Blood Sugar
Are you suffering from type 1 or type 2 diabetes? One of the key ways to manage your diabetes is by monitoring your fasting blood sugar daily.
Powerful glucose regulation is yet another one of the fantastic health benefits of raw garlic. That's why garlic is an excellent home remedy for treating diabetes symptoms.
Garlic supplements often take 12 weeks to show an appropriate effect on balancing blood sugar levels.
15. Good for Respiratory Diseases
Raw garlic is anti-inflammatory and contains antioxidants. Both these factors contribute to healing respiratory diseases such as bronchitis, asthma, and congestion.
According to 2013 research, taking garlic with green tea lowers the risk of lung cancer. One of the benefits of garlic supplements is that it prevents upper respiratory infections. Garlic also helps in relieving the symptoms of URIs.
16. Prevents Cancer
Besides preventing lung cancer, eating raw garlic also reduces the chances of suffering from brain, gastric, pancreatic, and breast cancers.
Fresh garlic extracts and their supplements stop the growth of tumors. Allicin, allyl sulfides, and flavonoids are actual cancer-preventing compounds packed in this edible bulb.
17. Promotes Stress Relief
Another one of the amazing health benefits of raw garlic for women is its effect on neurotransmitters present in the brain, responsible for releasing serotonin.
Serotonin promotes happiness and improves mood. Eating raw garlic continuously for ten days will increase serotonin production and avert irritability.
Consuming it daily also helps in fighting depression and anxiety. Vitamin B6 present in garlic shows remarkable benefits in preventing depressive lethargy and enhancing sleep quality.
What Does Garlic Water Do to Your Body?
The health benefits of raw garlic water for women's wellbeing are also quite surprising.
It's known to improve blood flow and reduce LDL cholesterol levels. Thus helping you age gracefully!
Plus, if you're trying to manage your weight, garlic water is perfect for weight loss. It'll also enhance metabolic activity.
Drinking raw garlic water daily can also assist with painful menopausal symptoms including hot flashes.
Here's how you can make garlic water:
Grate 3-4 cloves of garlic and boil them in water.
Do not remove the lid. The fumes of boiling garlic are also healthy, so don't let them escape.
Once it's boiled, mix a spoon of honey or lemon juice in it.
Strain the water and drink up.
Read More: 15 Amazing Foods to Boost Estrogen Naturally
Is it safe to eat Garlic in Pregnancy?
Garlic is safe to eat in pregnancy but only in moderate quantities.
It regulates blood pressure by reducing thickness. But blood-thinning is not safe during pregnancy. That's why you should be very careful with the amount of garlic you take every day.
It's best to avoid it after the 1st trimester of pregnancy. Also, consult your doctor about the consumption of garlic during your pregnancy.
How do Garlic Supplements Improve Your Health?
Although the health benefits of raw garlic are far better, many women prefer garlic supplements. Don't worry – they can work wonders too!
If you're unable to consume crushed or half-cooked garlic daily, this is a viable option for you. Each pill contains approximately 300 mg of garlic powder. You'll achieve the same anti-inflammatory, antibacterial, anti-viral, antioxidant effects as raw garlic.
Taking a capsule 2-3 times a day is sufficient to improve your physical and mental health. Avoid overdosing.
Health tip💡 

Can't eat raw garlic? Take 2-3 garlic supplements daily instead! They will energize you and boost immunity. 💪

#nutrition #womenshealth
How can Garlic and Honey Improve your Immune System?
The health benefits of raw garlic and honey are abundant thanks to their antioxidant properties. The chemicals and sulfur compounds prevent illnesses and infections by boosting your immune system.
To take advantage of garlic with honey, put honey in a jar with some garlic cloves and leave it overnight. Eat this mixture every day on an empty stomach.
What are the Health Benefits of Garlic and Ginger?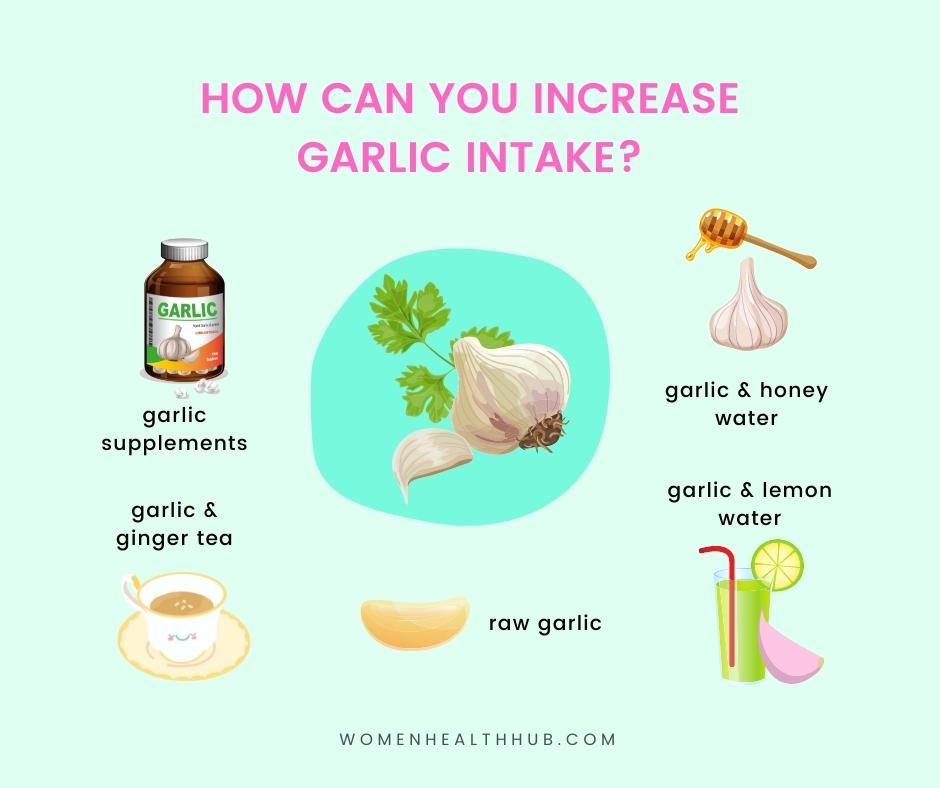 The combined health benefits of raw garlic and ginger for women are incredible. Together they reduce the risk of cardiovascular problems, fight off infections and promote weight loss.
Drinking raw garlic and ginger tea every day is also good for diabetic patients.
What Happens if You Drink Garlic Tea Every Day?
Garlic tea improves digestion and is excellent for metabolism. Although if you overdose on it, you may experience slight inflammation in the gut.
To enjoy the maximum natural benefits of garlic tea for fertility, blood circulation and even balancing blood pressure, it's best to take it in the morning or one hour before bedtime at night.
Can Lemon and Garlic be Taken Together?
Lemon is yet another amazing ingredient taken with raw garlic. Quick weight loss and improved metabolism are some of the health benefits of garlic and lemon.
Both compounds are rich in vitamin C – a weight loss stimulant. Thus, eating garlic with lemon helps you lose unwanted fat. You can take them together after mixing one lemon and one clove of garlic in warm water.
How Much Garlic Should You Take Daily?
Considering all the incredible health benefits of raw garlic for women, you might be thinking of adding it to your diet right away.
But you need to be careful about its consumption. Following are some safe doses of garlic in different forms:
1-2 cloves of raw garlic
300 mg of garlic powder two to three times a day
7.2 g of garlic extract
2-3 garlic supplement pills two to three times a day
Eating more than the recommended doses can lead to serious side effects of garlic overdose. If you're allergic or experience heartburn, gas, or digestive problems, stop eating raw garlic.
You might also want to watch out for bad breath. In severe cases, bleeding is a dangerous side effect of heavy garlic consumption.
References
https://www.degruyter.com/document/doi/10.2202/1553-3840.1084/html
https://www.tandfonline.com/doi/full/10.1080/10942910601113327
https://pubmed.ncbi.nlm.nih.gov/19053859/
https://pubmed.ncbi.nlm.nih.gov/17955479
https://academic.oup.com/jn/article/136/3/736S/4664300?login=true
https://www.banglajol.info/index.php/JEMC/article/view/34075
https://europepmc.org/article/med/23751462
https://www.nature.com/articles/bjc199382