Hey there! This post may contain affiliate links. As an Amazon Associate, I earn a teensy commission from qualifying purchases when you buy through these links (at no additional cost to you). For more info, please check the full disclaimer.
Hot flashes can affect your overall wellbeing and mental peace. Thus, it might help to know how to treat hot flashes in menopause.
Research shows that about 75% of women experience intense hot flashes, making it a common menopause problem. 80% of cases last for around two years.
Along with mood swings, depression, and weight gain that usually accompany menopause, women may have difficulty focusing and enjoying life with hot flashes.
So let's go through some of the best tips you can try to naturally relieve hot flashes at home.
What are Menopausal Hot Flashes?
Hot flashes are an uncomfortable symptom of menopause, causing a sudden flare of heat in your body. If the hot flashes occur during the night, they are called night sweats.
During menopause, your body undergoes different hormonal changes. Primarily, estrogen – a critical female sex hormone – becomes low. Scientists believe that hot flashes might occur because of estrogen deficiency, as it affects temperature regulation.
Most women experience these uncomfortable menopausal symptoms in their late 40s or early 50s. Hot flashes may also be a symptom of perimenopause.
Research also shows a woman's odds of experiencing hot flashes double after a hysterectomy.
How Long Do Hot Flashes Last?
Per Harvard, menopausal hot flashes generally begin to disappear after six to 24 months. However, despite dealing with hot flashes, night sweats may continue in some females for seven to 10+ years.
A hot flash episode may take 30 seconds to 5 minutes, depending on the overall health and wellbeing.
The frequency also differs from woman to woman. While many have daily hot flashes, others may experience them a few times a week. Those with severe symptoms may have hot flashes several times within an hour.
What do Hot Flashes Feel Like?
How hot flashes affect a woman is usually subjective. If you have a hot flash episode, you may feel significant warmth in the upper body regions, such as the neck, chest, and face. As a result of the intense heat, the face might turn red, similar to blushing.
It's common to sweat profusely or experience chills afterward because of menopausal hot flashes.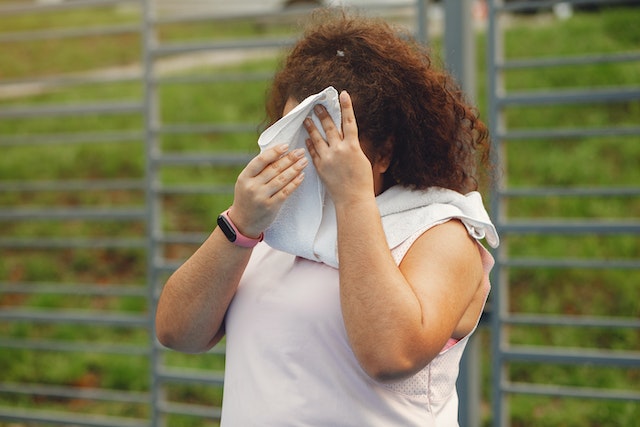 In addition, hot flashes may increase the heart rate, cause dizziness, give a nauseous feeling, or trigger headaches. Some women even complain of feeling anxious after an episode.
Low estrogen levels in the body may also mess up lung function. As a result, some women might experience shortness of breath and chest pain.
Hormone Replacement Therapy (HRT) for Hot Flashes
The best medical method to manage hot flashes is hormone replacement therapy (HRT). It benefits women with mild or severe hot flashes affecting their overall quality of life.
HRT also benefits other menopausal symptoms, like vaginal dryness, burning sensation, itching, and general discomfort.
It's important to note that HRT may pose some risks, such as slight chances of heart attacks in women over 60, blood clots, and breast cancer. However, the benefits outweigh the risks in many aspects.
Read More: 12 Ways to Reduce Risk of Heart Attack in Your 40s
Simple Tips to Treat Hot Flashes Naturally
While HRT may offer long-term relief, women opt for home remedies and lifestyle changes to deal with menopausal hot flashes instantly.
Following are some of the most effective ways to manage hot flashes from menopause naturally.
1. Massage With Essential Oils
A promising way to treat hot flashes in menopause is massaging with popular essential oils. Just a few drops of essential oils rubbed on the nape of the neck and feet can help relieve the painful symptoms.
Some women also find inhaling and exhaling these scents useful. Use a diffuser to let the fragrance spread in your bedroom to help you calm down.
At times, dabbing a napkin with a few drops and applying it on the heated zones can also work wonders.
The best proven essential oils to manage menopausal hot flashes are:
Clary sage oil
Basil oil
Citrus oil
Rose oil
Peppermint oil
Black cohosh oil
Red clover oil
Evening primrose oil
Ylang-ylang oil
Dong Quai oil
Geranium oil
Lavender oil
2. Practice Exercise and Yoga
Another fantastic way to treat hot flashes in menopause is following a daily workout routine.
Research shows that regular vigorous exercises promote better thermoregulation in the body and reduce the frequency of menopausal hot flashes.
You can start with a daily moderate-intensity walk for about 30 minutes to experience its effects. Physical activities like swimming, cycling, and rowing may also benefit hot flashes.
Others also opt for yoga for menopause. Some yoga postures like the downward-facing dog, bridge, cobra, fan, and sphinx poses are popular among women with hot flashes.
3. Try Meditation and Deep Breathing
Deep breathing and meditative activities also help treat hot flashes. A study confirmed that mindfulness training programs proved helpful in women with intense hot flashes and night sweats.
Mindful respiration promotes relaxation and relieves stress. This ultimately decreases hot flashes episodes.
4. Make Use of the Hypnosis Technique
Hypnosis or hypnotherapy is a relaxing technique involving strong focus to help you de-stress using repeated sounds, words, or images. A certified hypnotherapist performs this technique in a proper environment.
Hypnotherapy is a valuable tool for managing hot flashes as the cues induce sleep, reduce night sweats, and improve mood. Research shows that many women experienced a significant drop in the intensity and frequency of hot flashes following hypnosis.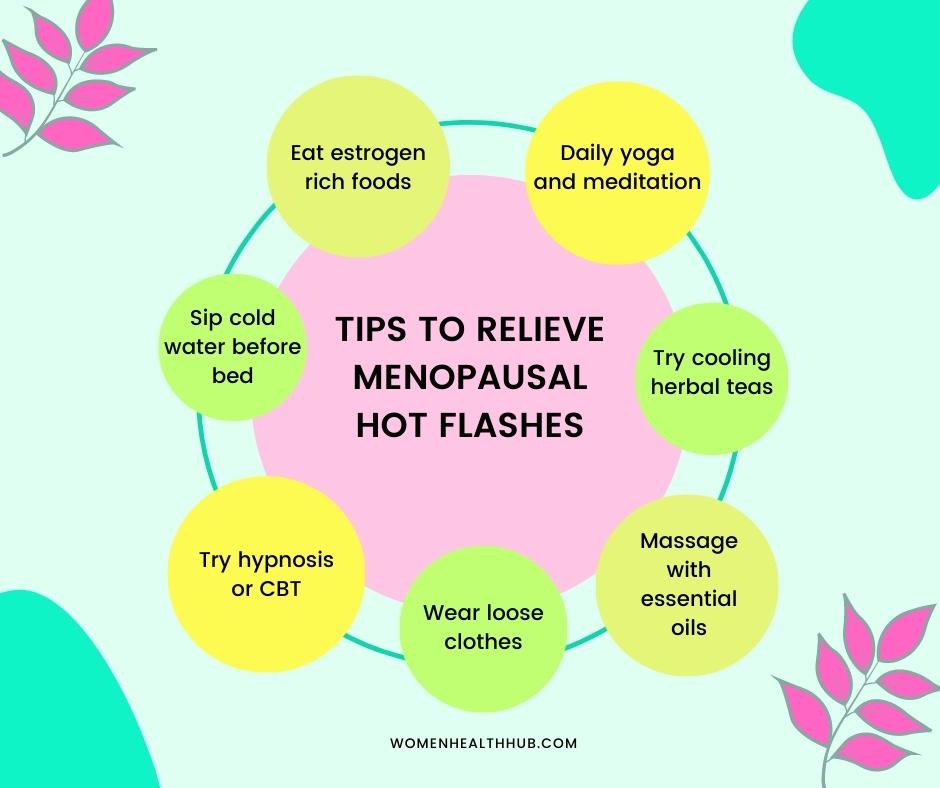 5. Keep Your Room Well-Ventilated
One of the most serious triggers for hot flashes is a hot environment. If you live in a poorly ventilated setting or a region with a hot climate, it's vital to ensure your room stays cool to reduce the episodes.
Open your bedroom window at night to let cool air in. Turn on a fan or an air conditioner for more cooling. Whenever you go outdoors, keep a fan with you to stay cool.
In addition, turn off the lights to mitigate the heat in your bedroom, as extra lighting tends to increase the temperature of the surroundings.
6. Apply Cold Water Therapy
Many women also treat hot flashes by swimming, showering, or bathing in cold water, known as cold water therapy. It's a safe and proven method to reduce body heat for several minutes, even after being out of the water.
Experts also recommend washing your face and running your hands under cold water to relieve hot flashes.
Staying hydrated is yet another way to go. Drink as much water as possible to treat hot flashes during the day.
You may also drink a few sips of cold water before bed to ease night sweats. But make sure you don't overdo water at night. Otherwise, it may mess up your sleep and keep you awake to pee.
7. Get Rid of Extra Layers
You may also want to ditch extra clothing to deal with hot flashes. Wearing warmth-inducing, tight clothes can be a trigger for heat. Instead, ensure you wear light and breathable clothes, especially at night, to treat night sweats.
8. Invest in a Cool Mattress
Most women overlook this critical factor: your mattress plays a crucial role in sleep. You may feel extra hot overnight if your mattress is too lumpy or sagging. You can find cooling gel mattresses that regulate temperature. Or, you can choose a medium to firm surface that doesn't sink you in but instead keeps you afloat and cool.
It also helps to invest in a breathable pillow or bedsheet fabric to treat hot flashes naturally.
9. Manage Your Weight
Obesity or being overweight usually increases severe hot flashes episodes and makes them last longer. Hence, experts recommend managing your weight and shedding extra pounds to deal with hot flashes.
10. Drink Soothing Herbal Teas
Herbal teas also have a calming effect on hot flashes. Here are some of the best herbal teas you should drink daily to boost estrogen naturally, relieve stress, and reduce hot flashes.
Black cohosh
Red raspberry leaf
Burdock root
Red clover
St. John's wort
Valerian root
Ginseng
Ginkgo biloba
Chasteberry
Ashwagandha
Green tea
Licorice
Read More: 15 Best Fertility Herbal Teas to Get Pregnant
11. Take Essential Vitamins
Minerals and vitamin deficiencies may also lead to increased hot flashes. Research shows that women with low vitamin D levels experience hot flashes during menopause.
Another study confirmed that women who take vitamin B-9 supplements show improvement in managing hot flashes. Plus, vitamin B12 deficiency is linked to hot flashes as well.
In another study, scientists revealed that women who took vitamin E capsules during an experiment showed a significant reduction in hot flashes.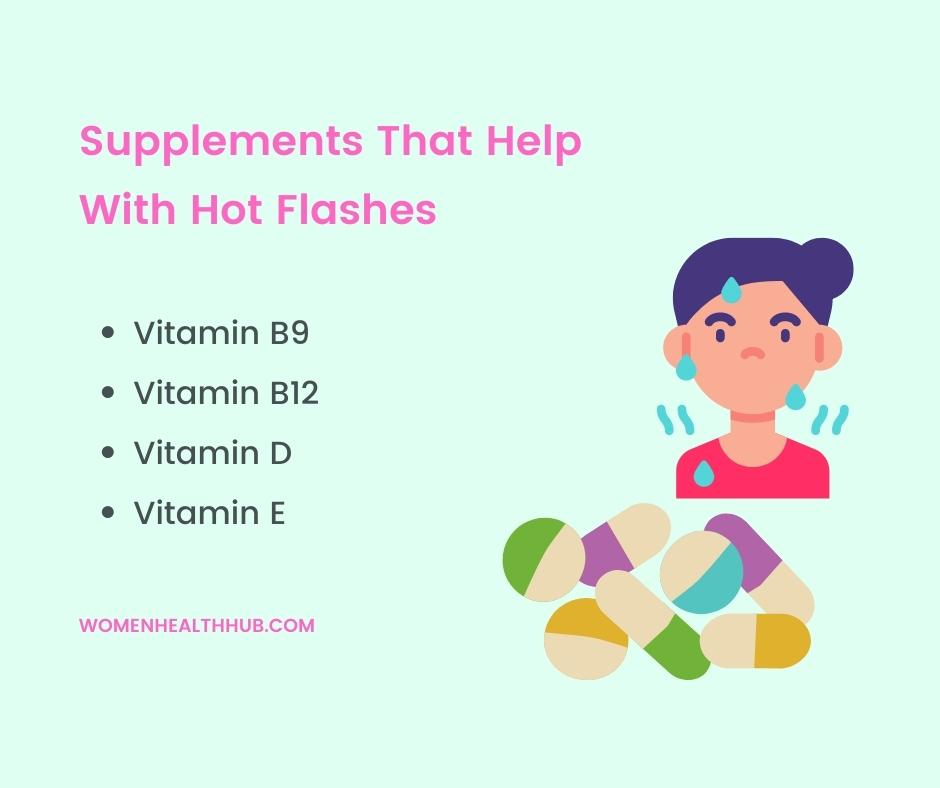 Thus, to treat hot flashes from menopause, you may want to take different supplements for nutritional deficiencies.
Read More: 5 Best Vitamin B12 Supplements
12. Avoid Harmful Foods
Several foods and drinks can trigger these painful symptoms. Avoid consuming super spicy, carb-loaded, and highly processed foods if you're prone to hot flashes. It's also important not to consume too many sugary foods.
You may want to be mindful of alcohol intake as well – drink moderately or not at all. Caffeinated products may also be harmful to women with frequent hot flashes problems.
Similarly, experts advise against smoking, as it's associated with a high risk of menopausal hot flashes.
13. Drink Cool Beverages
You can also try drinking soothing cool beverages to treat hot flashes naturally. Some drinks have superb cooling effects on the body. For instance, buttermilk, iced tea, and soy drinks are popular for managing hot flashes.
14. Consume Estrogen-Rich Foods
Since hot flashes are a symptom of estrogen shortage, it goes without saying that the body needs more estrogen to regulate temperature properly.
While HRT is one way to go, the other natural technique is to increase the intake of estrogen-rich foods. Some of them are:
Fruits like peaches, berries, and pomegranates
Vegetables such as kale, spinach, broccoli, carrot, and tomatoes
Soybeans and tofu
Fiber-rich foods like whole grain bread or brown rice
Different nuts, seeds, and dry fruits
Read More: 15 Foods to Boost Estrogen Naturally
15. Go for Acupuncture Treatment
Acupuncture is an alternative medicine method that involves inserting needles at various points in the body and running gentle electric stimulation through them. This ancient technique has remarkable effects on pain reduction.
Research shows that acupuncture is also an excellent natural tactic to treat hot flashes in menopause.
16. Try Cognitive Behavioral Therapy (CBT)
Cognitive-behavioral therapy (CBT) is a talking therapy that changes your behaviors to help you navigate problems and relieve anxiety.
Research shows CBT can reduce the painful effects of night sweats and hot flashes. Besides, it also alleviates other menopausal symptoms, such as depression, insomnia, and lethargy.
17. Be Mindful of Medicinal Side Effects
Certain medicines may trigger hot flashes, such as antidepressants and hormone regulatory meds. Opioids are known to cause hot flashes and night sweats as side effects.
Similarly, Raloxifene – commonly prescribed for osteoporosis treatment – may also trigger hot flashes. In addition, almost all vasodilation medicines may result in skin flushing, warmth, and sweating.
Thus, you should communicate the heating discomfort to your doctor to treat hot flashes and ease the uncomfortable symptoms.
The Bottomline
Although dealing with hot flashes during menopause can be a considerable challenge, it's not impossible. All you need to do is make slight changes in your lifestyle and ensure you take advice from an authentic ob-gyn to treat hot flashes from menopause. Plus, follow our tips to manage hot flashes easily at home.
References:
https://www.ncbi.nlm.nih.gov/pmc/articles/PMC3123409/
https://pubmed.ncbi.nlm.nih.gov/23435026/
https://www.ncbi.nlm.nih.gov/pmc/articles/PMC1949018/
https://www.ncbi.nlm.nih.gov/pmc/articles/PMC3731680/
https://thebms.org.uk/2017/02/new-factsheets-cognitive-behaviour-therapy-cbt-menopausal-symptoms/