Hey there! This post may contain affiliate links. As an Amazon Associate, I earn a teensy commission from qualifying purchases when you buy through these links (at no additional cost to you). For more info, please check the full disclaimer.
Per the CDC, bacterial vaginosis affects over 21 million women in the US annually. Hence, women need to recognize the symptoms of bacterial vaginosis timely and get proper treatment immediately.
Untreated bacterial vaginosis may lead to harmful complications. Plus, it can severely impact your sex life and mental wellbeing.
Not to mention, living with bacterial vaginosis can be really painful!
Let's review the most common and often overlooked signs of bacterial vaginosis in women.
What is Bacterial Vaginosis?
Bacterial Vaginosis (BV) is a common vaginal infection due to harmful bacterial overgrowth.
Countless healthy bacteria live naturally inside your vagina. However, if this balance is disturbed, unhealthy bacteria grow exponentially.
This overgrowth of harmful bacteria leads to signs of bacterial vaginosis infection in women.
What Factors Trigger Bacterial Vaginosis?
Usually, the natural balance of good and bad bacteria in the vagina is disrupted by a change in pH.
Thus, anything that can change the natural pH of your vagina can put you at risk of bacterial vaginosis.
Below are a few risk factors that can trigger the signs and symptoms of bacterial vaginosis in females.
Having multiple or frequently new sex partners may put you at the target of bacterial vaginosis infection.
Women who have never had sex, have fewer sex partners, and practice safe intercourse using condoms have a lower risk of this infection.
Douching is also one of the main reasons for early symptoms of bacterial vaginosis.
It refers to a process that "cleanses" your vagina using a chemical cleansing agent. These cleansing agents contain fragrances and antiseptics that disrupt the normal pH level and lead to harmful bacterial outgrowth.
Research shows that women who douche just once a week are five times likelier to develop BV symptoms than others.
The chemicals used in bubble baths tend to alter the pH of the vagina. The alcohol, fragrances, and other ingredients of bubble baths can irritate and damage sensitive skin down there.
Instead, taking showers or keeping your vagina covered during a bubble bath is better.
Read More: 8 Tips for Feminine Hygiene in Summer
Is Bacterial Vaginosis More Common During Pregnancy?
Being pregnant increases the chance of experiencing the symptoms of bacterial vaginosis. Research by the CDC shows that around 1 million women get BV in pregnancy.
This high risk of bacterial vaginosis in pregnancy is usually because of hormonal changes. Hormonal imbalances disturb the pH level of the vagina, leading to an increase in the growth rate of bacteria.
So, if you are pregnant, you should be more careful and avoid anything that can trigger the signs of bacterial vaginosis infection.
Can Bacterial Vaginosis Harm Your Baby During Pregnancy?
Bacterial vaginosis during pregnancy cannot harm your baby, but it can cause several complications, such as:
Premature birth
Recurring infections after delivery
Low birth weight of the baby
Miscarriage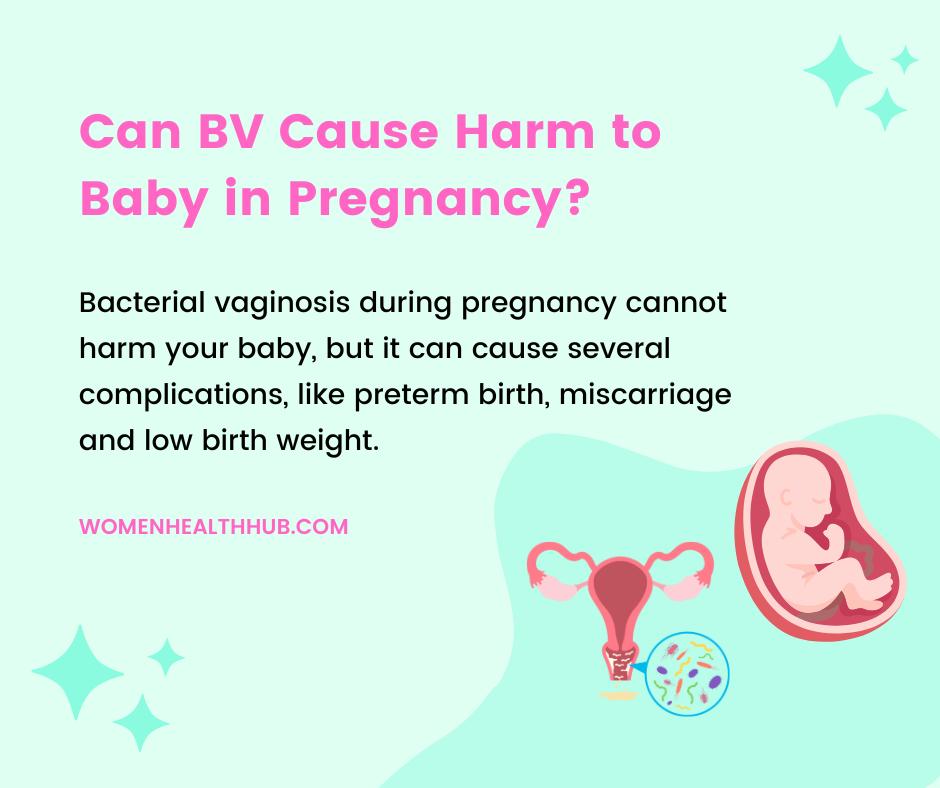 What Things Should You Avoid if You Have Bacterial Vaginosis?
Experiencing symptoms of bacterial vaginosis can be seriously distressing. Hence, the best thing you can do is avoid everything that might worsen the pain.
These are the factors that can cause the bacterial vaginosis signs to flare up:
Use of chemical-filled sanitary pads:
The chemicals inside sanitary pads are a major exacerbating factor for bacterial vaginosis symptoms in women. This is why many women complain about aggravated BV while they are menstruating. If you have bacterial vaginosis, using unscented tampons instead of fragrant sanitary pads is better.
Wearing tight clothes such as nylon tights or underwear can block the airflow toward the vagina. As a result, it can lead to increased bacterial growth and, eventually, BV. So, if you already suffer from a bacterial vaginosis infection, you should avoid wearing tight clothes.
Regular exercises or strenuous workouts mess with the acidity of the vagina. As the acidity changes, symptoms of bacterial vaginosis flare up.
This is why you should avoid intense exercise while having bacterial vaginosis. It's also essential to wear proper breathable attire for exercise.
Plus, clean the down-south thoroughly to get rid of sweat after working out.
Read More: Best Bootcut Yoga Pants to Buy on a Budget
Can Bacterial Vaginosis Come Back?
At times, symptoms of bacterial vaginosis may reoccur. You can get recurrent bacterial vaginosis within three months of a previous infection.
This usually happens if you fail to get proper treatment for the previous BV attack or practice adequate hygiene in the following days.
If the BV recurs, you may have to undergo a prolonged treatment of about six months, although a healthcare professional will determine the appropriate treatment duration.
If you notice bacterial vaginosis signs twice within six weeks, seek a professional's advice immediately.
Read More: 18 Must-Follow Summer Health Tips
What are the Symptoms of Bacterial Vaginosis?
So how do you know if you have BV?
The CDC reports that around 84% of women with bacterial vaginosis present no symptoms initially.
However, with time, you may notice certain changes in the discharge and other abnormalities that could indicate you have a BV infection.
Let's go through the symptoms of bacterial vaginosis that you may need to watch out for.
1. Grey vaginal discharge
An abnormal vaginal discharge is a critical sign of bacterial vaginosis. The normal vaginal discharge might change from transparent to milky grey or yellow if you have a bacterial infection. This color change is due to the collection of dead white blood cells, various bacteria, and cellular waste materials.
2. Watery vaginal discharge
Another alarming sign of bacterial vaginosis is vaginal discharge consistency. You may need treatment immediately if it turns from thick and milky to thin and watery.
3. Unpleasant odor
Usually, the vaginal discharge is odorless. But if it has a distinct foul, fishy odor, it may be a bacterial vaginosis symptom.
4. Itching outside the vagina
Bacterial vaginosis affects the delicate and sensitive skin outside the vagina. This is why you might feel itching or irritation in the outer tissues of the vagina if you are suffering from bacterial vaginosis.
5. Pain in the vagina
Bacterial vaginosis can cause dull, aching pain in the lower abdomen or vagina. If you experience cramp-like pain more often, get tested for bacterial vaginosis.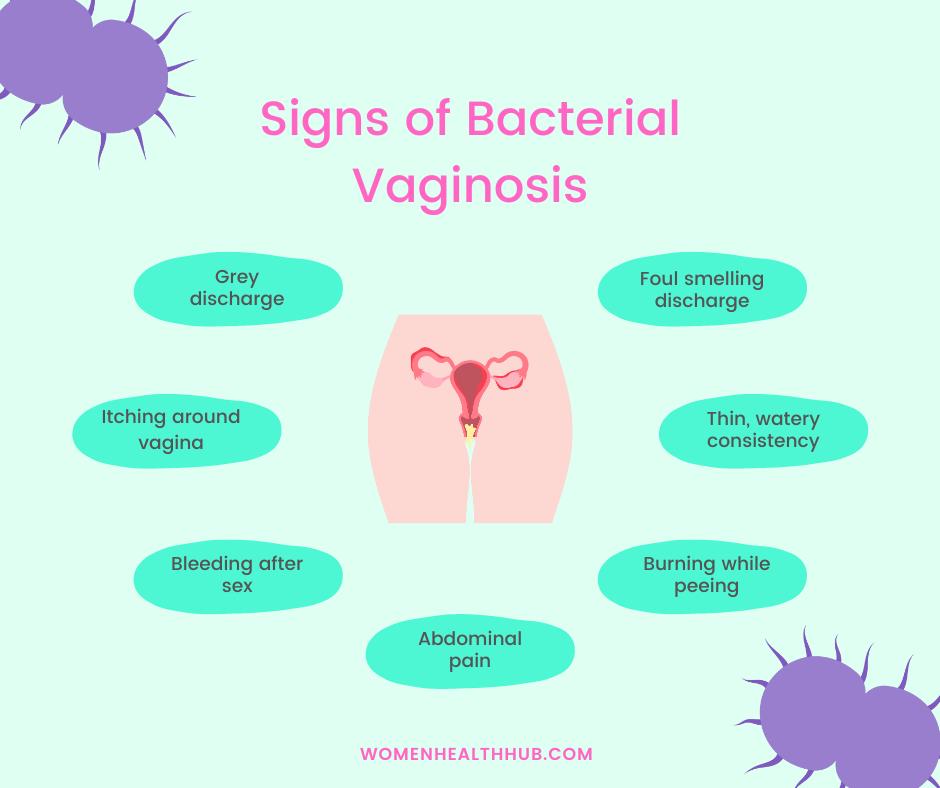 6. Burning sensation while urinating
This is also one of the most uncomfortable symptoms of bacterial vaginosis. The changes in vaginal acidity and increased bacterial growth can cause a burning sensation when you pee.
7. Vaginal bleeding after sex
This is not a common symptom, but definitely a serious one. If it isn't your first time, bleeding after sex could be alarming. If you bleed unusually after intercourse and experience pain in the abdominal region, consult a doctor immediately.
What is the Difference Between Bacterial Vaginosis and Yeast Infections?
The main symptoms of bacterial vaginosis and yeast infection are almost similar. So how do you know if you have bacterial vaginosis?
Both these infections release abnormal vaginal discharge. The color and consistency of the discharge help determine if you have bacterial vaginosis or a yeast infection.
If you have symptoms of bacterial vaginosis, you may notice a thin and gray vaginal discharge. On the other hand, yeast infection may cause the discharge to be thick and white-colored, similar to cottage cheese.
Both these infections are also distinguished by their smell. The discharge in bacterial vaginosis has a foul, unpleasant odor, while the vaginal thrush discharge is odorless.
Read More: 9 Best Pregnancy Yeast Infection Treatments
How to Treat Bacterial Vaginosis?
Treating the symptoms of bacterial vaginosis is vital to avoid any more complications. Following are some of the most common methods to cure BV.
Antibiotics: Over-the-counter antibiotics are the first choice of treatment for bacterial vaginosis. Oral antibiotics are mostly preferred for pregnant women as they have minimal side effects. Besides you can also use gels or creams. Your doctor will prescribe the right antibiotic for you based on the severity of your BV symptoms.
Lactobacillus tablets: These may also prove helpful against infection. Lactobacilli are the 'good' bacteria in your vagina. However, bacterial vaginosis affects their growth in the vaginal flora. Lactobacillus Tablets contain probiotics that may help neutralize the vaginal pH.
Vaginal acidic gel: Certain gels that contain acetic or lactic acid may also help treat the symptoms of bacterial vaginosis. These gels lower the vaginal pH and maintain a favorable environment for the growth of healthy bacteria. Using these acidic gels also reduces the chance of recurrent bacterial vaginosis.
Home remedies: Several natural remedies are also effective against the signs of bacterial vaginosis. For example;
Consuming yogurt can bring the pH level of your vagina back to normal because it's rich in probiotics and healthy bacteria.
Eating raw garlic benefits BV infection thanks to its powerful antibacterial properties that stop harmful bacterial overgrowth.
Using tea tree oil may also reduce BV symptoms because of its antibacterial properties.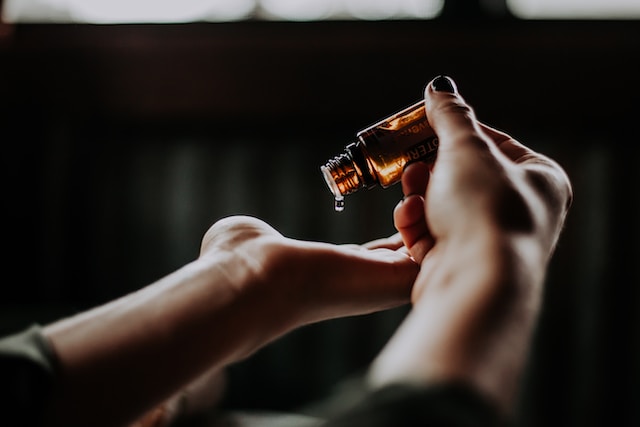 The Bottomline
Now that you know about the symptoms of bacterial vaginosis, you may want to stay alert, especially if you're sexually active or previously had BV. Follow the right treatment plan to avoid recurring BV infection. Also, ensure you follow proper hygiene and avoid using any chemicals down there that may aggravate the infection.
References:
https://health.unl.edu/vaginal-odor-what%E2%80%99s-normal-and-what%E2%80%99s-not
https://www.ncbi.nlm.nih.gov/pmc/articles/PMC9366906/
https://www.cdc.gov/std/bv/stdfact-bacterial-vaginosis.htm
https://www.ncbi.nlm.nih.gov/books/NBK459216/
https://www.ncbi.nlm.nih.gov/pmc/articles/PMC4807032/