Hey there! This post may contain affiliate links. As an Amazon Associate, I earn a teensy commission from qualifying purchases when you buy through these links (at no additional cost to you). For more info, please check the full disclaimer.
CBD products are all the rage nowadays. You'll come across a variety of CBD supplements, oils, and tinctures on the market. But if you believe that smoking cannabis has no health hazards and all CBD items are completely safe for your wellbeing, think again!
An interesting study in 2021 discovered that cannabis plants could absorb heavy metals from the soil, making them potentially harmful for people.
Growing cannabis plants successfully is undoubtedly a challenge. Such companies have to be careful about the environmental conditions and avoid using illegal techniques to grow marijuana. But a lot of farmers don't understand how it can wreck your health in the long run.
Let's take a look at what the study reveals.
Details About the Study
The study was conducted by Louis Bengyella, an assistant research professor of plant science at Pennsylvania State University, Mohammed Kuddus, John E. Kaminski, Piyali Mukherjee, and Dobgima J. Fonmboh. The study was published in Toxin Reviews on 28 October 2021.
Through this research, Bengyella and others elaborated on the side effects of various elements in farmed cannabis on the health and economy. They also shared some ways cannabis farmers can minimize the health risks involved by following agricultural best practices.
What Were the Findings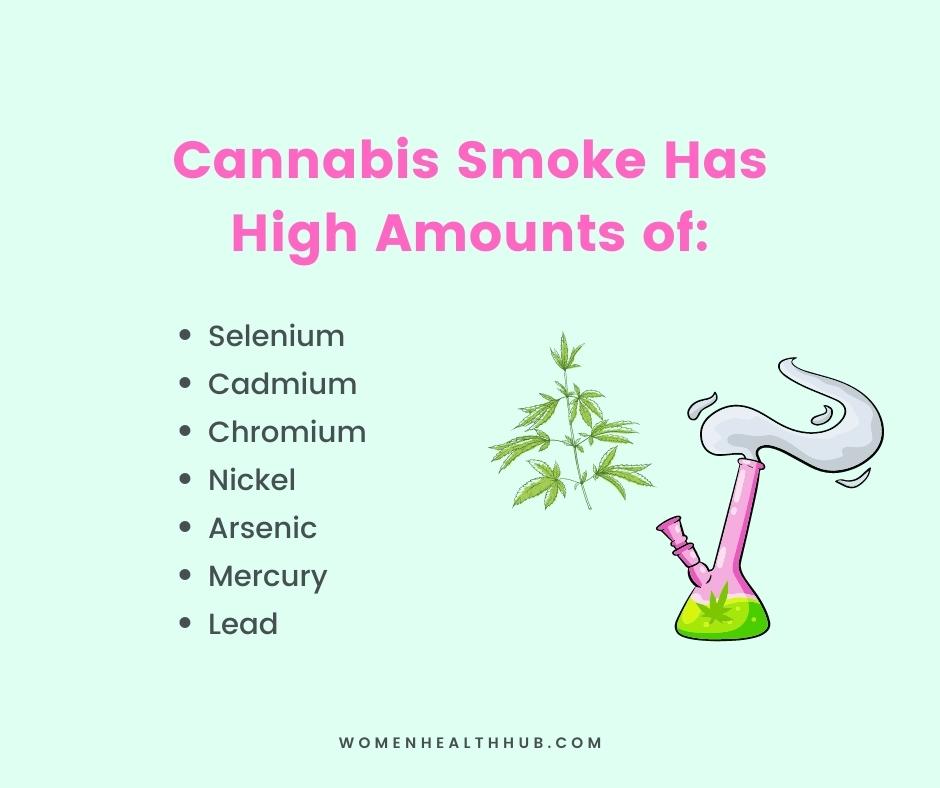 Cannabis smoke carries traces of nickel, selenium, cadmium, chromium, arsenic, mercury, and lead, making it the most harmful way of consumption.
These heavy metals are carcinogenic or may cause cancer.
Some of this cannabis is produced for phytoremediation – a process in which plants absorb toxins from the soil. People may unknowingly take CBD products with these cannabis strains and suffer consequences.
This type of toxic cannabis is particularly harmful for cancer patients who use medical marijuana to ease symptoms of cancer.
The team recommends that cannabis growers should avoid planting in abandoned industrial sites and use a pH test to determine whether the land is free of heavy metals or not. Cannabis should be grown in a controlled environment, to reduce the harmful effects of drugs.
Read More: Can Birth Control Prevent Cancers (New Research)
Benefits of Cannabis For Curing Diseases
Cannabis is used to treat several diseases and medical conditions. Here are some of its benefits:
Cannabis is effective against neuropathic pain, appetite loss, and nausea caused by HIV/AIDS.
There is also evidence that cannabis helps deal with anxiety and stress.
Early research suggests that cannabis may effectively slow the progression of Alzheimer's disease, a condition that causes irreversible dementia in many people.
It's quite effective against arthritis pain.
Some scientists believe that cannabis may help relieve asthma symptoms, including the shortness of breath commonly experienced by asthmatics.
Early research also suggests that cannabis may be effective in treating autism.
Read More: BMI & Blood Pressure Increases Risk of Preeclampsia (New Research)
How to Prevent the Side Effects of Cannabis?
There are many ways that you can prevent the side effects of cannabis. One way is to drink plenty of fluids before and after smoking. It will help to flush the toxins out of your system.
You can also eat healthy foods and drink plenty of water. It will help keep your body healthy and help fight off numerous diseases by boosting immunity.
Another way is to use a vaporizer. It will reduce the amount of smoke that you inhale. The best option is to go for edibles instead of smoking. Edible capsules and CBD gummies are far safer and much healthier than smoke.
If you wish to consume medical marijuana regularly, it's essential to stay healthy. Eating a proper diet and exercising regularly will keep your body in good condition and minimize the chances of cancer and other related complications.