Hey there! This post may contain affiliate links. As an Amazon Associate, I earn a teensy commission from qualifying purchases when you buy through these links (at no additional cost to you). For more info, please check the full disclaimer.
Birth control pills are among the most widely used medicines for preventing pregnancy. While they're mostly safe, it's also associated with increased risk of heart attacks, hormone imbalance, mood swings, and menopausal symptoms.
But a new Swedish study shows it has remarkable anti-cancer tendencies as well.
Ovarian and endometrial cancers are two scary diseases, affecting thousands of women around the world. According to December 2020 research, using birth control pills shows tremendous protection against both these female cancers. 
Let's see how this groundbreaking revelation is a gamechanger.
Details About the Study
This study was conducted at Uppsala University by Weronica E., Torgny Karlsson, Åsa Johansson, Therese Johansson, and Julia Höglund.
The researches aimed to figure out the long-term effects of using contraceptive pills on the risk of developing breast, ovarian, and endometrial cancer in upcoming years.
This massive study was based on the data from over 250,000 UK women born between 1939 and 1970 to gather sufficient data for future research.
Besides looking at their use of contraceptive pills during reproductive age, they also collected info about the subjects' cancer history, lifestyle habits, and relevant diagnoses in the past.
Taking birth control for years = lower risk of endometrial and ovarian cancer 😲
What Were The Findings?
The number of cancer cases was higher in women who had never used oral contraceptives in their life.
Most users started pills at a young age and continued for at least a decade.
The pills show a significantly lower risk of endometrial and ovarian cancer.
There was no connection between reduced breast cancer cases and oral contraceptives.
Taking pills for a longer time particularly reduced the chances of endometrial cancers.
What are Contraceptive Pills & are They Risky?
Also known as birth control, oral contraceptives are one of the most controversial topics in the health arena.
Birth control pills are usually taken before intercourse to avoid pregnancy. They contain estrogen and progestin, two important female sex hormones. Both work together to change the womb lining, stop sperm from reaching the cervix, and prevent ovulation. 
In short, these pills control your ability to ovulate and thereby, reduce chances of pregnancy. 
FDA first approved the pills in 1960 and since then, millions of women have used this magic medicine during their peak reproductive years.
All this attention has consequently highlighted several pros and cons of birth control.
Pros:
Besides its obvious benefit to prevent pregnancy, oral contraceptives help with acne, period cramps, heavy bleeding during periods, and frequent periods.
Contrary to popular rumors, the changes caused by birth control are not permanent.
Cons:
In some women, continuous use of these pills can have serious side effects. For example, a common issue is serious hormone imbalance, leading to sudden weight gain.
Other cons of taking contraceptive pills include nausea, headaches, and mood swings. It can also mess up your natural period cycle. Some studies link the meds to heart attack symptoms, stroke, and tumors.
The Sudden Surge in Female Cancers
In the last few decades, we've seen a rapid increase in female cancers.
According to scientists, the most common causes are poor nutrition, unhealthy habits, smoking, pollution, alcoholism, and sleeplessness. In some cases, not getting pregnant is associated with high breast cancer rates.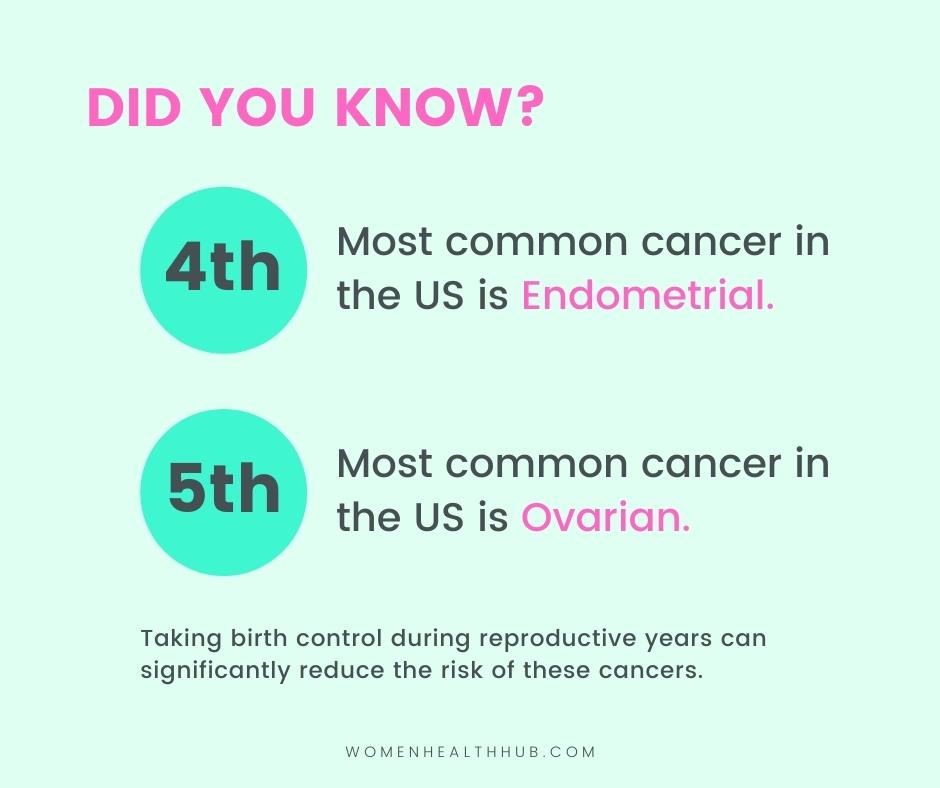 Ovarian cancer is the 5th whereas endometrial is the 4th most common women's cancer in the US.
So what exactly happens in them?
Endometrial cancer: Also known as uterine cancer, this condition affects the uterus. Endometrial cancer creates tumors in the internal lining of the organ. It's a fast-spreading disease and quickly reaches the rectum, ovaries, fallopian tubes, and vagina.
Ovarian cancer: This disease forms cancerous tumors in the ovaries. Most women dismiss the early symptoms of ovarian cancer because they're so random – abdomen pain and pressure can occur any time!
Amidst the increasing health awareness about hormones, many women are now questioning the use of hormone control pills.
Is it the reason behind the rising rates of female cancers?
How Do Oral Contraceptives Help?
Luckily, this study holds the answer. Taking oral contraceptive pills is safe and effectively lowers the risk of ovarian and endometrial cancers in the long run.
Doctors even believe taking birth control can lower your risk of ovarian cancer by a whopping 50%!
So how does it work?
Ovaries produce eggs but birth control tends to stop this process for a few days. But with every egg batch you release, the more hormones you'd have to deal with. Over the years, hormonal imbalance could increase the risk of tumor production.
Women who take oral contraceptives comparatively release lesser eggs throughout their life. As a result, they are relatively safer from both these reproductive cancers.