Hey there! This post may contain affiliate links. As an Amazon Associate, I earn a teensy commission from qualifying purchases when you buy through these links (at no additional cost to you). For more info, please check the full disclaimer.
Living with high blood sugar disease is a real challenge. You may need to control glucose by changing your dietary habits. It includes knowing which foods are OK for you and what you must avoid. In this blog, you'll discover the best and worst vegetables for diabetes that you should add to or remove from your diabetes diet menu.
Right now, more than 15 million women in the US alone have diabetes! Safe to say, it's one of the most common diseases in the world. And when left unmanaged, it wrecks physical and mental wellbeing.
There are two main types of diabetes. Diabetes type 1 is inherited or occurs by birth. Since the body is unable to make insulin on its own, you will need to take it externally to absorb blood sugar.
Diabetes type 2 is acquired over the years because of poor diet, lack of physical activity, and obesity. It causes serious damage to the body's organs and tissues if you fail to lower your glucose.
Therefore, it's necessary to be mindful of what you eat. Experts recommend adding more nutrients to your diet such as fiber, vitamins, etc. Raw natural foods are packed with nutritional value but some compounds can have a negative effect on your sugar levels.
This is why I'm sharing a list of the bad and the good veggies for diabetes so you only consume the right stuff!
Alarming Signs of Diabetes
Many women tend to overlook the initial symptoms of diabetes and dismiss them. As a result, they carry on with high blood sugar and it further complicates their health.
You might don't even know you have diabetes until it turns into irreversible conditions like a neurological disease called diabetic neuropathy.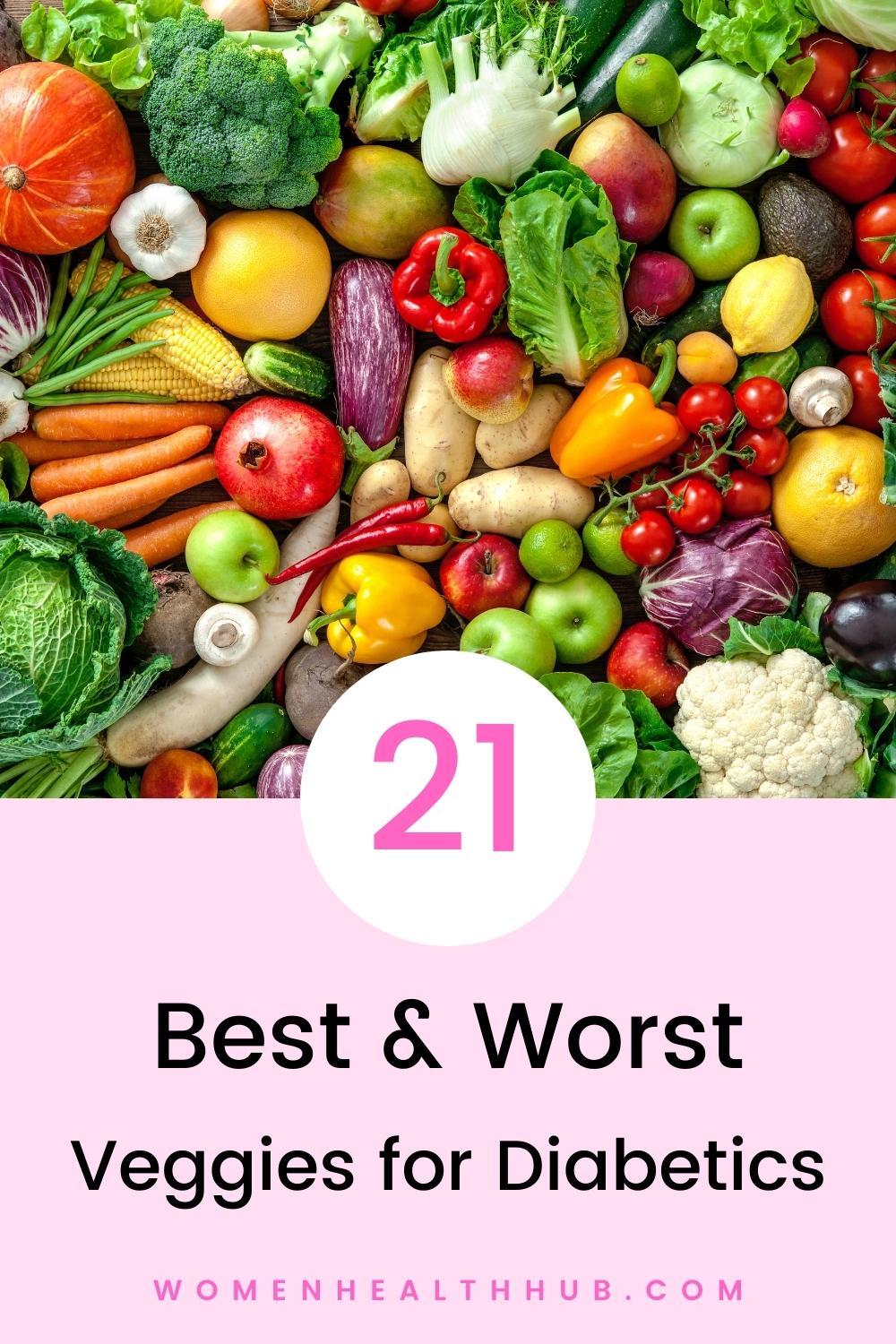 Thus, you should look out for these warning signs of diabetes to manage the blood sugar levels timely:
Extreme tiredness despite a good night's sleep
Frequent need for urination, especially at night
Feeling thirsty all the time
Sudden hunger pangs, and weird cravings
Unexplained weight loss or gain
Blurred vision
When you get high blood sugar in pregnancy, it is known as gestational diabetes. It's also a dangerous issue and can mess up the health of both the baby and soon-to-be-mama.
Research shows that gestational diabetes also leads to congenital disabilities. So if you want to prevent the risk of birth defects, make sure you monitor the glucose levels daily.
Read More: 14 Early Warning Signs of Diabetes
Nutritional Recommendations for Diabetes
As a diabetic, the most important goal is to maintain blood sugar levels. But before that, you should know about the normal range.
Ideally, the normal glucose levels are 140 mg/dL. More than 200 mg/dL indicates diabetes whereas between 140 and 199 mg/dL is prediabetes. High blood sugar levels are between 130 mg/dL and 180 mg/dL. Low blood sugar is below 70 mg/dL.
If you're pregnant, your normal blood sugar should be:
| Time of sugar check | Normal range |
| --- | --- |
| Before meal | 95 mg/dL |
| 1 hour after meal | 140 mg/dL |
| 2 hours after meal | 120 mg/dL |
This chart can help you rule out gestational diabetes in pregnancy.
Normalizing blood sugar requires changes to your diet, including;
Increased need to eat lots of healthy proteins, usually found in lentils, grains, and beans
Low-fat dairy products instead of full fat
Consuming seeds and nuts such as flaxseeds, chia seeds, cashews, pistachios, etc as they regulate insulin levels
You will also need to add more raw fruits and vegetables for diabetes containing sufficient fiber and necessary nutrients.
Eat more vitamins and fiber if you have diabetes. They help with digestion, weight loss, and balance blood sugar. 
Here are some great veggies for diabetics 😍🥬🥒
#diabetes #nutrition
Keep in mind that eating timely meals keeps your blood glucose stable throughout the day. Physical fitness is also helpful for people with diabetes to avoid obesity and stress, commonly linked to spikes in blood sugar. Start with short walks and gradually increase the amount of exercise you get per day.
Read More: 6 Best Budget Blood Glucose Monitors
Best Vegetables for Diabetes
If you're looking for holistic foods to regulate sugar, here are the must-eat veggies to add to your diabetes diet food list:
1. Beets
Although they are super sweet, experts recommend eating beetroot for balancing glucose.
According to Dr. Whitney Linsenmeyer, professor of dietician and nutrition at Saint Louis University, "Beets are high in fiber, which traps the sugar and slows its absorption into the bloodstream."
Beets are a good source of antioxidants. It contains fiber, potassium, iron, and vitamins A, B, and C. Plus, it's packed with beta-carotene which prevents eyesight loss from diabetes. Beets are low in calories and carbs, so you won't gain weight.
Beets are usually eaten cooked or raw. Research shows that drinking just half a cup of beetroot juice can significantly lower blood sugar levels as well.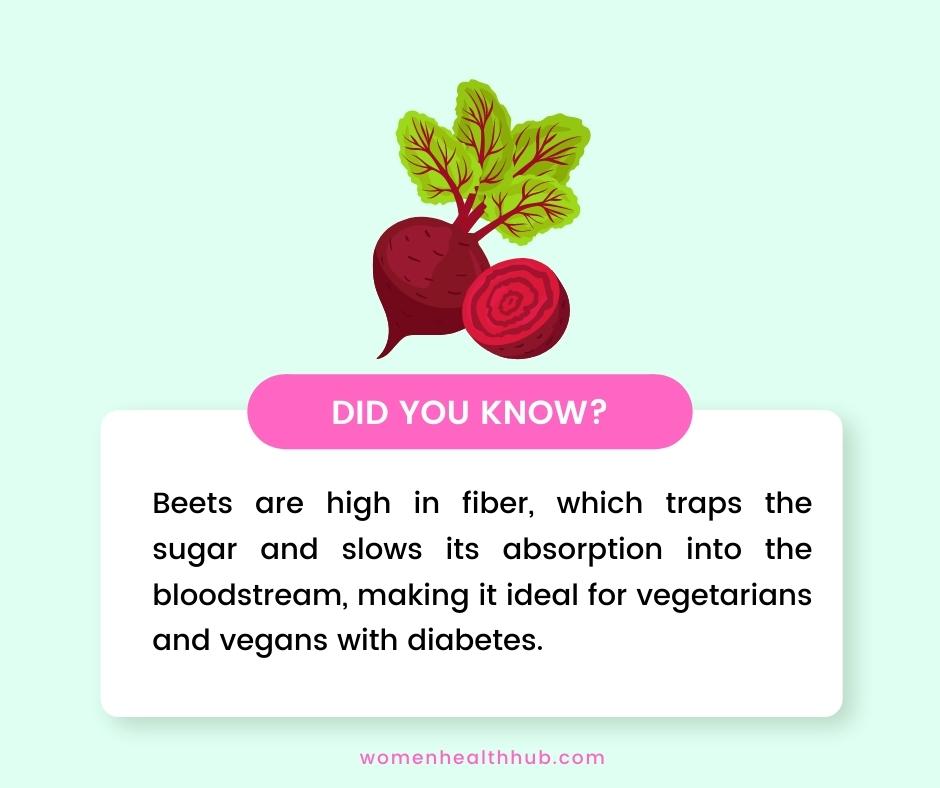 2. Spinach
Spinach is among the best vegetables for diabetes. It is brimming with antioxidants and fiber — the two most important nutrients for diabetics. There's also lots of water content in this food, making it a suitable light and digestible dish to add to your list of diabetes meals.
This leafy green veggie is free of starch and low in calories. So won't lead to weight gain. It also contains plenty of magnesium and potassium, which help lower blood pressure and prevent hypertension.
Spinach can be eaten raw or steamed. But experts recommend cooking it thoroughly to remove oxalic acid which otherwise causes kidney stones.
3. Lettuce
Romaine lettuce is especially good for people with diabetes. It should be on your diabetes diet menu because of the high vitamin C content that boosts the immune system.
Lettuce is one of the best vegetables for diabetes thanks to its low-calorie nature, making it perfect for weight loss. Each cup carries only 5 to 10 calories which makes up only 1 to 2 grams of carbs.
Also, it is packed with water content. So lettuce leaves are a good choice if you're looking for something light and refreshing in your salad.
The darker leaves of romaine are better than iceberg lettuce since they have more nutritional value. Eat it raw every day by adding them to your salads!
Read More: 10 Best Exercises for Weight Loss for Beginners
4. Bok choy
If you have diabetes, incorporating bok choy into your diabetes food list is perfect for regulating your blood sugar levels. Bok choy contains fiber which helps with proper digestion and prevents bowel issues like constipation, which is usual in diabetes.
Additionally, it has flavonoid quercetin – a compound that reduces inflammation and subsequently, the risk of heart attack symptoms, high blood sugar, and even cancer.
It is also a good source of vitamins and minerals, including vitamin C, vitamin A, and potassium. There are no carbs or calories in this leafy green veggie. Plus, you get a boost of antioxidants from bok choy, preventing infections. If you prefer veggies over meat, it's an ideal choice for a vegetarian diabetes diet.
5. Broccoli
Broccoli is among the best vegetables for diabetes type 1 and 2. It has the most nutrient-dense content, making it a perfect food for diabetic meals.
It is an excellent source of Vitamin A, C, K, and B6 and folate, potassium, manganese, and phosphorus. Not only that, but broccoli is rich in fibers which is essential for keeping things smooth in your gut and metabolic system.
Plus, broccoli has a compound called sulforaphane, which is ideal for lowering blood sugar levels naturally.
Along with these, it can help to reduce your risk for diabetes-related cancers like liver, stomach, and colon. The super-low glycemic content lowers high triglycerides, sugar, and cholesterol and keeps your diabetes diet heart-friendly.
6. Asparagus
Asparagus is an awesome vegetable low in carbohydrates and calories, making it ideal for people with diabetes. Research shows that asparagus contains minerals that can help balance glucose levels in your body. In fact, it can increase sugar absorption by 81%.
Asparagus has a high nutritional value, packed with fiber, iron, folate, manganese, copper, chromium, and potassium. Plus you get plenty of Vitamins B6, C, and K.
Chromium is crucial for controlling blood sugar and fights off insulin insensitivity. Folate is essential for pregnant women with gestational diabetes because it helps prevent congenital disabilities in babies affecting the brain and spine.
This tasty shoot brings down blood pressure and improves your heart health as well. Asparagus is usually eaten raw or cooked by frying it in light oil or baking the stems.
7. Cabbage
Cabbage is one of the best vegetables for diabetes eaten in a variety of ways like raw, cooked, or stir-fried. It has plenty of nutrients such as minerals, vitamins, and low carbohydrates.
One cup of raw green cabbage has only 5 grams of carbs. It is also packed with Vitamin C and K, needed for balancing blood sugar levels. The red cabbage is packed with antioxidants, useful in preventing infections.
In addition, cabbage contains low calories so it doesn't contribute to weight gain.
It also improves kidney function, which is vital for getting rid of excess sugar and tackling dehydration.
8. Leeks
Leeks are the perfect food for the diabetes diet menu. Many people don't know the amazing health benefits of leeks for diabetics. They help to slow the absorption of glucose from the intestine into the bloodstream.
This veggie for diabetics is the best source of fiber, polyphenols, and sulfur. The latter two are famous for reducing cell damage and chances of insulin resistance.
Leeks are also low in calorie and carbohydrate content, making them ideal for a weight loss diet. The leaves carry more iron and folate compounds than onions. They are also packed with fiber, vitamins, and minerals.
Leeks taste great when you grill them or add them to soups, stews, stuffing, or pasta.
9. Cauliflower
Cauliflower is a cruciferous vegetable related to broccoli, kale, and cabbage. Just like them, it's rich in fiber. One medium-sized cauliflower gives you about 12 grams of fiber, which is crucial for smooth and quick metabolism.
Plus, cauliflower is an excellent source of vitamins C and K, needed to balance glucose naturally. You also get a good dose of folate and potassium.
Cauliflower is low in calories and has a very low glycemic index, making it a good choice for the diabetes meal menu.
You can eat cauliflower as steamed, baked, boiled, or blanched. Some prefer stir-frying in some oil and adding a few spices. Others prepare cauliflower rice and curries to enjoy the health benefits.
Read More: 7 Serious Signs of Gestational Diabetes in Pregnant Women
10. Turnips
Turnip greens are also an important food in this list of best vegetables for diabetes. As far as root crops go, turnips are usually overlooked despite their amazing advantages for your health.
They are known to clear the blood sugar and remove toxicity. Turnips also manage sugar production from the liver.
Turnips are a great source of fiber, Vitamin B6, C, potassium, magnesium, and folate. The calorie count is low, making turnips a good choice for those watching their weight. The high-fiber content is vital for proper digestion.
This purple-tinged vegetable is good for vegetarians with diabetes looking for a fulfilling meal. You can eat it cooked in the form of a curry or add it to stews. Some eat it raw as well with delicious sauces.
11. Celery
Celery is also among the best vegetables for diabetes food list. It's low in carbohydrates and calories, making it a good option if you want to manage your weight. Celery has a low glycemic content which benefits glucose levels.
It's also a good source of fiber, which can help keep you feeling full and satisfied between meals.
Celery is packed with natural anti-diabetic compounds such as phenols, flavonoids, vitamin C, beta carotene, and more. The minerals help improve insulin function and metabolic activity.
Additionally, celery contains essential compounds called phthalates, which have been shown to reduce blood pressure and in turn, fight off cardiovascular diseases.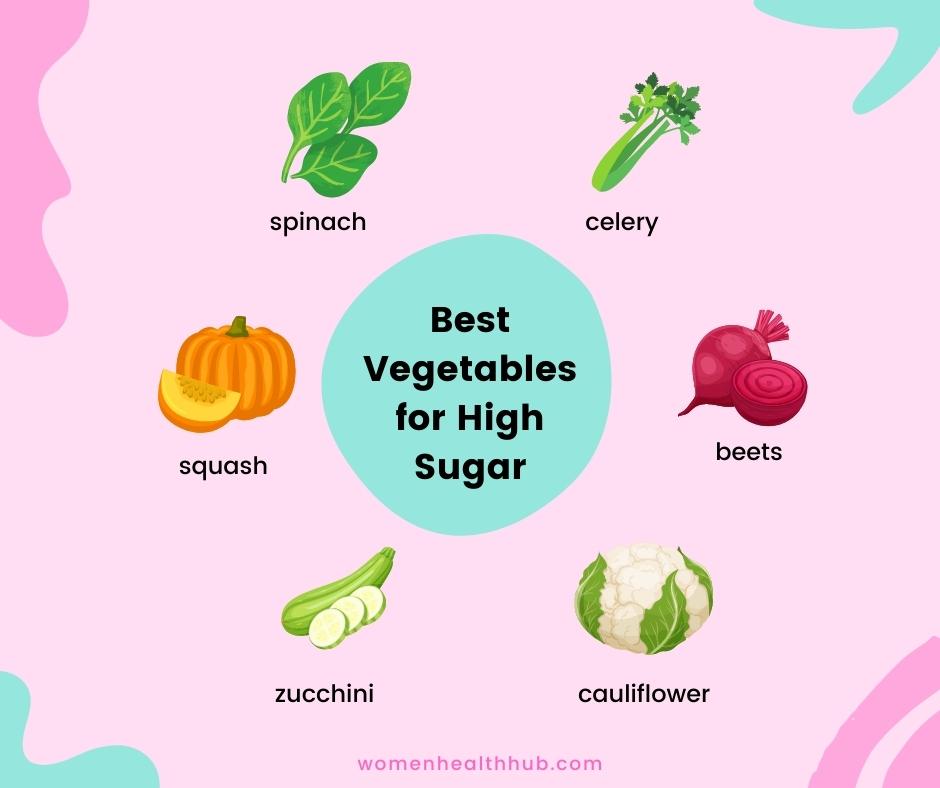 12. Cucumber
Cucumbers are one of the must-eat vegetables for diabetics who are vegan and vegetarians. This hydrating veggie has tons of water which help with dehydration – a common issue in diabetes.
Besides, the minerals in cucumber not only decrease blood sugar levels but prevent hypoglycemia (low blood sugar). If you're looking for a rich-fiber veggie for diabetes, then start eating cucumber regularly.
It carries abundant vitamins A, C, and K, all necessary for sugar control. Cucumber is also a good source of minerals like potassium, magnesium, and manganese. Being low in carbs and quite fulfilling, they best serve as a raw snack or salad ingredient.
13. Green Beans
Green beans are often ignored as integral vegetables for diabetes diet menu. They are low in carbohydrates and calories but high in fiber. With each serving, you get around 5 to 8 grams of fiber, which helps promote better digestion.
Green beans also have a moderate glycemic index, meaning they won't cause blood sugar spikes. They contain Vitamins A, C, and K as well. Just be careful to not overeat as it can lead to bloating and cause discomfort.
14. Zucchini
Zucchini is also a nutritional veggie for diabetes. Zucchini's low glycemic index makes it a healthy choice for any diabetic meal plan. Since the vegetable has low carbs, it fights off cholesterol risk and keeps heart problems away.
The high fiber content helps keep the blood sugar under control by increasing insulin function. Additionally, zucchini is an excellent source of manganese, Vitamin B6, C, potassium, and magnesium.
Zucchini is usually eaten cooked by steaming or baking but some prefer to consume it raw.
15. Squash
If you're looking for the best fiber-rich vegetables for diabetes, squash is a must-have food for your diabetes menu. The high fiber content helps manage your blood sugar levels. It's also a perfect diabetes meal for weight loss.
It has an excellent healing effect, thanks to the multiple antioxidants and vitamins carried inside. Squash is also anti-inflammatory, thus preventing neurological inflammation in feet called diabetic neuropathy.
Read More: 7 Tips to Prevent Hair Loss from Diabetes
What are The Worst Vegetables for Diabetics
Now that you know about the good ones, you might be wondering which vegetables are worst for diabetes. Yes, some can wreak havoc on your wellbeing and cause adverse reactions against out-of-control blood sugar.
These are some of the worst vegetables for diabetics that you need to avoid:
16. Canned vegetables
You'll find numerous preserved veggies in cans. On one hand, it's handy because they save you the trouble of cutting new stuff every day and prep meals faster.
But sadly, because of the preservatives, canned products are the worst vegetable for diabetes. Most canned vegetables have high amounts of salt/sodium which can cause adverse effects on diabetics. If you have high blood sugar, you cannot consume more than 2300 mg of sodium daily. 
17. Sweet corn
Sweet corn is one of the worst vegetables for diabetes because of its carbohydrate content. It carries phytochemicals that might interfere with insulin absorption and raise blood glucose. Plus, corn has carbs which may be dangerous for weight. So it's best to not eat too much corn.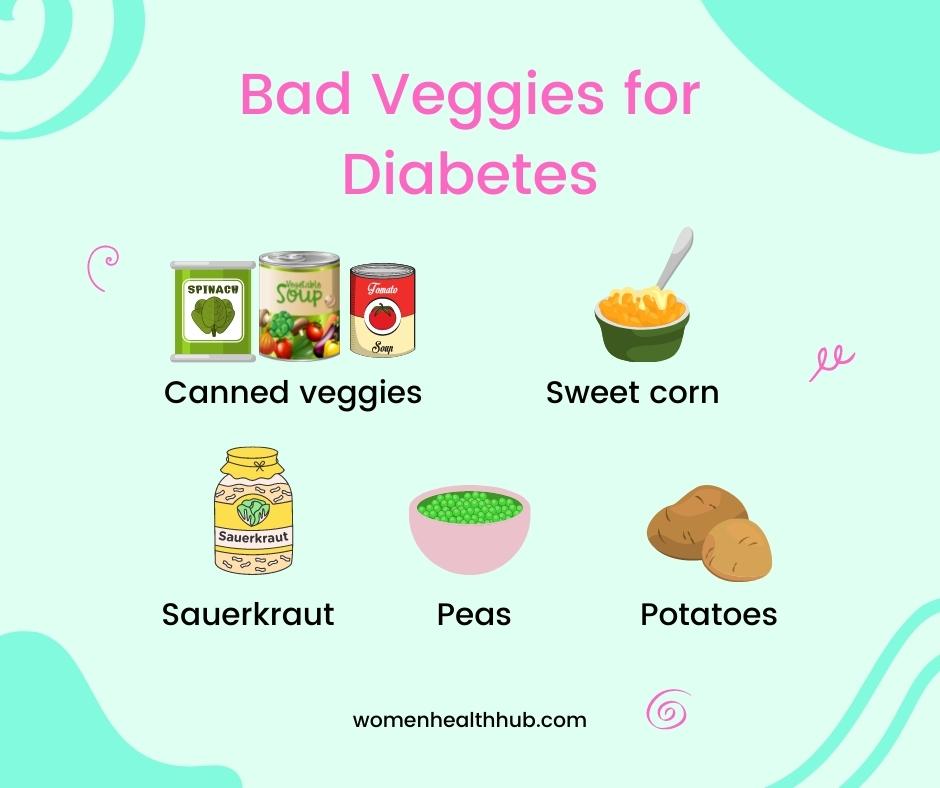 18. Peas
Peas are also bad vegetables for diabetics particularly because of the high amounts of lectins and FODMAPs known to cause bloating. Green peas are also quite starchy so they are loaded with carbohydrates. Experts recommend eating peas less frequently and only consuming fresh ones. 
19. Sauerkraut
Sauerkraut is a fermented cabbage normally consumed in Asian countries. It is made using lots of salt. Although the fermentation process makes it a superb food for lowering blood sugar, the high amounts of salt can have a detrimental effect on your health. With just a quarter of a cup, you get 360 mg of sugar.
20. Potatoes
This is yet another worst vegetable for diabetics because of its heavy starch content. Potatoes are difficult to digest and they tend to raise blood sugar levels when the carbs are broken down. As a result, they increase glucose levels and are not suitable for diabetics. 
21. Yams
Similar to potatoes, yams are quite starchy. But they are also rich in fiber which makes them OK for diabetes diet meals but only when eaten in controlled portions.
Final Thoughts
Although most vegetables for diabetes offer remarkable nutrients, some are still better than others. As a general rule of thumb, avoid eating vegetables with lots of starch and heavy carbs as they mess with weight, cause bloating, and are difficult to digest. Instead, add fiber and vitamin-rich veggies to your diabetes food list.
References:
https://www.consumerreports.org/healthy-eating/are-beets-good-for-you/
https://www.ncbi.nlm.nih.gov/pmc/articles/PMC2529380/
https://pubmed.ncbi.nlm.nih.gov/31464016/
https://www.ncbi.nlm.nih.gov/pmc/articles/PMC7382094/
https://spectrum.diabetesjournals.org/content/16/1/32
https://www.ncbi.nlm.nih.gov/pmc/articles/PMC5426415/
https://care.diabetesjournals.org/content/31/Supplement_1/S61