Hey there! This post may contain affiliate links. As an Amazon Associate, I earn a teensy commission from qualifying purchases when you buy through these links (at no additional cost to you). For more info, please check the full disclaimer.
Pregnancy is a complicated event for both mother and baby and requires immense care throughout nine months. However, sometimes negligence during pregnancy or at the time of birth can result in birth injuries. So moms must know how to prevent birth defects.
In the last few years, there has been a significant rise in the rates of rare birth defects. Every 1 in 33 babies is affected by some kind of congenital disability.
As a soon-to-be-mom, your baby's physical and mental wellbeing is always your priority. You would do anything to keep your little one safe and avoid the risk of birth defects during pregnancy. 
But new moms do make mistakes that result in serious injuries to the little angel. At times, these mishaps could have devastating long-term effects.
Luckily, this guide will help you understand what you can do to prevent dangerous birth defects, symptoms, and triggers.
What are birth defects?
Certain physical and biochemical abnormalities during pregnancy that affect the infant result in birth defects. They often cause structural deformities or stop proper development. They may also be inherited and attack the embryonic growth stage, leaving it incapable of coping with the womb's environment.
Birth defects are also known as congenital diseases, disorders, or disabilities. The word congenital refers to a physical or mental ailment that exists since birth.
Birth defects usually occur during the second or third trimester of pregnancy while birth injuries happen at the time of delivery.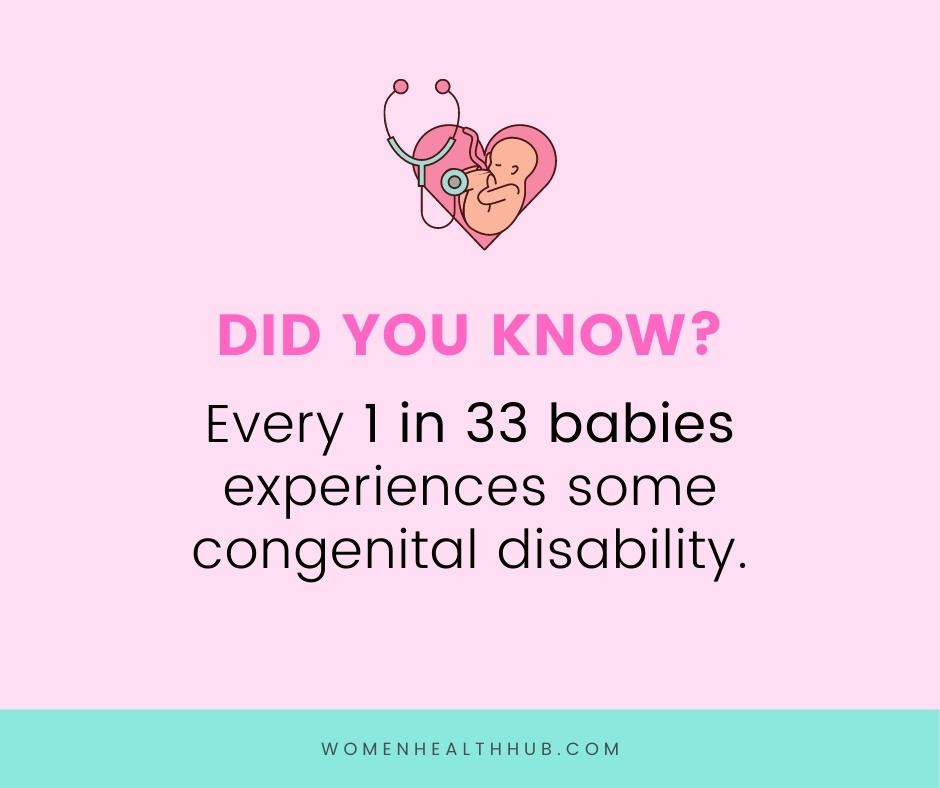 Many of them are irreversible and have a long-term impact on the child's lifestyle. They may range from mild to severe, and affect any part of the baby's body including face, organs, limbs, etc.
Read More: First Trimester Pregnancy Guide – Everything You Need to Know
What are the causes of birth defects during pregnancy?
You might want to know the causes behind these developmental problems. Several reproductive factors interfere with the proper growth of your little one.
But you can only prevent birth defects that can be managed by changing your lifestyle. Others cannot be avoided.
Let's go through some known causes for birth defects:
Inherited genetic disorders:
It occurs when one of the genes experiences a change or drastic mutation resulting in a failed activity. Or perhaps it may be caused by a missing part of a gene which ultimately leads to birth abnormality.
Fragile X Syndrome is a type of genetic birth defect that impairs the baby's cognitive abilities. Similarly, Down's Syndrome is a common chromosomal disability where the child is born with an extra chromosome and has developmental delays.
Radiation:
Research shows that continuous exposure to harmful radiation particularly between weeks 2 to 18 can make your baby prone to birth defects and problems with neurological development. Therefore, it's important to avoid working in toxic areas with high radiation during the first trimester of pregnancy to prevent birth defects risk.
Infections:
Infections in pregnancy also pose harm to your baby's development. The Zika virus causes a birth defect called microcephaly. Many STIs trigger preterm birth and are the reason for damaged bones, vision and hearing impairment, and cerebral palsy in newborns.
Cytomegalovirus is a dangerous infection leading to blindness in babies whereas rubella causes deafness by birth.
Alcoholism and smoking:
Drinking alcohol and smoking also puts the baby's development at risk. Alcoholism during pregnancy is a major cause of fetal alcohol spectrum disorders (FASDs) which include many physical and mental disorders.
Similarly, you should aim to prevent birth defects from smoking. Tobacco exposure in pregnancy increases the risk of cleft lip and cleft palate.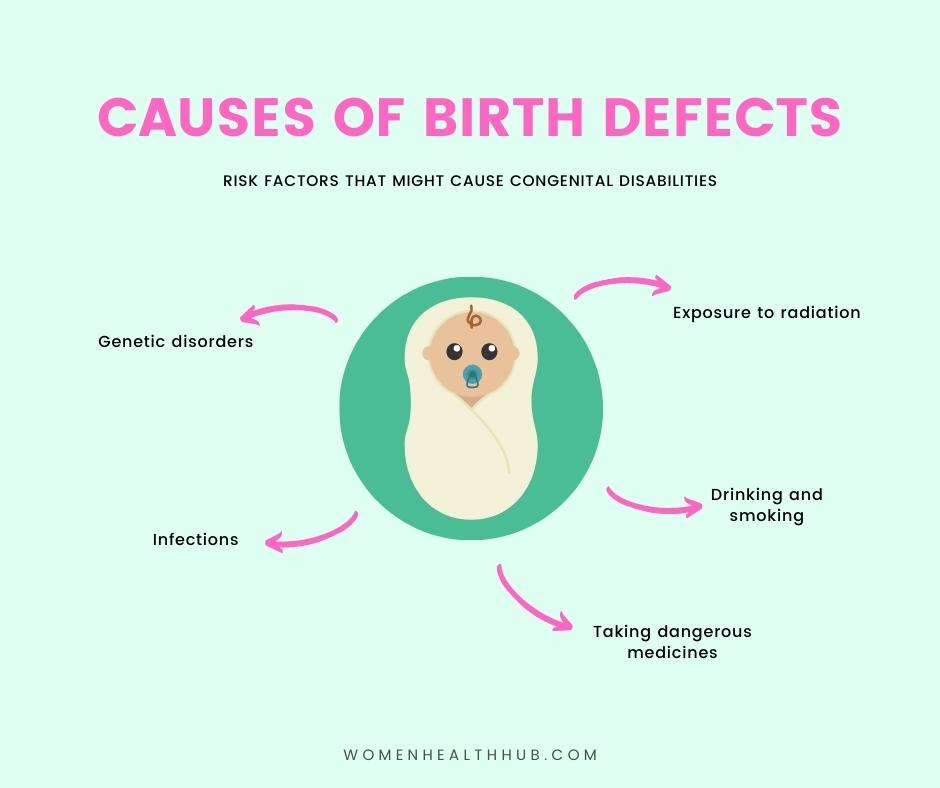 Using drugs and exposure to toxins:
Pregnant women who often use drugs are endangering their baby's normal development as well. Birth defects from Zoloft, Zofran, cocaine, Angiotensin Converting Enzyme (ACE) inhibitors, and Serotonin Reuptake Inhibitors, are common in moms who are not careful with drug intake.
Studies show intake of Zoloft during pregnancy may lead to some intense heart disabilities while the common birth defects from Zofran are "hole in the heart" and cleft palate.
Various tests to detect birth defects are conducted throughout the pregnancy – such as ultrasounds – to look for any risks or particularly unfamiliar signs of developmental issues.
So you need not worry and simply go for periodic checkups with your ob-gyn!
What are some common and rare birth defects during pregnancy?
Congenital disabilities are on the rise, mainly because of improper care during early or mid-pregnancy months. Let's go through some of the most common and rare birth defects you should know about:
Down syndrome is one of the most common birth defects that affect newborns. It's usually associated with a genetic factor resulting in an extra chromosome copy.
This disorder disassociates the baby's IQ, delays in physical growth, intellectual disabilities, and, problems with facial characteristics.
Cleft Palate and Cleft Lip:
Cleft palate and cleft lip are both caused by smoking, careless intake of medications, and conceiving at a late age. They result in speech problems, infectious ear, and difficulty in eating.
Ventricular Septal Effect:
Heart defects are also common birth defects. The ventricular septal defect causes a hole in the heart and creates a separation between the two lower ventricles. These babies struggle with rapid heartbeat, poor birth weight, congestion, and fatigue.
It's an abnormality where the infant is born without a tongue. Sometimes, the tongue becomes connected to the floor of the mouth, resulting in Ankyloglossia.
Common and rare birth congenialities:

👶 Anencephaly
👶 Cleft Palate
👶 Albinism
👶 Down's Syndrome
👶 Ventricular Septal Effect

#birthdefects #birthinjuries
It is caused by the absence of a special pigment called melanin in the eyes, hair, and skin of the baby. The lack of the pigment may be partially spread throughout the body. Such children develop a condition that makes them suffer from bright or blazing light.
Also known as a Neural Tube Defect (NTD), it's a serious birth defect that is marked by the absence of the spinal cord, backbone, and certain parts of the head and skull. Doctors haven't found any cure for this disability.
Many other birth defects cannot be encompassed in just one article. Some of them are genetic and it's impossible to avoid them. However, through lifestyle changes, you can prevent birth defects that develop because of unhealthy habits.
11 tips to prevent birth defects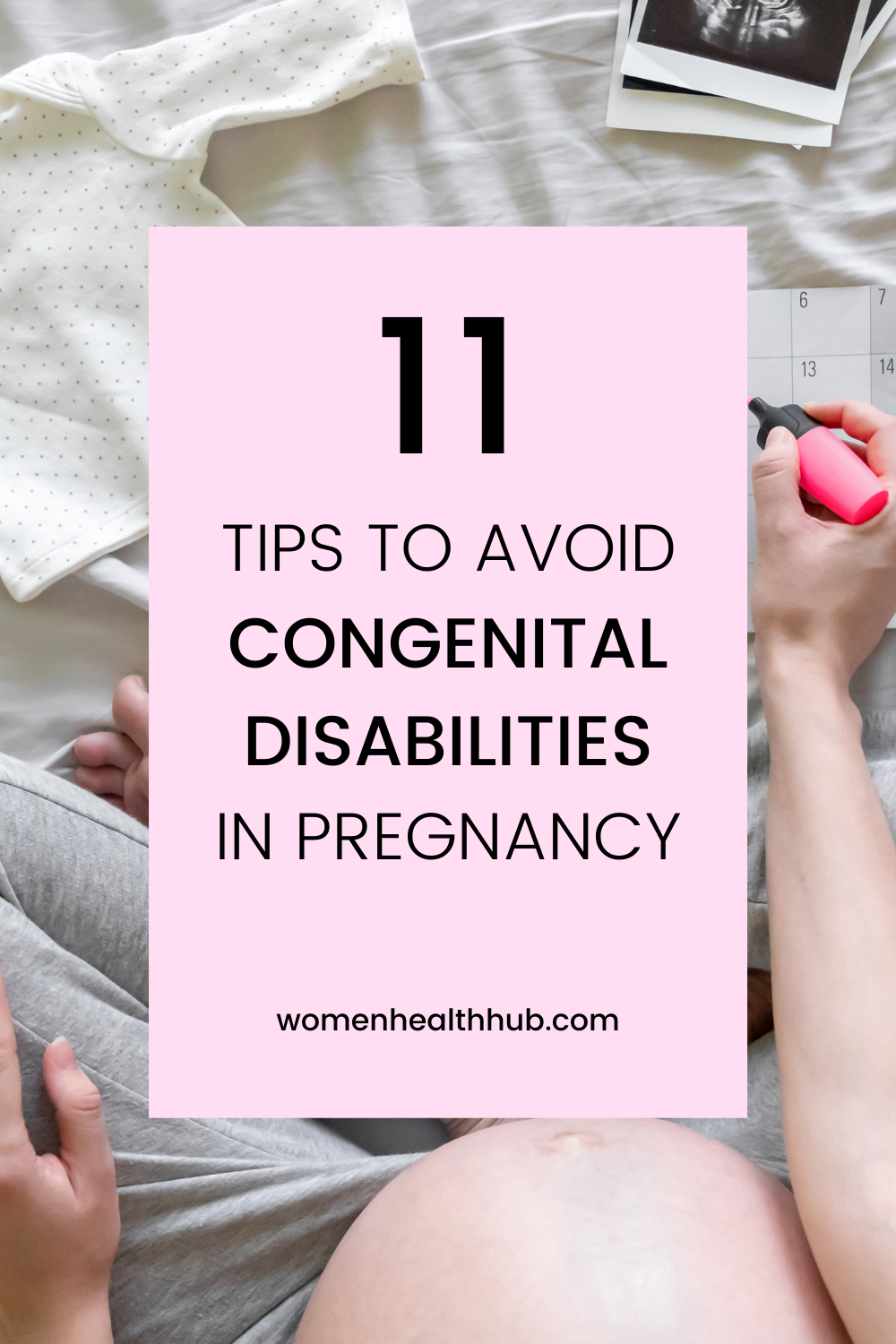 The main concern for you as a new mom is to discover ways to avoid the risk of birth defects. Here are some measures you can take to prevent birth defects:
The Do's:
1. Consult your doctor
A healthy pregnancy greatly depends on regular check-ups and consulting a qualified doctor. Visit your ob-gyn periodically for your appointments to get tested for birth defects risks. Timely ultrasounds for birth defects can help figure out the cause and early warning signs.
2. Take folic acid
Research shows that taking folic acid during pregnancy helps prevent birth defects by 70%! It's particularly useful against the likes of spina bifida that could leave your little one disabled for life.
The folic acid gummies by Nature's Made (aff link) are the perfect prenatal capsules you need. It's vegan/vegetarian friendly, is cherry-flavored, and packed with the essential folic acid nutrient your body requires for healthy baby development.
3. Get vaccinated
Now I know this might trigger a lengthy debate but vaccines are important. They are not just necessary for your newborn but also adults. Make sure you are properly immunized for rubella, hepatitis, influenza, and other dangerous infections to prevent birth defects.
4. Exercise regularly
Prenatal yoga and fitness routines are essential to reduce the risk of preterm delivery, labor complications, or birth injuries. Additionally, it will help you get through contractions and abdominal or back pain. If you prefer light physical activity, make sure you get at least 15 to 30 minutes walk every day.
5. Be aware of your family history
You should also know about the birth congenital defects that run in your family. It can help you prevent birth defects, risk factors or discuss possibilities with the doctor beforehand.
6. Only take pregnancy-safe meds
Some medications are not safe to take during pregnancy as they can lead to birth defects or lead to infections. It's important to only take or apply pregnancy-safe medicines.
7. Get rid of stress
Stress is also bad for your little one and could make them prone to disabilities. Taking care of your mental health is vital through some self-care activities. Ensure you have a thoughtful and understanding support group of family and friends to help you through pregnancy issues.
Read More: 30 Uplifting Mental Health Quotes for Self-Care
The Dont's:
8. Stop using drugs
Cocaine, cannabis (marijuana), heroin, LSD, and meth are all dangerous drugs that will endanger your little one from birth defects.
9. Quit smoking
Smoking is not only hazardous for your health but also for the fetus in your belly. Quit smoking right away before it results in life-endangering birth defects.
10. Don't live/work in toxic environments
If you work in an environment with lots of chemicals and toxins, leave it before it affects the development of your baby.
11. Avoid conceiving at a later age
Women should also avoid conceiving after the age of 40 years. Aging can put your little one at risk of birth defects.
The increasing ratio of birth defects is a rising concern around the world. Awareness can help prevent birth defects that could potentially leave your child unable to move, eat, or communicate properly. Certain therapies and medications can also reduce the risk of birth congenialities.
References:
https://www.marchofdimes.org/complications/zika-virus-and-pregnancy.aspx#
https://kidshealth.org/en/parents/fas.html
https://careydanis.com/dangerous-drugs/zoloft-congenital-heart-defects
https://www.cdc.gov/ncbddd/birthdefects/downsyndrome.html
https://www.health.ny.gov/publications/1335/