Hey there! This post may contain affiliate links. As an Amazon Associate, I earn a teensy commission from qualifying purchases when you buy through these links (at no additional cost to you). For more info, please check the full disclaimer.
According to the National Cancer Institute (NCI), one in every three women risks getting cancer at least once in her lifetime. Hence, it's high time women change their lifestyles and follow healthy tips to prevent cancer.
Cancer isn't an incurable disease, thanks to the continual advancements in science.
However, it still poses a massive fatality threat if untreated or spreads quickly without getting the best treatment.
But it's not all bad news.
Experts agree that by making a few lifestyle changes, women can diminish their risk of cancer, even if it's embedded in their genetic makeup.
In this blog, you'll find many ways to avoid cancer in your lifetime or at least delay it as much as possible.
What are The Most Common Cancers in Women?
Women are affected by many different types of cancers. The most common include breast, ovarian, cervical, and uterine cancer. All present varying symptoms and require unique treatments.
In 2020, about 2.3 million women were diagnosed with breast cancer globally, per BCRF. Of them, over 680,000 died.
On the other hand, over 200,000 women worldwide were diagnosed with ovarian cancer in the same year, with a death rate of 4.2 per 100,000. Similarly, there were 400,000+ cases of uterine cancer globally in 2020, with a mortality rate of 1.8 per 100,000.
Per WHO, more than 600,000 women had cervical cancer in 2020 globally, with an estimated 340,000 deaths.
The alarming numbers show that women must know the risks, symptoms, and ways to prevent cancer.
Must-Follow Tips to Prevent Cancer
Let's go through some essential tips you should follow to avoid cancer.
1. Exercise Daily
Exercise is one of the best ways to reduce cancer risk at any age. Physical activity is necessary for the body to reduce inflammation, keep the gut healthy, and manage weight.
It also helps balance the hormones, as hormonal imbalance may lead to cancer. For example, excess insulin in the blood is known to cause cancers. In addition, after the 40s, women naturally have lower estrogen and become cancer targets. Thus, exercising daily can be a beneficial way for menopausal women to beat cancer risk by boosting estrogen naturally.
Being physically active is also good for your immune system and increases strength against viral attacks and infections. A healthy immune system can ultimately help you prevent cancer.
Read More: 12 Signs of Perimenopause
2. Eat a Healthy Diet
Goes without saying that a healthy, nutritious diet can ward off this dangerous disease in the long run. Ensure your diet has everything from all food groups to get maximum nourishment.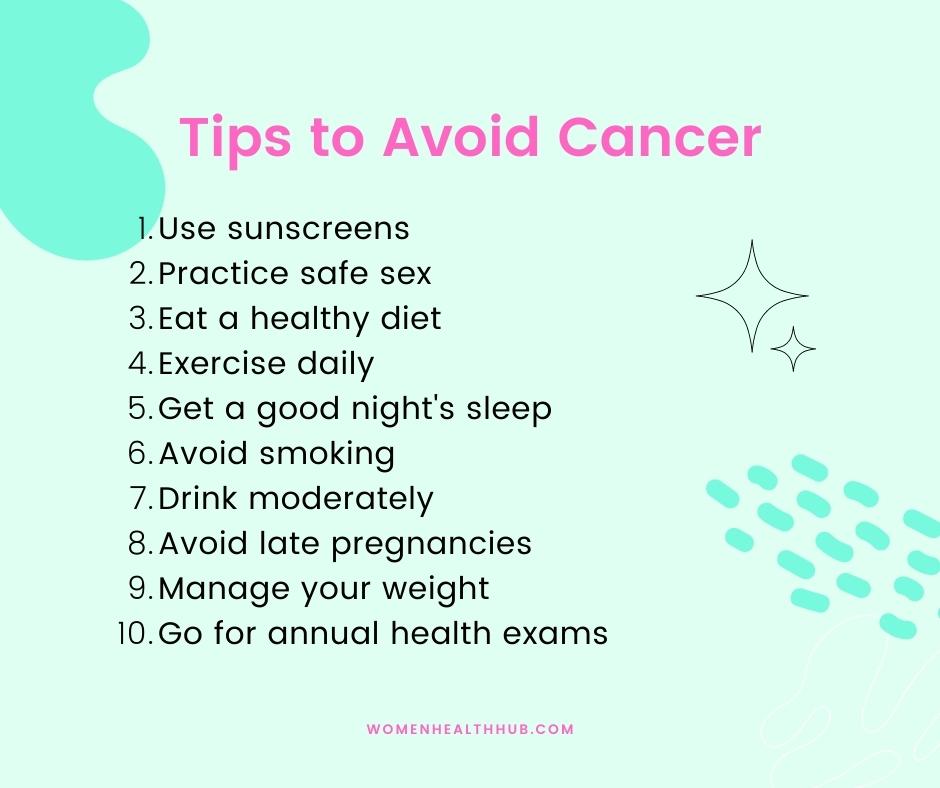 Fruits and vegetables are packed with antioxidants that essentially decrease cancer risk. Consuming at least 5-6 servings of fruits and vegetables is recommended daily. Choose dark green, orange, or red vegetables, as they have incredible nutrients.
Similarly, dry fruits and nuts have amazing anti-cancerous properties, especially walnuts. If you are a meat lover, you may want to add meat sources with low cholesterol or saturated fat content to avoid cancer risk.
Overall, consuming a well-balanced diet will help you manage your weight which is a critical cancer prevention strategy.
Read More: 70+ Best Foods For Cancer Prevention Diet
3. Avoid Skipping Meals
Experts also advise against skipping meals to prevent cancer, particularly breakfast.
A research found that people who habitually skip breakfast have a higher risk of gastric cancer. The study discovered that over 40,000 women who regularly skipped breakfast had an increased risk of cancer death.
Even if you have a hectic routine, ensure you fill up in the morning before engaging in any activities, as your body needs ample energy to work properly.
You can always prep meals beforehand, such as on weekends, to take off the cooking load during workdays or eat the leftovers from dinner in the morning.
Read More: 11 Healthy Morning Routine Ideas (+ Free Printable)
4. Quit Smoking
Smoking has been linked to some of the deadliest and most common cancers, including lung and throat.
Tobacco consumption in any form is linked to an increased risk of breast cancer in women, particularly in the premenopausal phase. Even passive smoking is harmful at this age.
In addition, women who smoke are also prone to cervical cancer. Research shows that lung cancer deaths are becoming increasingly common in the female population, mainly because of smoking.
Hence, avoid cigarettes, cigars, pipes, asbestos, and other pollutants to prevent cancer.
5. Stay Away from Alcohol
Another way to avoid cancer is by reducing or ditching alcohol consumption. Per WHO, it's responsible for seven types of cancers in women: liver, mouth, throat, voice box, intestinal, and more. It's also linked to irreversible liver cirrhosis or scarring.
According to experts, to decrease your risk of getting cancer, keep your weekly alcohol intake to two standard glasses only.
6. Get Sufficient Sleep
If you want to prevent cancer, one of the most important lifestyle changes should occur in your sleep pattern. It's essential to get sufficient sleep at night to give your body a chance to restore and replenish energy. Sleep also helps women de-stress and relax after a long tiring day.
The recommended period is at least 7 to 8 hours of sleep at night. If you snooze any less than that, it may cause health problems later on.
A study found that women who slept for five to six hours were nearly three times as likely to develop breast, endometrial, ovarian, and colorectal cancers than those who slept eight or more hours every night.
Sleeplessness may occur because of a chronic condition, such as insomnia. Whether it's a side effect of a drug or just a disorder, you should talk to a doctor about it.
Also, try to minimize factors that lead to sleep disruptions.
Is your mattress comfortable? Is the bedroom well-ventilated and cool? Is it dark when you sleep? Keep all electronics away before bedtime, as blue light disrupts brain signals responsible for inducing sleep.
Drinking herbal teas for sleep may also be a fantastic holistic way to enjoy a healthier restorative snooze.
7. Always Use Sunscreens
The sun's radiation is the most potent known carcinogen and causes 90% of all forms of skin cancer.
Sunscreens protect your skin from harmful UV radiation, which may otherwise lead to skin cancer. Studies show that sunscreen users have a significantly lower risk of skin cancers.
Without sunscreen, the harmful UV radiation penetrates and burns the skin while making long-term changes to your DNA. Eventually, it may turn cancerous.
During intentional tanning, experts advise using sunscreen with at least SPF-30 to prevent cancer.
8. Opt for Breastfeeding
While breastfeeding has numerous benefits for the baby, it also benefits the mother.
Studies have proven that breastfeeding benefits women with diabetes symptoms and high blood pressure problems. However, studies show it helps women avoid breast and ovarian cancers.
Experts claim women should at least breastfeed for six months to prevent cancer. Breastfeeding exposes your breasts to hormones that produce healthy breast cells and reduce the agents that stimulate breast cancer.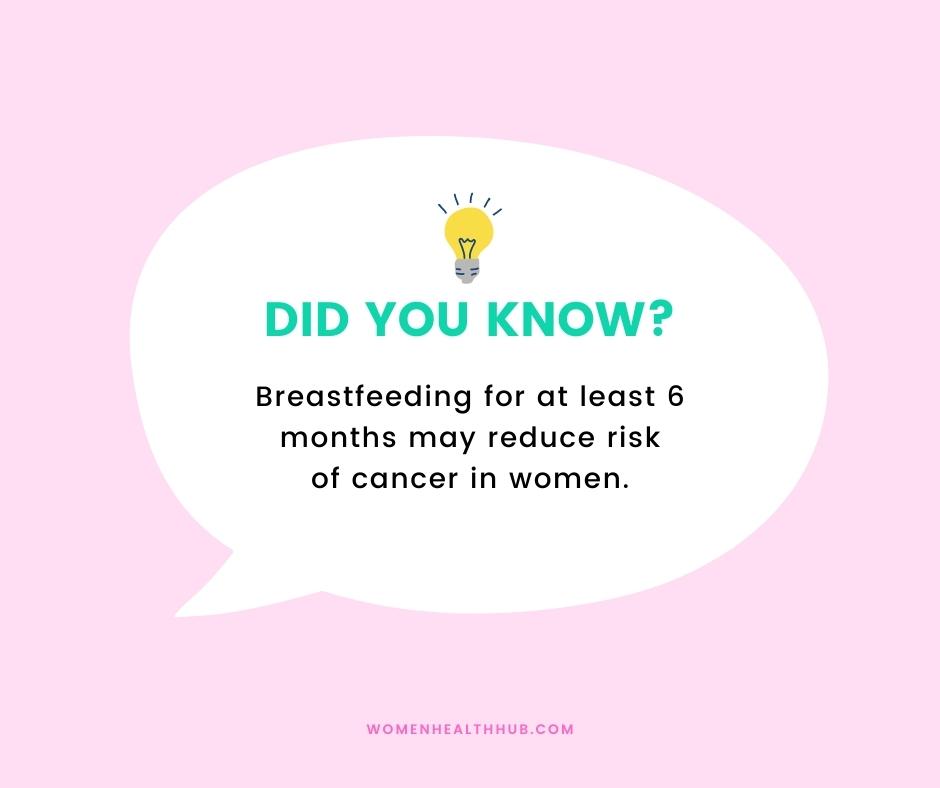 In addition, breastfed babies have a decreased risk of developing cancer.
Read More: 7 Warning Signs of Gestational Diabetes
9. Go For Annual Health Exams
Another way you can reduce the risk of getting cancer is by going for annual health exams.
Women in their 20s, 30s, 40s, and onward should go for specific health check-ups. These in-depth health exams are helpful in spotting any potential cancer risk and treating it in the early stages. This not only helps you financially but also prolongs your life post-treatment.
These health tests are the most important for recognizing early signs of cancer:
Mammograms
Pap smear
Colonoscopy
Lung cancer screening
Cholesterol test
Read More: 10 Essential Health Exams for Women in 20s and 30s
10. Conduct Self-Exams at Home
Self-exams are also quite helpful in avoiding the risk of cancer. Health experts advise women to keep a check on any body changes. If you notice any lumps, discoloration, abnormal discharges, bleeding, or odors, consult a professional immediately.
Read More: How to Do Breast Self-Check at Home (+ Freebie)
11. Use an Air Purifier
Air purifiers are a good option for reducing the risk of lung cancer. These devices can remove 91% of the harmful environmental pollutants and help you breathe fresh air.
One study showed that an air purifier reduces particles from your chimney by more than 50%-60%.
Smokers who slept on the same level as an air purifier about one meter away also had a significantly lower cancer risk. Research shows that air purifiers can substantially reduce indoor air pollution responsible for respiratory infections and prevent cancer from long-term pollutant exposure.
12. Monitor Your BMI
Obesity and being overweight are critical factors that put women at the target of cancers. Studies have revealed that poor diet and excess BMI may increase the risk of different types of cancers, including breast, liver, ovarian, and endometrial.
Hence, be mindful of your weight. Make a habit of monitoring your weight every month. It'll help you manage your diet and ditch things that are adding more pounds.
Also, check your BMI on a BMI calculator and ensure it lies within the ideal range on the scale, i.e., between 18 and 24.
Read More: 10 Best Beginner Exercises for Weight Loss
13. Avoid Pregnancy in the Late 30s
Research shows that women who give birth after their 30s have more risk of breast cancer than women who have never given birth. Similarly, early-age pregnancies, particularly during the 20s, are known to prevent cancer at a later age.
Additionally, scientists have discovered significantly lower risks of endometrial and ovarian cancers in women who have had full-term pregnancies.
Thus, plan your baby while considering your age to avoid cancer.
Read More: 15 Best Herbal Teas to Boost Fertility
14. Boost Immunity Through Vaccines
Staying updated on your vaccines can significantly improve your body's immune system and prevent cancer. Cancer vaccines provide the necessary anti-cancer molecules that serve as an antigen against tumor production.
For instance, the HPV and hepatitis vaccines protect your body against life-threatening viral cancers. Few vaccines may help avoid non-viral cancers as well.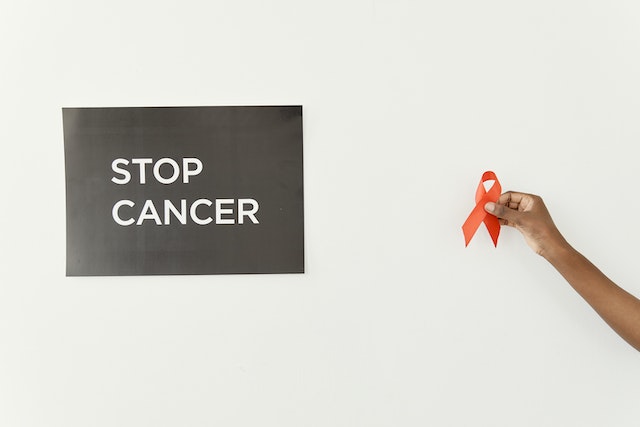 15. Practice Safe Sex
Cancer may also occur due to unhygienic sexual activities. Experts advise women to stick to one sexual partner and preferably encourage the use of condoms during intercourse.
Unhygienic sex may result in an HPV infection linked to cervical cancer in women. An anal sex position is also discouraged by health experts.
Condoms won't fully protect you from STIs you can get from other places on your body, but they protect against anal and rectal cancers. While you can't get cancer from sex, you may be more likely to get other STDs that may lead to cancer production if not treated properly.
Read More: 13 Signs of Syphilis in Women
The Bottomline
Cancer is a dangerous disease, and while there isn't a certain cure yet, it has become much more manageable over the years. Scientists also have a better understanding of how to prevent cancer in your early or later years. Our tips on reducing your cancer risk are backed by scientific research and proven results. Follow them to avoid cancer.
References:
https://www.ncbi.nlm.nih.gov/pmc/articles/PMC4587002/
https://tinyurl.com/who-breast-cancer
https://tinyurl.com/weight-and-cancer
https://www.ncbi.nlm.nih.gov/pmc/articles/PMC1143616/