Hey there! This post may contain affiliate links. As an Amazon Associate, I earn a teensy commission from qualifying purchases when you buy through these links (at no additional cost to you). For more info, please check the full disclaimer.
New parents usually feel jittery about their little ones. Are they sleeping well? Are they feeling okay? Are they crying too much? These worries usually subside as the baby comes home and a routine is formed. If these feelings become bothersome and start to affect your daily routine, they may be symptoms of postpartum anxiety.
Most people are familiar with postpartum depression. However, postnatal anxiety is also a cause of concern for new parents.
Many new parents, especially moms, struggle to talk about their emotions because they fear being judged. However, the signs of postpartum anxiety do not diminish on their own and require proper medical intervention.
This blog will discuss various symptoms of postpartum anxiety that are often ignored, and how to diagnose and treat the problem.
What is Postpartum Anxiety?
Postpartum anxiety is the onset of anxious feelings about 4-6 weeks after giving birth. While it is normal for a parent to feel a range of emotions after having a baby, these thoughts go beyond usual worries and concerns.
Postpartum anxiety involves intense, persistent fears and worries about the well-being of the baby. These negative emotions may even interfere with daily functioning and the ability to care for the newborn.
In 2015, a study estimated that 8.5%-10% of women had generalized anxiety disorder during pregnancy, while 4%-10% showed symptoms of postpartum anxiety.
About 75% of women with postpartum depression also suffer from anxiety, but it is often overlooked as the symptoms of postnatal anxiety overlap with that of depressive disorder.
What Causes Anxiety after Pregnancy?
Many factors trigger anxiety in new mothers — the main one being the responsibility of a new life, especially for first-time parents.
Pregnancy, labor, and the postpartum period are marked by tumultuous changes in hormonal levels. A study has observed that a sudden decrease in estrogen levels after birth can trigger the symptoms of postpartum anxiety.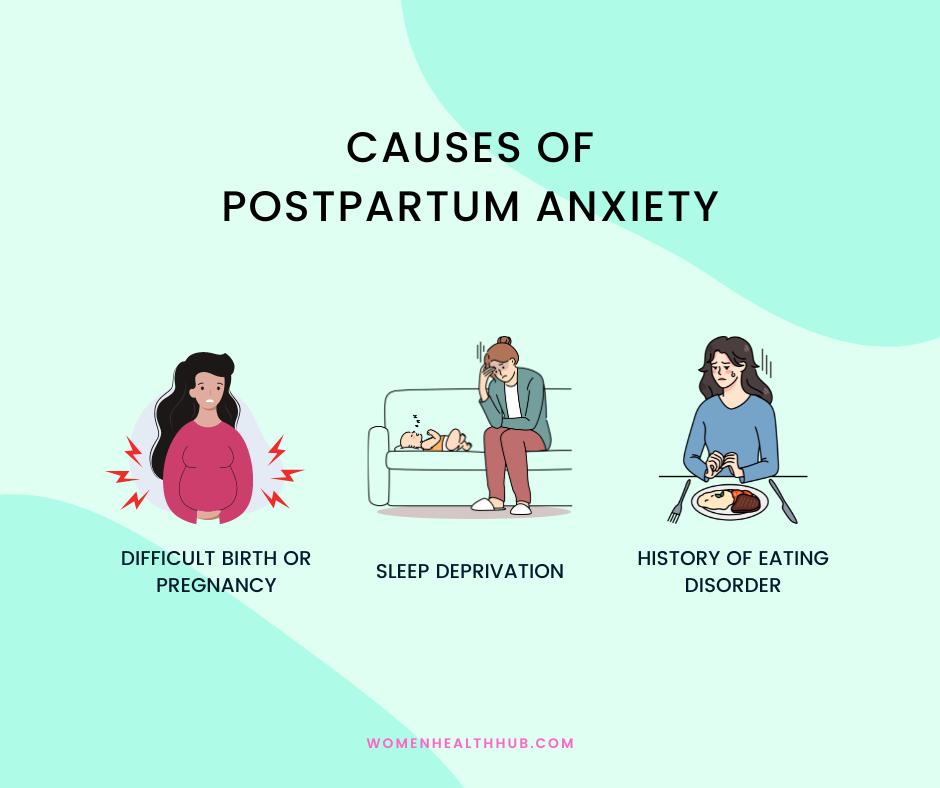 Women diagnosed with generalized anxiety disorder are more vulnerable to anxiety during and after pregnancy.
Some other risk factors that trigger the signs of postnatal anxiety are:
Previous loss or death of an infant
Difficult pregnancy or birth
Sleep deprivation
Intense mood swings before or during periods
History of eating disorder
History of mental illnesses, particularly obsessive-compulsive disorder (OCD)
Early childhood trauma or emotional abuse
Read More: 6 Best Herbal Teas for Sleep
How Is Postpartum Anxiety Diagnosed?
There is no particular analytic tool for the diagnosis of postpartum anxiety. If you are experiencing the symptoms of postpartum anxiety, it is crucial to discuss them with your physician.
The assessment of postnatal anxiety starts with the careful evaluation of the mother's symptoms, medical history, and history of mental illness. Open and honest conversations about your feelings are essential for an accurate diagnostic result.
In addition, your physician may use a standardized test to evaluate your mental health, the severity of symptoms, and their impact on your everyday life.
Read More: Guide to A Healthy First Trimester Pregnancy Journey
How is Postpartum Anxiety Treated in New Moms?
If you receive a positive diagnosis of postnatal anxiety, don't worry. Just like postnatal depression, it is curable.
Treating the mild symptoms of postpartum anxiety includes methods to reduce stress. Some measures that are usually recommended are:
Asking your partner or family members to take care of the baby
Engaging in enjoyable hobbies
Taking part in outdoor activities
Joining a support group for mothers
Cognitive Behavioral Therapy (CBT) is also an efficient treatment for postnatal anxiety. With the help of a psychologist, you will be able to identify your emotions and adopt a healthier thinking pattern.
Medications are suggested for those mothers that have severe symptoms of postpartum anxiety. Most of these medicines are categorized as Selective Serotonin Reuptake Inhibitors (SSRIs), which block the reabsorption of serotonin, the happy hormone, enhancing its availability to the brain.
Read More: Guide to A Healthy Second Trimester Pregnancy Journey
What are the Symptoms of Postpartum Anxiety?
After nine months of pregnancy, your baby has finally arrived. Your initial joy has been replaced by constant worry related to the baby.
As time goes on, your concern about your child only increases. You constantly feel on edge and can't seem to leave your baby's side, even under the supervision of your spouse.
On top of it, you can feel your heart going a mile a minute, and high-stress levels have made you impatient and irritable.
These are the symptoms of postpartum anxiety that most women experience, as a result of which they feel trapped in a cycle of fear, restlessness, and shame.
Let's discuss these symptoms in detail:
1. Racing Thoughts
Many mothers have described having fast and repetitive thoughts solely focused on the health and safety of their newborn infant.
Racing thoughts feel like your mind is moving too fast, and you cannot slow down your thoughts or shut off your brain. These thoughts often revolve around the 'worst-case scenarios' regarding your baby, making you question your motives and wonder whether you are exaggerating the risks.
2. Irrational Fears
Irrational fear is one of the hallmark symptoms of postpartum anxiety and involves scenarios that are unlikely to occur. Fear is a normal human response to danger, but it is characterized as irrational when it appears without an actual threat.
Irrational fear includes being scared for the infant's well-being, even without any sign of illness. Many mothers dread that the baby may choke or suffocate, leading to excessive precautions. These fears are often all-consuming and can interfere with the everyday tasks of the mother.
Read More: Guide to Yeast Infection During Pregnancy
3. Heart Palpitations
Heart palpitations are one of the common symptoms of postpartum anxiety. Heart palpitations feel like your heart is pounding against your ribcage and chest.
In women with postnatal anxiety, heart palpitation results from mental health issues and is not a consequence of cardiovascular problems.
In the presence of a stressful condition, the autonomic nervous system is stimulated, which triggers the 'fight or flight' response of the body. This emergency response increases the heart rate, preparing the body to react to the incoming danger.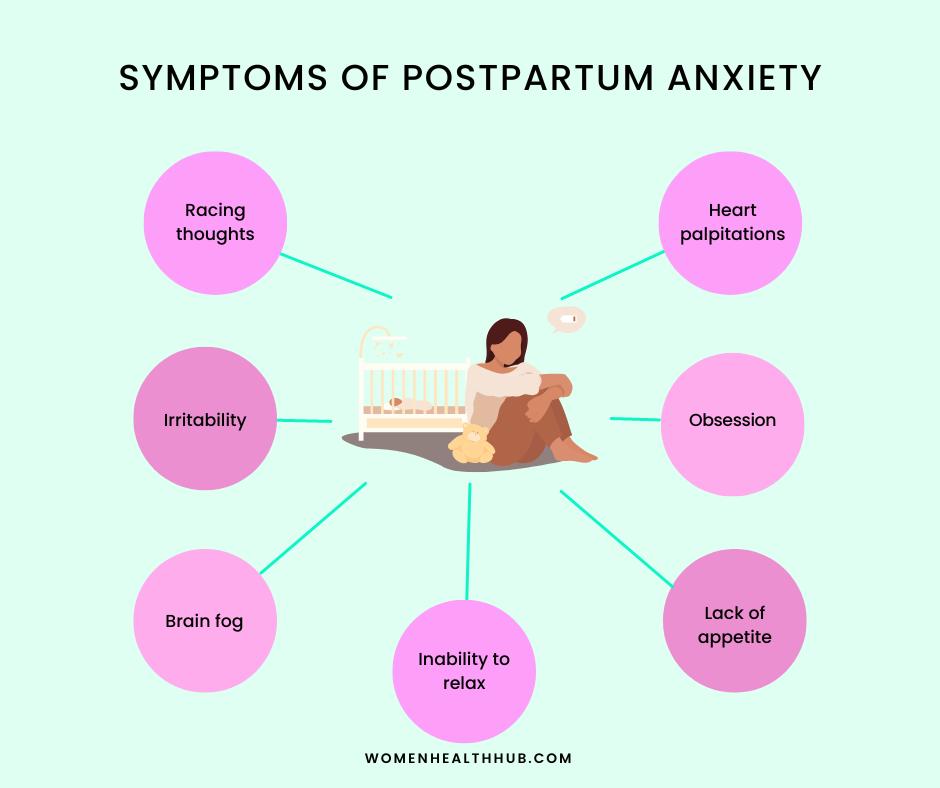 4. Overly Cautious Behaviour
Overly cautious behavior is one of the symptoms of postpartum anxiety that can be related to irrational fear.
These mothers tend to be hyper-vigilant about the infant's safety and constantly check on the baby. She may be afraid of leaving her baby alone in a cot, so she stays by the baby's side.
The excessive worry and cautious behavior concern the mother's support system, leading to isolation and loneliness.
5. Inability to Relax
Every mother feels like she has no time to rest, especially during the first few months after birth.
But one of the prevailing symptoms of postpartum anxiety is the inability of mothers to relax even during moments of leisure.
These mothers find it challenging to rest and unwind as they feel a constant sense of impending danger even when the baby is sleeping or is cared for by someone else. The constant look-out for danger is exhausting, leaving the mother tired.
6. Loss of Appetite
Many mothers can relate to eating less in the days following birth. However, prolonged poor appetite with intense mood shifts can be one of the symptoms of postpartum anxiety.
Low appetite in new mothers is usually attributed to stress, worry, and a constant sense of danger regarding their neonate.
Decreased food consumption over an extended period leads to inadequate nutrition, which can impact the health of the infant, especially if the mother is breastfeeding. Low desire to eat also decreases energy levels causing mental fatigue and emotional distress in mothers.
Read More: 11 Tips to Avoid Birth Injuries
7. Shortness of Breath
The physical symptoms of postpartum anxiety are concurrent with respiratory distress. Many mothers feel like they are unable to inhale enough air even in the absence of any obstruction.
High anxiety levels trigger the 'flight or fight response,' causing the mother to take rapid, shallow breaths. The inability to breathe can exacerbate anxiety creating a vicious cycle.
8. Gastrointestinal Disturbances
Mothers may feel a change in bowel movements and digestion after giving birth. Mild gastrointestinal changes are attributed to hormonal imbalances and are resolved as the postnatal period ends.
However, the symptoms of postpartum anxiety can also be manifested in the form of gastrointestinal disturbances.
The constant fear for the health and safety of the baby affects the digestive system causing stomach aches, vomiting, nausea, bloating, and changes in bowel habits. The gut-brain relationship is well established, and anxiety can disrupt the normal microflora of the gut.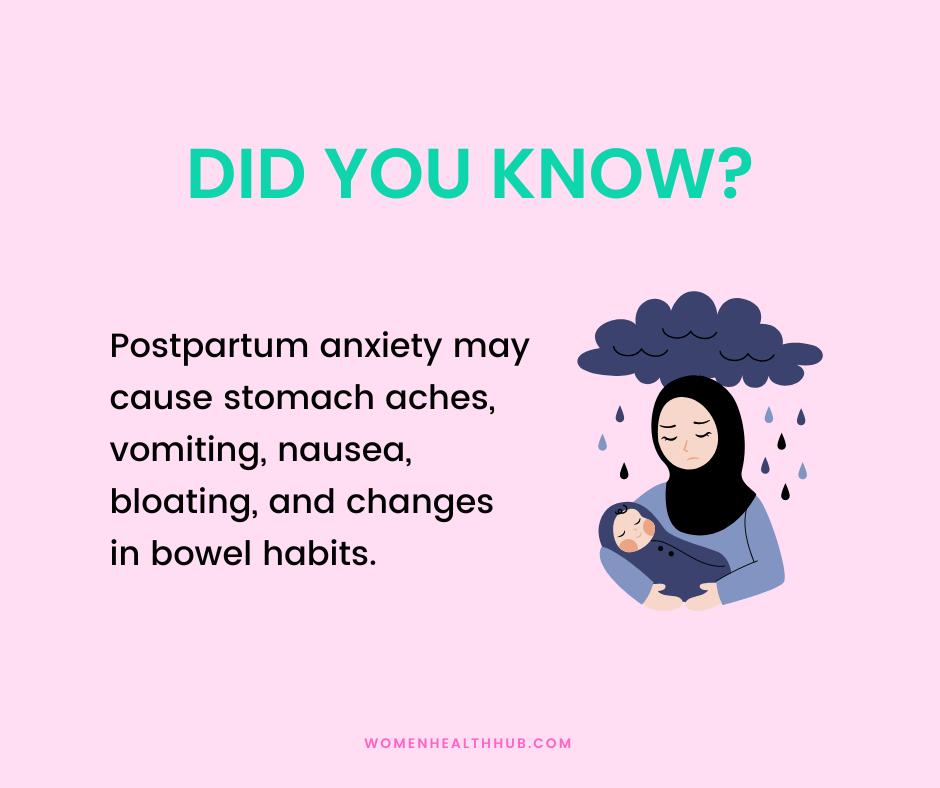 9. Irritability
Irritability is one of those symptoms of postpartum anxiety that is experienced by most new mothers, making it challenging to differentiate it from typical behavior.
An amalgam of hormonal changes, sleep deprivation, and stress associated with caring for a newborn baby makes these mothers impatient and irritable.
Mothers with postnatal anxiety are easily overwhelmed by ordinary stressors such as the crying of the baby or household chores and find it difficult to regulate their emotions.
These elements hinder the mother's ability to bond with the baby and produce feelings of shame and guilt in the mother.
Read More: 30 Uplifting Quotes for Self Care
10. Forgetfulness
A study observed that about 80% of women have reported being forgetful after having a baby.
'Mom Brain' is a term frequently used to describe the memory fog, forgetfulness, and disorientation experienced by mothers during and after pregnancy.
In postpartum anxiety, mothers forget everyday tasks, misplace items, or struggle to recall information. The memory lapse in mothers can cause feelings of self-doubt provoking higher levels of anxiety.
11. Obsession
Obsession is one of the significant symptoms of postpartum anxiety. Obsessive habits in mothers usually revolve around the health, safety, and well-being of the baby. It can also extend to sterilizing the baby's bottle and organizing and adequate sanitation of the baby's nursery.
Mothers with postpartum anxiety repeatedly check on their babies or engage in repetitive behavior to relieve their fear. These obsessions are usually exaggerated and can be overwhelming for the mother as well as the baby.
Compulsive symptoms are also common in mothers with anxiety or depressive disorders. These symptoms usually include repetitive and intrusive thoughts about the baby that gets progressively worse.
If left untreated, the symptoms of postpartum anxiety can cause severe mental health issues in mothers. These mothers fail to properly bond with the baby, negatively impacting their mental and physical development.
Depending on the severity of these issues, it can lead to child maltreatment, emotional neglect, and in extreme cases, infant death.
The Bottomline
Giving birth and taking care of a new life is challenging enough without mental health issues. Fluctuating hormones, adjusting to the new baby, and managing postnatal pain becomes an entirely different challenge, as the symptoms of postpartum anxiety begin to appear.
The inability to relax, exaggerated precautionary measures, decreased appetite, high-stress levels, and gastrointestinal disturbances cause immense physical and mental strain on new mothers.
It is crucial for mothers to realize that these issues do not reflect their capability as a parent. Seeking medical health and surrounding yourself with your support group during pregnancy and after birth goes a long way in preventing and treating postnatal anxiety.
Don't wait for these symptoms of postpartum anxiety to worsen before reaching out for help!
References:
https://www.sciencedirect.com/science/article/pii/S0165032721001968?via%3Dihub#bib0019
https://www.ncbi.nlm.nih.gov/pmc/articles/PMC4589308/
https://pubmed.ncbi.nlm.nih.gov/32002933/