Hey there! This post may contain affiliate links. As an Amazon Associate, I earn a teensy commission from qualifying purchases when you buy through these links (at no additional cost to you). For more info, please check the full disclaimer.
Coconut water is a popular beverage, especially among pregnant women. It's inexpensive, has more potassium than an average banana, and can help you stay hydrated without adding extra calories. Still, many women are concerned if coconut water is safe during pregnancy.
According to a study by The Food Data Central, coconut water is about 95% pure!
So, if you feel dehydrated and parched during pregnancy, coconut water can be a good option for staying hydrated with extra added benefits.
If you're confused about drinking coconut water in pregnancy, this article will put your mind at ease.
What Is Coconut Water?
Coconut water is just a nutritious liquid inside a coconut. It contains vitamins (A, C, D), minerals (potassium and magnesium), and antioxidants. It's also high in lauric acid, which has been shown to help fight off infections like the flu.
The Innovare Academic Sciences states that lauric acid in coconut water has antifungal, antibacterial, and antiviral characteristics that strengthen the immune system. It enhances nutrition, digestion, and absorption.
These positive ingredients make coconut water good for pregnancy energy boost in the form of beverages or a base ingredient in juices and smoothies.
Thus, you can drink coconut water while pregnant, but it is always a good idea to consult your doctor.
Read More: 19 High Risk Pregnancy Infections
Benefits of Drinking Coconut Water in Pregnancy
Drinking coconut water while pregnant is a great alternative to sports drinks, juices, and other sugary beverages because of its countless beneficial properties for the mother and the child.
Let's take a look at the benefits of coconut water during pregnancy:
1. Keeps You Hydrated
Coconut water is a great way to hydrate during pregnancy. It boosts your body's natural water retention abilities so you can hold all that extra fluid! Hence coconut water is safe during pregnancy as it keeps women hydrated, which helps with digestion and other bodily functions.
2. Balances Your Body Fluid
Electrolytes are minerals that help maintain your body's fluid balance through different mechanisms. You could experience fatigue, dizziness, and heart palpitations without enough electrolytes.
The amount of electrolytes found in this drink makes coconut water good for pregnant women looking to replenish their stores of these minerals.
Electrolytes are also important because they help regulate muscle contractions during labor and delivery.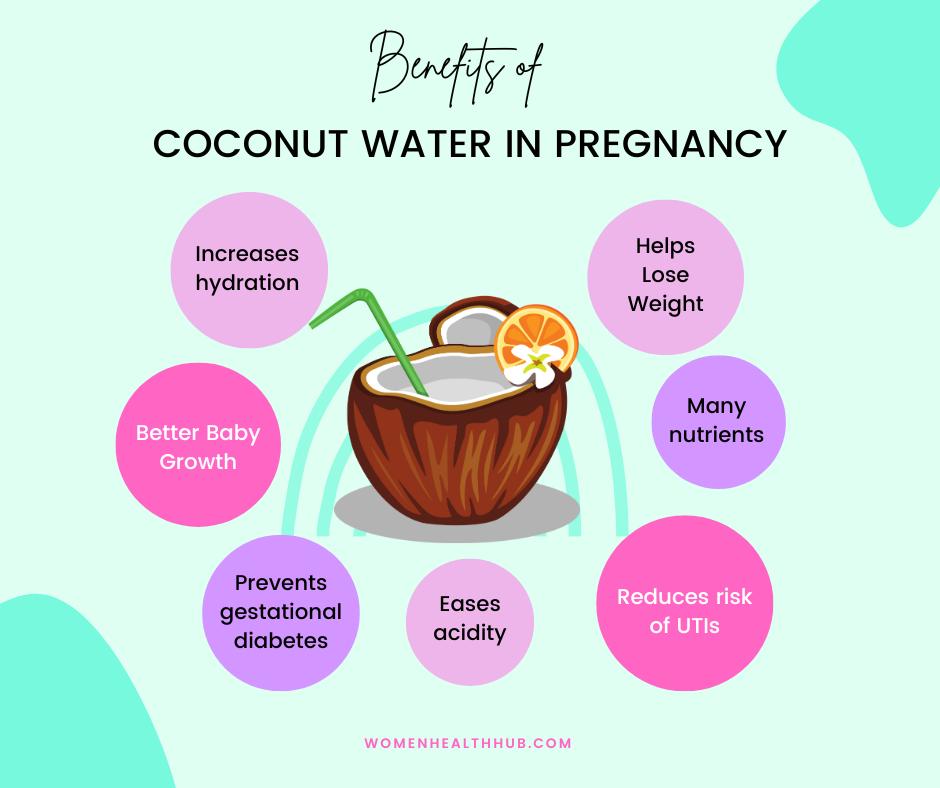 3. Better Baby Growth
Another reason why you should drink coconut water for pregnancy is because of its remarkable benefits for fetal development.
Since coconut water is enriched with essential vitamins and minerals required for proper baby growth, it can be a nourishing drink for daily intake.
In fact, experts suggest drinking coconut water from the early days of the first trimester to promote a healthy journey for both mother and the baby.
Read More: Complete Guide to Healthy 2nd Trimester Journey
4. Reduce Blood Pressure and Blood Sugar
Coconut water contains 50% of your recommended potassium intake, which helps regulate blood pressure and prevent heart attacks. A National Institute of Health study also states that coconut water can potentially reduce blood sugar and diabetic retinal damage.
Read More: 7 Scary Signs of Gestational Diabetes
5. Provides Ample Nutrients
Coconut water for pregnant women is highly recommended because it contains various essential nutrients in high amounts, including potassium, magnesium, and phosphorus.
These minerals are needed by pregnant women to help regulate heart rate and blood pressure, which can help reduce swelling in the legs and feet (a common symptom of pregnancy).
6. Helps with Acid-Reflux
Acid reflux is a condition that causes stomach acid to escape into the esophagus, which can lead to heartburn and other pain. Heartburn during pregnancy can be difficult to deal with. However, coconut water is an excellent home remedy for relieving pregnancy acidity and discomfort.
Read More: 25 Best Foods for Pregnancy Heartburn Relief
7. Good Post-Workout Drink
Coconut water is good for pregnant women's bodies and brains, and it's particularly useful for recovering after prenatal yoga or exercises. This drink's compounds help prevent cramping and fatigue during long days of activity.
Thus, coconut water is a great post-workout drink in pregnancy because it contains various nutrients to keep your body running smoothly.
Read more: 15 Minute Energizing Morning Yoga Routine
8. Prevents UTIs
Urinary Tract Infections (UTIs) in pregnancy can severely impact the baby's development. However, drinking coconut water in pregnancy can reduce the chances of UTIs and keep your urinary system healthy. It's also good for boosting the flush function of the kidneys.
Read More: 9 Best Pregnancy Yeast Infection Treatments
9. Promotes Weight Loss
If you want to shed some extra pounds, coconut water benefits pregnancy weight loss. Managing your weight is critical while pregnant as it reduces the risk of development or labor complications.
Coconut water is rich in potassium and metabolic enzymes that accelerate fat breakdown and burn more calories. Hence, experts recommend having this sweet drink during pregnancy to manage weight.
Read More: 10 Best Beginner Exercises for Weight Loss
How to Drink Coconut Water Safely in Pregnancy?
Now that you know coconut water is safe during pregnancy, here are some ideas to add this essential drink to your daily routine.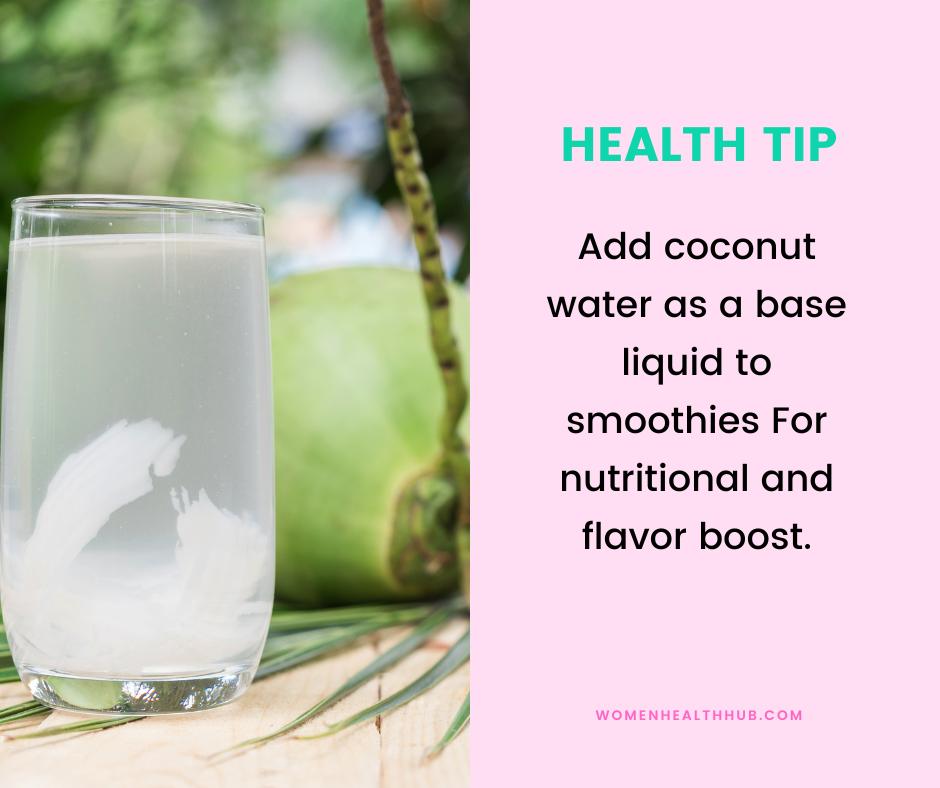 You can add coconut water as a base liquid to smoothies to boost nutrients, flavor, and texture. Pulpy coconut water makes the best smoothies.
Combine with other juices
If you don't like smoothies and prefer juice, add some ice and maybe some lemon. You can also add some fresh juice to elevate your juice preferences and add the benefits of lemon juice. You may even add orange juice.
Have a glass of coconut water after a workout or when you need extra energy. This healthy drink will quickly restore and balance all your electrolytes, making you energetic.
The best way to include coconut water in your diet while pregnant is by drinking it first thing in the morning. This will help kickstart your digestive system and ensure you get all the nutrients you need to function well throughout the day!
Mix coconut water in plain yogurt or milk
If you're having a hard time tolerating the taste of coconut water and want something a little sweeter, try mixing it with plain yogurt or milk. You can also add some honey to sweeten up the flavor if needed.
You can also drink this thirst-quenching beverage before bedtime so that it stays in your system longer than other fluids do—this will help keep your electrolytes balanced throughout the night as well!
If time isn't on your side or you're short on options, just drink straight from the bottle. It's easy breezy!
Read More: 11 Tips to Avoid Birth Defects in Pregnancy
Side Effects of Coconut Water During Pregnancy
Coconut water is a popular beverage choice, especially during pregnancy. Although it is generally a safe choice, there are still some side effects of coconut water during pregnancy that you should know.
It can lower blood pressure in some people, so it's best to check with your doctor before adding this ingredient to your daily routine.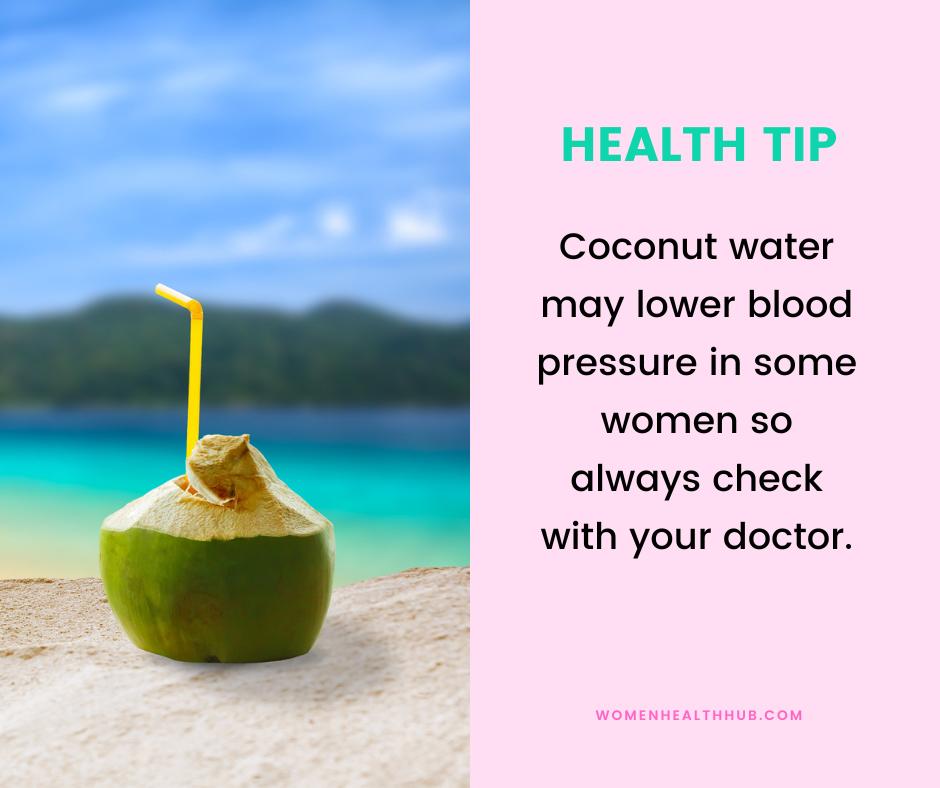 Additionally, drinking coconut water during pregnancy may not be a good idea if you're allergic to coconut or have a tendency to develop allergies.
In short, being a nutritious choice, pregnant women can drink coconut water with ease. But if you have any preexisting conditions or are taking medications that contain sodium, talk to your doctor before consuming coconut water.
The Bottomline
Coconut water is safe during pregnancy, and you may enjoy it if you have no medical conditions or food sensitivities that would make it unsafe for you or your baby. If in doubt, always consult your doctor to be on the safe side.
References:
https://www.ncbi.nlm.nih.gov/pmc/articles/PMC7849505/
https://ods.od.nih.gov/factsheets/Potassium-Consumer/