Hey there! This post may contain affiliate links. As an Amazon Associate, I earn a teensy commission from qualifying purchases when you buy through these links (at no additional cost to you). For more info, please check the full disclaimer.
Have you been eating a lot of spicy foods after pregnancy? You're in for a surprise! Breastfeeding moms who enjoy pepper-rich foods should be careful as their diet can impact milk flavor. 
According to this new study conducted in November 2021, a particular spicy compound found in curries gets absorbed by breast milk and can affect the dietary choices of your baby since infancy.
Let's find out more about this research.
Details About the Study
This study was conducted by Professor Tara Duggan, Corinna Dawid, Katharina N´Diaye, Andrea Buettner, Jürgen Behr, Verena Schlagbauer, Marcel Debong, Helene M. Loos, Sebastian Dirndorfer, Anja Beusch, and Roman Lang from the Technical University of Munich. It was then published in the Journal of Molecular Nutrition and Food Research in October 2021.
They aimed to find out whether or not peppery substances from spicy food are found in breast milk and if they are later transferred to the baby.
Read More: Pregnancy & Breastfeeding Reduces Early Menopause Risk – New Study
There has been limited research on how foods eaten by moms affect the ability of children to get accustomed to certain flavors and fragrances. In the past, scientists have found that not all these tastes are transferred to breast milk. For instance, they have found fragrant agents of garlic and coffee in breast milk but there are no signs of fish oil or nursing tea tastes.
They conducted in-depth spectrometric analyses to determine the presence of ingredients found in ginger, chili, and peppers in the breast milk of mothers who consumed spicy foods.
What Were The Findings?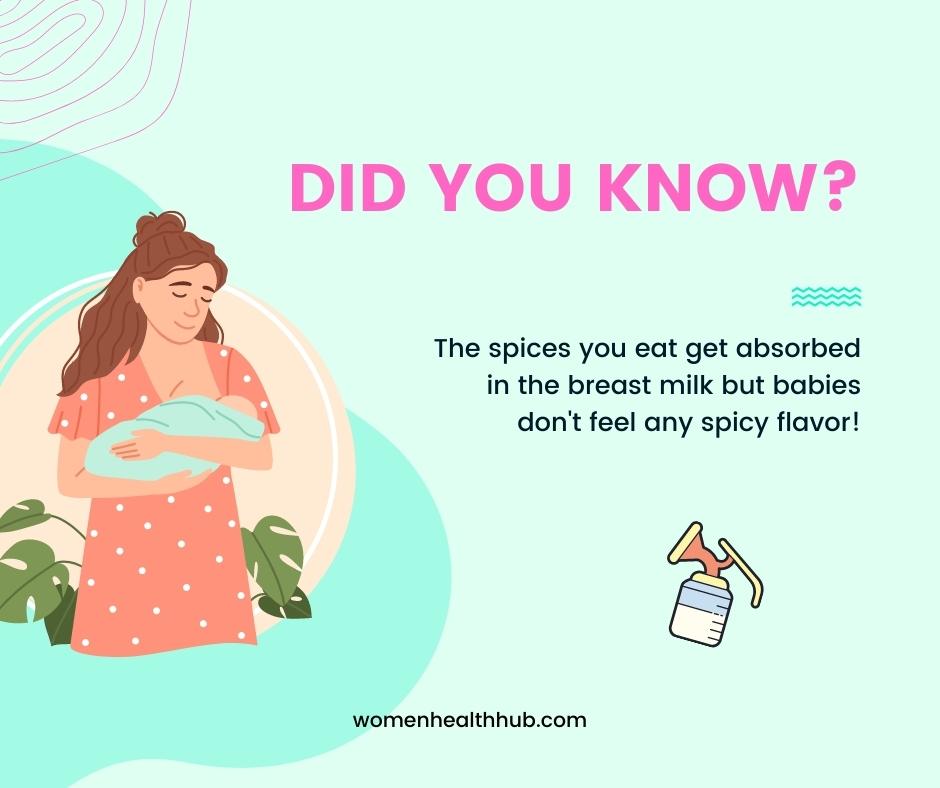 Not all of the spicy and tangy flavors get absorbed into the milk.
A compound in peppers called piperine is noticed in breast milk for up to 4 hours after consumption.
The amount of piperine is quite low – about 70 to 350 times lesser than what adults can feel.
It's highly unlikely that infants feel the difference in flavor.
The presence of piperine benefits children later on as they develop tolerance for such substances.
Curcumin, also abundant in curries, ginger, or chili, does not leave any flavor.
Is it Safe to Eat Spicy Foods While Breastfeeding?
Yes! You can safely eat spicy food if you're breastfeeding!
So far there hasn't been any hard evidence that spiciness is bad for the baby. Dr. Dimitar Marinov of the Medical University of Varna, Bulgaria says that only the flavors of spices enter the breast milk but they are quite low in intensity and aren't felt by babies.
Many parents think that spicy food consumption makes the little ones fussier and irritated. However, there's no scientific evidence to prove the link.
Read More: 25 Best Foods For Pregnancy Heartburn
How Long Does Spicy Food Stay in Breast milk?
The duration of how long spicy food stays in breast milk depends on the amount of spices consumed. Breast milk can retain the flavor and spiciness for 1 to 6 hours and usually takes up to 24 hours for the flavors to enter the milk.
The breast milk may have traces of spices for about 3 days after consumption. If a mother regularly eats spicy foods, this may cause breast milk to be spicier.
Some research studies have found that the compounds in spicy food may be present in breast milk for days or weeks. Specifically, capsaicin or capsicum is thought to be the primary contributor to this phenomenon.
Read More: Regular Intake of Dairy Milk Causes Breast Cancer – New Study
Does Spicy Food Cause Gas in Breastfed Babies?
Many moms believe if they eat spicy foods, it may cause gas, diarrhea, rashes, or colic in babies via breast milk. The belief stems from the assumption that the same compound that causes a burning sensation in the mouths of adults is passed along to a baby through breast milk.
However, this is just a myth!
Instead, the real culprit is dairy products. Moms who have high dairy products intake such as milk, cheese, yogurt, and ice creams are often prone to gas. These compounds interfere with your baby's digestive system as well and lead to bloating.