Hey there! This post may contain affiliate links. As an Amazon Associate, I earn a teensy commission from qualifying purchases when you buy through these links (at no additional cost to you). For more info, please check the full disclaimer.
Here's the latest in breast cancer news. A recent study at Loma Linda University Adventist Health Sciences Center discovered that dairy milk causes breast cancer. According to the study, drinking one glass of milk per day raises the risk of breast cancer in women by 50%.
Pretty shocking, right?
Most of us have grown up thinking milk is good for women. It's the best source of calcium, necessary for healthy bones, pregnancy, and good sleep.
Needless to say, this study started several speculations and created unease among women.
The most burning question right now is how much cow milk should you be drinking daily.
To put your mind at ease, in this post I've decided to cover important points about whether or not dairy milk causes breast cancer in women.
Let's get right to it.
Research Summary
More than 50,000 American women with a mean age of 57 years, were studied for almost 8 years to determine their dietary intakes and health. By the end, almost 1000 women had developed breast cancer.
These numbers are pretty scary!
However, here's the interesting part. Replacing dairy milk with soy milk showed an impressive reduction in breast cancer risk.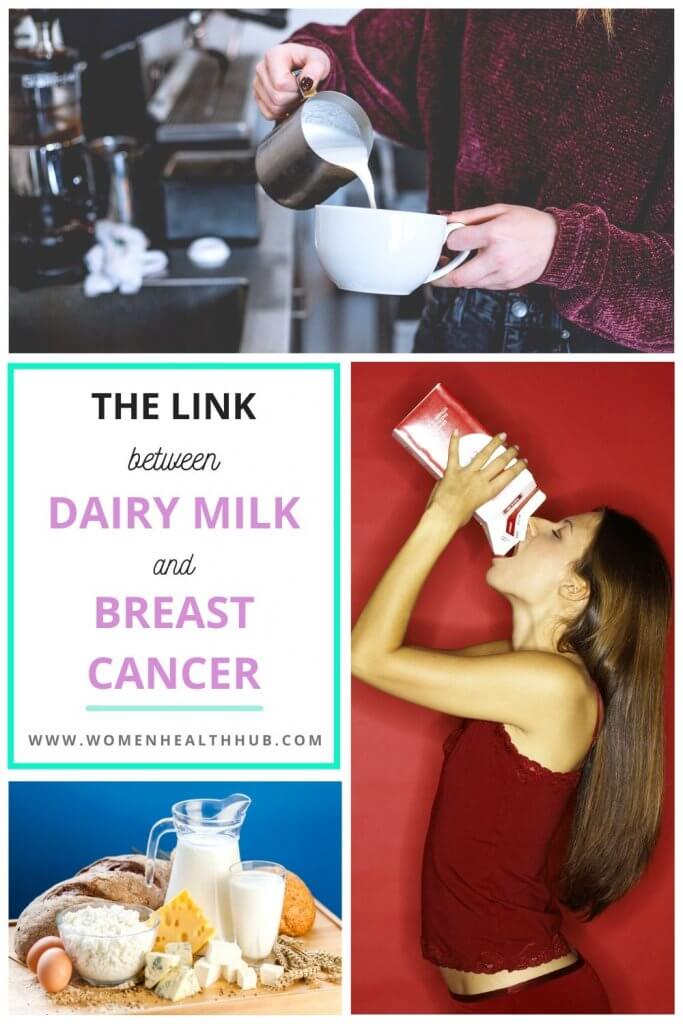 If this holds, it could prove to be a groundbreaking revelation, don't you think?
The discovery would end the debates surrounding carnism and veganism. The latter being a dietary practice supporting plant-based substitutes over animal products. 
Now let's check out the particulars of this investigation.
Research Details
Researchers:
The research was published in the International Journal of Epidemiology, on 25th February 2020, and conducted by Synnove Knutsen, Rawiwan Sirirat, Andrew Mashchak, Michael Orlich, Karen Jaceldo-Siegl, and Gary E Fraser.
Purpose:
So what prompted the scientists to pursue this topic?
Initially, the researches set out to explore the connection between soy products and breast cancer, according to Gary Fraser, the lead author. 
But during the investigation, they noticed that replacing soy with dairy decreased the protective effects of plant-based milk. Which prompted them to dig in more.
Participants:
A total of 52,795 women from North America, including 29.7% black, were selected for this study. Researchers followed them for 7.9 years to assess their dairy intake and its effect on health. None of the women, both pre- and perimenopausal, had any signs of breast cancer.
Methods:
The researchers collected relevant data using questionnaires to ask about their diet, history of breast cancer in the family, lifestyle habits such as smoking, alcoholism, physical activity, medications, and biological issues.
Results:
By the end of the study, 1057 women experienced breast cancer. High-calorie intake resulted in increased breast cancer risk, results suggest. 
Fraser explains that drinking a quarter cup of cow milk per day increases the risk of breast cancer by 30%. A full cup raised it to 50%. And for those drinking more than a cup every day, the chances of breast cancer could reach as high as 80%.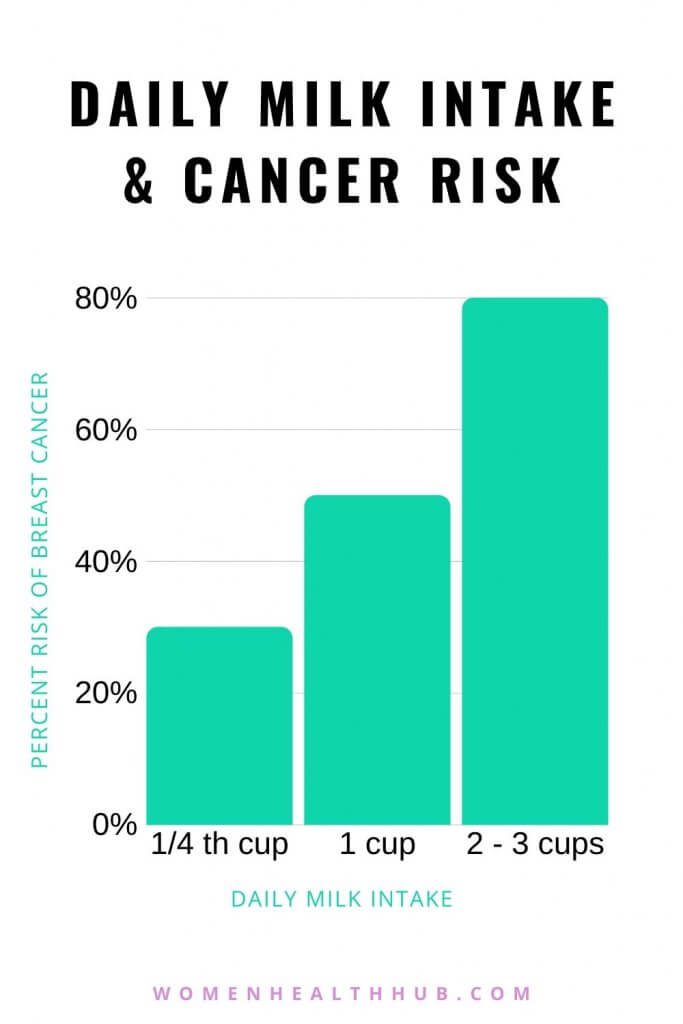 They also found that this practice leads to breast cancer development regardless of your age or menopause condition. Other dairy products, such as cheese and yogurt, don't show any impact on cancer.
Why Does Cow Milk Cause Breast Cancer?
Fraser says that one of the reasons why dairy milk causes breast cancer could be because of the sex hormones in cows who are lactating and are possibly pregnant. The hormone reactions might trigger the development of cancerous cells.
Is Soy Milk a Safe Alternative?
At least this is what the researchers think!
They discovered that replacing dairy with soy milk reduced the chances of breast cancer development.
According to Fraser, "The data predicted a marked reduction in risk associated with substituting soymilk for dairy milk. This raises the possibility that dairy-alternate milks may be an optimal choice."
Science Daily reports that breast cancer is less common in vegans compared to non-vegans. 
This study further incentivizes the veganism lifestyle approach. We'll see more women giving up on animal-based products and going for a plant-based lifestyle.
Is Dairy Bad for Your Health?
In the past, several studies highlighted the advantages of drinking cow milk. But there weren't enough researches to pin whether dairy milk causes breast cancer or not. 
However, you'd be surprised to learn that this is not the first study revealing the negative effects of dairy on women's health.
You'd be surprised to learn that this is not the first study revealing the negative effects of dairy on women's health.
A previous Swedish study conducted in 2014, discovered that women who drank more than 3 glasses of milk in a day had a higher risk of bone fracture than men. Milk contains a specific sugar that triggers inflammation and leads to bone debilitation.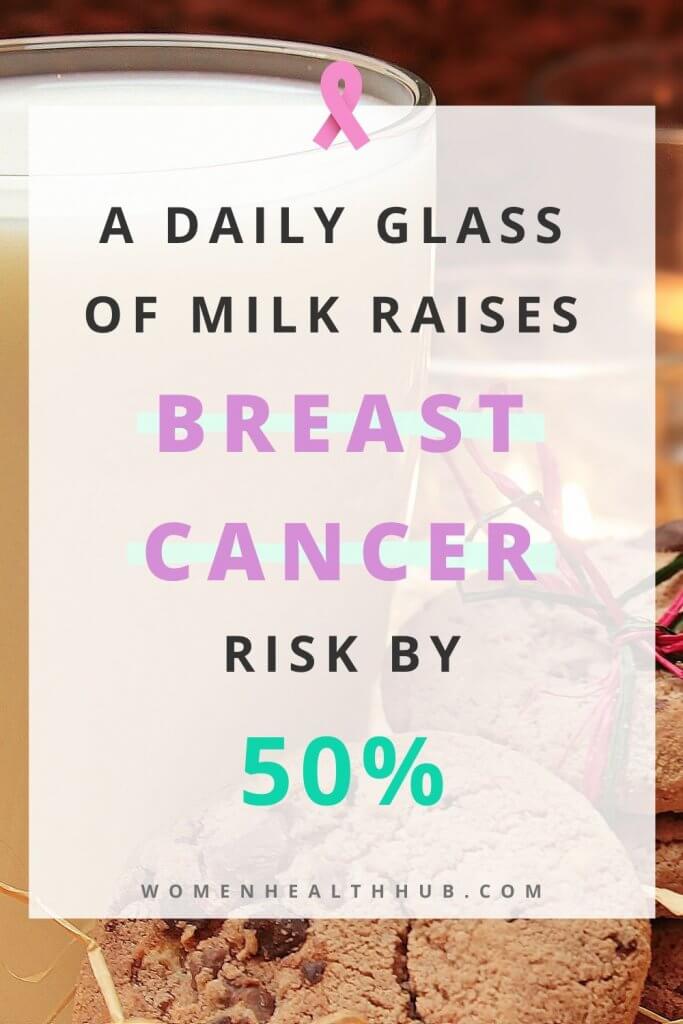 Another study published in the British Journal of Cancer, claims that in lactose-intolerant people daily intake of dairy milk causes breast cancer, besides affecting ovaries and lungs.
How Much Milk Should You Drink Daily?
Now coming on to the most important question —
"Exactly how much milk is safe to drink every day?"
According to American Bone Health, adults aged 45+ years need a daily intake of 1000 to 1200mg of calcium. Dairy alternatives, such as soy, almond are a better option because of low-fat content.
Women aged 19 to 50 years need 1000mg while those aged more should take 1200mg calcium daily. 
An 8-ounce glass with milk contains 300mg of calcium. Per the 2010 Dietary Guidelines, women should drink 3 glasses of milk to get the required nutrients or consume an equal amount of dairy products.
Yet, Fraser warns women the existing recommendations for dairy milk cause breast cancer risk.
"Evidence from this study suggests that people should view that recommendation with caution," says Fraser.
If you are an active milk-drinker, here's my advice for you: switch to plant-based milk for daily intake because its a healthier and safer option.
Canadian Dairy Recommendations
Dr. Hasan Hutchinson of the Office of Nutrition Policy and Promotion at Health Canada changed the dietary guidelines in 2019. 
Interestingly, the guide encouraged drinking more water to stay hydrated. This is worth noting especially if you drink milk instead of water.
They also recommend drinking unsweetened milk because of its healthy dietary sugar content.
What's The Verdict?
There are many ways you can manage your daily milk intake. You may discuss this in detail with your nutritionist as they can give you the best advice based on your health history.
Try not to overindulge in dairy products as they can be risky for your health. If possible, switch to plant-based milk and use cow milk only for cooking, baking, or desserts.
If you drink a glass or two of cow milk every day, also note your other daily dairy sources. For example, do you take it with coffee, tea, cereal or in place of water? These additional sources could add up and cause further health risks for you.
I would recommend limiting your weekly milk dose to 3 days. If you're worried about calcium levels, visit a professional to safely overcome the deficiency with supplements.