Hey there! This post may contain affiliate links. As an Amazon Associate, I earn a teensy commission from qualifying purchases when you buy through these links (at no additional cost to you). For more info, please check the full disclaimer.
Knowing how to prevent heart attack symptoms is critical, as heart failure is one of the top killer diseases of women.
The Centers for Disease Control and Prevention (CDC) report that 1 in 5 women die yearly from a heart attack. In 2017, more than 290,000 US females passed away from heart failure.
Let's discuss what causes a heart attack in women and how you can prevent heart failure by changing your life after reaching your 40s.
What is a Heart Attack?
A heart attack is a life-threatening condition when a part of your heart doesn't get enough supply of oxygenated blood. As a result, the heart muscles become damaged. The longer the heart remains without an adequate blood supply, the greater the damage.
Hence, it's an emergency requiring immediate treatment to restore blood flow to the heart.
What Causes Heart Attacks in Women?
Heart attacks are more common in women who have reached perimenopause or postmenopause age. At this point, estrogen levels naturally drop in your body due to hormonal changes.
Estrogen protects women's bodies against heart disease by regulating cholesterol, both HDL & LDL. Plus, it helps with arterial expansion allowing better blood flow. It also absorbs some radicals present in blood that may damage arteries.
Thus, low estrogen levels lead to severe complications in cholesterol, putting women at risk of coronary failure.
Other causes of heart attack in women are;
Spasm of the coronary artery
Any other underlying medical condition or drug reactions that narrow the arteries
Electrolyte imbalance (particularly potassium)
Rupture of the coronary artery
Read More: 15 Best Foods to Boost Estrogen Naturally
What are the Symptoms of a Heart Attack?
Symptoms of a heart attack in women vary because of different lifestyles. However, the common symptoms in most patients are chest discomfort, dyspnea, and pain in the jaw, neck, shoulder, and upper abdominal region.
Some women also struggle with sleep at night before a heart attack.
If you experience tiredness after a long night's rest or wake up frequently throughout the night, along with chest pain issues, you may want to consult a doctor.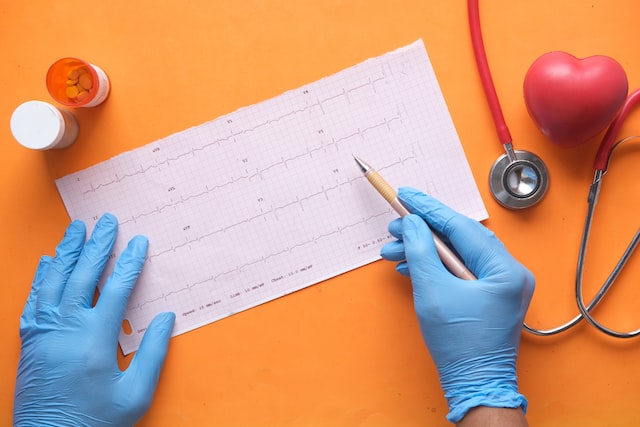 Tips to Prevent Heart Attack in Your 40s
Considering the increasing cases of heart failure and the risks involved, every woman needs to know how to prevent heart attacks, especially after their 40s.
Let's go through some healthy changes you can make in your lifestyle to avoid heart attacks and other coronary conditions.
1. Manage Pre-existing Diseases
Several health conditions, such as type 2 diabetes and hypertension, are among women's leading causes of heart failure.
Per a study by John Hopkins Medicine, people with diabetes have twice the risk of getting a heart attack.
Long-term diabetes can damage the nervous and blood circulation system, leading to complications in the blood supply to your vital organs.
In addition, it increases the risk of hypertension or high blood pressure, a disease that impacts the blood supply by damaging the arterial walls.
Thus, it's critical to monitor your blood sugar using a quality glucometer every day and manage diabetes to avoid heart attacks.
Read More: 14 Early Warning Signs of Diabetes in Women
2. Adopt a Daily Workout or Yoga Routine
One of the best ways to prevent heart attack risk in your 40s is by following a daily physical activity routine.
And, no – doing house chores doesn't count!
Per a study by the Journal of the American Heart Association (AHA), women with a risk of heart attack can benefit from a regular, physically active routine.
Daily exercise and yoga reduce the risk of heart failure by regulating blood pressure, cholesterol & diabetes. It also helps with weight loss by burning calories. It also controls your heart rate.
This includes walking, jogging, swimming, cycling, hiking, boxing, or skateboarding. In addition, you can try a daily workout routine for weight loss to burn calories and stay fit.
If you're new to it, start with beginner exercises and work up to the advanced level.
Another way to be physically active is to include a yoga ritual in your lifestyle. Yoga has several benefits for women, including stress relief, stretching muscles, and increasing flexibility.
Plus, with a daily yoga ritual, you can quickly lose a few pounds, keep your cardiovascular system healthy, and avoid heart attacks in your later ages.
Read More: Daily 15-Minute Morning Yoga to Energize and Stay Fit
3. Eat a Healthy Diet
Poor diet is among women's leading causes of heart failure. Several nutrients are critical in keeping your heart healthy and promoting better blood circulation.
For instance, iron deficiency symptoms are often overlooked as an important factor in heart attacks. Studies show that low iron levels can lead to left ventricle dysfunction in the heart and impact blood flow.
Similarly, some vitamins may also help avoid heart failure, such as Vitamin B12. Although heart attack cases from Vitamin B12 deficiency are rare, it's still an important nutrient for blood production.
Consuming fast foods and unhealthy junk too often is associated with heart failure. One reason is that greasy foods may cause high cholesterol and block arteries. Another reason is hormonal imbalance.
Hormonal imbalance endangers your body by increasing the risk of a heart attack at a later age. Research shows that typically menopausal women with low estrogen are at a high risk of a heart attack.
Thus, to prevent heart attack in your 40s, pack your diet with iron-rich foods and Vitamin B12. Also, ensure you consume a diet that boosts estrogen naturally.
Read More: 10 Worst Foods That Cause Hormonal Imbalance
4. Increase Olive Oil Intake
You can also prevent heart attacks by increasing olive oil intake in your daily diet.
Olive oil benefits women's health in various ways. The American Heart Association (AHA) research shows that consuming more than half a tablespoon of olive oil daily can lower heart disease risk.
Olive oil is monounsaturated with antioxidants that prevent arterial constriction and balance blood pressure. Plus, it increases the good cholesterol (HDL) and decreases the bad cholesterol (LDL).
Here's a tip: The best way to consume olive oil is by consuming it raw, such as drizzling it on salads. It's more nutritious than cooked olive oil.
5. Quit Smoking and Drinking (for good!)
Smoking and heavy drinking are the root cause of most diseases.
John Hopkins Medicine reveals that excessive drinking may lead to long-term heart complications, such as an increased risk of stroke, coronary illnesses, and heart failure.
Plus, heavy drinking can cause irregular heartbeat & promote fat deposition in the blood vessels, which may cause high blood pressure and, eventually, a heart attack. Alcoholism is also linked to weight increase.
Similarly, John Hopkins Medicine states that women over 35 who smoke or are on birth control pills have a significantly greater risk of heart disease. This habit doubles your chances of having heart failure.
Thus, to prevent heart attack symptoms in your 40s, quit smoking or alcohol altogether, or only drink moderately.
6. Treat Hypertension
If you have been diagnosed with high blood pressure, you're at a higher risk of experiencing a heart attack.
Research shows that women with high blood pressure are three times likelier to experience heart failure than others.
That's because high blood pressure causes strain on your heart muscles as it struggles to pump blood through constricted arteries. As a result, the heart muscles weaken with time and eventually stop working correctly.
The most effective way to avoid heart failure and balance blood pressure is by taking your medicines on time and engaging in daily physical activity to keep your heart healthy.
Read More: 14 Healthy Uses of Peppermint Tea for Women
7. Reduce Your Salt Intake
If you have hypertension, you should also be mindful of sodium intake.
In an interview with Cleveland Clinic, Dr. Luke Laffin stated, "Too much sodium can cause fluid retention, which can increase blood pressure."
The Centers for Disease Control and Prevention (CDC) reveal that every year, around 500,000 people lose their lives to high blood pressure, which usually occurs from high sodium intake.
Experts recommend consuming less than 1 level teaspoon of salt per day – around 2,300 milligrams – to people without diagnosed hypertension. For those with high blood pressure disease, the recommended daily salt amount is about 1500 milligrams.
So ensure your salt intake remains within the recommended range to prevent heart attack in your 40s.
8. Drink Sufficient Water
Countries with high temperatures and dry, heated climates have frequent deaths from heart failure.
That's because heat waves strain the most important muscle of your body responsible for pumping blood.
If you live in such a region, staying hydrated is critical, especially once you reach your 40s.
Drink at least 7 to 8 glasses of water daily to beat the heat in your body and avoid heart attacks. It'll help improve blood pumping and circulation and ensure the heart doesn't become overworked.
9. Commit to a Healthy Hobby
Pursuing a daily healthy hobby can also help prevent heart attacks at a later age.
Research shows that hobbies are linked to decreased incidence of heart diseases as they improve mental well-being. Engaging in your favorite pastime can reduce stress, release happy hormones, and help you avoid heart attacks in the long run.
Besides having a hobby, you can also engage in healthy self-care ideas that won't break the bank but still prove useful for your mood.
Read More: 15 Exciting Self-Care Ideas for Weekend
10. Be Mindful of Your Weight
Managing your weight is one of the best ways to prevent heart attack risk as you age.
Being obese will only lead to more health complications. Experts claim that increased body weight leads to a spike in unhealthy cholesterol and boosts blood glucose levels, making you diabetic. Type 2 diabetes puts you at a higher risk of heart failure.
In addition, obesity is directly linked to hypertension, which, as explained previously, is a leading cause of heart attacks.
Consume healthier foods and ditch processed junk to manage your weight. Also, practice weight loss exercises to remove extra pounds and regain heart strength.
Read More: 7-Minute Super Easy Core Ab Workout for Beginners
11. Let Go of Anger
If you often get angry and lose your temper, your heart may strain immensely.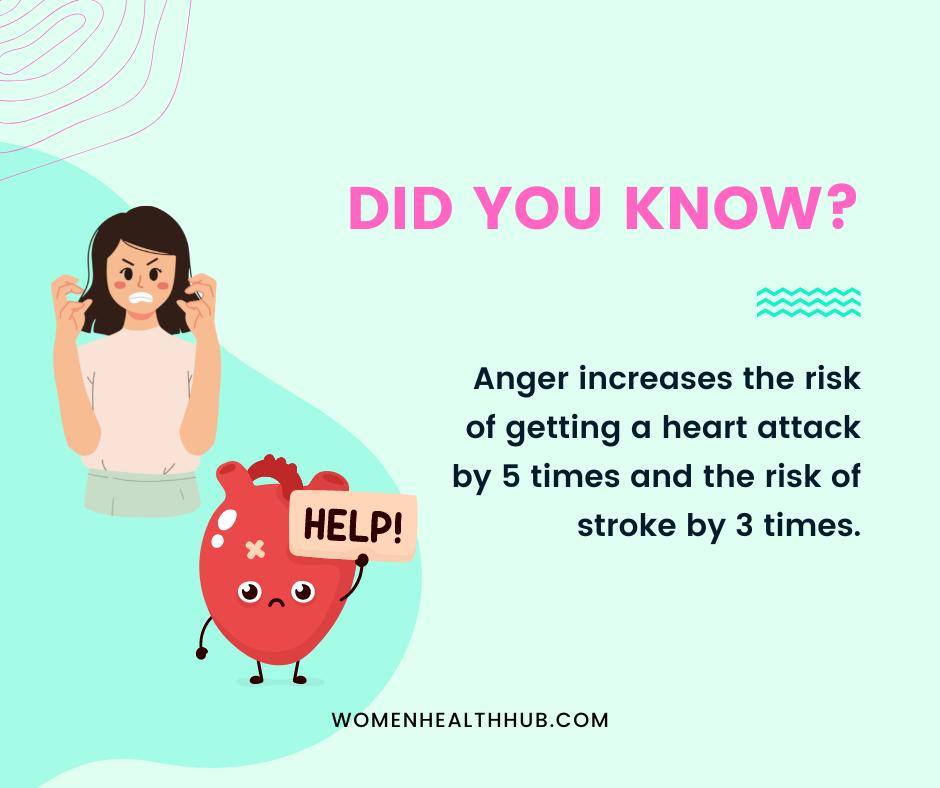 According to the British Heart Foundation, a person's risk of heart attack increases nearly five times while the risk of stroke rises threefold, just two hours after losing their temper.
So if you wish to prevent heart attacks in your 40s, learn to let go of your anger and stop stressing over trivial matters.
Practice meditation or yoga to release stress. You may also practice journaling, as writing down your feelings can help process the pent-up energy.
12. Get Sufficient Sleep Every Night
A good night's sleep can help prevent heart attack symptoms later in life.
Women should get the recommended 7 to 8 hours of sleep every night. Throughout the night, your body processes to repair, replenish, and recover. It keeps the mechanisms running properly and lowers the risk of health complications.
If you are not sleeping properly, calcium deposits in your arteries, which causes plaque formation and a heart attack.
Also, a sleep-deprived person gains weight as a reduction in sleep reduces the anorectics (appetite suppressant hormones).
So make sure you sleep well. Drink some herbal teas for insomnia before bedtime to help you fall asleep.
The Bottomline
A heart attack's risk may be genetic or due to an unhealthy lifestyle. Regardless, avoiding heart failure and strengthening your coronary system is always an option. Follow our tips to prevent heart attack risk in your 40s and prolong your life.
References:
https://tinyurl.com/smoking-and-cardio-health
https://www.thelancet.com/journals/lancet/article/PIIS0140-6736(18)31724-0/fulltext
https://my.clevelandclinic.org/health/diseases/21840-hypertensive-heart-disease
https://health.clevelandclinic.org/how-does-salt-affect-heart-health
https://tinyurl.com/hydration-and-heart
https://tinyurl.com/obesity-heart-disease