Hey there! This post may contain affiliate links. As an Amazon Associate, I earn a teensy commission from qualifying purchases when you buy through these links (at no additional cost to you). For more info, please check the full disclaimer.
New research on post-menopausal women has found that eating chocolate in the morning promotes weight loss in women by burning fat and lowering blood sugar levels.
The results are quite surprising, contrary to the popular belief that eating sweets and chocolates increases weight and causes obesity.
The study involved a controlled trial with 19 women divided into three groups. One group enjoyed 100 grams of chocolate in the morning (within an hour of waking up), another group savored their chocolate at night (within an hour before bedtime), and the last group didn't have any chocolate at all.
The results revealed several interesting findings:
The morning or nighttime chocolate intake groups didn't have weight gain.
Eating chocolate in the morning or evening promotes regular and better sleep, reduces the feeling of hunger, and promotes a bigger variety of gut microbiota.
Eating chocolate in the morning helps in fat-burning and lowering blood glucose levels.
Eating chocolate in the evening has an effect on resting and exercise metabolism the following morning.
The researchers noted that weight regulation depends on "what" is being eaten and "when" it is being eaten.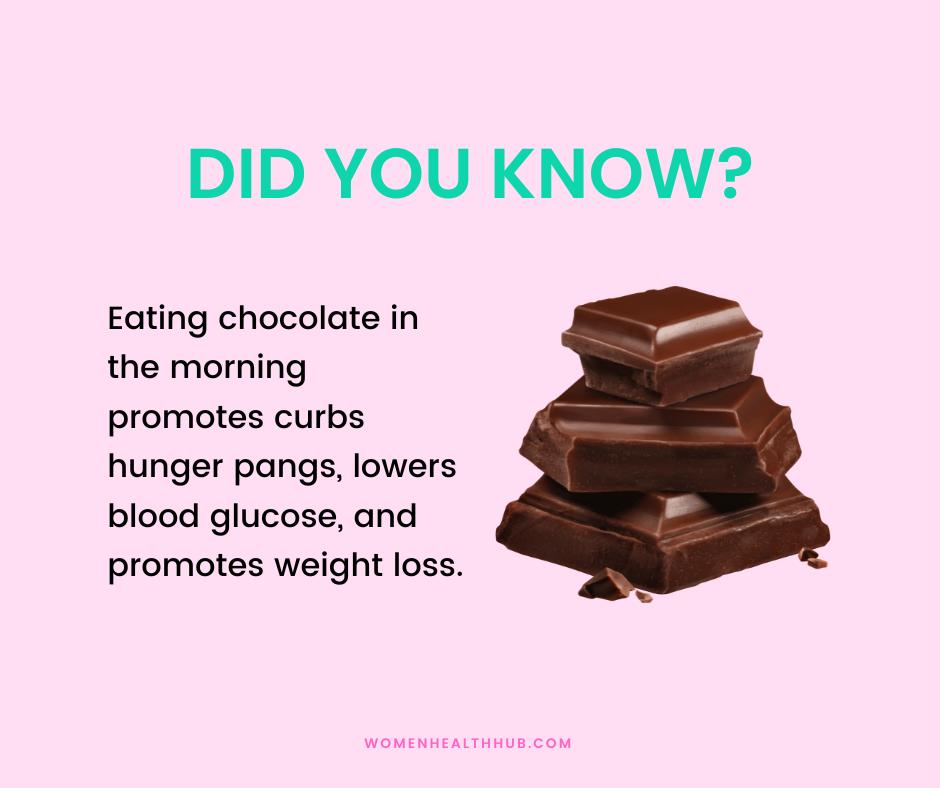 Even though the women had an increased calorie intake, they didn't seem to gain any weight. The results showed that eating chocolate reduced hunger, appetite, and craving for sweet food.
Read More: 8 Healthy Benefits of Chamomile Tea for Women
Benefits of Eating Chocolate for Women
There are many benefits to eating chocolate for women.
Reduces stress: Eating chocolate reduces the levels of the stress hormone cortisol.  It has compounds like phenylethylamine and serotonin precursors, known to release endorphins that make us feel happy and content. Hence, eating chocolate is a great way to alleviate symptoms of anxiety and depression. 
Antioxidant properties: Dark chocolate is rich in antioxidants like flavonoids and polyphenols. These compounds can help reduce oxidative stress in the body and protect the cells.
Heart health: The flavonoids in dark chocolate are also known to improve blood flow, reduce inflammation, and lower blood pressure.  Dark chocolate may also help reduce cholesterol. Thus, it is a good food to reduce the risk of heart attacks. 
Nutritional content: According to Harvard University, dark chocolate contains minerals such as iron, magnesium, zinc, selenium, and copper. These nutrients are critical for hormonal balance, better sexual health, and blood production to reduce the risk of anemia. 
Improves brain function: Eating dark chocolate is linked to better attention, learning, and memory. It is reported to decrease the risk of dementia in older people with mild brain impairment and may be protective against diseases like Alzheimer's or Parkinson's.
Relieve Period Pain: Studies show that chocolate is rich in magnesium which helps to relax muscles, while potassium prevents the body from retaining water and being bloated. Together, this help to ease period pains.
The Bottomline
This study gives important information about how eating chocolate might affect weight control and reminds us to think about when we eat to how it affects our body's systems that help regulate weight.
It's important to remember that these benefits are primarily associated with moderate consumption of dark chocolate, which contains a higher percentage of cocoa and less added sugars and fats. Eating too much chocolate can still lead to weight gain, dental issues, and other health problems. It's best to enjoy chocolate in moderation as part of a balanced diet.
References:
https://faseb.onlinelibrary.wiley.com/doi/10.1096/fj.202002770RR
https://www.health.harvard.edu/blog/your-brain-on-chocolate-2017081612179