Hey there! This post may contain affiliate links. As an Amazon Associate, I earn a teensy commission from qualifying purchases when you buy through these links (at no additional cost to you). For more info, please check the full disclaimer.
According to the National Institute of Diabetes, around 1 in 4 women in the US are obese. Excess weight harms overall health, but for women with polycystic ovarian syndrome (PCOS), uncontrolled weight can have even more dire effects. Fortunately, simple things like using olive oil help with weight loss in women with PCOS.
In this blog, we will look at the benefits of olive oil for women with PCOS and how it contributes to weight loss in this condition. You'll also learn effective ways of adding olive oil to your diet.
But before we do that, let's start by understanding PCOS and why it causes weight gain in the first place.
What is PCOS?
The polycystic ovarian syndrome (PCOS) is a female hormonal imbalance disorder, common among women of childbearing age.
The Center for Disease Control and Prevention states that it is the leading cause of infertility, affecting as many as 5 million women in the USA!
Nowadays, every other woman you come across has PCOS.
Pretty scary, huh?
Fact: Taking olive oil daily can help with weight loss if you have PCOS. 🌿🏋️‍♀️

#oliveoil #nutrition #womenshealth
In PCOS, the ovaries produce excessive male hormones (called androgens). As a result, it leads to severe hormonal imbalance in the body. PCOS may cause women to develop minute cysts (fluid-filled sacs) in their ovaries.
Women who have PCOS experience a range of symptoms such as:
Irregular periods and light bleeding
Excessive body hair on the face, chest, or back
Weight gain, especially around the abdomen
Infertility or difficulty in conceiving
Baldness or hair loss
Read More: 7 Tips to Reduce Hair Loss from Diabetes
Why Does PCOS Cause Weight Gain?
A study published in Obesity Management in 2007 found that obese or overweight women in the US have an 80% higher risk of developing PCOS.
But how are they both linked?
Our bodies produce a hormone called insulin. In its presence, the glucose from the blood is absorbed and turned into energy. Without insulin, all the sugar from the food builds up in the bloodstream, leading to higher blood glucose levels.
As a result, you might develop symptoms of diabetes.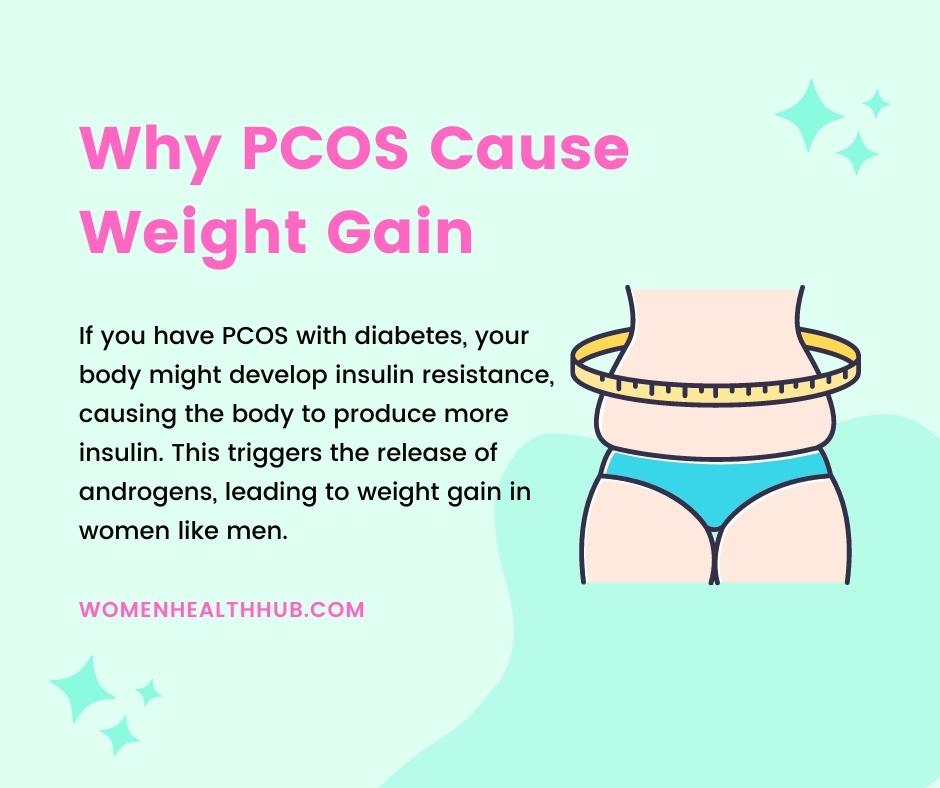 If you have PCOS with diabetes, your body might develop insulin resistance. This condition makes it harder for the hormone to function correctly. When your body senses that the insulin is not being used, it responds by excreting even more of it.
Now the excess insulin triggers the release of androgens, a typical male hormone, leading to weight gain in women like men.
Thus, you may notice extra pounds in the abdomen instead of the hips or chest. Unfortunately, PCOS-induced weight gain is also more difficult to shed off.
Read More: 15 Best Foods to Increase Estrogen
Is Weight Loss Helpful with PCOS?
A study on PCOS and Weight Management in Australia found that weight loss has prominent effects in improving symptoms of PCOS.
As little as 5 to 10% of weight loss can significantly regulate ovarian function and improve PCOS!
Losing weight can help with the following:
Reduced insulin resistance
Improved fertility
Controlled blood pressure
Regular periods
Controlled blood sugar levels
Better self-esteem
Improved skin and hair
Reduced risk of endometrial cancer
Read More: 10 Worst Foods For Your Hormones
How Can Olive Oil Help with Weight Loss?
A study published in the European Journal of Nutrition in 2018 confirmed that diets rich in olive oil help with weight loss dramatically. They discovered that higher olive oil consumption results in 80% more weight loss than foods that are simply energy restrictive.
Here are a few ways olive oil helps with weight loss and improves symptoms of PCOS.
1. Accelerates weight loss
Olive oil is packed with monounsaturated fatty acids (MUFA, also known as the good fat), which, compared to saturated fats (butter, ghee, coconut oil), can be highly effective in promoting weight loss.
For the same calorie intake, a diet high in MUFAs can lead to faster weight loss than low-fat diets.
Hence, by replacing your regular cooking oil with olive oil, you can lose significant weight!
Read More: 10 Best Beginner Exercises for Weight Loss
2. Helps in reducing inflammation
Additionally, olive oil has exceptional anti-inflammatory properties, making it a holy grail for women with PCOS.
A study published in Medicine found that people who consume Mediterranean diets high in olive oil have lower levels of CRP – an inflammatory protein elevated in women with PCOS.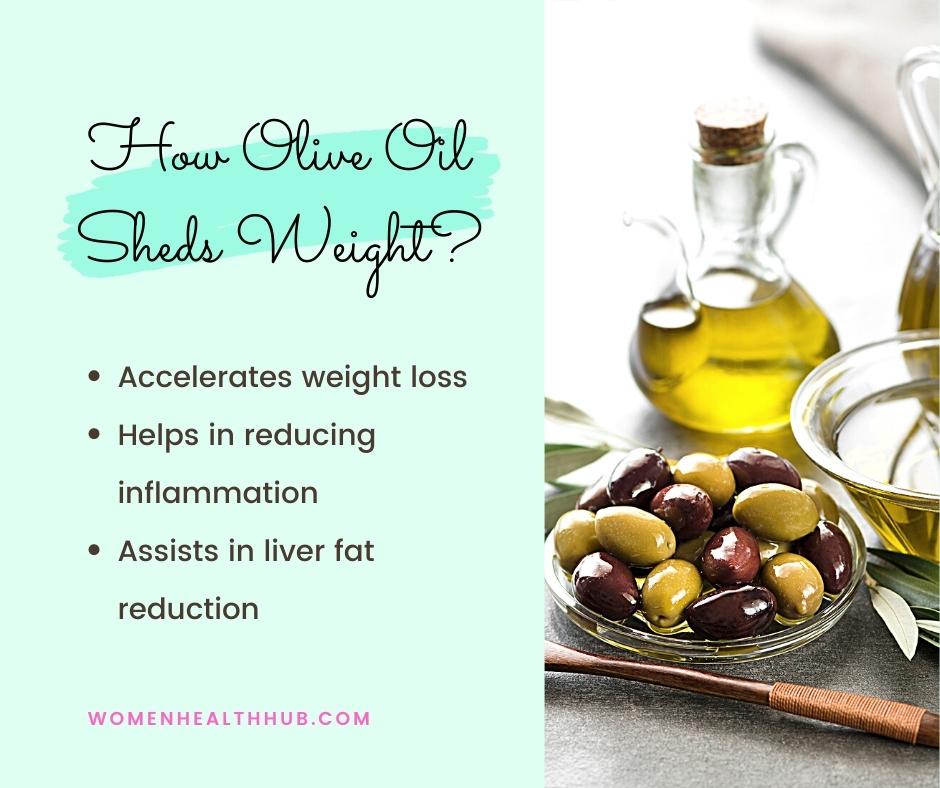 Chronic inflammation usually worsens the symptoms of PCOS, especially insulin resistance. In turn, insulin activity is severely affected by inflammation, leading to rapid weight gain.
Thus, daily use of olive oil help with weight loss in women who have inflammation and may also regulate blood sugar.
3. Assists in liver fat reduction
A fatty liver is also among the main reasons for weight gain in women with PCOS. According to a 2014 study published in the World Journal of Gastroenterology, PCOS patients have an increased risk of fatty liver disease.
The buildup of fat in the liver slows down metabolism everywhere in the body, making it harder to lose weight. However, there is an inverse relationship between liver fat and olive oil consumption.
So if you have both PCOS and liver fat, you may want to start taking this ingredient daily as olive oil help with weight loss quickly.
How to Add Olive Oil to Your Diet
Here are some fun ways you can incorporate olive oil into your diet.
Extra virgin olive oil is one of the healthiest choices for cooking foods like meat, egg, and vegetables. It's packed with essential fatty acids needed to reduce the risk of heart attack symptoms, get rid of inflammation, and promote better brain health.
However, if it is cooked for too long and beyond the boiling point, it changes its composition and makes the oil toxic. In fact, studies show that cooking olive oil beyond the smoke point causes the oxidation of fatty acids.
So ensure you only cook for a minimum time and avoid deep-frying in olive oil to maximize the benefits.
Best ways to add more olive oil to your diet:

✨ Sear or sautee foods
✨ Use in salad dressing
✨ Add as a butter substitute

Learn how olive oil helps with PCOS in our blog!

#oliveoil #nutrition #womenshealth
Conventional salad dressings are often loaded with creams, preservatives, and bad fats, contributing to weight gain.
Olive oil combined with a mix of vinegar and honey is a delicious homemade salad dressing packed with nutrients!
Mixing fruits and vegetables with olive oil is a great way to get anti-inflammatory nutrients into your body. You can also enhance the favors by adding herbs and spices of your choice.
As a substitute for butter or cream
Instead of using butter or creams in your daily meals, try using olive oil as a substitute. It may come handy to grease pans before sautéing vegetables or while baking cakes and cookies instead of traditional vegetable oil.
You can also drizzle it up on cooked meats to add a finishing touch to your meals.
The Bottom Line
Hence, now you know that using olive oil help with weight loss in women with PCOS symptoms. This is because it's packed with many nutritional benefits such as MUFAs, anti-inflammatory properties, and good fats that have a positive impact on women's overall health, especially those trying to lose weight.
The tangy and fruity taste of olive oil has countless culinary possibilities. It can be added to just about anything to amp up the flavor! The enhanced taste also makes it easier to stick to a healthy diet, lose weight and manage PCOS symptoms.
Reference Links:
https://pcos.com/virgin-olive-oil/
https://www.aboutoliveoil.org/12-surprising-health-benefits-of-olive-oil%3fhs_amp=true
https://www.nhs.uk/conditions/polycystic-ovary-syndrome-pcos/
https://www.oliveoil.com/easy-ways-to-add-olive-oil-to-diet/amp/
https://www.ncbi.nlm.nih.gov/pmc/articles/PMC3846536/
https://lipidworld.biomedcentral.com/articles/10.1186/s12944-021-01433-9