Hey there! This post may contain affiliate links. As an Amazon Associate, I earn a teensy commission from qualifying purchases when you buy through these links (at no additional cost to you). For more info, please check the full disclaimer.
Many women are often concerned that fertility drugs cause breast cancer. New research conducted by King's College London and King's Fertility confirmed that drugs commonly used during fertility treatments do not increase the risk of developing breast cancer.
The study analyzed data from 1.8 million women who underwent fertility treatments and followed them for an average of 27 years, finding no significant increase in breast cancer risk.
Fertility treatments can range from simple procedures like using medications to stimulate the release of eggs, to more complex procedures like in vitro fertilization (IVF), where eggs are extracted and fertilized in a laboratory before being transferred to the womb.
Drugs that increase fertility do so by increasing estrogen hormone production and can potentially affect breast cells, which leads to concern about breast cancer.
Fortunately, the researchers found no significant increase in breast cancer risk among women who underwent treatment compared to those who did not, including infertile women who did not receive any treatment.
Read More: 70+ Best Foods to Prevent Breast Cancer
Types of Fertility Drugs for Women
According to WebMD, there are several types of fertility drugs used to help women conceive. These drugs work by regulating or stimulating hormone production to promote ovulation or enhance the development of eggs.
Here's an overview of the common fertility drugs for women:
Clomiphene citrate (Clomid): This oral medication stimulates the release of hormones, follicle-stimulating hormone (FSH) and luteinizing hormone (LH), that help in the growth and release of eggs from the ovaries. This drug is very popular in treating younger women who don't have Polycystic Ovary Syndrome (PCOS).
Gonadotropins: These are injectable medications that contain FSH and LH, and human menopausal gonadotropic (hMG). They directly stimulate the ovaries to produce multiple eggs.
Human Chorionic Gonadotropin (hCG): This hormone is often used in combination with other fertility drugs to trigger the release of mature eggs from the ovaries.
Aromatase inhibitors: These medications, such as Letrozole, are sometimes used as an alternative to Clomiphene citrate. They block the conversion of androgens to estrogen, which can help stimulate ovulation. These are popular among younger women who have PCOS.
Metformin: Although primarily used to treat insulin resistance in women with polycystic ovary syndrome (PCOS), Metformin may also help regulate ovulation in some cases.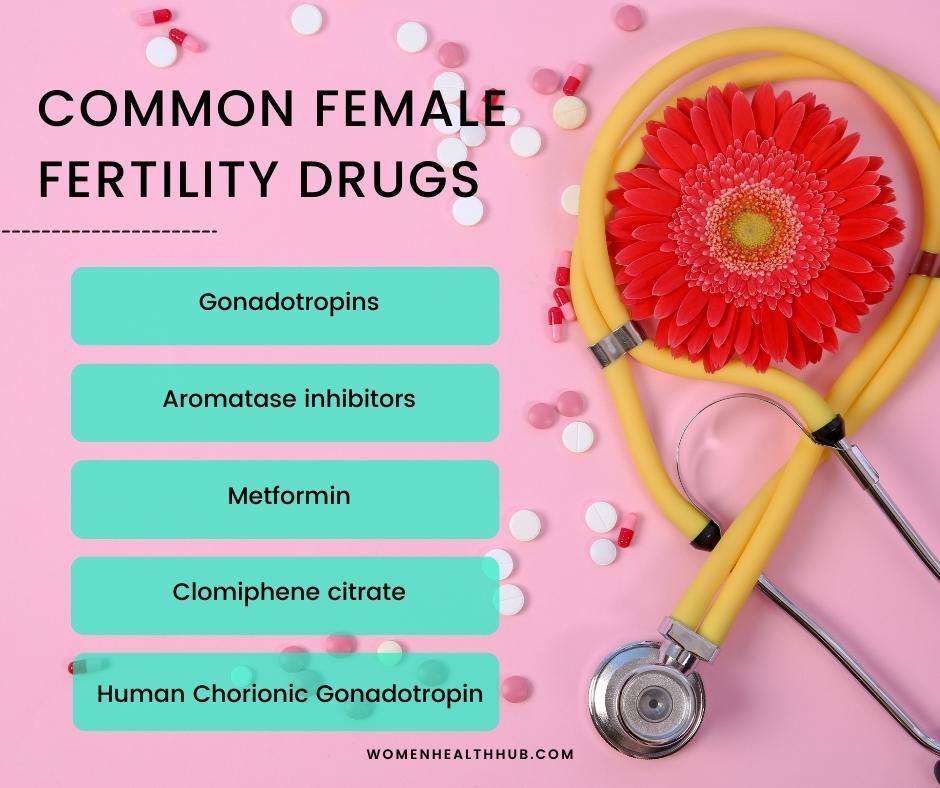 It's important to note that the specific type and combination of fertility drugs prescribed may vary depending on the individual's fertility issues and the treatment plan recommended by their healthcare provider.
Read More: Breast Cancer Self-Check Guide (with free printable)
Side Effects of Fertility Drugs
Besides the raging concern that fertility drugs cause breast cancer risk or not, many other side effects of these pills are often circulated among females.
It's true that fertility drugs, like any medications, can have potential risks and side effects if they are taken long-term without any check and balance.
Some common risks associated with fertility drugs include:
Multiple pregnancies: Fertility drugs, particularly injectable gonadotropins, can increase the chances of multiple pregnancies, such as twins or higher-order multiples. Such pregnancies carry higher risks for both the mother and babies, including preterm birth, low birth weight, and complications during pregnancy and delivery.
Ectopic pregnancy: Fertility drugs can increase the risk of ectopic pregnancy, where the fertilized egg implants outside the uterus, usually in the fallopian tube. Ectopic pregnancies can be life-threatening and require immediate medical attention.
Ovarian hyperstimulation syndrome (OHSS): This condition occurs when the ovaries are excessively stimulated by fertility drugs, leading to enlarged ovaries and fluid accumulation in the abdomen. Symptoms can range from mild to severe, including abdominal pain, bloating, nausea, and in rare cases, serious complications such as blood clots or kidney problems.
Ovarian cysts: Fertility drugs can sometimes cause the development of ovarian cysts, which are fluid-filled sacs on the ovaries. Most cysts are benign and resolve on their own, but in some cases, they may require medical intervention.
Mood swings and emotional changes: Fertility drugs, particularly Clomiphene citrate, may cause mood swings, irritability, and emotional changes in some women.
Allergic reactions: While rare, some individuals may experience allergic reactions to fertility drugs, which can range from mild skin rashes to severe anaphylaxis.
Read More: 9 Alarming Signs of Breast Cancer in Women
The Bottomline
This new research provides important evidence on whether or not fertility drugs cause breast cancer. However, additional studies are required to provide more comprehensive insights into the long-term effects of these treatments.
Doctors are recommended to discuss the potential risks, benefits, and alternatives of fertility drugs based on their patient's specific situation, and closely monitor their response during treatment to minimize any potential risks.
References:
https://www.fertstert.org/article/S0015-0282(21)00077-7/fulltext
https://www.frontiersin.org/articles/10.3389/fendo.2019.00313/full
https://pubmed.ncbi.nlm.nih.gov/7727051/