Hey there! This post may contain affiliate links. As an Amazon Associate, I earn a teensy commission from qualifying purchases when you buy through these links (at no additional cost to you). For more info, please check the full disclaimer.
Chest pains are always scary, and you may instantly associate them with life-threatening heart conditions like a heart attack or angina. However, anxiety may also cause chest pain in women prone to long-term stress or panic attacks.
It is essential to know that many conditions, including anxiety cause chest pains and may not have anything to do with the heart. For example, conditions like gastroesophageal reflux disease (GERD), seasonal flu, and persistent anxiety may lead to chest tightness.  
Though anyone can experience anxiety and chest pain, a study by the National Institute of Health reported that women are likely more prone to anxiety-related symptoms, including shortness of breath, nausea, and heart flutter than men. 
It may be because women tend to be more emotionally sensitive and have difficulty controlling their emotions. Or they may be in a stressful environment that can trigger an anxiety episode.
This article will cover how your anxiety and chest pain are related, how long it lasts, and how to identify the symptoms. 
What is Anxiety Chest Tightness?
Anxiety chest pain is an intense, sharp, and sudden pain that occurs in the upper chest, usually on one side only. Intense muscle contractions in the chest wall during an episode of an anxiety attack is more likely the cause and may leave your chest hurting for a long time.
Women who have been through a traumatic event and have anxiety may experience chest tightness more frequently.
Others may experience anxiety chest pain when nervous or worried about an upcoming event or after emotional stressors like getting into a fight with a friend or family member.
In short, the causes of anxiety-chest pain may vary for every woman.
Long-term anxiety cause chest pain and symptoms like shortness of breath, sweating, nausea, and dizziness.
These signs are usually mild and often go away quickly when you get out of the situation that triggered your anxiety attack.
How Does Anxiety Cause Chest Pain?
Anxiety chest pain is a sharp, stabbing ache in the upper torso that moves down to your shoulders, middle back, and arms when you're anxious.
You may also experience shortness of breath, sweating, dizziness, and nausea. These may seem like signs of a heart attack but are usually temporary and not necessarily dangerous.
However, if your anxiety cause chest pain frequently, you may want to focus on adopting the proper measures for prevention or seek medical help. 
Anxiety chest pain feels like a sharp stabbing pain in the upper torso, moving to your arms, shoulders and back.

Seek help if it lasts too long! 😰🧑‍⚕️

#anxiety #chestpain #womenshealth
What Does Anxiety Chest Pain Feel Like?
Anxiety chest pain feels like a tight and sharp pain in your chest, similar to having your heart racing and feeling like your chest is tightening up around your lungs. It may start mild and then become more severe over time.
Sometimes the pain is so severe that it feels like someone has stabbed you with a knife or beat you repeatedly with a baseball bat. These feelings may be accompanied by shortness of breath and sweating.
The good news is that anxiety chest pain tends to resolve independently within a few hours or days.
However, if you experience this kind of pain frequently or if it lasts longer than two weeks,
make an appointment with your doctor immediately to rule out any underlying causes of your symptoms.
Read More: 15 Exciting Sunday Self-Care Ideas For Day And Night
How Long Does Anxiety Chest Pain Last?
Anxiety chest pain can feel alarming, but it rarely lasts long. The symptoms typically stay around for 10 minutes, though other anxiety or panic attack symptoms (like dizziness, shortness of breath, or nausea) may last longer.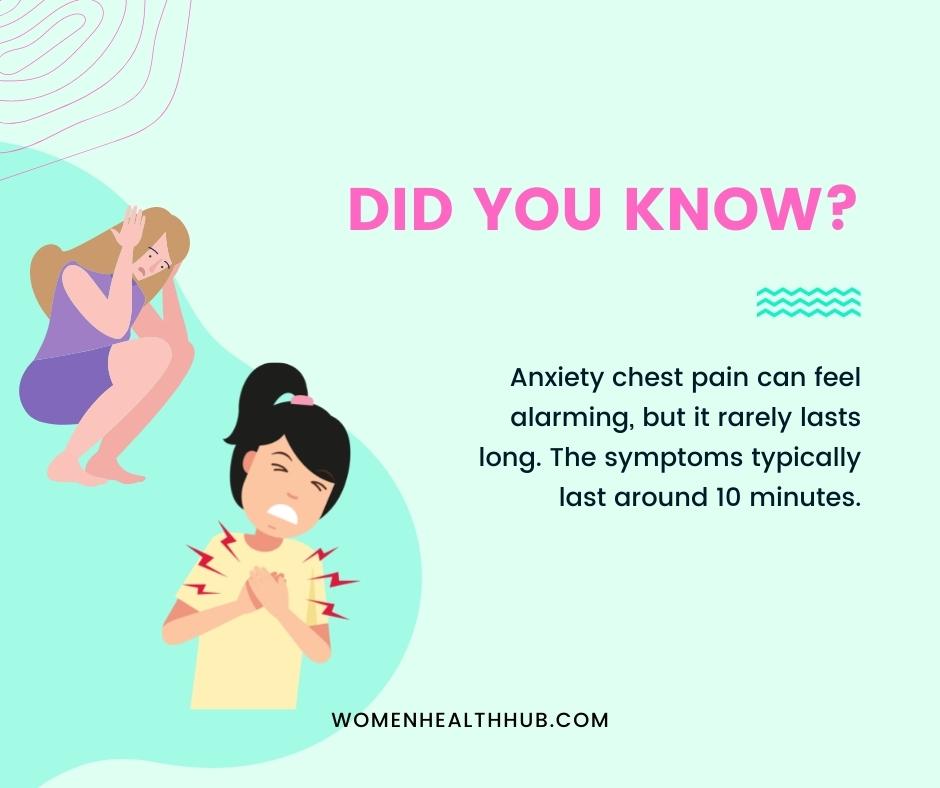 Anxiety Chest Tightness vs. Angina Pain
Anxiety causes chest pain similar to angina pain and is commonly mistaken as a sign of heart attack. Therefore, it is crucial to understand the critical differences between the two.
Here are four key factors that can help you differentiate between anxiety chest tightness, and angina pain:
Frequency: Anxiety chest tightness tends to be more frequent—it's often something people feel when they're anxious about something or someone. 
Duration: Chest tightness is generally temporary and doesn't worsen over time. On the other hand, angina pain tends to be more severe and can last longer than anxiety chest tightness.
Cause: Chest tightness is often caused by the nervous system and conditions such as asthma or emphysema. However, angina pain can only occur in people with coronary artery disease or atrial fibrillation (irregular heartbeat).
Treatment: Anxiety chest tightness is usually treated with relaxation techniques, while angina pain is generally treated with medication (which helps reduce the pain and relaxes muscles).
Read More: 10 Ideas to Get Rid of Depression
What to do if You've Anxiety Chest Pain?
It's not easy to live with anxiety—and it can get even more complicated when dealing with chest pain. Here are some tips to help you cope with anxiety causing chest pain.
1. Add meditation to your lifestyle
A 2019 study in Frontiers in Psychology found that meditation reduces worry and is especially useful in reducing the risk of anxiety and depression.
Meditation can help you relax and find emotional balance if you struggle with anxiety. 
Try sitting comfortably and focus on your breath as it enters and leaves your body. Stay focused on the sensations of breathing and nothing else. This helpful meditation will quickly take your mind off the anxiety trigger and help you relax.
Read More: 19 Quotes for Overcoming Anxiety Attacks
2. Engage in regular exercise
Exercise is also a great way to reduce anxiety and feel more relaxed. Per the National Institute of Health, women who engage in regular physical activity experience fewer depressive and anxiety symptoms.
The study also states that regular exercise and physical activity lower the prevalence of various chronic diseases.
Try going for a walk or doing yoga if you can. If this isn't possible, try taking a hot bath or doing chest stretches when you get home from work.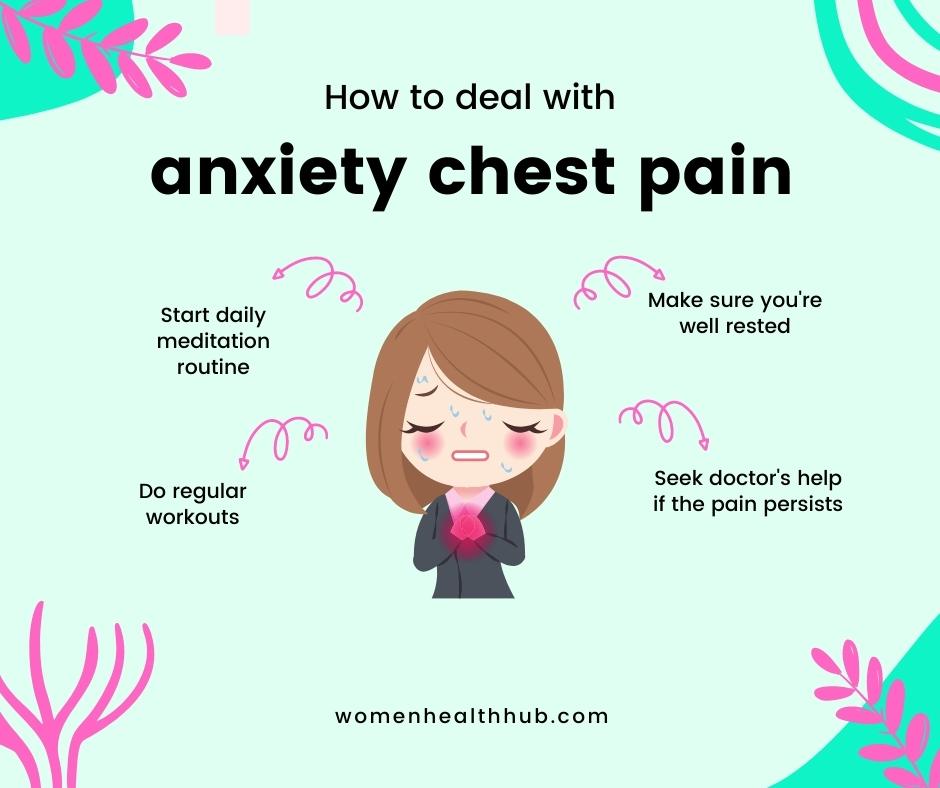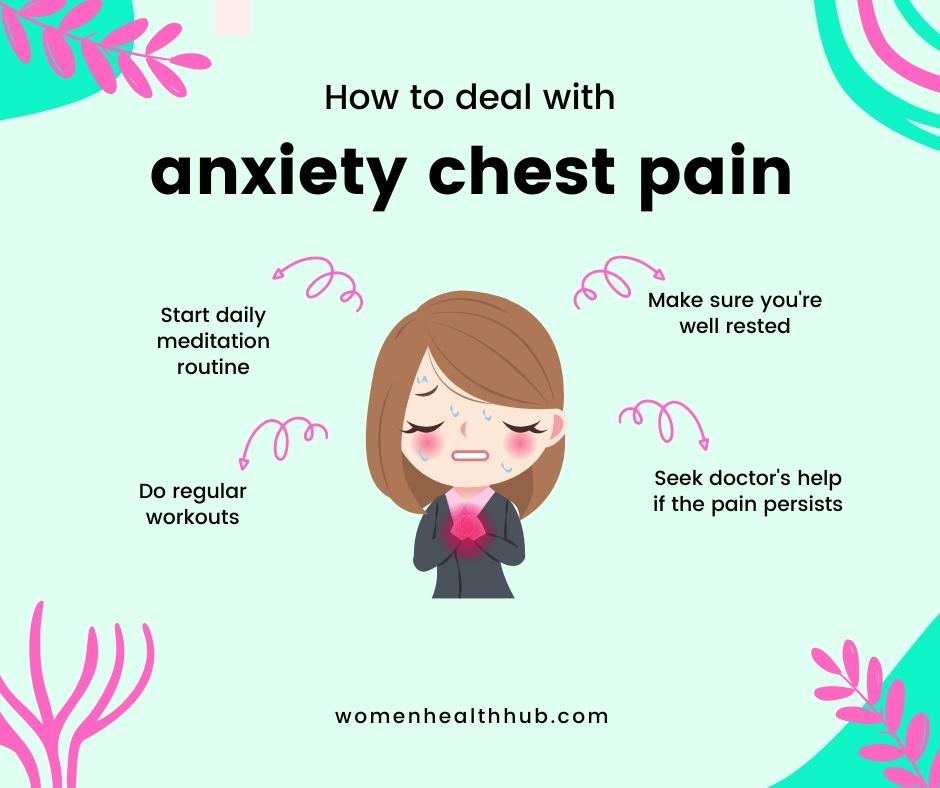 3. Get enough sleep
A lousy sleep routine can often cause anxiety chest pain as the body is deprived of healing.
National Center for Biotechnology Information associated sleep disorders and insufficient sleep duration with an increased risk of heart diseases, like symptoms of heart attack.
Try taking at least 8 hours of sleep every night, especially at the proper hours, to allow the body to heal and replenish. This will significantly reduce stress levels and lower blood pressure, preventing angina-like chest pain, nausea, and dizziness.
Read More: 6 Amazing Herbal Teas for Sleep
4. Get a doctor's opinion
See a doctor if your anxiety chest pain lasts more than a few weeks and is accompanied by other symptoms like shortness of breath, dizziness, or nausea.
The Bottomline
If you are stressed because of work, family commitments, or having difficulty finding the right balance between work and family, you might experience anxiety chest pain.
Do not panic, and try to identify the cause of your symptoms. If it's anxiety causing chest pain, take deep breaths and relax. It may take some time to feel better, but your symptoms will diminish. 
If your chest pain continues, seek medical help immediately.
We hope this article helped you understand what's happening to your body and how you can relieve your anxiety chest pain with simple and easy tips.
References:
https://www.ncbi.nlm.nih.gov/pmc/articles/PMC4926718/
https://www.ncbi.nlm.nih.gov/pmc/articles/PMC181226/
https://www.ncbi.nlm.nih.gov/pmc/articles/PMC6442249/
https://www.ncbi.nlm.nih.gov/pmc/articles/PMC6418017/
https://www.ncbi.nlm.nih.gov/pmc/articles/PMC3632802/
https://pubmed.ncbi.nlm.nih.gov/27467177/