Hey there! This post may contain affiliate links. As an Amazon Associate, I earn a teensy commission from qualifying purchases when you buy through these links (at no additional cost to you). For more info, please check the full disclaimer.
Ovarian cancer is the 11th most prevalent cancer in women and the fifth leading cause of cancer-related death. Early detection of the symptoms of ovarian cancer increases the survival rate by 90%.
However, sadly, the Ovarian Cancer Research Alliance (ORCA) has estimated that only 17% of women have an early diagnosis of ovarian cancer. 
The high morbidity is usually because of a lack of awareness about the disease. In this blog, you will discover the most commonly missed signs of ovarian cancer.
What is Ovarian Cancer?
Ovaries are two small organs of the female reproductive system. The uncontrolled growth of cells in these ovaries forms a cluster of cells called tumors. As these cells multiply, they may spread to the surrounding organs, developing cancer.
In 2019, the Centre for Disease Control and Prevention (CDC) reported 20,000 new cases of ovarian cases in the United States.
According to the ORCA, ovarian cancer's survival rate depends on the tumor's diagnosis, type, and prognosis. On average, 78% of all ovarian cancer patients live for one year, but only 50% survive for five years after diagnosis.
What are the Risk Factors for Ovarian Cancer?
Like all other cancers, the primary cause of ovarian cancer is the changes in your genetic makeup.
According to Cancer Research UK, 5-15% of ovarian cancer is caused by inheriting a faulty gene called the BRCA gene. If you have an immediate family member with ovarian cancer, you are three times more likely to develop ovarian cancer later in life. 
The genetic mutations compel the DNA to multiply and produce more and more copies of cells until an unprecedented cluster of cells is created.
The symptoms of ovarian cancer may occur because of certain factors, including:
Family history of cancer
Age more than 60 years
Overweight/obesity
Smoking
Alcoholism
Sedentary lifestyle
Hormonal Replacement Therapy (HRT)
Endometriosis
Read More: 9 Warning Symptoms of Breast Cancer
How is Ovarian Cancer Diagnosed?
Several screening tools are available for an accurate diagnosis of ovarian cancer. Depending on your symptoms, the doctor may ask about your medical history and prescribe any of the following tests:
CA-125 blood test determines the presence of a cancer antigen protein in the blood. High levels of this protein indicate the possibility of cancer.
Imaging tests like ultrasound, transvaginal scan, and CT scan are performed to study the shape and size of the ovaries.
It is a physical exam that explores the vulva, vagina, uterus, and ovaries to check for symptoms of ovarian cancer. Enlarged or swollen ovaries are easily detected during a pelvic exam.
Read More: Stages of Breast Cancer
How is Ovarian Cancer Treated?
The survival rates for ovarian cancer treatment vary according to the time of diagnosis. Women
diagnosed at an early age has higher chances of recovery than those diagnosed at later stages.
According to Ovarian Research UK, women have a higher survival rate (about 95%) at Stage One ovarian cancer diagnosis.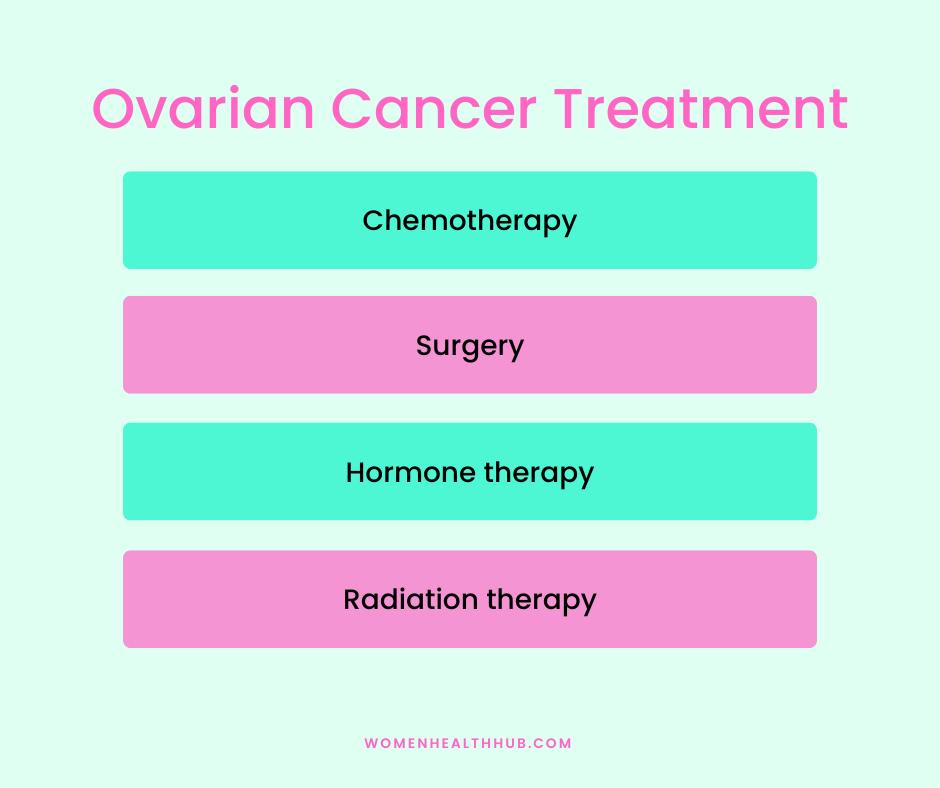 Thus, the more complicated the stage, the lower the survival rate after diagnosis and treatment. In fact, only 15% of women survive for five years after the stage four cancer diagnosis.
Let's discuss some methods to treat symptoms of ovarian cancer:
Some ovarian cancers are aggravated by the estrogen hormone produced by the ovaries. In this case, hormone-blocking drugs are given to control the proliferation of cancer cells.
Surgery removes the cancerous parts of the ovaries. It is usually done if the cancer has not metastasized to other organs.
Chemotherapy involves chemicals ingested or injected into the body to kill unwanted cells. It is usually recommended either before or after surgery to remove the cancerous tumors.
Radiation therapy uses high-powered X-rays to kill cancerous cells. It usually accompanies other treatment methods like surgery and chemotherapy or to kill non-cancerous tumors.
Read More: 70+ Best Foods for Breast Cancer Prevention
What are the Early Warning Symptoms of Ovarian Cancer?
The early-stage symptoms of ovarian cancer are mild and usually mimic the signs of a stomach bug. As cancer metastasizes and spreads to other organs, noticeable symptoms may appear.
Let's discuss some of the common signs of ovarian cancer.
1. Abdominal Bloating
Research shows that 52% of ovarian cancer women report abdominal bloating episodes.
While bloating can occur due to digestive issues, menopause, or at the start of the menstrual period, you should never ignore persistent bloating that increases in intensity.
Abdominal bloating may be due to the accumulation of fluid called ascites or an increase in tumor size, leading to indigestion, abdominal distention, and discomfort in the gut area.
You may find your clothes tight around the waist without visible weight gain. You may even notice the change in your waistline by looking in the mirror. The tummy may also feel hard occasionally.
2. Changes in Appetite
Early symptoms of ovarian cancer may also include changes in your appetite.
According to the study mentioned above, 18% of women felt full after consuming small portions of food.
15% of women have also revealed that they cannot maintain usual dietary patterns due to ovarian cancer. The build-up of fluid puts additional pressure on the stomach. As a result, you may feel full after eating small amounts of food.
It may be an alarming sign if you have unexplained changes in appetite that may not be related to stress or digestive issues.
3. Unintentional Weight Changes
Many women also notice unexplained weight loss as one of the initial warning symptoms of ovarian cancer.
Due to the tumor growth, a noticeable increase in your waistline may occur, which might lead to weight gain. The fluid accumulation in the abdomen also leads to sudden and unexpected weight gain.
In contrast, you may also feel like you have lost some weight. Unintentional weight loss is a sign of ovarian cancer, attributed to loss of appetite, nausea, or even vomiting.
If you have inadvertently lost more than five percent of your body weight over the past six months, it's best to consult your primary physician.
Read More: 10 Best Weight Loss Exercises for Beginners
4. Pelvic Discomfort
In a study published in 2011, about 29% of women with ovarian cancer also reported pain in the lower back or pelvic area.
Pelvic pain occurs when the tumor mass outgrows the ovaries and starts to affect the tissues and nerves of your back.
Many women usually dismiss pelvic discomfort as menstrual cramps, but if the pain in your lower back lasts for over a week, it can be a sign of ovarian cancer.
5. Frequent Need to Pee
A frequent and sudden urge to urinate is also among the commonly ignored symptoms of ovarian cancer.
Ovaries and the urinary bladder are present at the lower end of the abdomen. When the ovaries increase in size due to the growth of tumors, it puts pressure on the bladder, which induces the urge to pee more frequently.
If you notice these symptoms, you may need to consult a healthcare provider:
Frequent need to urinate
Sudden urge to urinate
Pressure on the urinary bladder
Pain in the urinary bladder
These symptoms can also be associated with diseases like urinary tract infections (UTI), pregnancy, vaginitis, or diabetes.
Read More: 14 Early Signs of Diabetes in Women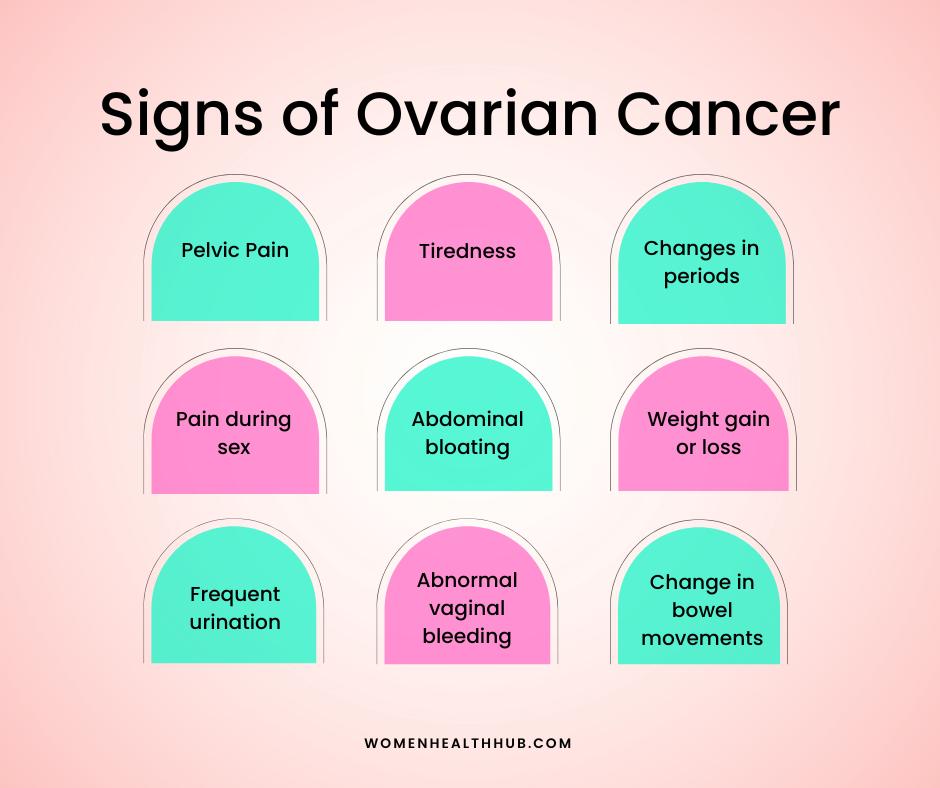 6. Changes in Bowel Habits
Gastrointestinal disturbances are common and dismissed as a stomach bug, stress-related changes, or a consequence of bad food. Many women with ovarian cancer have complained of irregular bowel habits before their diagnosis.
The early symptoms of ovarian cancer, like diarrhea, constipation, and abdominal bloating, mimic the signs of Irritable Bowel Syndrome (IBS), which can delay the diagnosis.
If you suspect that you may have ovarian cancer, keep an eye on the following symptoms:
Diarrhea/constipation
Nausea
Vomiting
Abdominal cramps
If they persist for three weeks, you should consult your primary physician.
7. Fatigue
If you feel tired and no amount of sleep or coffee has cured it, it can be a cause of concern.
Large numbers of cancer cells often cause persistent fatigue. The cancerous cells have an immense metabolic load, which requires tremendous energy, leaving little stamina for the rest of the body. 
Read More: 6 Best Herbal Teas for Sleep
8. Pain During Intercourse
Ovarian cancer also affects the intimate lives of women. Ovarian cysts may be disturbed during intercourse which causes the fluid to leak out of the cysts, causing pain.
If you feel pain during sexual activities, you should consult your gynecologist, as painful sex is a warning sign for many diseases and should not be ignored.
Read More: 10 Best Sex Positions for Increased Pleasure
9. Swelling in Extremities
Among other commonly ignored symptoms of ovarian cancer is swelling in your limbs, especially your legs, ankles, and feet.
When slight pressure is applied to the swollen limb, it remains indented. This condition is called pitting edema, and research conducted in 2014 revealed that 20% of women had edema in the early stages of ovarian cancer.
10. Changes in Menstrual Cycles
Ovaries are the primary reproductive organ in women responsible for producing sex hormones, prompting ovulation, and regulating the menstrual cycle. Any changes in these ovaries can agitate the monthly cycle in women.
Some of the crucial signs to keep an eye out for are:
Missed periods
Irregular menstrual cycles
Severe cramps
11. Abnormal Bleeding
Although not common, abnormal bleeding can occur in women with ovarian cancer. Irregular bleeding can be defined as any one of the following:
Bleeding between periods
Bleeding after menopause
Vaginal discharge that contains blood
Bleeding after intercourse
Many of the symptoms of ovarian cancer are mild and can be explained by lifestyle changes, stress, or benign disease. However, these signs should not be ignored, mainly if they occur concurrently.
Read More: 8 Tips for Feminine Hygiene in Summers
A Mnemonic to Remember the Symptoms of Ovarian Cancer
Ovarcome, an organization for ovarian cancer survivors, developed the acronym 'BEACH' to help women identify the sign and symptoms accompanying ovarian cancer. 
B- Bloating
E- Early satiety
A- Abdominal/pelvic pain
C- Changes in bowel habits
H- Heightened fatigue
Remembering the BEACH acronym can help women identify the signs of ovarian cancer and take proactive steps, which can help in an early diagnosis and better management of cancer.
The Bottomline
In a nutshell, ovarian cancer is a silent disease that often goes undiagnosed until it reaches advanced stages. It primarily targets post-menopausal women over the age of 60 years. Some of the prevailing symptoms of ovarian cancer are abdominal bloating, frequent urge to urinate, abdominal/pelvic pain, and fatigue. Regular check-ups and screening tests can help detect ovarian cancer in its early stages.
References:
https://www.ncbi.nlm.nih.gov/pmc/articles/PMC6376972/
https://obgyn.onlinelibrary.wiley.com/doi/pdf/10.1111/j.1479-828X.2010.01284.x
https://www.ncbi.nlm.nih.gov/pmc/articles/PMC7453382/
https://www.ncbi.nlm.nih.gov/pmc/articles/PMC2867625/
https://onlinelibrary.wiley.com/doi/full/10.1002/cam4.5670