Hey there! This post may contain affiliate links. As an Amazon Associate, I earn a teensy commission from qualifying purchases when you buy through these links (at no additional cost to you). For more info, please check the full disclaimer.
Iron is essential for the production of red blood cells in the body. Low levels of iron in the body can result in iron deficiency anemia. According to statistics by the World Health Organization (WHO), about 30% of women globally have iron deficiency anemia. Hence, women need more iron than men for various reasons.
Low levels of iron in the blood can be from two reasons: not eating enough iron-rich food, or losing too much iron through blood loss.
Iron is needed by the body to make Hemoglobin (Hb), which is present in the red blood cells and attaches oxygen to transport it throughout the body. If you don't have enough iron, the oxygen transport in the body is affected.
While iron deficiency anemia is quite common in women, it's also easily fixable.
Why Women Need More Iron?
Women are more likely to suffer from iron deficiency anemia than men. You may need more iron for the following reasons.
Menstruation
Women need more iron than men because they lose blood during menstruation. The average woman loses about 1-2 tablespoons of blood during each menstrual cycle. This can amount to about 1 mg of iron per day. Over time, it may lead to iron deficiency.
Women who suffer from PCOS or endometriosis may experience heavier bleeding during periods and are more susceptible to iron deficiency symptoms.
Read More: Foods to Relieve Period Cramps
Pregnancy
During pregnancy, a woman's blood volume increases to support the growing fetus. This requires additional iron to produce more hemoglobin, the protein in red blood cells that carries oxygen to tissues. Iron is also necessary for the development of the baby's blood supply.
Postpartum Blood Loss
Women undergoing the postpartum phase may experience significant blood loss, further increasing the demand for iron to replace the lost blood.
Breastfeeding
Iron is transferred to the baby through breast milk. If a woman is breastfeeding, she needs to maintain her iron levels to ensure both her health and the adequate supply of iron to the baby.
Read More: Best Breastfeeding Positions for New Moms
Lower Dietary Intake
Women, on average, tend to consume less iron-rich foods compared to men. This may be due to dietary preferences, cultural factors, or conscious/unconscious dietary choices.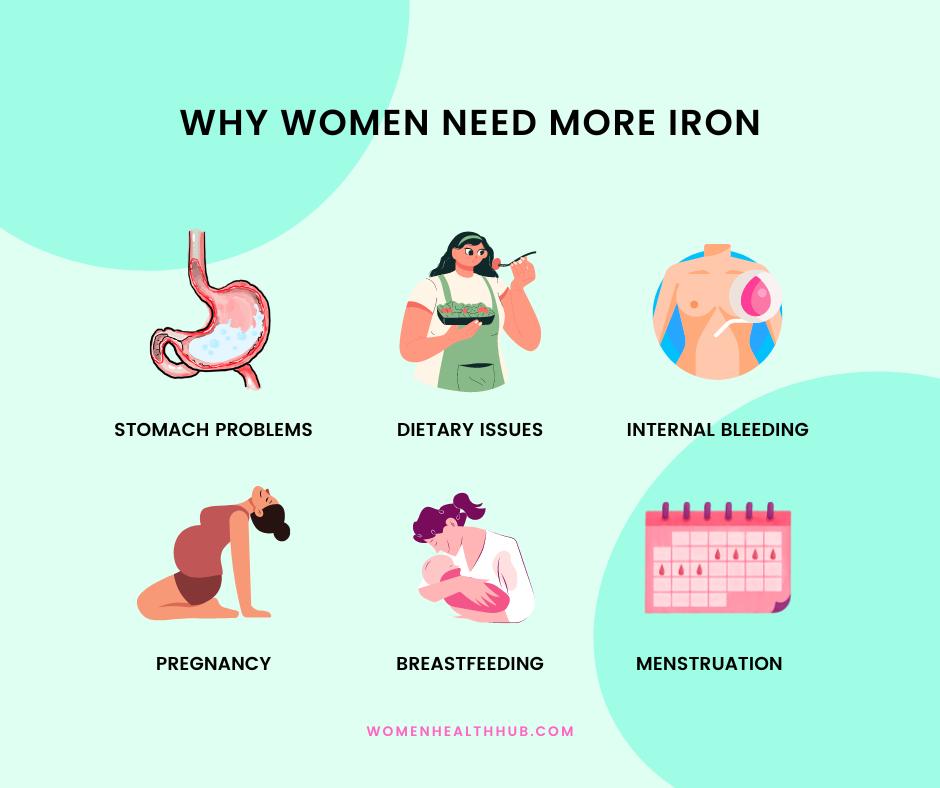 Internal Bleeding
Women who suffer from polyps or ulcers may experience slow blood loss because of internal bleeding. Cancer can also cause internal bleeding.
Stomach Issues
Women who have stomach issues might find it difficult to absorb iron in their food which may result in lower levels of iron. These could be due to diseases like celiac disease, but sometimes infections such as gastritis can also interfere with food absorbance. Iron-rich foods are not easily digestible and many women complain of stomach pain afterwards.
What are the Symptoms of Iron Deficiency Anemia?
There are some typical tell-tale signs to look out for if you think you may have iron deficiency. 
Weakness and fatigue
Paleness
Difficulty breathing or shortness of breath
Dizziness or fainting
Headaches
The most straightforward way to diagnose iron-deficiency anemia is to check the levels of iron in the blood. The suitable test for this is the Complete Blood Count (CBC). The CBC checks for Hb levels in the blood and also gives a count for the types and amounts of blood cells.
Sometimes, blood levels may be normal, but the doctor might still suspect an iron deficiency. In such a case, a test of ferritin levels is performed. Ferritin is the excess iron the body stores for use in case of deficiency. A low ferritin level can also indicate iron deficiency.
Other tests may also be done to rule out the causes of blood loss, such as an ultrasound of the lower abdomen to look for fibroid or any other cause of bleeding or an endoscopy if internal bleeding is suspected.
Read More: Can Iron Deficiency Cause Hair Loss?
How is Iron-Deficiency Anemia Treated?
Researches show that women need more iron than men. The recommended daily intake of iron for women is 18 mg. For men, the recommended daily intake is 8 mg.
Depending on the cause of iron deficiency, there are many ways to treat it.
These are the easiest ways to increase iron levels. Iron tablets should be taken on an empty stomach to increase absorption. But some women complain of stomach issues, like stomach pain and constipation, so they are advised to take the tablets with meals. Vitamin C is also known to increase iron absorption.
Those women who can't tolerate pills may be recommended IV iron supplements.
Iron-rich foods are perfect for fulfilling the need for iron. There are many ways to get enough iron from your diet. Good sources of iron include red meat, chicken, fish, lentils, beans, spinach, fortified cereals, bread, and pasta.
Taking Vitamin C can also help you absorb more iron. You may also consider avoiding foods and drinks that decrease iron absorption, such as black tea. Taking calcium and iron together can decrease iron absorption too.
If you are losing blood due to any reason, then it is important to fix the underlying cause as well. For women who are suffering from endometriosis or PCOS and experiencing heavy periods, it may be worth pursuing treatment for these.
Similarly, women who experience internal bleeding from uterine fibroids, polyps, or cancer should explore the appropriate treatment options.
The treatment is twofold: increasing iron intake and decreasing iron loss.
The Bottomline
Women need more iron because they are more susceptible to blood loss because of their biology. In healthy women, menstruation and pregnancy are common causes of iron deficiency, but other factors such as PCOS, endometriosis, unhealthy eating habits, and internal bleeding can all lead to the development of anemia. It's important to work with the doctor and figure out the cause for the loss of iron, and treat it accordingly.
Iron deficiency is a very common and treatable condition. Don't let it interfere with you living your best life!
References
https://www.mayoclinic.org/diseases-conditions/iron-deficiency-anemia/symptoms-causes/syc-20355034
https://www.nhlbi.nih.gov/health/anemia/iron-deficiency-anemia