Hey there! This post may contain affiliate links. As an Amazon Associate, I earn a teensy commission from qualifying purchases when you buy through these links (at no additional cost to you). For more info, please check the full disclaimer.
Do you ever feel like you can't stop eating, even when you're full? Do you often have the urge to purge right after eating? Does food seem to control your life and not the other way around? If you answered yes to these questions, you might want to look out for the symptoms of bulimia nervosa – a serious eating disorder.
According to NEDA (National Eating Disorder Association), bulimia nervosa is one of the most common eating disorders in the US, affecting more than 2 million women at some point in their lives.
Most women are not familiar with the signs of bulimia nervosa. They often confuse it with anorexia or the symptoms of binge eating disorder because of their many similarities. However, an incorrect diagnosis can delay the treatment process.
That's why you may want to watch out for the early warning symptoms of bulimia nervosa and how they could affect your life.
What is Bulimia Nervosa?
Bulimia nervosa is an eating disorder that causes you to binge on food and then prompts you to do vigorous activities to get rid of the consumed food.
This typical women's eating disorder pushes the affected to dangerous behaviors such as throwing up intentionally, doing hardcore exercises, or even taking laxatives.
Bulimia is a dangerous eating disorder that causes episodes of binge eating followed by practices to purge the food. It affects more women than men!
#eatingdisorder #womenshealth
Such risky behaviors can lead to serious health problems, such as dehydration, electrolyte imbalance, bowel obstruction, and kidney failure. In addition, people suffering from symptoms of bulimia nervosa may experience depression and substance abuse issues.
Thus, it's vital to deal with the signs of bulimia early on.
How Common is Bulimia?
Bulimia nervosa prevalence is around 0.3%. Per the National Institute of Mental Health, bulimia nervosa is more common in women (1.6%) than men (0.8%). Those who develop the symptoms of bulimia are mostly aged between 15 and 25 years.
Hence, it is critically important to understand the early warning signs of bulima nervosa to take the proper measures or seek medical advice on time.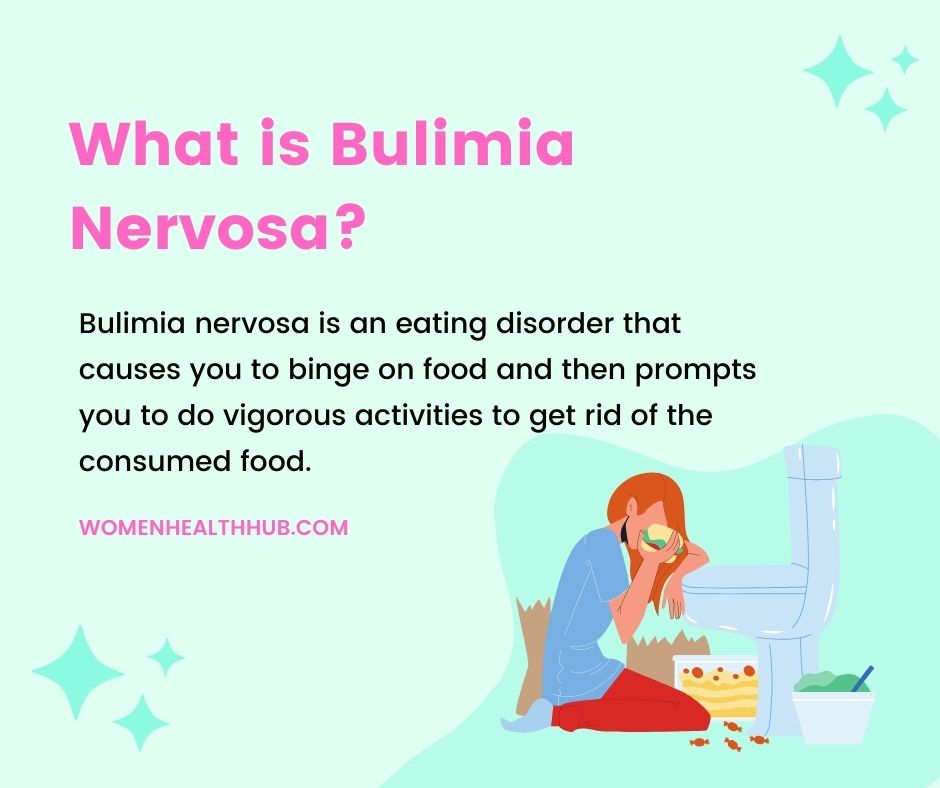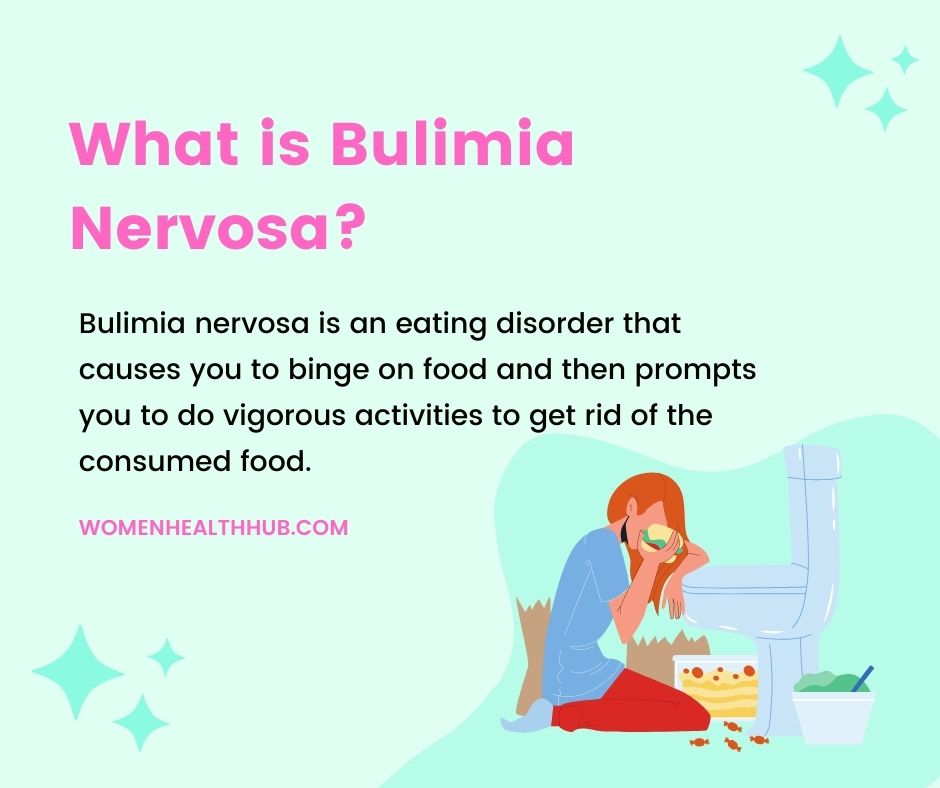 Bulimia vs Binge Eating Disorder – What's The Difference?
Bulimia nervosa and binge eating disorder symptoms may seem similar at first, but in reality, they are pretty different.
Binge eating disorder is characterized by periods of binging and little to no purging that can occur once or twice a week. It typically starts in the late teens or early 20s. People with binge eating disorder are not preoccupied with food or body shape and do not have any symptoms of bulimia.
On the other hand, bulimia is characterized by periods of binging and purging that can happen several times per week. Most of these practices are done in secrecy, typically starting in the teen years. Women with bulimia often have average body weight, so it may be tricky to guess if someone is bulimic or not.
What are the Warning Symptoms of Bulimia Nervosa?
Bulimia nervosa is a mental health issue that poses behavioral and physical symptoms. Let's check 'em out one by one.
1. Engaging in over-exercise routines
Excessive exercising is one of the common signs of bulimia nervosa. In medicine, "compulsive exercising" is often used to refer to this practice.
Women with bulimia who prefer not to purge, adopt this method to get rid of the food. They may have hardcore fitness routines to compensate for their eating habits and may even engage in this behavior when they're not hungry.
2. Always concerned about body shape
Being preoccupied with your body image is also one of the striking symptoms of bulimia. You might spend hours looking at your body in videos, photos, or mirrors.
Bulimic women are overly concerned about how they look or appear in the public's eye, even though there may be nothing wrong with them physically. Unfortunately, this unhealthy behavior continues in public and can impact your social life and mental wellbeing.
3. Having a constant fear of gaining weight
Although mostly present in anorexics, women with bulimia nervosa may also possess an intense fear of weight gain or becoming fat. As a result, they often fuss about being overweight or obese, even when physically fit. This fear leads to binge eating large amounts of food and then purging it later through vomit or laxatives.
4. Frequently visiting the bathroom after meals
One of the most prominent signs of bulimia is the urge to take frequent bathroom visits after eating a meal. These trips help them to get rid of the food through purging. It usually happens throughout the day but particularly in the morning.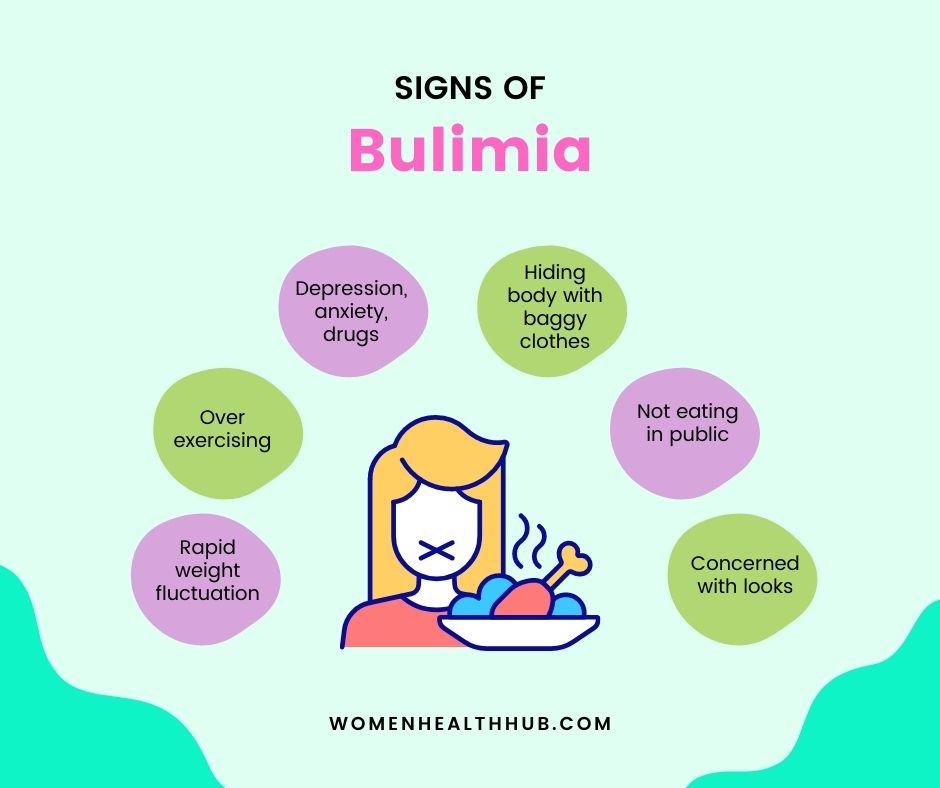 5. Falling for depression, anxiety, or substance abuse
Since bulimia is a mental illness, there's a high risk of depression or anxiety in bulimics because of their eating habits. It might ultimately lead to substance abuse as well.
Eating Disorder Hope revealed in an article that about 59% of the regular weight bulimics and 80% who were bordering on anorexia had experienced depression.
It happens because of unresolved issues such as low self-esteem, self-confidence, deep-rooted anger, past traumas, or a dysfunctional family or social life. It can seriously affect the mental health of bulimics and trigger long-term depression or substance dependency.
6. Hiding the body behind oversized clothes
Women with bulimia tend to wear baggy clothes to hide their bodies. From wearing loose oversized clothes to changing hairstyles covering the face are prominent symptoms of bulimia.
7. Having no control over food consumption
Those suffering from bulimia nervosa may have low to no control over food consumption, leading to uncontrolled urges to binge and purge. Simply put, it's like you cannot stop yourself from binging or purging, even when you don't want to do it!
You may find yourself driving to a restaurant in the late hours of the night to grab a burger and then spend hours vomiting it all out.
Of course, this can be scary and frustrating.
8. Feeling guilty or shameful about eating habits
Another sign of bulimia nervosa is guilt and shame that comes with eating habits. The biggest struggle is the shame that these habits seem to have more control over them than their choice over eating food.
9. Avoiding food and adopting rituals
Women with bulimia are quite particular about what, how, or when to eat. For example, they avoid certain foods or have strict rules about their dietary habits. They may also develop other odd behaviors related to food, such as only eating in certain places, at certain times of the day, or not being able to stop once they begin eating a dish they've often avoided.
10. Avoiding food-related social activities
Another common symptom of bulimia nervosa is avoiding social activities involving food. For example, going out with friends for lunch, joining a family cookout in the backyard, or eating homemade food on a date.
Bulimics are scared of eating in public as it would eventually prompt them to visit the loo for puking. They fear people might notice, follow them, hear the purging sounds, or accuse them of their odd eating habits.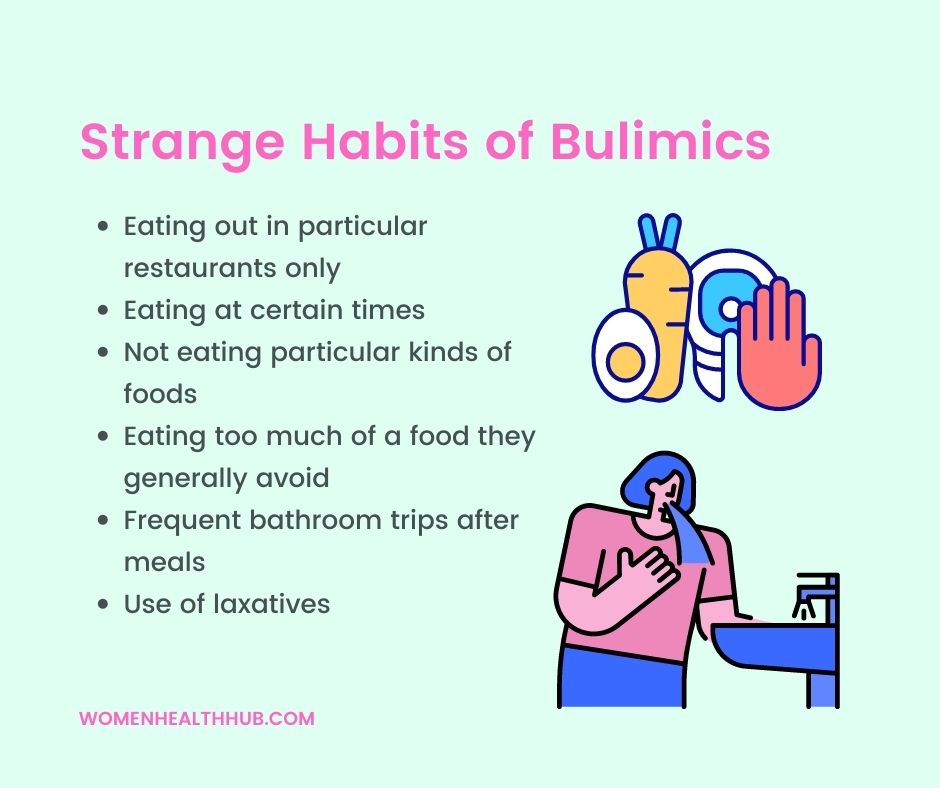 11. Experiencing dental health issues
One of the most common physical symptoms of bulimia is damaged teeth. Verywell Health reveals that about 93% of bulimics have tooth enamel damage due to repeated vomiting.
Puking brings out the highly acidic juices from the gut to the mouth, which can slowly erode the tooth enamel, thus making you susceptible to infections, oral diseases, and tooth decay.
Additionally, bulimics may chew on objects such as plastic spoons or fingernails to help induce vomiting as it stimulates the gag reflex, further destroying the teeth. These practices can cause gum disease (gingivitis) and tooth loss.
12. Adopting a chewing and spitting behavior
Women with bulimia also engage in 'chewing and spitting' – a practice that involves chewing a bit of food and then spitting it out before swallowing. Although it may seem harmless initially, this habit ultimately leads to severe eating disorders.
It's also an addictive behavior. Experts claim that this practice may give people a particular rush. In addition, it's a never-ending cycle as chewing triggers the release of a hunger hormone called ghrelin, making you crave food and restart the chew/spit process, reports National Eating Disorders.
Read More: 10 Worst Foods For Hormonal Imbalance In Women
13. Having a sore throat too often
Having a sore throat is also among the top symptoms of bulimia. Since binging and purging cause acid reflux, the constant exposure to stomach acids might make the throat susceptible to infections or irritation.
14. Developing a repetitive weight gain & weight loss cycle
Those with bulimia nervosa usually experience a never-ending fluctuation in body weight. It happens when you go on a diet, lose weight, but then binge and purge. This ultimately leads to binging on more food and regaining the lost weight.

Read More: 10 Best Beginner Exercises For Weight Loss
15. Experiencing severe gut problems
Frequent gastrointestinal problems because of strange dietary habits are other signs of bulimia.
This condition can exhibit heartburn, diarrhea, constipation, bloating, nausea, and stomach pain. Plus, the consistent act of throwing up may cause tears in the esophagus, which also leads to complications.
These symptoms of bulimia are caused by repeated use of laxatives or messing with the digestive process by swallowing food and then bringing it all out through vomiting. Additionally, purging can lead to electrolyte imbalances and dehydration, which might cause cramping, weakness, and dizziness.
Common signs of bulimia in women:
⚠️ Irregular periods
⚠️ Frequent bathroom trips
⚠️ Wearing loose clothes
⚠️ Trouble sleeping
⚠️ Swollen cheeks
Learn more in our blog!
#womenshealth #nutrition #bulimia 
16. Having swollen "chipmunk" cheeks
Because of regular purging, bulimics may develop swollen cheeks, colloquially known as chipmunk cheeks, because of enlarged parotid glands. They are located near the ears and produce saliva.
The exact reason for parotid swelling is unknown. However, it may be because of the constant necessity to produce saliva to accommodate a dry mouth after puking or some internal changes in the nervous system because of bulimia.
17. Experiencing insomnia or sleeplessness
Sleep problems are also a terrible effect of bulimia. The dietary habits may trigger feelings of guilt, shame, or depression, making it difficult to have a good night's rest.
Similarly, since you may not be getting sufficient food in the body, it would make you restless and hungry, causing sleep disturbances.
A French study published in L'Encephale explained the connection between the two. They said bulimics often have difficulty falling asleep or staying asleep for the night. In addition, the research revealed that bulimics have cravings or habitual binge-eating bouts, which could further aggravate the condition by inducing the night-time eating/purging cycle.
Read More: 6 Best Herbal Teas for Insomnia
18. Developing extreme muscle weakness or tiredness
Bulimics may develop nutritional deficiency because of a messed-up diet. Although they may eat food with nutrients, it doesn't get processed or utilized and instead is vomited out.
Naturally, this leads to weak muscles, mainly if you are engaged in daily purging and excessive exercising, leading to fatigue and weakness in the arms or legs.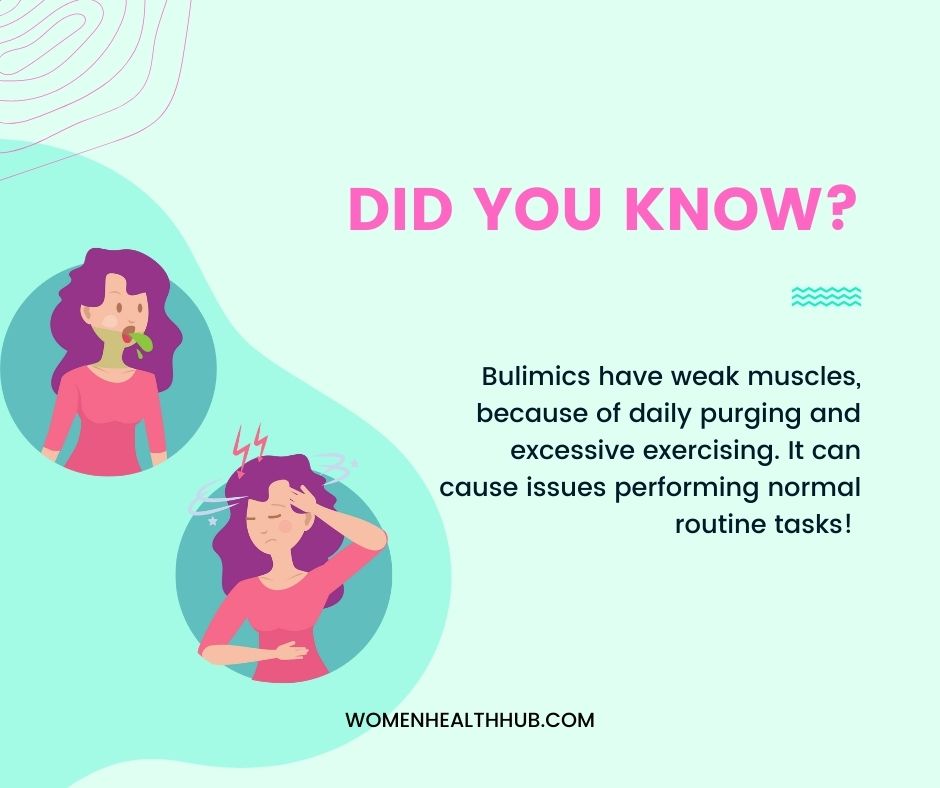 Vomiting exerts pressure on the chest and throat, which could eventually become sore. As a result, bulimics may struggle with walking, running, carrying objects, lifting things above shoulder height (such as bags of groceries), and other routine chores.
19. Lacking integral nutrients
One of the core symptoms of bulimia is the lack of essential nutrients in the body. This is particularly harmful to girls of younger age as they need sufficient nutrients to grow and have proper menstruation.
According to a published article in Eating Disorders Catalogue, bulimic women may have low electrolyte content, including salts and minerals. As a result, it might interfere with the critical processes in the body. Low sodium, potassium, calcium, or chloride levels could ultimately lead to severe organ damage in the kidneys, brain, or even heart.
20. Feeling cold all the time
Bulimia nervosa can cause you to feel cold, even in hot weather. If you don't get a proper diet rich in fats to keep you warm, it may cause your body temperature to go low. As a result, you may be sweating but feel too cold in the hands or feet.
21. Irregular menstrual cycles
Irregular periods or extremely light periods are common symptoms of bulimia in women. This is because their bodies don't get enough nutrients from food to sustain a healthy menstrual cycle. Thus, they may not ovulate for months on end. Hence, they may not get their period and even have difficulty with pregnancy.
Read More: 15 Best Herbal Teas for Fertility Boost
22. Dry skin and brittle nails
One of the most common symptoms of bulimia nervosa is dry skin, rough scalp, and brittle nails.
Loss of fluids during your binge-and-purge cycles results in potassium loss, which is critical for healthy nails, hair, and skin. Your body tries to compensate for this loss by pulling water from other parts of your body, resulting in dryness.
You might notice that your skin feels unusually dry and flaky, especially on your face and hands. Your nails might also grow slowly or break easily. Similarly, you may have hair loss because of the lack of nutrients in the follicles.
What are the Long-Term Effects of Bulimia?
Long-term symptoms of bulimia that remain untreated can have dire effects on your physical and mental health. The most common adverse effects of bulimia include:
Reproductive difficulties: Bulimia may mess up the reproductive system and make you susceptible to infertility.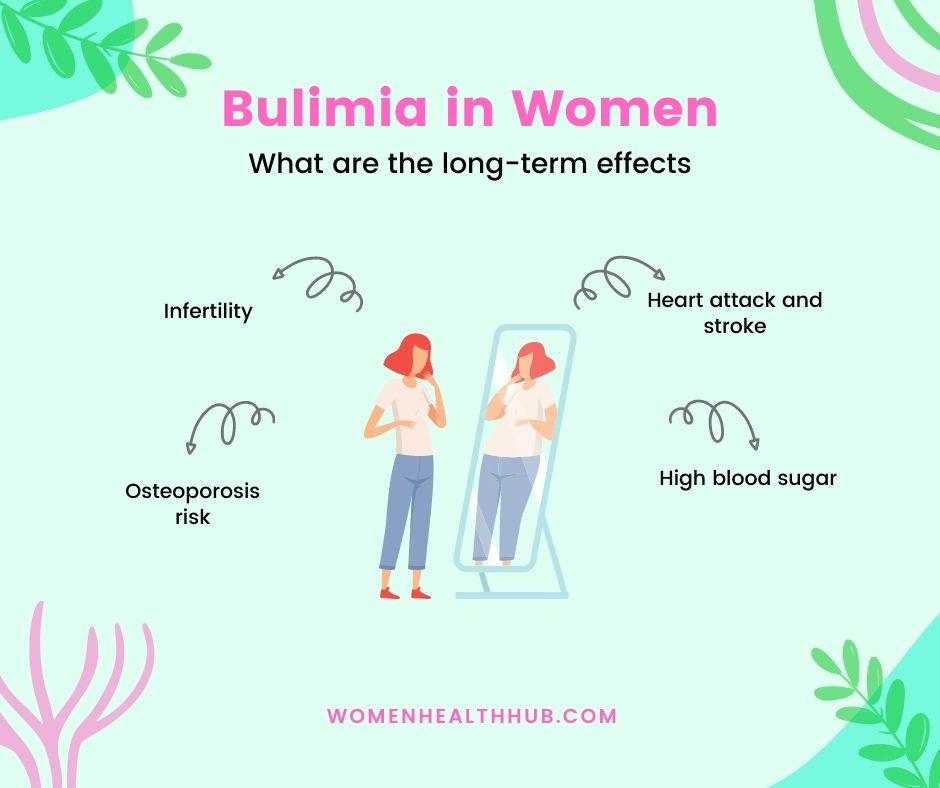 Heart issues: Heart attack is a dangerous women's health issue. The physical strain of binging and purging can damage your heart muscles and increase your risk for cardiovascular problems like high blood pressure, heart attack, and stroke.
Brittle Bones: One of the most severe effects of bulimia is brittle bones. The body loses a lot of calcium and other minerals through vomiting, which can lead to osteoporotic fractures.
How to Tell if a Girl or Women is Bulimic?
People with bulimia are usually very secretive about their eating habits. So it can be hard to tell if someone has symptoms of bulimia. That's why it's essential to recognize the signs of this eating disorder around you.
The first thing you should look for is unusual behavior around food. Bulimics may stand outside the kitchen when everyone else is eating dinner, or they might hide in the bathroom while they're eating at school or work. They may also make excuses not to eat at family gatherings or friends' birthday parties because they don't want anyone else to see them bingeing on food.
If you think someone you know has bulimia, you may want to look for these signs:
Excessive use of diet pills or laxatives
Complaints about feeling fat despite being underweight
Swollen cheeks after eating due to frequent purging
Extremely high-calorie consumption in short periods (binging) followed by vomiting or laxative use
Opting for loose-fitting clothes
What are Some Tips to Prevent Bulimia?
Learning how to prevent the symptoms of bulimia from affecting you and your loved ones is important. Here are some quick tips you may want to practice or share with someone struggling with this disorder.
Eat a balanced diet with various foods from all four food groups: proteins, carbohydrates, fats, and dairy products.
Don't go on crash diets or cut out entire food groups without talking to a doctor first.
Drink plenty of water and stay hydrated, especially if you're exercising or sweating a lot, as it may cause dehydration.
Avoid binge eating by filling up on snacks that aren't high in calories or fat – such as carrots, seeds, etc. – and eat them when you feel hunger pangs. It can help you stop giving in to cravings for unhealthy foods like sweets or fried foods, which tend to be high in calories.
Most importantly, don't shy away from seeking help!
The Bottomline
It's important to remember that most of these signs of bulimia may come off as natural feelings for many. It doesn't necessarily mean that you have bulimia nervosa.
But if these feelings don't go away and start affecting other areas of your life, you may want to talk to your doctor about it. If your symptoms don't go away and you feel depressed, talking to a friend or family member can certainly help. It'll be the best baby step toward betterment.
If you feel that you or someone you know is associated with some or all the signs of bulimia, remember that it's possible to recover from it. Taking charge of your life can make all the difference.
Have you or someone you know ever struggled with bulimia? How did it feel? Did they seek help? Do share your story with us in the comments below.
References:
https://www.ncbi.nlm.nih.gov/pmc/articles/PMC3275326/
https://pubmed.ncbi.nlm.nih.gov/14566926/
https://www.nimh.nih.gov/health/publications/eating-disorders
https://onlinelibrary.wiley.com/doi/abs/10.1002/eat.22334
https://www.nimh.nih.gov/health/statistics/eating-disorders