Hey there! This post may contain affiliate links. As an Amazon Associate, I earn a teensy commission from qualifying purchases when you buy through these links (at no additional cost to you). For more info, please check the full disclaimer.
After starting a regular morning yoga ritual a few months back, the first thing I did was to find ways to stay motivated. In this detailed Queenieke women's leggings review, I'm sharing my experience of how these yoga pants affected my fitness journey.
The truth is that beginning any physical fitness routine without the proper gear reduces motivation, increases discomfort and diverts you from your health goals.
Plus, investing in your physical activity makes the entire regime a whole lot more serious.
You'll be reminded of the money you've spent on achieving your health goals and will find the necessary push to get up and get going on one of 'em lazy days.
If you have recently started a fitness routine during the quarantine period, such as yoga or home workout sesh, now is the perfect time to buy a new pair of leggings.
Queenieke is popular for its affordable yet high-quality women's athletic apparel. I came across these leggings on Amazon and instantly wanted to grab 'em. Since I'm in Pakistan, my aunt in the States got it for me during her recent trip.
Here is how Queenieke will completely change how you do yoga! Check out this 100% honest review.

Now, after trying their yoga pants for a couple of months, I've decided to write an in-depth Queenie Ke women's leggings review to share my experience with you.
Perhaps, this will help you find your dream leggings too. 🙂
Let's get started.
What Do You Need to Know About Queenieke?
For those who haven't heard of Queenieke, this clothing brand started back in 2013 with a mission to create thoughtfully-designed workout apparel for women who seek comfort with style.
In the beginning, the competition was too tough for them, no doubt. But thanks to their quality standards, affordable pricing, and taste for elegance, Queenieke soon became every woman's favorite go-to athletic wear brand.
But why is it on the verge of becoming the best yoga pants brand of 2021?
Because, besides excelling in quality, their customer service is quite impressive too. I've personally talked to their reps and asked about their products. They have always been responsive and helpful.
We all hate being put on hold and not receiving any follow-ups or email replies for days, isn't it?
Well, Queenieke customer reps go above and beyond to help you out and address your product concerns.
Don't believe me? Give 'em a try! 😉
Queenieke Women's Leggings Review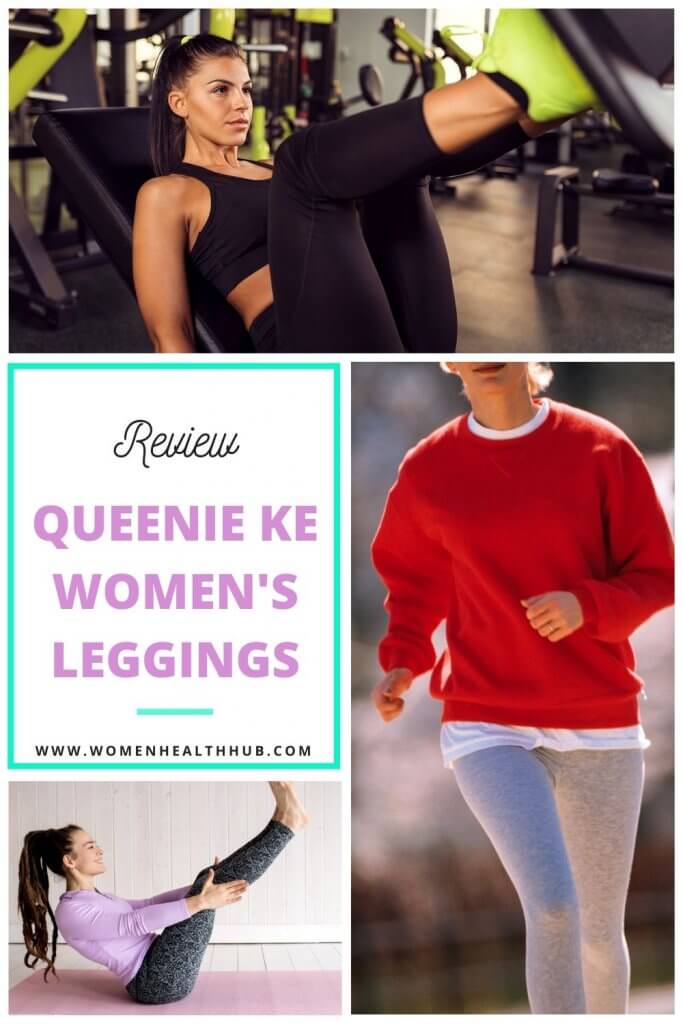 Overview
Multipurpose leggings for yoga, workout, and running
Highly affordable and best bang for your buck
4-way stretchable material offers excellent support
Breathable fabric, perfect for outdoor activities in a neutral climate
Hassle-free return + deliveries
Features
Here are some features of Queenieke yoga pants that make them unique and worth every penny spent.
Material:
Let's start with the cloth. Queenieke women leggings come in two slightly different materials.
The ones that are solid color contain 87% polyester and 13% spandex, while space-dyed yoga pants have 86% polyester and 14% spandex.
In other words, the solid color tights have a thicker fabric than the other. Here are two images that explain the difference:
I have found Queenieke leggings to be quite durable. They don't wrinkle and have excellent elasticity. Even after using and washing them for months, you won't notice any wear and tear.
The best part is that I don't sweat while wearing these yoga pants (and that's saying something because we get temperatures as high as 38°C at times). They have an excellent moisture-wicking ability that keeps you dry throughout the workout sesh.
But depending on the material thickness, you may want to choose a solid or space dyed based on your region's climate.
Normally, polyester causes sweating and uneasiness — at least for me. But Queenieke is not only super smooth but also breathable for hot days.
Also noted that if you don't shave for a few days, the fabric doesn't cause any itchiness.
Seamless design:
Ever bought leggings that dig into your skin and leave a trail all around the waistline? Yep, me too! And I ditched them right away.
But Queenieke women's leggings fix this problem by tailoring a seamless waistline that stays flat on your skin, without digging into your belly and leaving marks. Plus, the waist region is quite high, so it doesn't snuggle uncomfortably under the bulge.
So even if you bend frequently during exercise or gain a couple of pounds around the tummy – for example, during or after pregnancy, these pants won't cause discomfort.
Excellent fitting:
The one thing you'd expect from your yoga pants is good fitting. Queenieke checks this box as well.
No matter your size and curves, the perfect material and tailoring ensure proper fitting per your body shape. Almost 81% of their customers claim Queenieke yoga leggings offer incredible fitting.
Includes pockets:
When I go for my morning walk, I always carry tissues and sometimes my cellphone with me. Especially if I am going to the beach!
Naturally, yoga pants with pockets are my top priority.
Queenieke women's leggings have a hidden pocket in the belt area on the back. You can store your gear and accessories while running, walking, yoga, or even at the gym and keep your hands free.
You can even carry keys, cards, wallet, and plus-size cellphones (6" or more).
I love the fact that the pocket is located subtly and doesn't seem obvious. Combined with good fitting and durability, there's no risk of tears or uncomfy bulges when you wear these leggings.
Promote flexibility:
Whether you wish to do extreme exercises at the gym, play sports, or do yoga that requires a lot of free movement, these yoga pants for women are the best bang for the buck.
The 4-way stretch fabric of Queenieke women's legging allows you to bend, turn, squat, and stretch in any pose without hindrance.
Although I don't have a vigorous fitness routine, many reviews claim that they are perfect for any kind of exercise, thanks to their incredible fitting, fabric, and design.
Read More: 9 Fascinating Benefits of Morning Yoga Routine for Women's Health
Multiple sizes:
One of the biggest problems is when you can't find the right size yoga pants, right?
I was honestly impressed by how thoughtfully they created yoga pants in all sizes to cater to a variety of women's body types. Sadly, this is not common in many established brands nowadays.
Various colors:
Am I the only one who is particular about colors? Nah!
Another reason why I'd recommend Queenieke yoga pants is because of their incredible color variety. You'll basically find matching or contrasting leggings in any color you want.
Here are some of the colors they offer:
Black
Black Space Dye
Rose Red
Dark Rose Red
Begonia Pink
Dark Gray
Soft Gray
Gray White Space Dye
Teal
Dream Blue
I opted for their Black shade and fell in love with it! Looked perfect with my blue HP workout tee.
Versatile usage:
Whether you wish to buy new leggings for running or treat yourself to a pair of yoga pants, Queenieke caters to your versatile needs.
You can easily perform any activity such as vigorous exercise, yoga poses, a long run, and sports that require free movements.
Plus, I love that these leggings can even be worn casually — like on a Sunday when I'm too lazy to find my fav PJs and pick up this pair to put on.
Why?
Because it's made to ensure comfort and ease at all times!
Easy to clean:
These are machine washable leggings but avoid dry cleaning them. You can either wash them in a machine or by hand. Prevent them from bleach and overdrying as it can destroy the fabric durability or color.
Pros & Cons
Pros
High value for an affordable price
Available in thick and thin fabrics
Multipurpose design for a workout, casual wear, yoga, and jogging
Stretchable and good support for curves
Hidden pocket to carry gadgets and accessories
High waist design that stays flat on belly
Various sizes and colors
Cons
May have a slightly strong smell after opening the first time (use a fabric detergent to get rid of it)
May need to check/recheck the size
Not too soft for some people
Price:
These leggings cost under $30. This is a pretty affordable price and offers many features for which you'd otherwise have to pay over $50.
And during these financially difficult times, spending SO much on one yoga pants pair doesn't seem like a feasible option, right?
What Do the Customers Say?
I've collected these reviews for Queenieke running leggings from various online sources.
Positive Reviews for Queenieke Women's Leggings:
"These are super cute and comfy! I ordered a medium but could have gotten a small, for reference I am 5'4 and 110 lbs with a slight pear shape. they even have a little back pocket for a key or lip balm. They are not super warm though so if it's below say 45 you may want a warmer pair." Amy A
"They reached out to me and sent me a brand new pair of leggings for free, (same size) These ones are incredible, 100% squat proof not see-through at all. The material is a lot better, hair doesn't stick to it and it doesn't seem like it will pill." Jennie
"I wore them today for the first time to VERY intense full body barbell class and man they are fabulous! The waist is high and fitted. I got a size Large I'm about 165lbs 30 in waist 40 hips. They're soft, sweat proof and even thou I could see the tag a bit when I squatted I didn't see my white underwear! 👍🏾" Brittney
Negative Reviews for Queenieke Women's Leggings:
"I absolutely loved these leggings when they arrived and have worn them once a week very happily for 6 weeks. However, having put them on for today's session, a massive split develop across one butt check making them unwearable. Would have thought they'd last for at least 1 year." Anonymous
"Although they are soft and comfortable (which is why I gave it an extra star), these are 100% see through." Kim
"These leggings are fine. They fit okay, and seem to be sturdy. However they are so stiff. I wish they were softer." Anonymous
Conclusion
All in all, Queenieke women's leggings are a perfect outfit that not only boosts confidence but is also a worthy investment in achieving your fitness goals.
I'd recommend this product because they are one of the most reliable and authentic imported yoga pants I've come across in a while.
Although you could find other better options, the various features within an affordable price range make Queenieke High Waist Yoga Pants a suitable choice for beginners and those who are on a budget.
Hope you found this review helpful! If you have previously bought these yoga pants, share your experience in the comments below. Also, which of their colors are your favorites? 🙂