Hey there! This post may contain affiliate links. As an Amazon Associate, I earn a teensy commission from qualifying purchases when you buy through these links (at no additional cost to you). For more info, please check the full disclaimer.
Vaginal dryness is a common problem many women face as they age. Changing hormonal levels, breastfeeding, and menopause may lead to vaginal dryness. The soreness and itchiness can be painful, but some proven natural remedies for vaginal dryness may offer relief.
Many prevailing treatments associated with feminine hygiene have no scientific basis, and they often exacerbate the symptoms.
However, the proven home remedies for vaginal dryness discussed below will address your issue effectively without causing adverse reactions.
What is Vaginal Dryness?
In women with healthy levels of estrogen hormones, the Bartholin glands produce secretions that lubricate the vaginal lining.
But due to low estrogen hormone levels, secretion of these glands reduces, resulting in dried vaginal walls. Vaginal dryness can lead to itching, pain during sexual intercourse, and a burning sensation while peeing.
Vaginal dryness can occur in all women but is usually a symptom of perimenopause or menopause. 
According to European REVIVE Survey, 70% of post-menopausal women between 45-75 years reported vaginal dryness.
Another study published in The Journal of The North American Menopause Society in 2016 revealed that vaginal dryness was prevalent in 62-67% of women one year after menopause.
Hence, if you are premenopausal or menopausal, it may help to know the best natural remedies for vaginal dryness.
Read More: 8 Tips for Feminine Hygiene in Summer
What are the Symptoms of Vaginal Dryness?
Women with vaginal dryness have decreased levels of natural secretions. As a result, they often experience the following symptoms:
Vaginal itching
Vaginal burning
Vaginal irritation
Painful urination
Pain during sex
Discomfort during physical activity
Frequent urinary tract infections (UTIs)
These symptoms are often cured with OTC (over-the-counter) treatments for vaginal dryness, except for urinary tract infections which may require proper antibiotics.
What Causes Vaginal Dryness?
Vaginal dryness is attributed to various risk factors, some of which are discussed below:
After menopause, the production of estrogen hormone halts. Decreased estrogen levels reduce vaginal secretion and lead to thin and dry vaginal walls.
During pregnancy, estrogen and progesterone levels soar. Twenty-four hours after birth, their levels reduce dramatically to pre-pregnancy levels. This fluctuation in hormonal levels dries out the walls of the vagina, even in mothers that gave birth through C-section.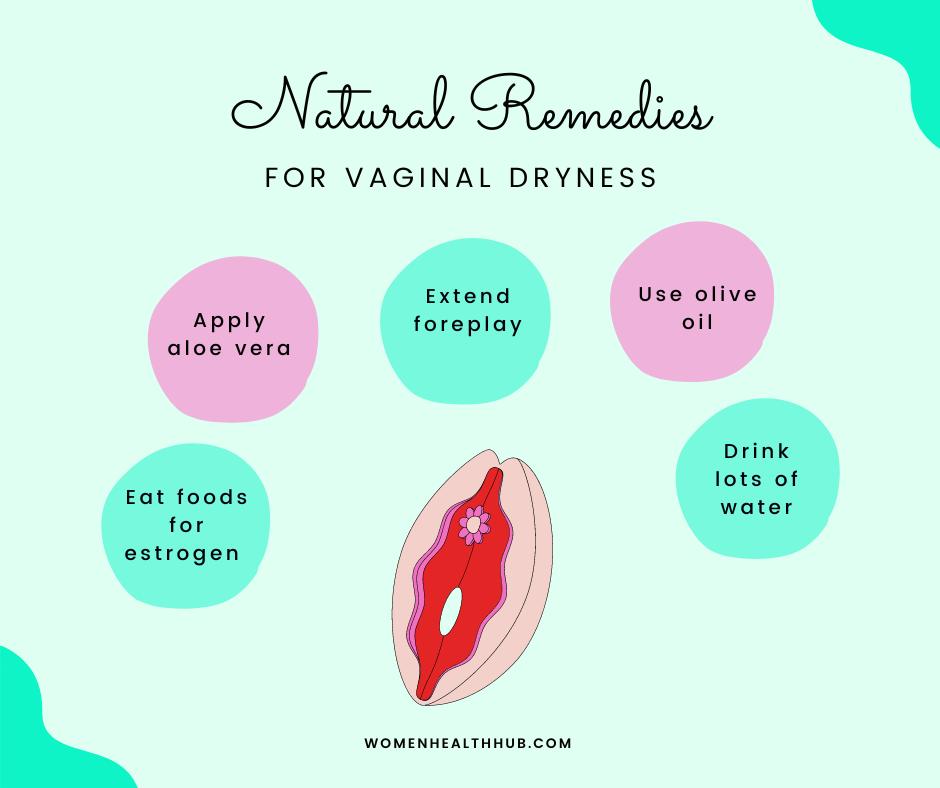 The mother's body produces prolactin hormone – an estrogen antagonist – to stimulate milk production. It decreases the blood levels of estrogen, and as a result, many lactating mothers may experience vaginal dryness.
Certain medications can also affect the natural pathways that produce vaginal secretions. A study published in 2016 revealed that sexual dysfunction due to poor lubrication of the vagina is typical in women taking anti-depressants. 
Vaginal dryness may be an adverse effect of chemotherapy medications for breast cancer as well. Women who undergo such aggressive treatments are recommended natural remedies for vaginal dryness.
The normal pH of the vagina in pre-menopausal women is between 3.8-4.5. Certain irritants such as lotions, moisturizers, and perfumes might disturb the pH of the vagina leading to dryness.
Some other lifestyle choices that may dry out the vaginal lining are smoking, birth control methods, and hysterectomy (surgical removal of the uterus).
Read More: 11 Best Home Remedies for Bacterial Vaginosis
How is Vaginal Dryness Diagnosed?
In the presence of a burning or itching sensation, visit your doctor. Depending on medical history, the doctor may perform several tests:
A pelvic exam to assess vaginal walls for thinning and inflammation of the vagina
A blood test to check the hormonal levels in the body
Sample of urine or vaginal discharge to rule out the possibility of infections
How to Treat Vaginal Dryness?
The treatment of vaginal dryness depends on the etiology, secondary risk factors, and other symptoms present. Besides the natural remedies for vaginal dryness, some common treatments are as below:
Most women, especially after menopause, opt for Hormonal Replacement Therapy (HRT), which ensures a constant supply of estrogen in the body. HRT protects older women from other health issues like bone and joint diseases.
Besides HRT, topical administration of estrogen cream or tablets may also decrease vaginal symptoms like dryness and itching.
The vaginal moisturizers rehydrate the dried mucosal layer of the vagina, alleviating discomfort and pain. They should be used periodically for a long time to maintain a well-hydrated vagina.
How Can You Treat Vaginal Dryness Naturally?
In this day and age, you would think the health taboos are behind us.
However, a survey by the University of Michigan revealed that two-thirds of women find it embarrassing to talk about vaginal dryness symptoms. This discomfort deprives them of essential health care that might ease their pain.
If you wish to deal with this issue at home, here are a few proven natural remedies for vaginal dryness that might help subside the irritation.
1. Estrogen-rich Foods
Since low estrogen is the leading cause of vaginal dryness, eating different estrogen-boosting foods could be an excellent home remedy to ease the symptoms and slightly lubricate the dry vagina. Foods with high amounts of phytoestrogens mimic the body's estrogen and are usually found in plant products.
Read More: 15 Nutritious Foods to Boost Estrogen Naturally
2. Coconut Oil
Coconut oil has been used to alleviate skin conditions like dry skin, eczema, and psoriasis. It also boosts skin hydration and moisturizes the dried tissues of the vagina.
However, only organically pressed oil should be used as refined oil has harmful chemicals or artificial scents that can further irritate the mucosal walls. Apply a small amount of oil and massage your vagina slowly.
3. Licorice 
Licorice is a remarkable medicinal herb, full of aroma and flavor. Traditionally, it has been used as a treatment for kidney and lung diseases.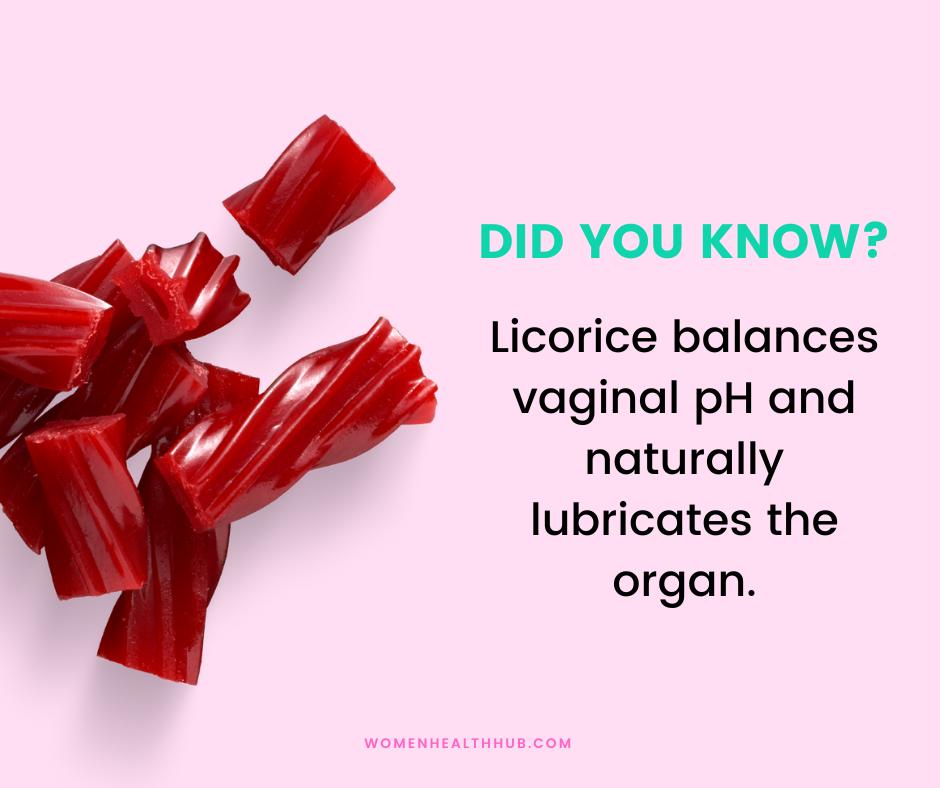 Research shows that licorice vaginal creams could also be recommended as natural remedies for vaginal dryness, thanks to their positive effect on vaginal pH and lubrication. 
4. Olive Oil
Organic olive oil is a natural hydration agent that moisturizes and soothes the dried tissues of the vagina. It can retain water, improving your skin's hydration and health. Before applying the oil, make sure your vagina is clean and dry.
Read More: 15 Amazing Health Benefits of Olive Oil for Women
5. Aloe Vera 
Aloe vera is often used as a home remedy for female hygiene problems. It has incredible antimicrobial properties, mimics estrogen-like function, and is anti-inflammatory.
Hence, all these benefits of aloe vera for the vagina make it a must-try product to treat dryness in your down-south.
6. Honey
Honey has often been used as a remedy to boost fertility in women naturally. It serves as a beneficial hormone replacement therapy for reproductive problems as well as treating vaginal dryness. 
7. Buckthorn Oil
Sea buckthorn oil is also one of the best natural remedies for vaginal dryness. It is extracted from buckthorn herbs native to China and Europe. It can be used as an alternative to estrogen therapy as they have been shown to enhance vaginal health.
Consuming three grams of buckthorn oil daily for three months can improve the integrity of the vaginal lining, alleviating the dryness of vaginal tissues.
8. Soy
Soy products are rich in isoflavones which can play estrogen-like functions in the body. During menopause, with declining estrogen levels, isoflavones can be used as the natural cure for vaginal dryness.
Some soy products suitable for menopausal women are:
Soy sauce
Soybeans
Soymilk
Tofu
Sprouts
Some non-soy products that are rich in isoflavones are:
However, more research is required to determine the best dose beneficial for vaginal symptoms.
9. Vitamin E
Vitamin E is a fat-soluble and potent anti-oxidant, making it a staple in the dermatology industry. Besides skincare, it is effective in naturally preserving feminine health.
Research conducted in 2016 showed that consuming 100IU of vitamin E for 12 weeks significantly improved the symptoms of vaginal atrophy, including dryness and itching.
Thus, vitamin E supplements are ideal natural remedies for vaginal dryness relief as they lubricate the vagina and reduce the severity of dryness. In addition, various vegetable cooking oils and seeds like flaxseeds and sunflower seeds are good sources of vitamin E.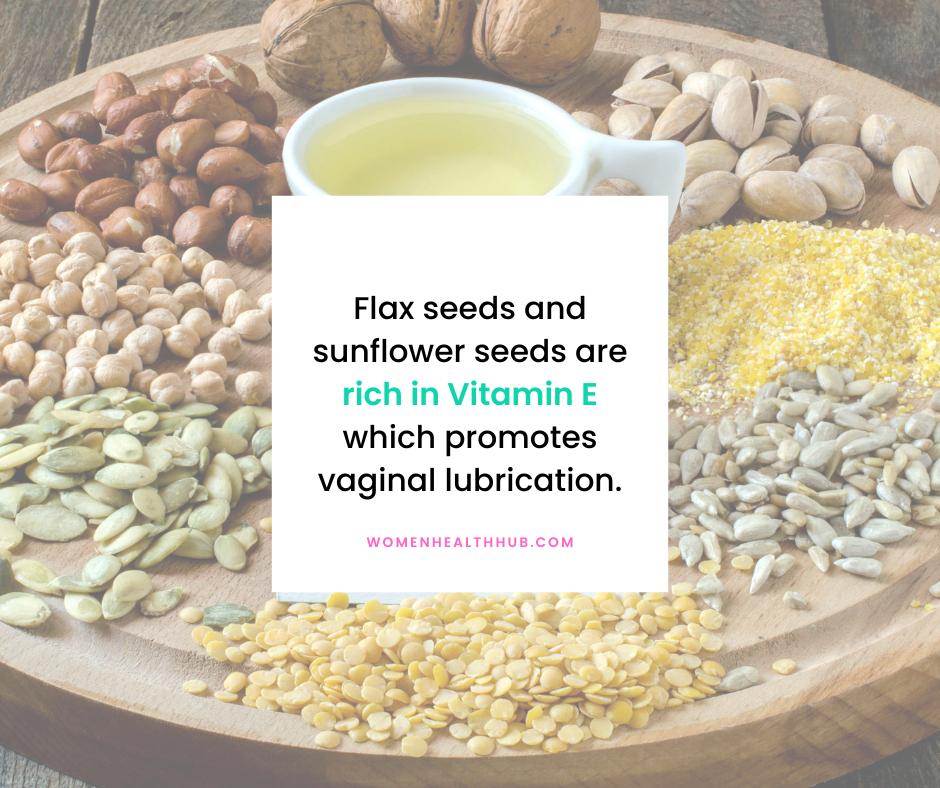 10. Hyaluronic Acid
Hyaluronic acid is a natural lubricant in the eyes, skin, and joints. It binds a large amount of water, releasing it into vaginal tissues, hydrating and strengthening the tissues of the vagina.
In 2021, a study showed that the use of hyaluronic acid by menopausal women significantly decreased vaginal symptoms, including dryness. 
Another study conducted in 2016 concluded that using hyaluronic acid to alleviate the symptoms of vaginal atrophy is even more effective than hormonal therapy.
Hyaluronic acid vaginal gels are clear, water-based lubricants that absorb water and moisturize the vaginal layers, helping ease dryness.
11. Chamomile 
Although there are several popular chamomile health benefits for women, you may not know that it's also a powerful product for easing vaginal dryness.
Study shows that using chamomile vaginal creams as a lubricant decreases pain during sexual intercourse and increases the activity's satisfaction.
Drinking chamomile tea regularly may also boost the body's estrogen levels slightly.
12. Hydration
Did you know proper hydration is among the best natural remedies for vaginal dryness? 
Dehydration can dry out your skin, and the skin of the vagina is no different. Especially in summer, drinking small amounts of water will also impact your vaginal health.
Dehydration may also disturb the acidic pH of the vagina, making it more susceptible to bacterial and vaginal fungal infections.
Adult women should consume approximately 2.75 liters of water daily to maintain a healthy and hydrated body.
Read More: 9 Effective Pregnancy Yeast Infection Treatments
13. Foreplay
Regular sexual activity is also crucial for women wishing to sustain their feminine health naturally. Sexual arousal increases the blood flow to the vagina, resulting in increased production of vaginal secretions.
Foreplay before intercourse will also give the Bartholin glands adequate time to secrete the natural lubricants, which can alleviate vaginal dryness.
Read More: 10 Best Sex Positions to Boost Pleasure
14. Exercise
Regular physical exercise can improve mood, boost energy, and increase serotonin levels. A study conducted in 2019 showed that 12 weeks of weight-lifting exercises could balance estradiol levels for post-menopausal women. 
Another practice to include in your daily routine is pelvic floor exercises. During menopause, as the estrogen levels decrease, it can weaken the vaginal muscles. Kegels are pelvic floor exercises that can strengthen the pelvic floor and tighten the groin muscles. It also improves blood flow downward, thus making it one of the best natural remedies for vaginal dryness.
The Bottomline
Vaginal dryness is commonly attributed to low estrogen levels in the blood. It can be an uncomfortable and frustrating experience for many women and can affect their social, mental, and sexual lives.
Several natural remedies can alleviate vaginal dryness and restore moisture to the vaginal mucosa. Drinking plenty of food, eating food rich in soy products, and using natural lubricants like organic oils can improve your vaginal health. Changes in lifestyle and engaging in exercises focused on the pelvic floor can also improve the symptoms of vaginal dryness in a natural way.
References
https://journals.lww.com/menopausejournal/Abstract/2016/10000/Prevalence_and_association_between_objective_signs.14.aspx
https://pubmed.ncbi.nlm.nih.gov/26440219/
https://www.nhs.uk/conditions/vaginal-dryness/
https://www.ncbi.nlm.nih.gov/pmc/articles/PMC7508318/
https://www.ncbi.nlm.nih.gov/pmc/articles/PMC1496957/