Hey there! This post may contain affiliate links. As an Amazon Associate, I earn a teensy commission from qualifying purchases when you buy through these links (at no additional cost to you). For more info, please check the full disclaimer.
A recent study published in Menopause highlighted how shift work delays menopause onset in women.
Almost 20% of adults in North America and Europe work non-traditional shifts. Working at odd hours may lead to sleep deprivation. Studies state that circadian rhythm disruptions could affect women's ovulation and fertility. Hence, it could directly impact when menopause occurs naturally in a woman.
In addition, factors like smoking, the number of children, and social and economic status have previously been linked to the timing of menopause.
Research has also linked odd working hours to an increased risk of heart problems, ulcers, diabetes, and certain cancers.
How Shift Work Delays Menopause 
The timing of menopause is critical to female health. Both early or delayed menopause symptoms could increase the risk of diseases or early death.
Menopause is when a woman's menstrual periods stop, usually around 50. This is the time when your body undergoes various hormonal and physical changes.
According to the study, shift work can disturb the circadian rhythm by exposing the brain to bright artificial light during the nighttime. It then suppresses the sleep-inducing hormone called melatonin and affects the function of the ovaries.
Disturbance in ovarian function can lead to pregnancy problems. Hence, shift work delays menopause in the long run.
Read More: 6 Best Herbal Teas for Sleep
Health Impact of Shift Work on Women
Other short-term and long-term effects of shift work on women include:
Sleep Disruptions: Working at night and sleeping during the day can lead to sleep disorders such as insomnia, long sleeping, and insufficient restorative rest. This often results in fatigue and daytime sleepiness.
Hormonal Imbalances: Melatonin is a critical hormone for regulating sleep-wake cycles and is released after dark. Excessive exposure to artificial light at night can suppress melatonin production, leading to hormonal imbalances and reproductive problems.
Menstrual Irregularities: According to the Centers for Disease Control (CDC), working long hours or doing odd shifts can cause menstrual irregularities and pregnancy complications like miscarriages and preterm birth.
Increased Health Risks: Women doing night shifts have been associated with an elevated risk of breast cancer, cardiovascular diseases, obesity, diabetes, and metabolic syndrome. Disruption in melatonin is also thought to affect ovulation and fertility.
Psychological and Social Impacts: Night shift work can disrupt social relationships and limit participation in daytime activities, causing feelings of isolation. It can also contribute to mood disturbances, increased stress levels, and reduced overall well-being.
Tips to Stay Healthy If You Work Night Shifts
Staying awake and managing night shifts can be challenging for women. Here are some strategies to help you stay alert and cope with night shifts: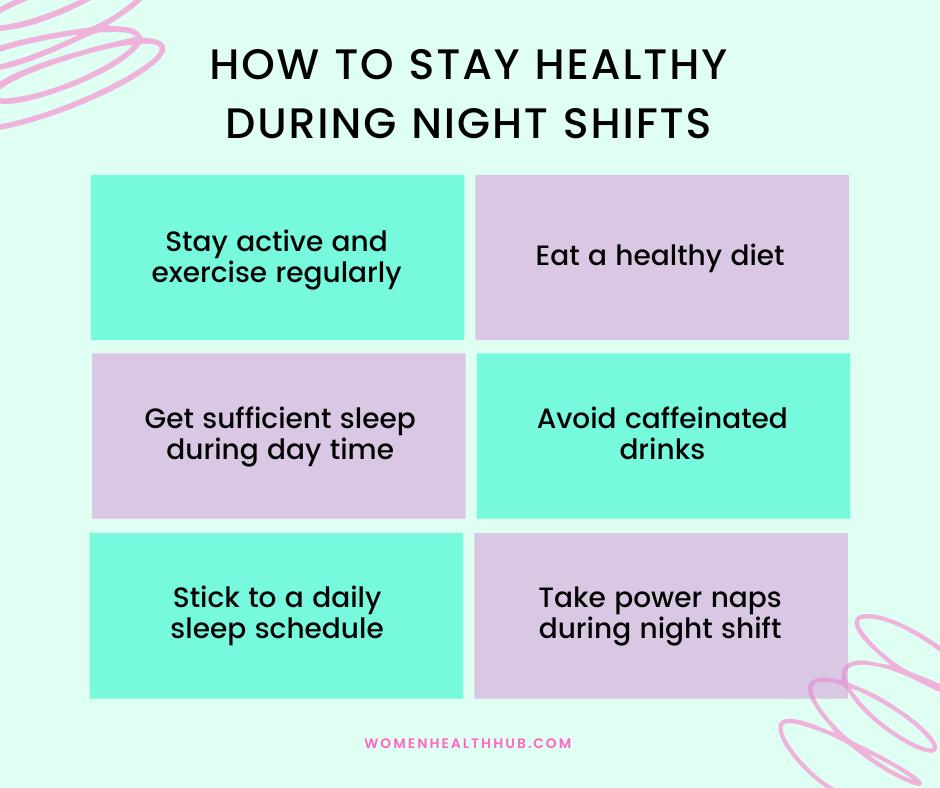 Optimize Your Sleep Schedule: Adjust your sleep schedule to align with your night shift. Gradually shift your time for bed and waking up, typically a few days before starting night shifts, to help your body adjust. Maintain a consistent sleep schedule to support your circadian rhythm, even on your days off.
Prioritize Quality Sleep: Make your bedroom dark, quiet, and comfortable. Use blackout curtains or a sleep mask to block out daylight, and consider earplugs or white noise machines to minimize disturbances. Aim for 7-9 hours of uninterrupted sleep during the day.
Stay Active: Take short walks or do simple exercises during your shift to promote circulation and keep your mind and body active.
Manage Your Diet: Eat regular, balanced meals to maintain energy levels. Choose nutritious foods like fruits, vegetables, whole grains, and lean proteins. Avoid heavy, greasy meals that can make you feel sluggish. Stay hydrated by drinking enough water throughout your shift.
Limit Caffeine Intake: Consuming moderate amounts of caffeine can help increase alertness but be mindful of its effects on your sleep. Limit caffeine intake near the end of your shift to avoid interfering with your sleep during the day.
Take Short Power Naps: If allowed and feasible, take short power naps during your breaks to recharge. Keep them to 20-30 minutes to prevent grogginess and disruption to your sleep schedule.
Stay Engaged and Socialize: Social interaction can provide emotional support during night shifts.
Seek Support: Communicate with your employer or supervisor about any difficulties you may face with night shifts. They can provide accommodations or adjustments to support your well-being.
Everyone responds differently to night shifts, so find strategies that work best for you.
The Bottomline
The researchers note that the study indicates a potential link between circadian rhythm disruption and the timing of menopause. However, more research is required to determine if factors like stress, economic insecurity, or substance use contribute to these differences in menopause timing.
References:
https://pubmed.ncbi.nlm.nih.gov/30753548/
https://www.sleepfoundation.org/sleep-faqs/how-to-stay-awake