Hey there! This post may contain affiliate links. As an Amazon Associate, I earn a teensy commission from qualifying purchases when you buy through these links (at no additional cost to you). For more info, please check the full disclaimer.
Are you ready to take control of your health in 2021? Now is the time to invest in yourself and make informed decisions about your health. And what's better than grabbing the best Cyber Monday & Black Friday deals on women's health & wellness essentials?
Take a few minutes and think about your new year's health goals.
What do you want to achieve this year in terms of your wellbeing?
Maybe you want to get serious about your daily fitness routine
Maybe you'd love to take out more time for self-care activities
Perhaps you're interested in eating healthier
Or you probably just want to have more control over your body
No matter what your health goals are, this is the moment you take action and turn them into reality.
Long-term health requires a give and take. If you seriously wish to transform yourself, invest in products that'll serve the purpose.
In the last few months, I've come across some incredible discounts on women's health and wellness products by popular and emerging brands.
Mega savings like these come once a year! So make sure you're making the most of holiday shopping on Amazon and other online stores.
Throughout the holiday season, I'll be sharing some of the favorite must-have women's health & wellness items on sale. Like Black Friday discounts on supplements, fitness equipment, yoga accessories, wellness books, self-care stuff, medical devices, and more.
Also, sign up for my emails so you can get notified of any new coupons and promo codes on health items.
I've already ordered a couple of yoga and journaling products. Can't wait to start using them!
Now let's check out some amazing Black Friday & Cyber Monday women's health items in 2020.
Black Friday Deals on Pain Relief Products
Women with diabetes, arthritis, or foot injuries often experience severe foot pain. Are you one of them? Then Dr. Pedi's ForeFoot Pain Relief Sock is the perfect soft mini-sock support you need.
It's a small cover for your metatarsals, with fantastic elasticity and cushioning for your toes. The fabric itself is quite soft and breathable so it's easy to wear all year round and prevents blisters or corns.
The bottom gel layer ensures no slipping accidents while walking barefoot, in heels, shoes, or sandals.
I'd say they are perfect for elderly women with painful diabetic or injured feet primarily because of the thoughtful, versatile design.
Go on and have a look at Dr. Pedi Forefoot Pain Relief Sock on sale on Amazon.
If you're a fitness freak but haven't yet bought compression gear, you're missing out on its many benefits.
Wearing compression socks during workouts, running, and even pregnancy increases oxygen supply to your muscles. This ensures proper blood supply to tissues and strengthens your body.
Better the blood supply, the more active you'll feel!
Hoperay Compression Socks are some of the best compression stockings I've come across in a while. Not only in terms of price but also quality and performance!
The nylon fabric is durable and flexible for any kind of outdoor or indoor activity. They offer enhanced support to your feet, ankles, and legs, and offer remarkable pain relief.
If your day-to-day routine puts pressure on your legs, such as a physically demanding and laborious job, the Hoperay Compression Socks would be a perfect addition to your wardrobe.
Don't you just HATE cramps? Whether you have painful menstrual cycles or want to ease abdominal/back pain in pregnancy, cramps can be a real mess. They can ruin a good night's sleep and make it almost impossible to do your house or work chores.
Luckily, this is a problem of the past now!
Get yourself this nice and cozy Electronic Heating Pad by Sable Store during Amazon Black Friday sale.
It's one of the best affordable heat therapy devices for muscle pain relief in the neck, back, or tummy. The mechanism turns off automatically after 2 hours to ensure safe usage even if you fall asleep.
I also like its versatile design with 6 different temperatures that help you find the exact sweet warm spot to ease muscle aches.
Learn more about the warranty, features, and price of this must-have Automatic Heating Pad below.
Black Friday Sale on Nutritional Supplements & Vitamins for Women
The liver is one of the most crucial organs of your body. It's responsible for removing the body's by-products, cleaning the stomach, intestines, fighting infections, and detoxing the blood.
So for proper feminine health, you must take care of your liver. Ensure that it's performing well and responding to your body's needs.
Organic Milk Thistle Supplements by OmniBiotics is one of the best selling liver detox pills on Amazon. I recommend this supplement because:
Milk thistle is an excellent and most effective herb used for healing liver problems. 

Each capsule contains 100% organic/natural powder with maximum strength and absorption.

They have 50% more milk thistle powder than others.

They're free of many allergens like soy, gluten, sugar, etc.

They are also vegetarian friendly.

They're free of harmful fillers and preservatives.
In short, it's the perfect daily use supplement to ensure a healthy liver and avoid serious diseases or infections.
Check out the price and availability of OmniBiotics Organic Milk Thistle Supplements below.
Vitamin D is among the most essential minerals for women. It strengthens your bones to prevent debilitating diseases like arthritis and osteoporosis.
And in the past few months, you must have also come across its many benefits for boosting your immune system. Research shows high levels of Vitamin D stop serious viral infections.
The Vitamin D3 soft gels by eVitamins are one of the best nutritional supplements to boost your vitamin intake. They are free of popular allergens like soy, dairy, shellfish, etc. But it does contain extra virgin olive oil which again, is necessary for women's health.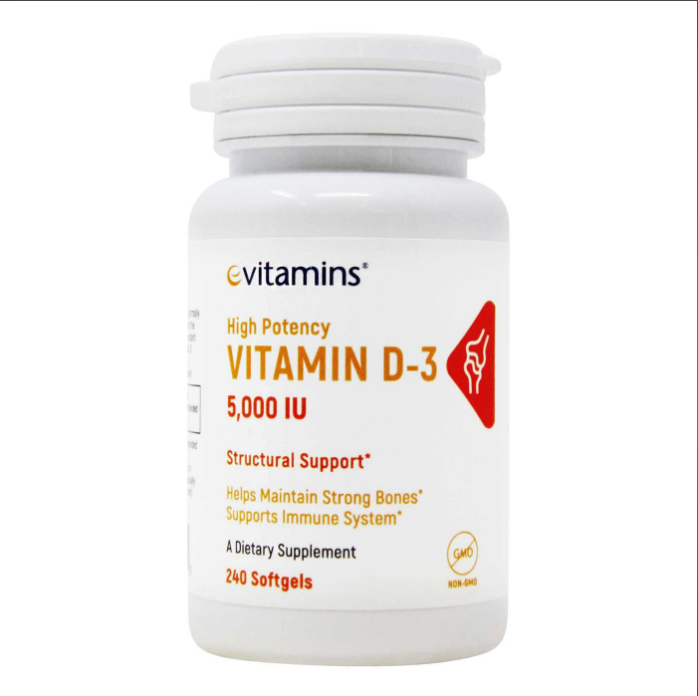 I would, however, recommend you discuss with a health practitioner before starting these vitamins as they have high a dosage.
For a limited time, eVitamins has an amazing offer. If you buy Vitamin D3 supplements during the Black Friday sale using my link, you get:
One more FREE bottle
50% off on another product
And a FREE gift
Pretty awesome, right? Go on and learn more about this nutrition supplement below.
No matter your age, you need sufficient prebiotics and probiotics to prevent serious gut health or feminine hygiene problems and to power-up the immune system.
Getting these compounds is also particularly important once you become sexually active! Because you become highly prone to vaginal infections.
I recommend the new and refreshed Physician's Choice Women's Pre/Probiotic supplements to all women aged 20 to 40 years. Especially those who're sexually active.
If you wish to protect yourself from painful diseases and infections like;
UTIs

Vaginal yeast infections

Digestive problems

Bacterial vaginosis
…then start taking these nutritious, vegan-friendly, dairy & soy free supplements daily.
Each cranberry-flavored pill carries amazing antioxidants necessary for feminine reproductive health. Cranberry juices are known for their incredible powers to regulate pH and prevent infections in the down-south.
Click below to learn more about why Physician's Choice Pre/Probiotic supplements are the best selling nutritional supplements for feminine health on Amazon.
Do you often have difficulty falling asleep at night? Are you afraid of getting hooked to melanin?
I get it. My grandma has been on sleeping pills for a long time. Now she complains they're hardly effective!
Thing is, most sleeping pills lose their effect over time, especially if you've been taking them for decades.
Then why don't you try something more natural for a change? Like Vitamin Bounty Natural Sleep Aid supplements!
Say goodbye to night-time toss and turns and hello to your new sleep BFF. These pills are perfect for women of any age looking for a modern + traditional combo to induce sleep.
What I love about Vitamin Bounty Sleeping Supplements are their 7 science-backed ingredients, including select natural herbs known for their sedative effects. So you can rest assured you're getting your money's worth!
Some of the main ingredients are:
Melatonin
Lemon balm
Chamomile
Valerian
Go on and check out how these awesome natural melatonin vitamins can help you sleep better.
One of my pregnant friends has always been kinda weak and is lax about her diet. However, I insisted she starts some essential prenatal vitamins right away.
Why?
Because authentic prenatal vitamins are crucial for an effortless pregnancy journey and healthy baby development.
She chose Pure Essence Prenatal Vitamins for Mommy-to-Be for regular use. Guess what?
Her lethargy is gone, she feels fresh every morning and swears these supplements have significantly improved her digestion, thanks to the ginger extracts.
This must-have prenatal supplement contains ample amounts of folic acid, iron, calcium, nutritious herbs, and necessary minerals needed for proper baby growth and energy boost for preggo moms.
During the holiday season, you can enjoy a whopping 25% Black Friday & Cyber Monday discount on Pure Essence Prenatal Vitamins only at Blue Sky Vitamin.
But you gotta hurry up. This sale price is up for a LIMITED TIME!
Go ahead and grab these amazing nutrition-packed supplements for mommies-to-be to ensure a healthy pregnancy.
Black Friday Discounts on Self-Care Accessories
Want to treat yourself this year? Then this set of 8 Therapeutic Essential Oils by Art Naturals is the perfect way to forget all the stresses of 2020.
A regular aromatherapy sesh is super important especially during these relentless times. Also, if you're a working woman, you should begin a weekly aromatherapy ritual.
Herbal aromas have numerous benefits for your mind, body, and soul. They are known to reduce stress, improve productivity, and release happy chemicals.
Sit back, crank up some relaxing tunes, light up your aromatic candles or spray a blend of these refreshing, calming essential oils. I particularly enjoy a mix of lavender, peppermint, and hints of orange for stress relief.
Take a look at this 8 Essential Oils gift set that you can get at an affordable rate during the holiday season!
For a successful aromatherapy session or to enjoy a nice relaxing sleep, you need a flawless essential oils diffuser. I'd recommend this beautiful mahogany 500ml Essential Oil Diffuser by DiffuserLove.
Why?
Well for starters, it works non-stop for 8 hours. That's like spending the entire night in a blissful aromatic ambiance.
Secondly, you can fill up to 500ml of oil blends inside — which frankly, is A LOT!
Third, it has an automatic shutdown system in case the diffuser runs out of water, so there's no chance of unpredictable accidents.
I also like its colorful LEDs feature, which gives it a unique decorative touch.
Take a look at the Essential Oil Diffuser by DiffuserLove by clicking the link below.
Black Friday Sale on Yoga & Fitness
Sticking to your health goals can be tricky. But not if you have a flawless accountability system. Fitness trackers are the smartest way to note your progress.
I'm particularly in love with this gorgeous rose-pink Fitbit smartwatch comes with accurate heart health and calorie monitoring tech. Usually, it's out of my league but on Black Friday, you can grab Fitbit Health & Fitness tracker for a superb discount!
It's completely waterproof so you can wear it 24/7 to follow how active you're during the day and if you're sleeping well at night. Fitbit also easily syncs with your phone to text, call, and even set up a calendar meeting.
Did I mention if you buy the Fitbit smartwatch during Amazon Black Friday sale, you can enjoy a 1-year free premium Fitbit trial?
Yep, try all the popular features without paying a penny.
Of course, you can cancel the subscription before the trial ends.
In short, if you're looking for the best feminine smartwatch, the Fitbit Health & Fitness Tracker is a must-have!
Discounts on General Health & Wellness Products
Consider your medical kit incomplete without a 100% functional thermometer. And by far, I've found the Infrared No-Contact Thermometer by Prove the most accurate and reliable.
This affordable smart thermometer lives up to its name and can store up to 40 readings at a time. Yep, remarkable memory!
Plus, it works wonders for home and office use. Whether you wish to check temperatures at home or outdoors, this is a must-have medical device for you.
I also like that you can turn off the annoying beep sound, which is particularly helpful if you don't want to disturb your sleepy kid.
With just one flick, you can switch between four unique temperature modes for adults, children, and room. You also have the option to note readings in two different units.
All in all, this is a crucial device for any household and you're getting plenty of amazing features at a small price.
If you're a parent, you know how important it is to have a first-aid kit with you at all times. Especially if you're going out for a picnic or taking your kids to the park.
Similarly, during the on-going pandemic, you should also think about getting a Safety Kit by Art Naturals.
This small yet handy kit includes the bare essentials for proper hygiene and protection of your family. You can keep it at home or take with you to restaurants, malls, office, or even in schools.
I think it also works as a thoughtful gift for your coworker, neighbor, BFF, or sister with kids.
This safety gift set includes:
50 disposable face masks
100 Art Naturals sanitizing wipes
2 bottles of Art Naturals hand sanitizer (0.8 oz)
Check out the details below.
I hope this short guide is helpful for you. Make the most of these these amazing Black Friday & Cyber Monday deals on women's health and wellness products before they expire.