Hey there! This post may contain affiliate links. As an Amazon Associate, I earn a teensy commission from qualifying purchases when you buy through these links (at no additional cost to you). For more info, please check the full disclaimer.
Buying a stylish, high-quality, yet cheap fitness tracker watch can be a real challenge. That's why most women choose these best fitness tracker watches because of their versatility, comfort, feminine design, and budget-friendly price.
Smartwatches become a compulsory accessory of your life. Since it's incredibly personal, your fitness tracker watch should be tailored to your needs.
While today's tracking watches have dozens of features with cutting-edge technologies, their steep prices often make you wonder if they're worth the money. not to mention the overwhelming variety of features with different prices tags leaves you more confused than ever.
Luckily, several smart fitness watches do exist!
If you're looking for an easy-to-use and accurate women's fitness tracker without breaking your bank, check out these best cheap fitness tracker watches under $50.
Benefits of buying women's fitness tracker watches
Fitness watches are super useful gadgets particularly if you want to stay on top of your health and wellbeing. Because of their numerous features, they can help you with so much more than just tracking the fitness basics.
What to look for when buying a new fitness tracker:

✅Melanin (dark skin) sensitivity
✅Sensor quality or accuracy
✅Comfortable strap
✅Tracking features
Here are some of the benefits of using fitness tracker watches regularly:
Workout on the go: While juggling day-to-day chores like managing your house, looking after the kids, and handling a job, you might not have time to visit a gym daily. That's when smart fitness tracker watches come in handy. You can do short workouts wherever you are!
Read More: 10 Best Beginner Weight Loss Exercises
Track your menstrual cycle: Many quality smart fitness trackers can record and keep track of your menstrual cycle history. You can even set reminders to alert before the next period. This way you can tailor your workout schedule to your monthly cycle, especially if you have heavy periods or PMS.
Heart health: Since women are at high risk of developing heart attack symptoms, it's best to buy a new smart fitness tracker watch that records your heart rate and blood pressure throughout the day. The data can also help your physician make an early diagnosis and in case of emergencies, start treatments ASAP.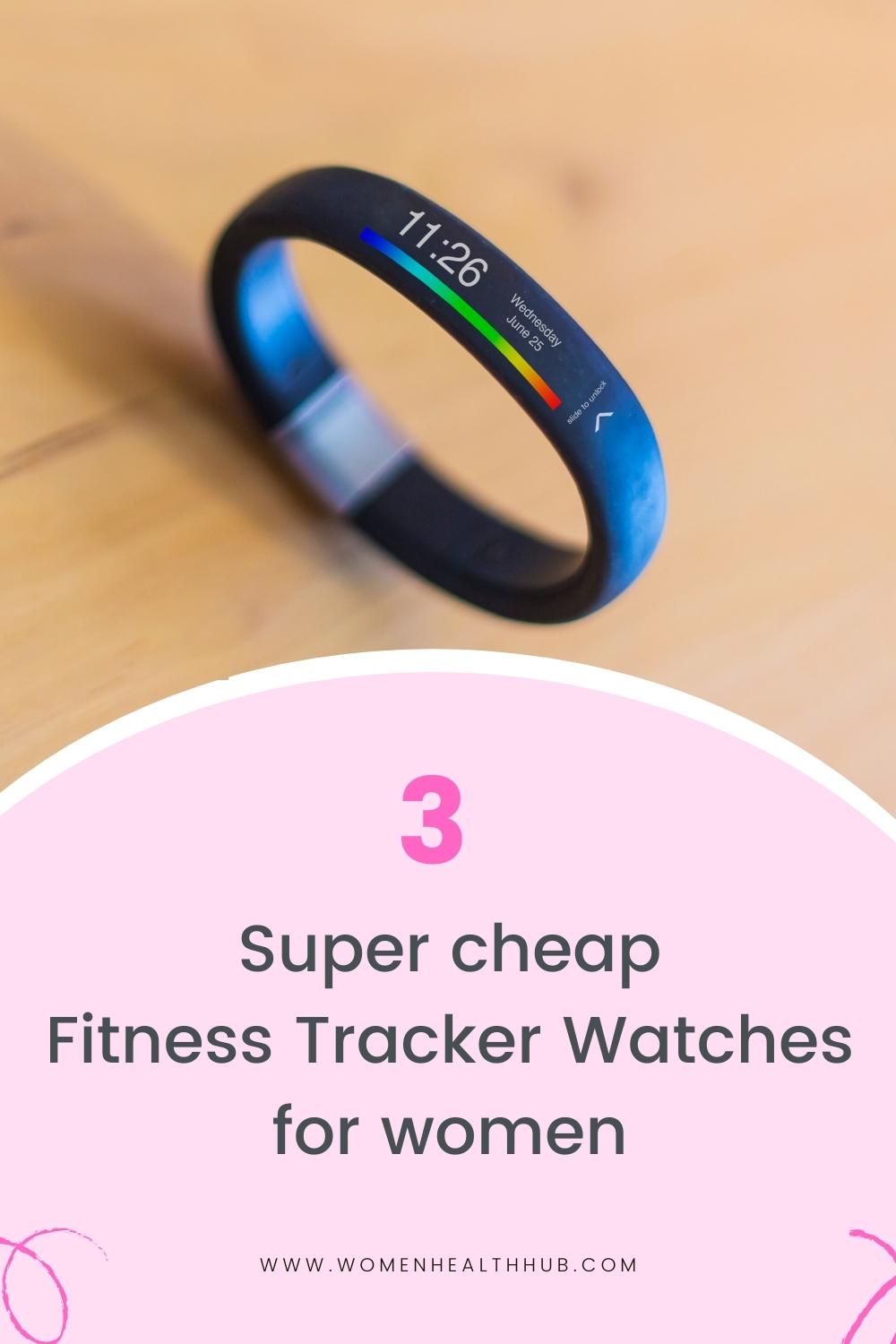 Eat healthier: If you want to lose weight, invest in smart fitness watches that show calories. But be careful as it might not be safe for women with eating disorders.
Personalized goals: Let's face it – a strict gym trainer isn't ideal for everyone. Sometimes all you need is to start with small personal milestones. Most cheap fitness tracker watches help you set achievable fitness goals to ensure accountability while staying motivated.
Read more: How to Set Achievable Health & Wellness Goals (Freebie)
How to find the most accurate fitness tracker watches?
Of course, no one wants to buy an utterly useless and inaccurate fitness tracker watch. Data precision depends on multiple factors. Here's how you can find the perfect smart fitness watch with excellent accuracy and price:
Movement style and speed: Most fitness trackers are designed to detect the average range of steps. While they can be customized, the readings might still not be precise if you walk slowly, limp, or don't swing your arms.
Skin tone: A darker skin tone makes it harder for some smart fitness watches to accurately read heart rate as the high melanin affects the amount of penetrable light.
Individual metabolism: Fitness trackers calculate calorie counts based on algorithms. So it's possible there might be errors in recognizing the body's metabolic activity.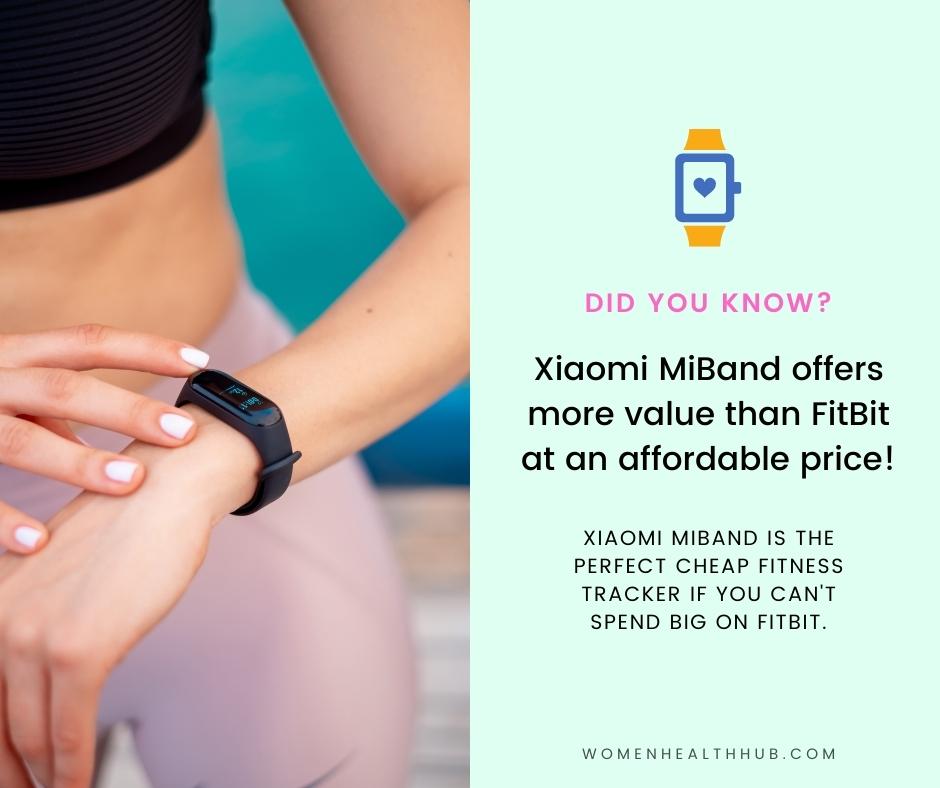 Top Best Fitness Trackers Watches Under $50
Product name
Best features
Buy now
Xiomi Mi Smart MiBand 5
– 3.3-inch color screen
– Magnetic charging
– 11 sports modes
– Upgraded heart rate sensor
– 24-hour sleep & women's health monitoring
Check price
Amazfit Band 5 Fitness Tracker
– Built-in Alexa
– 15-day battery life
– Clear visibility display
– 24/7 heart rate monitoring
– 11 unique modes
Check price
GOIACII Smart Watch Activity Fitness Tracker
– 1.3-inch color display
– 10-day battery life
– 9 sport modes
– Message and call notifications
– Breath training and calorie counter
Check price
Boasting a 3.3 inch super clear color screen, the Xiaomi Mi Smart MiBand 5 is among the top-rated waterproof smart fitness watches on Amazon. It has a unique magnetic charging system that allows you to charge the device with just one touch!
This smart fitness tracker watch has an upgraded chip with a more accurate sensor monitoring various factors of heart rate, sleep cycle, and women's health. Add reminders about period cycles to stay on top of your health wherever you go.
Adding to its dynamic sensing, you can switch between 11 sports modes on this Xiaomi smart fitness watch, tailoring the data analysis per your requirement.
Features:
3.3-inch AMOLED color screen (20% bigger)
Magnetic charging
Updated chip with high accuracy sensor
11 sports modes
Manual and resting heart rate monitoring
Deep sleep, light sleep, REM, and naps tracking
Ovulation tracking and reminders
Compatible with Huawei
Summary:
This cheap yet trendy fitness tracker watch excels in style, performance, and features. With so many features including superb accuracy and magnetic charging, Xiaomi MiBand 5 has become one of the best fitness tracker watches under $50.
This brilliant waterproof smart gadget is easily among the best cheap fitness tracker watches on this list.
Amazfit fitness band efficiently monitors your heart rate, sleep cycle, oxygen saturation, and stress levels. Moreover, it has a unique women's health tracking feature to keep track of your menstrual cycle and ovulation days, and even record the data for the future.
The strong sensors perfectly detect routine steps as well as your activity during gyms and hardcore workouts.
It also has a built-in Alexa, allowing you to use voice recognition to translate, check the weather, create shopping lists, and more. The record can be synced with iOS and Android phones as well.
The incredible Amazfit Band 5 smart tracker is active throughout the day. It has a whopping 15-day battery life, ensuring a seamless experience even when you're outdoors or away from chargers.
Features:
Alexa as a built-in AI
Guided stress relief & stress checker
2 weeks battery life
Blood oxygen levels
24/7 heart rate monitoring
Sleep characteristics reading
Clear easy-to-read display
High-quality health data assessment
Menstrual cycle and ovulation period tracking
Numerous detection modes for sports and routine activities
Summary:
All in all, Amazfit Band 5 is an amazing choice for advanced and novice customers who want to better understand their bodies and take charge of their wellbeing. The complete data assessment along with cutting-edge features makes it a must-have affordable fitness smartwatch.
Tip for buying a fitness tracker
⚠️
Often go on trips? Look for a smartwatch with long battery life!
The GOIACII smart fitness tracker watch boasts 9 sport modes and an enhanced visual system with a full 1.3-inch touch screen. This watch has an ergonomic shape and a soft strap that sits well on your wrists and prevents chafing.
GOIACII smart fitness watch has a whopping 10-day battery life, so you can take it on a week-long trip easily. In addition to automatically tracking your daily steps, it notes calories, sleep cycle, and routine walking distance. Whenever you feel stressed, use its amazing guided breath training exercises for instant meditation.
This fitness tracker watch is also waterproof and compatible with both iPhones and Android phones. You can even integrate it with your phone to get messages and calls right on your device.
The watch is equipped with an alarm, stopwatch, and music controller, making it a perfect go-to device when you're outdoors.
Read More: 8 Best Yoga Poses for Neck Pain Relief
Features:
Includes 9 sport modes
Message and call notifications
Guided breath training exercises
Built-in calorie counter
Sleep and heart rate monitoring
Ergonomic comfy design
1.3-inch color display
10-day battery life
Up to 7 days of on-device data storage
Summary:
GOIACII has quickly become one of the best cheap fitness tracker watches because of its high functionality, accuracy, and compatibility. The myriad of unique features including breath training, weekly analysis, and calorie counting, along with a comfy design and under $50 price tag, make it an absolute must-have for women who want to improve their wellbeing.