Hey there! This post may contain affiliate links. As an Amazon Associate, I earn a teensy commission from qualifying purchases when you buy through these links (at no additional cost to you). For more info, please check the full disclaimer.
Good sex is critical for forming a deeper connection. But sex can sometimes be a bit complicated. At times, your bedroom life could get monotonous and lack the fun factor. Luckily, you can reignite that spark by exploring some of the best sex positions for women.
Sex is not just about the physical act of having a penetration done right. It depends on many other factors, such as having fun, exploring bodies, trust, intimacy, bonding, and love.
For many, fulfilling and satisfying intercourse is critical to keeping their relationship strong.
Not to mention that sexual pleasure has fantastic health benefits!
John Hopkins Medicine reveals that women with a pleasurable sex life have a reduced risk of a heart attack. Plus, it helps improve your sleep quality and keeps anxiety away.
Let's go through some of the best sex positions for women advised by experts.
Why Should You Know About Sex Positions?
As you already know, intimacy is an essential part of a relationship. It makes you feel connected to someone deeper than just being physically close.
A National Institute of Health study suggests a remarkable association between sex and increased positive daily life effects.
For instance;
It helps you learn how to please yourself and your partner.
It gives you control over what happens during intercourse.
It allows you to experience more pleasure (both mentally and physically).
In other words, knowing about all the different sex positions is vital to have a healthy and satisfying sexual relationship with your partner.
It will also help you improve your skills and ensure that your partner has an equally satisfying experience during sex.
To give you some ideas, we've compiled a list of the best sex positions for women. Let's dive in.
The Best Sex Positions For Women To Spice Up IC
When it comes to doing the deed, women have many options. But it all depends on the sexual chemistry between you and your partner.
You can choose to go on the top or the bottom. Some positions are more complicated and require more energy, like a doggy style or a missionary.
Explore various positions with your partner and communicate what you enjoy to get the most from this activity.
1. The Missionary Position
The missionary position allows you to reconnect with your partner and intensify the intimacy in your relationship. This position also makes it easier for partners to snuggle and rest together.
If you're looking for ideas, know that missionary is one of the best sex positions for her because it's the most comfortable and relaxing. It also tends to give you a lot of control.
You can also try some variations with this pose if you're adventurous!
What's the technique?
Get comfy by lying flat on your back.
Ask your partner to adjust between your legs for optimal comfort and enjoyment.
Remember to communicate what you like or don't like so you can enjoy the deed. Plus, you may place a pillow beneath your head to make it more comfortable.
Want to make it more exciting for your V?
Start by engaging in some foreplay, and don't rush into the actual act. Instead, enjoy the intensity of arousal and build it up to a climax by engaging in oral sex or gentle finger penetration.
Read More: 11 Best Home Remedies for Bacterial Vaginosis
2. Woman on Top or Cowgirl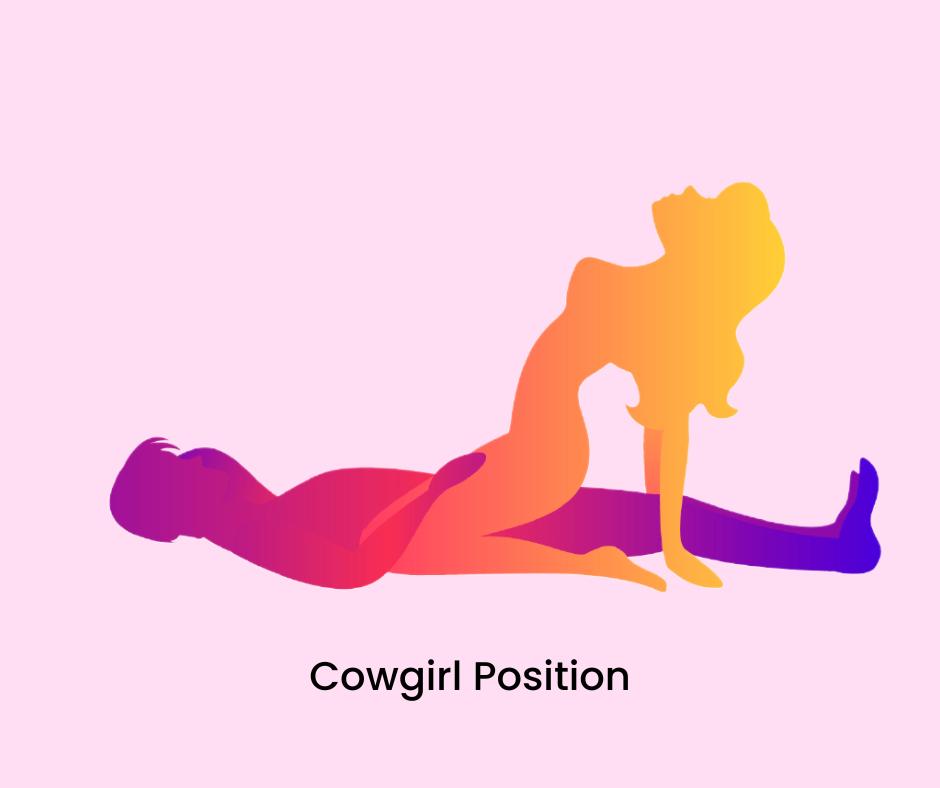 It is one of the easiest and best sex positions for women where you can gaze down at your partner rather than the other way around.
Additionally, it's among the simplest and quickest ways to orgasm!
Being on top allows you to control penetration speed, depth, and angle. In addition, it provides an intense sensation as you can rise, encircle the body with your legs, and watch your companion have a great time.
Flexible women of any size and shape can do this position. It gives you complete control and allows you to set your own pace.
What's the technique?
Your partner will lie flat on the back, legs straight out.
You then straddle the penetrative partner, remaining upright and facing your partner.
There are numerous techniques to initiate stimulation. For example, your companion can bounce or grind against you or remain still as you thrust up and down.
There are several ways you can make it more exciting!
There is no restriction that your partner must remain on their back the entire time you are riding.
You can also sit with your legs across each other, face to face, to change the rhythm and relieve pressure.
Plus, while facing each other, you can enjoy a passionate kiss and gaze into each other's eyes.
3. Legs Above the Shoulders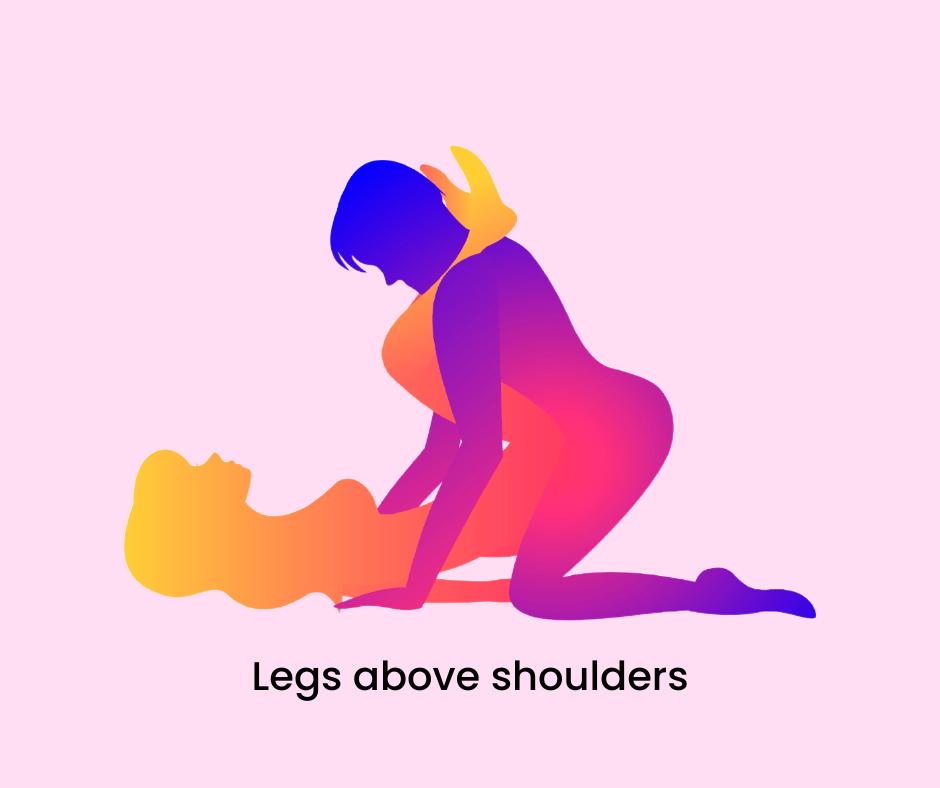 This sex position is best for women because it helps to relieve stress and tension in the shoulders, neck, and back. It's also great for balance and increasing flexibility.
Once you get into the rhythm, your movements will feel more fluid and natural – and that's what we're all looking for!
It's among the best sex positions for women who want comfortable and relaxing sex while feeling connected with their partner. You also have sufficient control over the pace and depth of penetration, which can be a huge turn-on for some people.
What's the technique?
Get your partner on top and begin with the standard missionary position.
Once inside, fling your legs over their shoulders.
Your companion's body would be slightly raised, making the pelvis rub against your clitoris.
To increase intimacy and excitement, kiss and look into each other's eyes. It's one of the rare positions where women climax during intercourse, thanks to the extra depth and clitoral stimulation!
After you've had an orgasm, wrap your legs around your partner's shoulders. You'll be overjoyed.
Read More: 9 Best Pregnancy Yeast Infection Treatments
4. Coital Alignment Technique (CAT) Position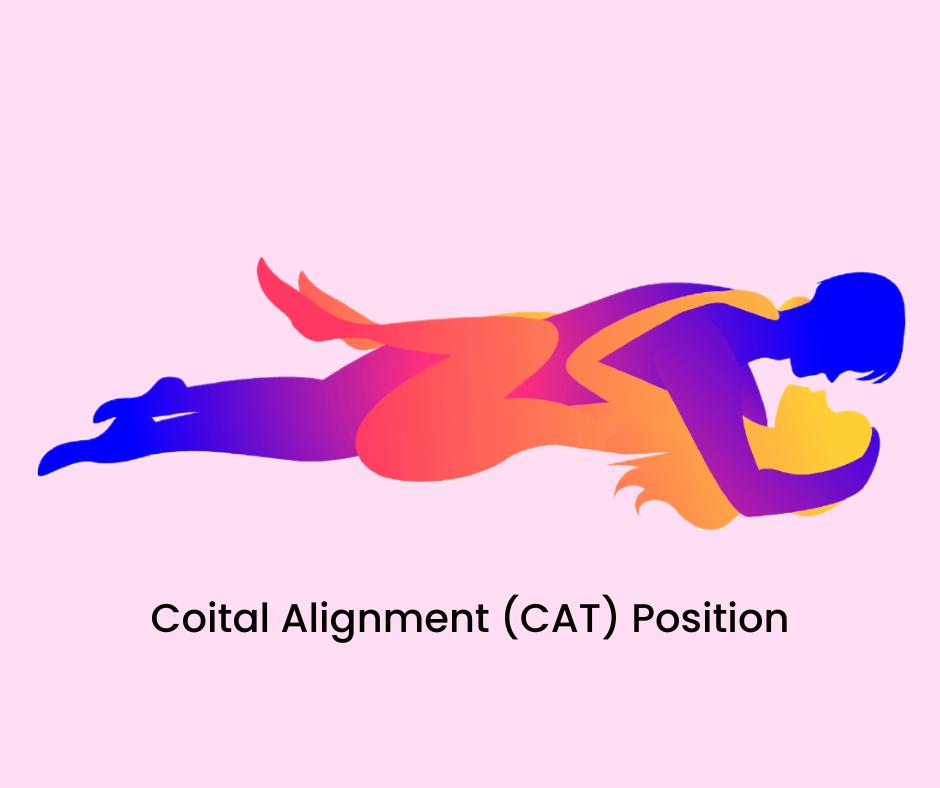 Believe it or not, being on top isn't the only way to orgasm during sex.
For many women, the CAT position, also known as the coital alignment technique, is highly orgasmic.
It has everything you need to have exploding orgasms during sex without ever having to get on top, which is why many ladies consider it the "ideal position"!
What's the technique?
Spread your legs out as you rest comfortably on your back.
Let your partner climb on top of you, like in the traditional missionary position to face each other.
The top partner should move a few inches up so the chest is roughly eye level with you to convert the missionary position into the coital alignment technique.
Once both of you are in place, your partner may enter inside you. At this time, you may opt to use just the tip or go for deeper penetration.
Either one or both start grinding. Again, the motion should be slow and small — the idea is to maintain continual pressure on the vulva and clitoris for continuous pleasure.
Want to achieve an incredible orgasm?
A pillow under your butt and creative angle-playing can make this position more thrilling, as lifting the hips can make the clitoris more accessible.
To generate even more friction, you can experiment with leg posture. For instance, you might clench your legs together while your partner thrusts on the top to make it even more exciting!
5. Spooning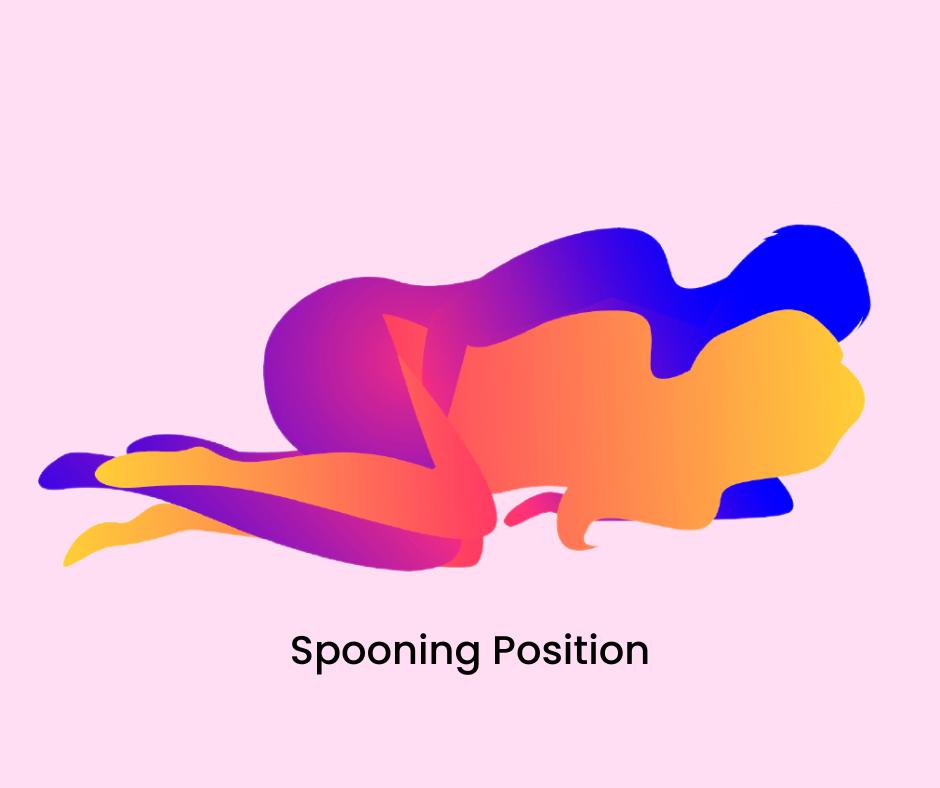 Spooning is one of the most romantic sex positions if you want explosive orgasms!
That's because it provides direct access to the clitoris. Clitoris stimulation is essential for orgasm, and this position offers plenty of it.
The spooning position applies pressure in the perfect places from the most arousing angles, making it one of the best sex positions for women.
Despite the inability to make eye contact while spooning, the closeness of the posture makes it ideal for extremely intimate, feel-good sex that boosts your entire mood and overall health.
So, if you did some spooning a while ago, add it to your to-do list!
What's the technique?
Lie down with your partner, with faces in the same direction.
One partner's back will be touching the front side of the other.
The partners may split their upper bodies for penetration, connecting only at the pelvic region, and their legs may also lay on top of one another.
The receiving partner may raise the upper knee to facilitate penetration.
Since the spooning position allows extensive exploration, use your hands, lips, and nose to make it more interesting. For example, you may stimulate your partner's privates, kiss their lips, leave kisses on their necks, and caress their body.
In fact, both partners can have a great time touching and feeling each other by stimulating the nipples, clitoris, breasts, penis, and other areas.
It's a terrific way to engage your senses and enjoy a more profound connection than ever!
6. Mastery Kneeling Sex Position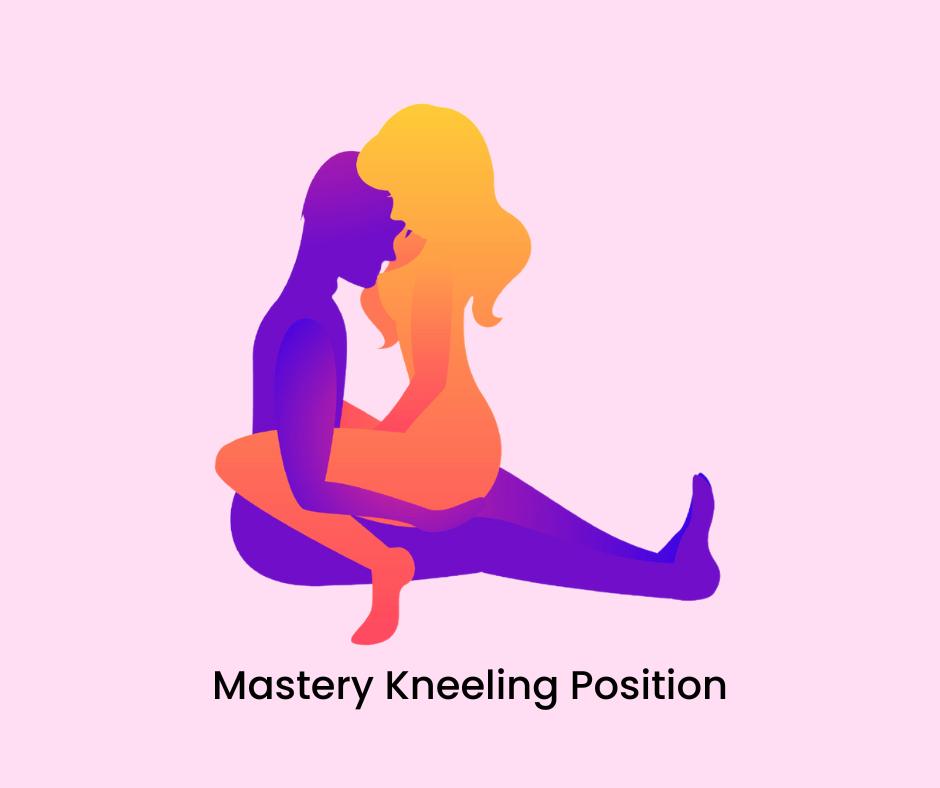 The Mastery Kneeling posture, also known as the Sofa Salsa, is among the best sex positions for women who want slow, sensual buildups.
The sultry Sofa Salsa sex position will spice up your sex life and have you both begging for more since it has tons of passionate and intense eye contact.
What's the technique?
Have your partner sit on a sofa while using the back of the couch as leverage.
Straddle with your legs and have fun!
Make it passionate and intimate by making lots of eye contact and kissing, or simply close your eyes and lose yourself!
You have a lot of diversity in this position, as you can lean in closer for comfort or out for novel sensations.
7. Face-off Sex Position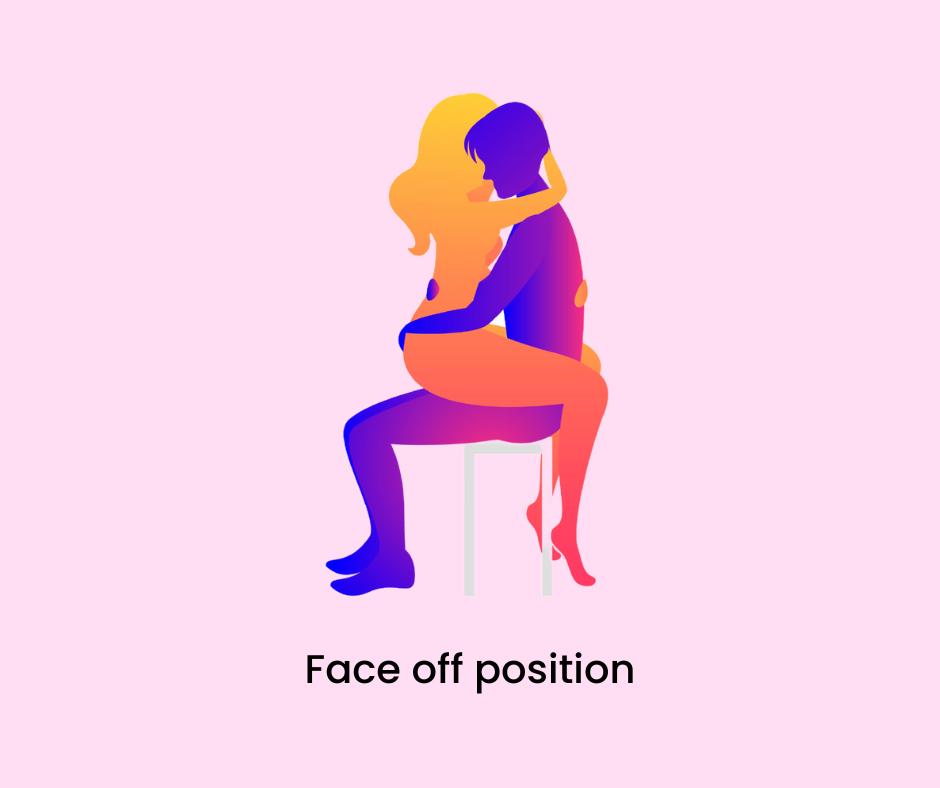 Face-to-face is among the best sex positions for women as it is a fantastic way to increase emotional closeness and intimacy!
Face-to-face sex increases oxytocin levels because of increased eye contact. That is the 'love' chemical linked to bonding, trust, and relationship development.
And just because you're face to face, it doesn't necessarily indicate that you're in a staring contest. Amid pleasure, you can close your eyes to be in the place of your dreams as you enjoy good sex.
With the right lube and mood, you can let go and be in each other's arms without even needing to speak.
What's the technique?
Let your partner sit on the edge of a bed or sofa, with the legs slightly parted and feet on the ground.
Facing each other, climb up on their lap.
You can straddle your partner or sit on their lap with your legs around their pelvis.
Want to take it a few notches up?
This position promotes direct clitoral stimulation and eye contact, increasing closeness. In addition, you can control the thrusting pace and follow whatever rhythm you like.
Make out, press against the torso, rub your companion's face and chest, or wrap your arms around them into a hug. By looking each other in the eyes, you can make it more exciting and deepen your relationship.
Read More: 8 Tips for Feminine Hygiene in Summer
8. Happy Baby Sex Position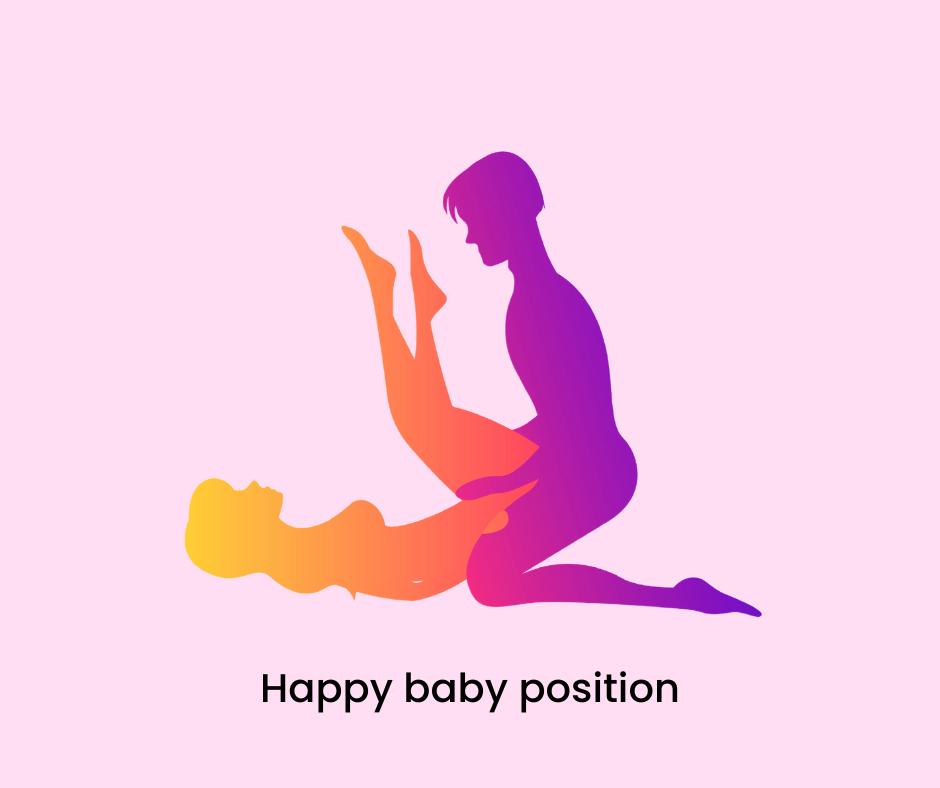 Not as innocent as it sounds!
The name may be adorable, but this super effective yoga pose called the "Happy Baby Pose" can help you reach climax in an instant!
This pose aims to strengthen the arms and shoulders while lengthening and realigning the spine.
It prepares you for a variety of positions, including missionary. And it does wonders for reducing stress. The Happy Baby is recognized as one of the best sex positions for women because it allows for deep vaginal penetration.
This position can help boost libido while stretching the genital area during sex. Additionally, this position will ease your spine tension and help you relax your mind.
What's the technique?
You need to lay flat on your back with your knees tucked in.
Keep your hands on your feet or the sides, and bend your legs wide.
Let the partner get between your legs and enter.
You can tweak the position as necessary (spread the legs farther apart or closer together) to find the most comfortable position.
9. Bridge Pose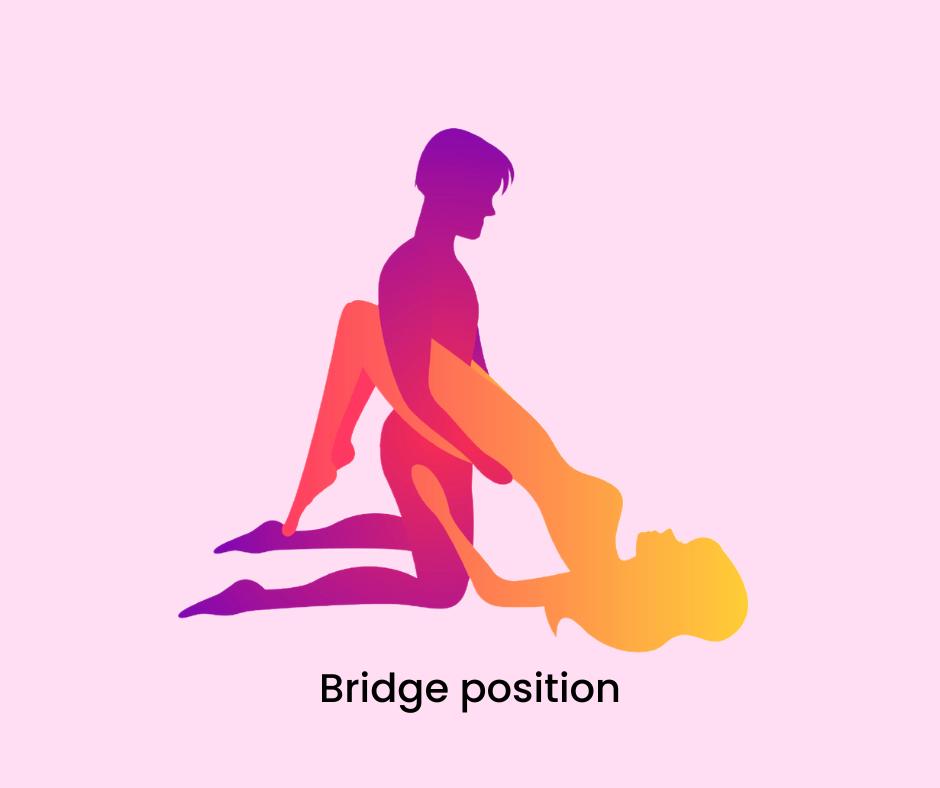 Bridge pose is a great yoga posture for women's sexual wellness.
This pose helps to strengthen your pelvic floor. In addition to easing discomfort during sex, strengthening these muscles can improve the experience.
The bridge position improves orgasms, extends the hip flexors, and tones the vagina by pressing on the pelvic floor (the same effect as performing Kegels).
What's the technique?
Lie on your back and pull your heels closer to your sitting bones.
Your feet should remain hip-width apart. Then raise your hips.
Keep your head and shoulder on the floor, and you're good to go!
You might become exhausted after holding the bridge pose for a while. Thus, put a pillow beneath your buttocks to raise your hips for a supported bridge so you won't have to remain in the bridge position for too long.
10. Cobra Pose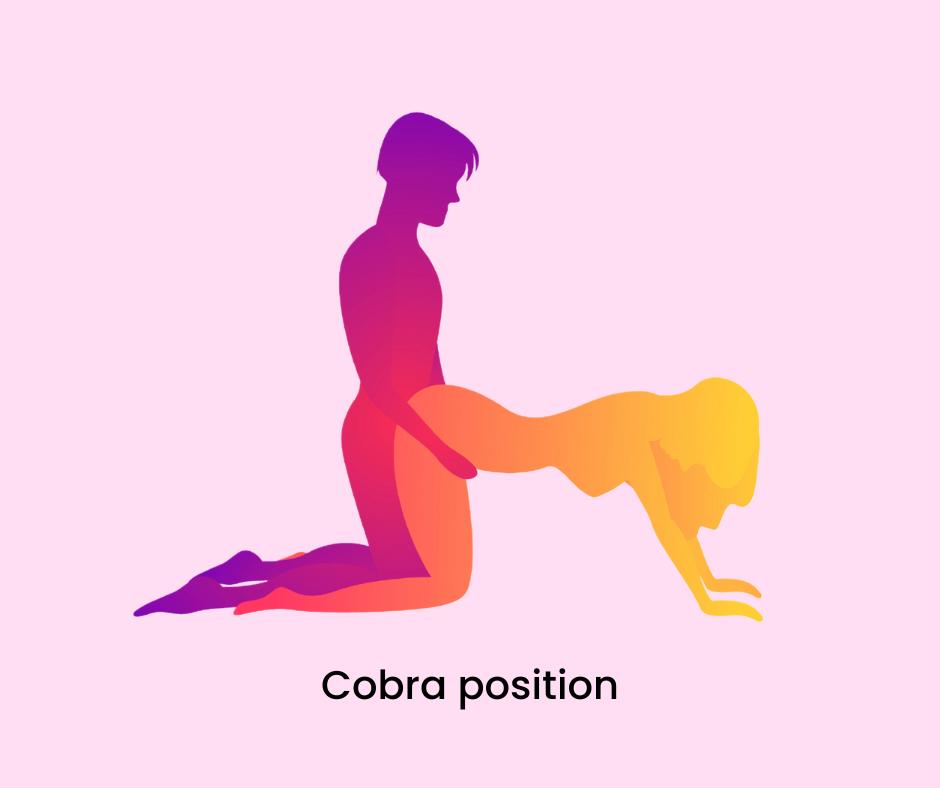 Cobra pose offers a gentle core workout that strengthens the core and enhances posture. A strong core helps you maintain control of your pelvis, leading to improved performance.
It is one of the best sex positions for women who wish to extend their partner's time in bed without worrying about early ejaculation.
Another significant advantage of this form of penetration is that you are simultaneously opening up your lungs, boosting the circulation of oxygen throughout your body and allowing you to concentrate on the moment.
What's the technique?
Lie on your stomach with your hands directly below your shoulders.
While pressing your hands down, raise your chest off.
Hold this position while your partner enters.
The cobra position will stimulate your body's reproductive organs if you practice it more frequently. And it will finally make the experience thrilling for you by increasing your stamina during sex.
Additionally, by energizing your reproductive system, you improve the condition of your genitalia, which enhances sexual arousal. Furthermore, it may help to reduce infertility.
Some Tips for a Healthy & Satisfying Sex Life
Besides practicing the best sex positions for women, many other factors are critical in improving your bedroom life. Let's go through a few tips.
Communication: Communication is the key to healthy sex life. If you want to get to know your partner better, talk about everything — from what you want in bed to how you want your partner to treat you.
Foreplay: Foreplay is the best part of the whole process. It helps create an environment conducive to sex and can be a great way to relax before getting down and dirty.
Hygiene: Always be clean and well-groomed before engaging in any sexual activity. If you are not feeling well or aren't ready, it will be difficult for your partner to get turned on and aroused.
Don't rush things: Sex doesn't need to happen right away! Take your time and let yourself get into the mood before jumping straight into IC.
Dress up for sex: It's also good to be ready for the occasion, so ensure you wear the proper outfit: sexy lingerie or a lovely nightgown! Perhaps a skirt that shows off your curves. Whatever you choose, make sure it's comfortable and makes you feel good about yourself.
Use props: Sex toys can help heighten your experience and give you new ways to connect with your partner. If you don't have any toys at home, consider buying some during a trip to the store — you never know what might be there!
Cuddling after sex: One of the most obvious things! A little cuddling after sex will ensure that both partners feel connected and cared for after doing the deed, which can actually help improve intimacy in general over time.
We hope these best sex positions for women have helped you to enjoy the perfect romance! Don't forget to let us know in the comments which sex position works best for you. 🙂
References
https://pubmed.ncbi.nlm.nih.gov/28903688/
https://www.cosmopolitan.com/sex-love/positions/a37221389/face-off-sex-position/
https://www.webmd.com/sex/what-is-missionary-position
https://greatist.com/fitness/happy-baby-pose
https://www.netdoctor.co.uk/healthy-living/sex-life/a33010894/cowgirl-sex-position/