Hey there! This post may contain affiliate links. As an Amazon Associate, I earn a teensy commission from qualifying purchases when you buy through these links (at no additional cost to you). For more info, please check the full disclaimer.
For most women, period cramps are a monthly agonizing experience. Not only is it painful, but it can also interfere with your daily routine. While many women prefer over-the-counter medications to alleviate the pain, you can also add foods that help with period cramps to your daily diet.
Usually, cramps, bloating, and cravings make you want to eat entire bars of chocolate or devour a family pack of brownies.
And although it sounds like the perfect escape, it may not be the best idea for your menstrual health. Eating sugary and processed food aggravates inflammation and trigger menstrual symptoms.
On the other hand, changing your dietary habits and including foods good for period cramps may be a better option.
In this blog, you'll discover the best foods to ease period pain at home and make this once-a-month phase more bearable.
What are Period Cramps?
Period cramps, or dysmenorrhea, is a throbbing pain you feel during periods.
Menstruation occurs when the cells forming the uterine lining begin to break down, which triggers the release of hormones called prostaglandins. As a result, the blood vessels of the uterus constrict, causing the muscles to contract, pushing the shedding uterine walls out of the body.
These contractions are felt in the lower abdominal region at the beginning of the period and are called period cramps.
The pain begins a few days before your period and may last 2-3 days. Period cramps may be mild or so severe that they might upset a woman's daily routine.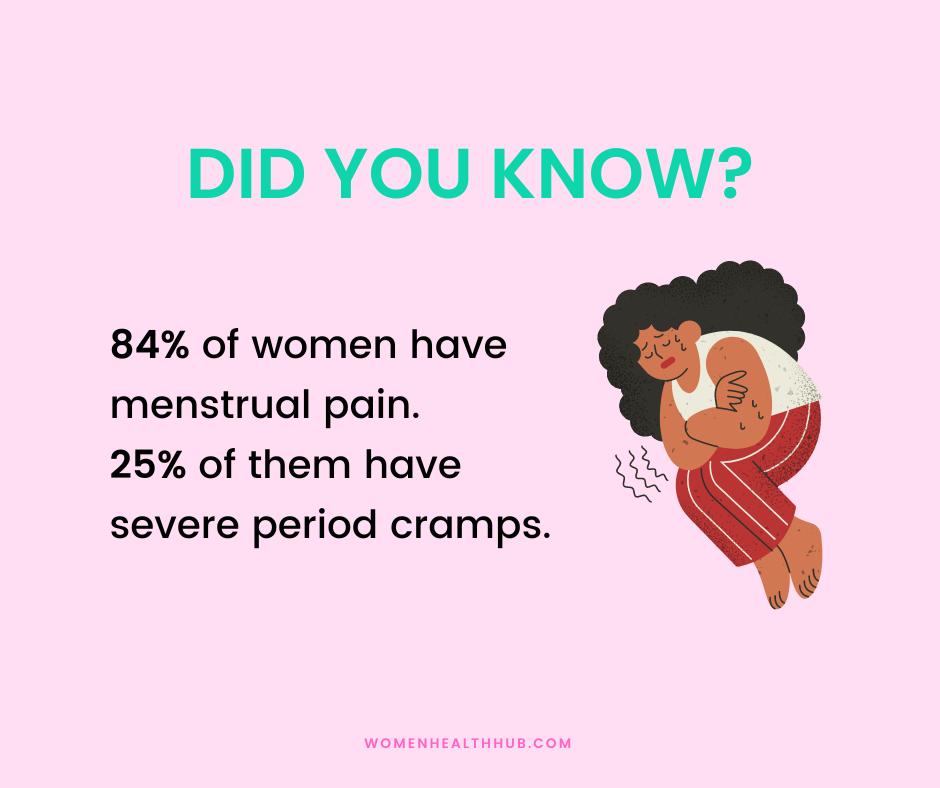 According to research published in 2012, 84% of women reported experiencing menstrual pain. For 25% of women, period pain is severe enough to interfere with social activities and require medication.
Read More: 8 Signs of Vitamin B12 Deficiency
What Do Period Cramps Feel Like?
Every woman experiences varying intensities of period cramps for a different duration.
During the first few days of the period, most women describe a throbbing pain in the lower abdomen. Besides the stomach, pain can radiate toward the lower back and thighs.
The period cramps usually feel like:
Sharp, poking feeling in the lower abdomen
Stomachache similar to that of a muscle cramp
Pain in lower back and thighs
A majority of women also experience symptoms other than period cramps, such as:
Nausea
Vomiting
Changes in stool consistency
Headaches
Dizziness
These severe symptoms last for the first 2-3 days of the period. As the uterine lining sheds and the levels of prostaglandins reduce, the cramps lessen or completely disappear.
Read More: 10 Worst Foods that Cause Hormonal Imbalance
List of Best Foods That Help With Period Cramps
The production of prostaglandins is the main culprit of period cramps, as they cause inflammation, pain, and discomfort.
Foods that help with period cramps are natural, light on the stomach, and a part of an anti-inflammatory diet. Hence, they can tame menstrual pain by reducing the levels of prostaglandin in the body.
Dietary patterns like low intake of vegetables and fruits and higher intake of red meat intensify period pains.
Let's discuss the foods good for period pain that women should eat every month.
1. Fresh Fruits
Fresh fruits are the ultimate snack for when you are on your period. Fresh fruits are fiber-rich, helping with changes in bowel consistency and reducing bloating and discomfort during menstruation.
Bananas are great for menstruating women as they are rich in magnesium and vitamin B6, which mitigate bloating and cramping during periods.
Fruits containing vitamin C are also among the top foods that help with period cramps. Oranges and lemons relieve muscle spasms and contain anti-oxidants, magnesium, and phosphorous, which can alleviate painful symptoms during periods.
According to research, fruits are a rich source of anti-inflammatory compounds and are an antagonist to the effect of prostaglandins.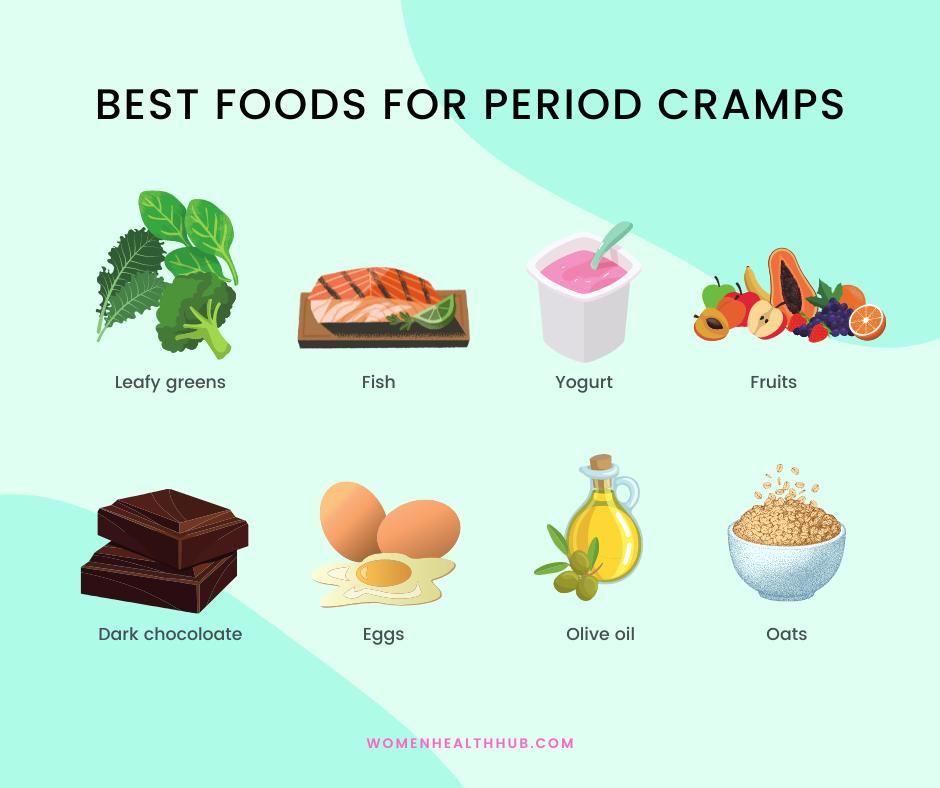 2. Cruciferous Vegetables
Cruciferous vegetables are also popular foods that ease period pain and mood swings.
This group includes kale, spinach, broccoli, cabbage, lettuce, and other leafy green vegetables packed with calcium and magnesium. Both compounds are known to soothe the muscle spasms, and contractions felt in the initial days of menstruation.
Blood loss during menstruation can decrease iron levels. These leafy veggies are also excellent food sources of iron and can prevent anemia because of heavy bleeding.
Read More: 10 Signs of Iron Deficiency in Women
3. Fatty Fish
Loaded with omega-3 fatty acids, protein, and iron, fatty fish like salmon, tuna, sardines, and anchovies also top the foods that help with period cramps.
According to a study, supplementing fish oil with vitamin E can reduce the intensity of menstrual pain.
Consuming fish oil is also a better alternative to ibuprofen for alleviating the physical symptoms of the period.
Read More: 5 Best Vitamin B12 Supplements for Women
4. Nuts and Nut Butter
Nuts store abundant nutrients, like calcium, magnesium, and omega-3 fatty acids, all of which help relieve the symptoms of menstrual pain. The fiber in nuts can also alleviate bloating and constipation, reducing abdominal discomfort.
Walnuts, almonds, and cashews are great natural sources of serotonin – the happy hormone. So consuming a handful of these nuts can improve mood swings and boost happiness.
Nut butter is a trendy alternative if you are not keen on nuts. It is diverse and added to yogurts, smoothies, salad dressings, etc.
Unsalted nuts and nut butter are better foods that help with period cramps because salt retains water, causing bloating and doing more harm than good.
Read More: 27 Best Foods Rich in Vitamin B12
5. Seed and Seed Oil
Flaxseed, chia, and pumpkin seeds are also popular foods for period pain. They are recommended for women with irregular and painful periods as part of the 'seed cycling' treatment, stabilizing hormones and regulating menstruation.
The omega-3 fatty acids and seeds' high fiber content can lessen the heavy bleeding and painful cramps during periods.
Make chia pudding, or add them to protein shakes or oatmeal for a healthy breakfast.
6. Oats
Oats are also highly recommended foods that help with period cramps. Oats are packed with dietary fiber, which can improve digestion, thereby treating constipation.
Oats are a great source of zinc, magnesium, and thiamine. According to research, consuming thiamine for at least two months can decrease muscle cramps, nausea, vomiting, and fatigue.
Zinc in oats can lessen prostaglandins levels, thereby reducing premenstrual symptom severity.
Oats with fruits, nuts, and seeds make the perfect breakfast for when you are on your period.
Read More: 100 Best Foods Rich in Iron for Anemia
7. Eggs
Whether scrambled, poached, fried, or omelet, eggs are one of the best foods that help with period cramps. Besides protein, they contain micronutrients like vitamin D, iron, omega-3 fatty acids, and vitamin B6.
Consuming eggs can decrease premenstrual symptoms and play a vital role in regulating fluctuating hormones.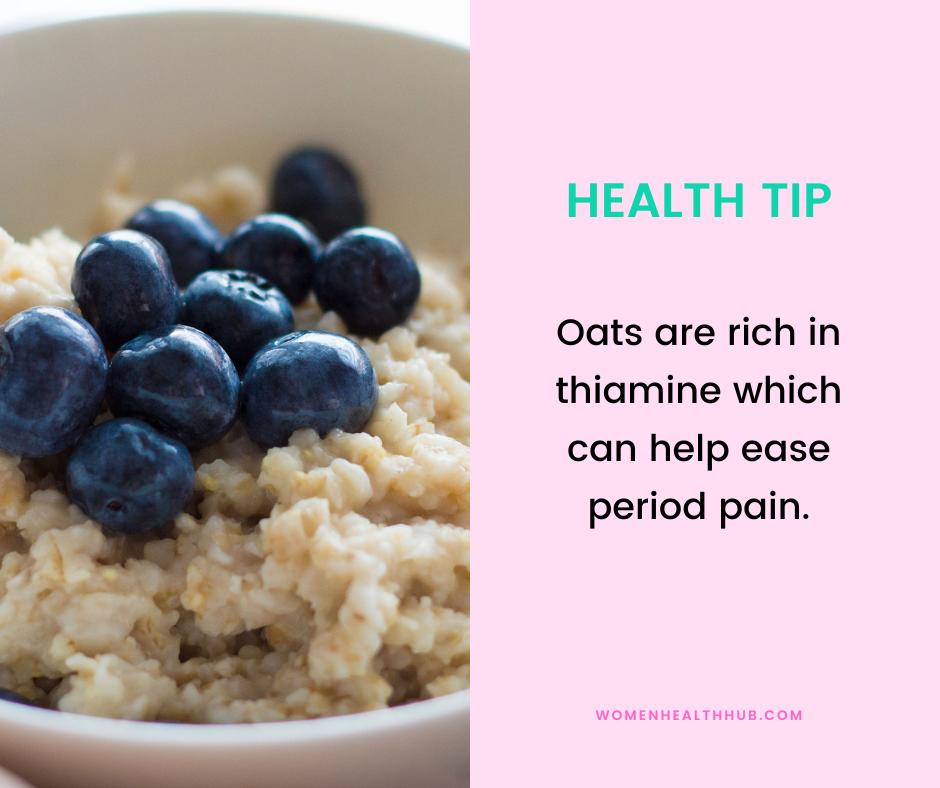 8. Vegan Protein
In recent years, the vegan diet has become popular among women with painful periods.
During menstruation, women require good sources of protein. Vegan proteins like beans, lentils, tofu, and quinoa are good foods that ease menstrual pain.
The high fiber content of beans, lentils, and quinoa makes them an excellent absorber of prostaglandins. In addition, legumes and beans are rich in magnesium and zinc, which can alleviate muscle cramps.
If you experience bloating, consume beans and lentils in small quantities. Otherwise, they can upset your stomach, worsening abdominal cramps.
9. Dairy Yogurt
Nothing is better than a spoonful of creamy yogurt to lift your spirits during this painful month. Being delightful in taste and full of cooling agents, yogurt is among the must-have foods that help with period cramps.
A study shows severe dysmenorrhea is more common in women with low calcium intake and insufficient vitamin D levels. The consumption of calcium reduces muscle pain, cramps, and bloating. Yogurt also contains vitamin E, a potent antioxidant that reduces muscular cramps.
Due to hormonal imbalance, you are particularly susceptible to vaginal infections for a few days after menstruation. Yogurt is a robust probiotic and can sustain good bacteria making you less susceptible to yeast infections.
Read More: 9 Best Pregnancy Yeast Infection Treatments
10. Dark Chocolate
Every woman can relate to having a sweet tooth while on her period. Hence, dark chocolate is one of the best foods that help with period cramps while satisfying your cravings.
Dark chocolate contains at least 70% cocoa – an excellent endorphin source. Endorphins are chemicals that boost mood and reduce the intensity of menstrual pain.
Consuming dark chocolate a few days before menstruation reduces cramps, nausea, and headaches. Plus, it's also good for reducing the risk of a heart attack.
Read More: 10 Silent Signs of Female Heart Attack
11. Cinnamon
Cinnamon, known for its earthy flavor, is also excellent at reducing the intensity of menstrual pain. Continuous consumption of cinnamon also lessens blood flow and cramps during menstruation.
According to research, cinnamon may be an alternative to ibuprofen for relieving period cramps.
12. Olive Oil
Olive oil has many health benefits for women. It contains various health-promoting nutrients and is full of antioxidants. Thus, using extra virgin olive oil daily for two weeks before menstruation can reduce the severity of period cramps.
13. Ginger Tea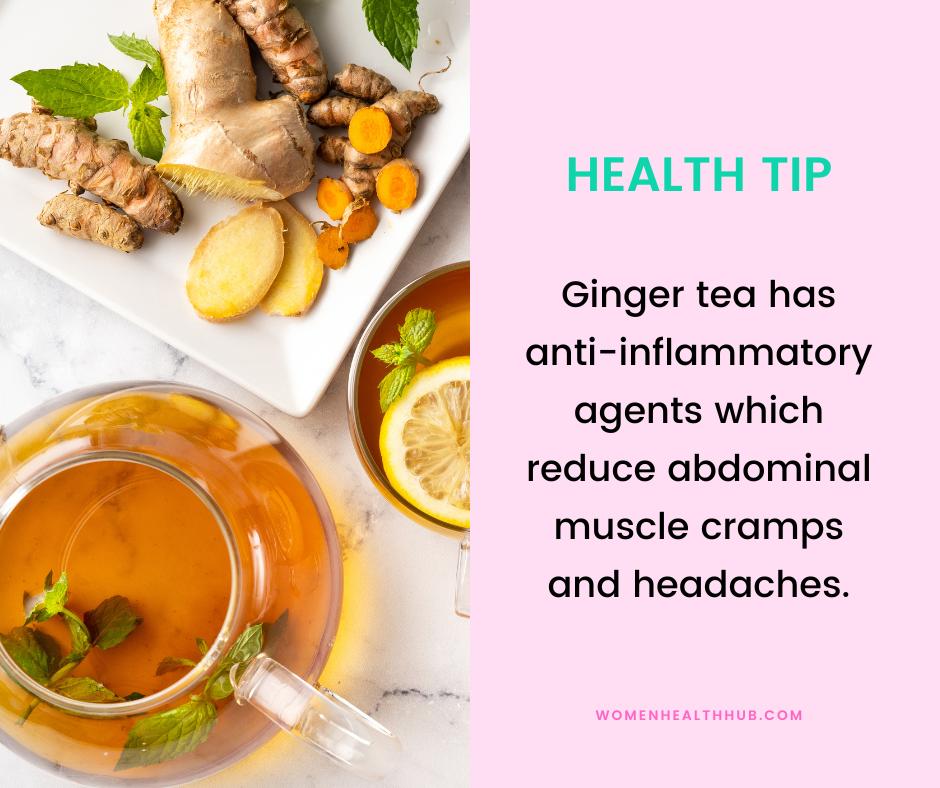 Olive oil has many health benefits for women. It contains various health-promoting nutrients and is full of antioxidants. Thus, using extra virgin olive oil daily for two weeks before menstruation can reduce the severity of period cramps.
Ginger is one of the most beneficial foods that help with period cramps. A warm cup of ginger tea can also soothe the cramping muscles with its woody aroma and refreshing taste.
Ginger is as effective as non-steroidal anti-inflammatory drugs (NSAIDs) in relieving the severity of period pains. Its anti-inflammatory components make it a very robust antagonist to prostaglandins.
Besides period cramps, drinking ginger tea can also soothe nausea, vomiting, and headache, which are common reproductive symptoms many women face.
Read More: 7 Alarming Symptoms of Bacterial Vaginosis
14. Water
The number one remedy for easing period pain is drinking water. Dehydration leads to severe headaches worsening the cramps during the period.
Drinking plenty of water can also inhibit water retention in the body and decrease your risk of bloating.
According to research, water intake decreases the use of painkillers as it reduces the severity of period pain.
The Bottomline
From the discussion above, it is evident that dietary intervention is an efficient way for much-needed relief during this time of the month.
An anti-inflammatory diet is the best way to go because it includes foods that help with period cramps. Eating plenty of vegetables and fruits, fish, and whole grains and avoiding processed foods is a great way to manage the painful symptoms of menstruation.
From regulating hormones to managing pain, making mindful choices to nourish your body adequately can make this time of your month a little more bearable.
References:
https://www.ncbi.nlm.nih.gov/pmc/articles/PMC3081099/
https://pubmed.ncbi.nlm.nih.gov/17210218/
https://pubmed.ncbi.nlm.nih.gov/30630172/
https://pubmed.ncbi.nlm.nih.gov/10869786/
https://ijop.net/index.php/ijop/article/view/48
https://www.sciencedirect.com/science/article/abs/pii/S1744388118303475