Hey there! This post may contain affiliate links. As an Amazon Associate, I earn a teensy commission from qualifying purchases when you buy through these links (at no additional cost to you). For more info, please check the full disclaimer.
Which are the best at-home pregnancy test kits that are both affordable and give you reliable results?
Surprisingly, US women buy about 10 million pregnancy and ovulation tests every year!
Yep, it's a necessity. Besides being easy to use, home test kits for pregnancy offer you more privacy (read: snitch doctors) and you can conveniently grab them at any nearby store.
But finding the most accurate pregnancy test kits for home testing can be tricky, especially with hundreds of options around you.
Don't worry though. This list of the 5 best pregnancy test kits for home use is currently high in demand, thanks to their amazing quick results.
How Do At-Home Pregnancy Test Kits Work?
At-home pregnancy tests measure the level of hCG (human chorionic gonadotropin hormone) in the urine, also known as the pregnancy hormone.
As soon as you get pregnant, the placenta releases this hormone into your bloodstream, which later travels to urine. When you pee on the at-home pregnancy test kits, the system detects hCG presence in your urine to determine whether or not you're pregnant.
Although several amazing brands offer quality products, this form of pregnancy test isn't always correct. A blood pregnancy test is a more advanced confirmation method and will give you 100% right results.
But the good thing is that the most accurate home testing kits for pregnancy are comparatively cheaper and can give you reliable results when used properly.
Are Pregnancy Test Accurate?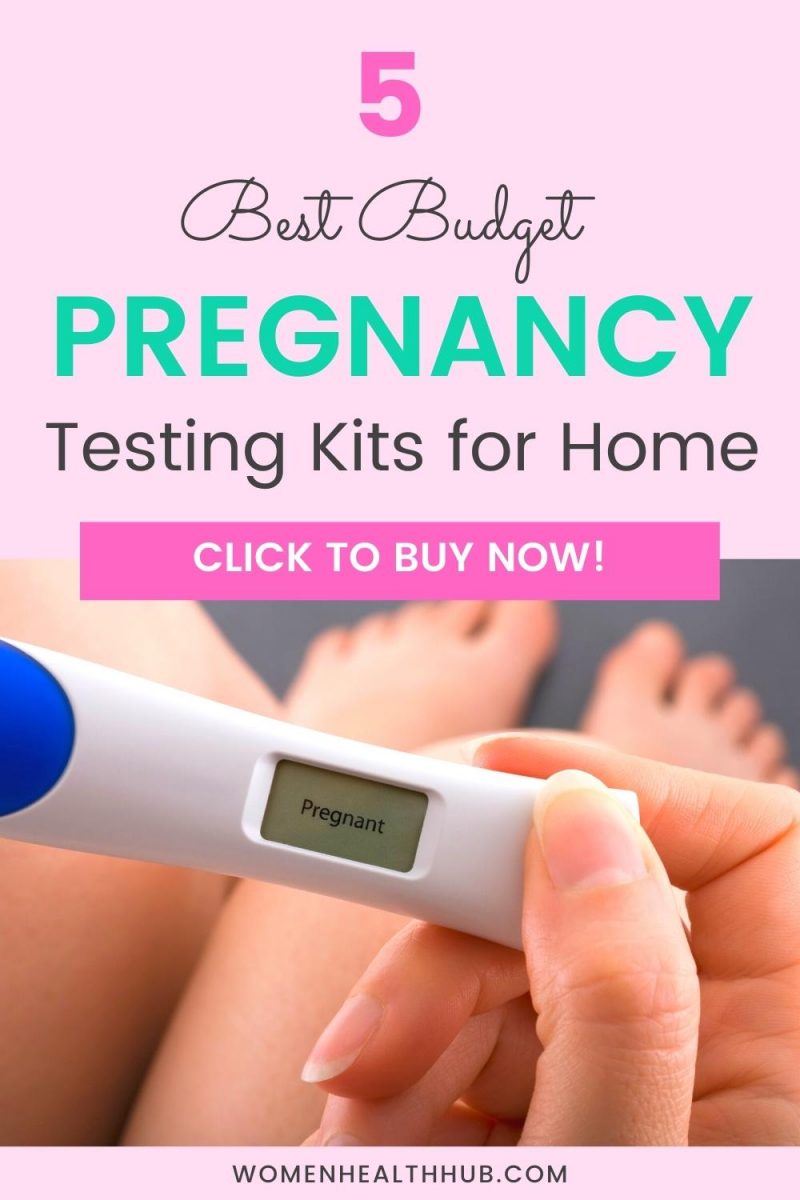 Accuracy is the biggest concern when buying home test strips for pregnancy. 
Luckily, digital pregnancy tests are quite accurate and can detect as little as 25mlU/ml of hCG, with a whopping 100% correct results after a missed period.
However, the pregnancy test accuracy could vary by day, depending on factors like: 
The time of the day you're testing
The concentration of hCG
Number of days left in your period
Your age and whether you're perimenopausal or not
User error is one of the most common causes of inaccurate results while using at-home pregnancy test kits. So aim to follow the instructions on how to use your pregnancy strips properly to avoid any mistakes. Also, keep in mind that expired pregnancy tests might not be accurate.
How To Use Your Home Pregnancy Test Kits?
If you're new to this procedure, you must be wondering how to safely use your home-testing pregnancy kits and get the right reports. 
Most pregnancy testing strips are super easy to use once you get the instructions. But if you get incorrect or invalid results, you might need to buy a new pregnancy test kit for rechecking.
Here are some tips you should know about to reduce chances of error and use the budget pregnancy test kits properly:
If you're trying to find a cheap pregnancy test for your home, don't compromise on quality. It's important to select a good testing kit for pregnancy by an authentic brand, that won't invalidate the results.
Check the expiration date:
Always check the expiration date of your pregnancy test strips before buying. An expired product might give you incorrect or false results because the chemical in the strip loses its ability to detect hCG. 
Thoroughly read the instructions on the package of your at-home pregnancy test kits before use. Take your time and ensure you understand all requirements.
Be fully prepared before you take a home pregnancy test. You may need to wait for a few minutes to get the best results, so grab a timer if necessary. Some women prefer dipping the pregnancy test strip in urine rather than taking it to the toilet. If so, you might need a clean cup to collect the pee.
Take the test in the morning:
The best time to take your pregnancy test is during the early hours of the day. That's because the hCG amount in your morning pee is comparatively purer than throughout the day. In other words, there'll be less risk of false results.
Wash your hands properly before and after using the at-home pregnancy test kits. Hygiene comes first!
Make sure you wait sufficient time to get the best results. Follow the guidelines mentioned in the instructions manual or call the brand to get help.
How Do You Read Pregnancy Test Kits?
What do the lines in your pregnancy test results mean?
The lines appear in a control region and a test region. Based on the number of lines, you can confirm whether you're carrying or not. One could be slightly lighter than the other and they don't have to be the same.
If no lines appear, the test is invalid.
Two lines: If you see two lines – one in the control region while the other in the test region – it means you're pregnant.
Single line: One line in the control region means you're not pregnant.
In most at-home pregnancy test kits, the lines are parallel. However, the more user-friendly products denote a positive pregnancy result by forming a plus (+) sign.
5 Best At-Home Pregnancy Test Kits in 2021
Product Name
Best Features
Price
Clearblue Digital Pregnancy Test 4-in-1 Combo Pack
– Gives 4 results: 2 smart countdown and 2 rapid detection
– Unmistakeable positive & negative results
– Exceptional sensitivity
Check price
First Response Early Result Pregnancy Test Kits
– Gives 3 results
– Detects various pregnancy hormones
– App available to interpret results
Check price
Lantique 40 Home Pregnancy Test Strips
– 40 pregnancy tests strips and urine collection cups
– Wide strips and deep cups
– Can detect 5 days before the missed period
Check price
Healthy Wiser 50 Home Pregnancy & Ovulation Testing Strips
– 50 ovulation and pregnancy test strips
– Detects both hCG and LH hormones
– Results in under 2 minutes
Check price
Suonee Early Detection Pregnancy Test Stick
– 5 pregnancy test sticks
– High sensitivity detects pregnancy 1 day before period
– Most affordable
Check price
If you're looking for a high-value home pregnancy test kit at a budget price, this one's for you!
Clearblue is a popular ovulation and pregnancy test strips brand, boasting a whopping 99% detection accuracy. Their products are crafted while keeping innovation and feminine requirements in mind.
Since many women often misread these results, Clearblue prioritizes user-friendliness, making their at-home pregnancy test kits an excellent option for first-time users.
The Clearblue Pregnancy Test Combo Pack gives you four results on two smart countdown and two rapid detection strips. You can either check by peeing directly on the stick or by collecting a sample first and then dipping the strip.
Each result is easy to read with clear pregnancy and non-pregnancy indications on a digital display. So it's a good choice – even for novices!
The smart countdown reduces the risk of human error and confirms the results within 1-3 minutes by showing the words Pregnant or Non-pregnant.
The rapid detection pregnancy testing kit displays results using visual lines in the form of + or – symbols. You may need to wait 1-3 minutes for confirmation.
Additionally, the enhanced sensitivity of their testing strips can help you get the best results as early as 5-6 days before your missed period.
Features:
2 smart countdown and 2 rapid detection tests
Can detect pee directly or through sample collection
Innovative easy-to-use design
A super absorbent tip that reduces mess
Results appear in under 3 mins
Offers results for up to 5 days earlier than the first missed period
Whopping 99% accuracy
Summary:
Clearblue's pregnancy test combo pack is one of the most accurate at-home pregnancy test kits trending this year. You get immense value at an affordable price with this product. Go on and grab it now!
First Response Early Result Pregnancy Test is one of the best home pregnancy tests you can buy on Amazon. Their exceptional early detection technology even earned them the seal of approval from BrandSpark American Trust Study 2020.
Many women will vouch for First Response pregnancy test accuracy and versatility. The innovative design can detect various kinds of pregnancy hormones including hCG, hCG-H, B-hCG, and more. 
Also, the pregnancy testing strip is sensitive enough to confirm whether you'll be a mom at least 6 days before the missed period.
Perhaps the best feature of the First Response home pregnancy test kit is its EasyRead app. All you need to do is scan the results in the app and it'll confirm if you've conceived or not.
Features:
3 first response early result pregnancy tests
Confirmation 6 days sooner than the missed period 
99% accurate
Get results in under 3 mins
Detects all forms of the pregnancy hormone
EasyRead app for interpretation
Summary:
In short, I'd recommend this budget pregnancy test kit for first-time tech-savvy users. If you need assistance with results, the simple app will give you guaranteed reliable confirmation in no time!
This product is a perfect choice if you're currently trying to conceive and want to test often. At a low price, you'll get an immense value that would last you for several days.
Lantique at-home pregnancy test kits contain 40 individually packed pregnancy test strips and pee collection cups. Each cup is deep enough to allow proper dipping and reduce the chances of mess.
Their pregnancy testing strips are also wider than the rest, allowing more room for absorption and decreasing chances for error. You don't need to pee on the stick. The system only works with dipping in pee samples.
The only issue is that you'll need to read the results within 5 minutes. After that, the results would be invalid. By using the cup, you'll get a confirmation in under 30 seconds.
Features:
40 pregnancy test strips (4mm wide)
40 urine collection cups (30mm deep)
Positive results in under 30s
Detection for up to 5 days before period
No need to pee on the strip
Lasts for several days
Summary:
The Lantique home pregnancy test kits offer convenience, ease of use, and value at an affordable price. It's a perfect option if you want to take pregnancy tests often and don't want to spend big on many strips.
Read More: 15 Best Fertility Herbal Teas to Get Pregnant Quickly
Healthy Wiser's at-home pregnancy test kits are among Amazon's top favorites! Their exemplary accuracy, ease of use, and affordability make them a popular choice for moms-to-be.
You get plenty of ovulation and pregnancy strips to last you for months. The results are reliable and quick. The packaging is discreet to give you complete privacy and peace of mind.
Additionally, you get FREE 100 cups as a bonus! You can use them to collect urine samples and dip the strips without making a mess.
By keeping track of both LH and hCG hormones, you can also stay on top of your ovulation cycle and find the right time to get pregnant.
Features:
50 ovulation and 50 pregnancy test strips
Gives results in under 2 minutes
Detects two hormones: hCG and LH
High quality trusted by ob-gyns
Long-lasting amount
Summary:
Whether you're trying to conceive or not, Healthy Wiser home pregnancy test kits are a great way to stay on top of your fertility journey without spending big. With Healthy Wiser, you can rest assured you're getting 100% reliable results.
The super-affordable at-home pregnancy test kits by Suonee are a must-have for women who're trying to conceive. The bargain price gives you 5 highly sensitive pregnancy test sticks offering early detection for up to one day before missed period!
You can either pee on the stick directly for 10 seconds or dip it in a urine-filled cup for at least 5 seconds to get the correct confirmation.
Suonee Early Detection Pregnancy Test Kit boasts 99% accuracy and is quite easy to read. Note each confirmation in under 5 minutes – usually, 3 minutes are sufficient. Don't wait for more as it could invalidate the results.
Features:
5 pregnancy testing sticks
Results within 3 to 5 mins
Professional quality
99% accuracy
High sensitivity for up to 1 day before period
Easy-to-use and read
Individually packaged strips to maintain hygiene
Summary:
This home pregnancy test stick is a popular choice for women who want a reliable product for an urgent test. The highly sensitive nature and discreet individual packaging make it a perfect pregnancy test kit for homes.
The Bottomline
Now you know about the best at-home pregnancy test kits that you can rely on during emergencies. Which one is your go-to product? If you have used any of these home pregnancy tests, how was your experience? Let me know in the comments.