Hey there! This post may contain affiliate links. As an Amazon Associate, I earn a teensy commission from qualifying purchases when you buy through these links (at no additional cost to you). For more info, please check the full disclaimer.
According to the National Center of Health Statistics, yoga combines breathing exercises, meditation, and physical postures to achieve a state of relaxation and balance of mind, body, and spirit. The incredible benefits of morning yoga have made it a widespread practice worldwide, with over 37 million practitioners in the US alone, per a 2016 study in Yoga in America.  
Although it works wonders throughout the year, yoga's calming and soothing effects are especially highlighted during summers. It's the time when high temperatures and a humid environment create a feeling of unrest in the mind and body.
Thus, a regular yoga routine at sunrise may reduce daily stress and help begin your day with mental clarity.
Is this something that may enable you to enjoy a healthier and happier summer?
Then read ahead to learn how a daily morning yoga flow is good for you, and you can deal with the scorching heat. 
How Does Morning Yoga Wake Your Entire Body in Summers?
A 2019 study published in the International Journal of Yoga found that ideally, 30 minutes of regular early practice is critical to get the maximum health benefits of morning yoga.
That's because yoga works on awakening your whole body and refreshes the system after a good night's rest. It mainly boosts the blood circulation in the body, which then;
Stretches the entire body
Enhances blood flow and oxygen to the brain
Increases headspace and positive energy
Improves deep sleep patterns
Reduces resting muscle fuzz from sleeping
Tackles morning stress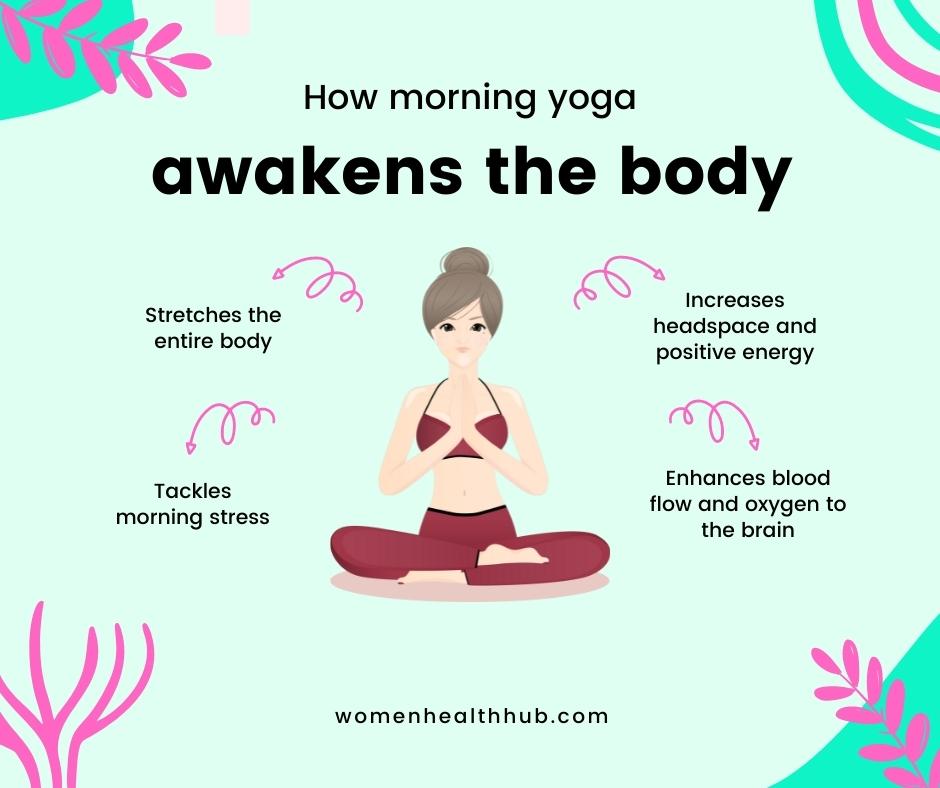 This way, our body switches off the stress-inducing flight or fight the sympathetic nervous activity of our brain and produces a balanced approach for our overall health. Plus, a daily morning yoga routine creates a calming effect in summers, freshening the body and mind. 
What is the Best Time to do Morning Yoga in Summer?
Women usually practice yoga at different times, depending on their work schedules and other responsibilities.
However, morning yoga in summer is considered way better than any other time of the day.
What's the best time to do yoga🧘‍♀️?

Science says morning🌞 because it calms your mind, boosts energy, and is cooler than other hours⌛.

#morningyoga #healthy #womenshealth
The time before 6:00 am (aka dawn or before sunrise) is perfect because it is the coolest and calming part of the morning, particularly in summers. Doing yoga during these hours won't make you sweat heavily, and you'll be fresh enough to practice all kinds of challenging poses.
In short, it's best to make the most of the benefits of morning yoga flows in the early hours of the day.
How Long Should a Yoga Session Last in Summers?
You don't necessarily need one-hour long practice every day. You can benefit from just a short 3-minute morning yoga session, too – that's the beauty of it!
No matter how long or short your session is, you can reap the amazing health benefits of morning yoga.
But if you opt for a yoga class, the length may vary depending on your goals and what you'd like to focus on.
Short sessions help build your yoga practice in a shorter time while enhancing your balance and intensity skills. On the other hand, longer sessions aim to develop an approach gradually and are great if you're a beginner or have any underlying medical condition. 
Long yoga routines are also ideal for people who want to pursue yoga as a career and wish to build a higher tolerance level and flexibility. Not only can the instructors teach you correct forms, but you also get to experience new poses and take time to revive your body and mind!
Why Morning Yoga is Good for You in Summers
Here are some of the benefits of morning yoga in summer that you might not know about:
1. Transforms your mood and makes you happy
Peak summers could be frustrating if you live in a scorching and humid place.
One of the key health benefits of yoga is that it can make you feel happier, stable, and conscious as it releases a happy chemical called gamma-aminobutyric acid (GABA). 
A 2020 study published in the Journal of Alternative and Complementary Medicine reveals that GABA levels help improve mood and any symptoms of sadness or depression. 
Thus, during summers, practicing daily morning yoga could make you happy, keeping stress away and your body temperatures in control.
Fact: A daily morning yoga routine 🧘‍♀️🌞 can give your more energy, make you happier 😊, and ease chronic pain issues.

#yoga #health 
Read More: 8 Best Yoga Poses for Neck Pain Relief
2. Builds more strength, flexibility, and balance
Intense summer workouts can be daunting and lead to weight gain because you are already troubled by sweating and lack of energy.
In that case, the slow, patterned yoga sequences and deep breaths are perfect for helping you build strength, better posture, and lose weight without making you sweat excessively or lose energy.
Plus, getting your dream summer bod to show off a new bikini is another of the many benefits of morning yoga routines in summer! 
Read More: Energizing 15 Minute Morning Yoga Routine
3. Improves focus and concentration
Do you often drift off while working, particularly in hot weather?
According to an article published in The New Yorker, summer can make you cranky at work, and a temperature rise may make you question when you're assigned new tasks. They found a study confirming that summer decreases energy levels and makes you less attentive to work.
As yoga requires constant observation of breathing, it instantly makes you feel mentally relaxed. Mind-body calmness is a key benefit of morning yoga in summer as it can improve your memory, focus, and information retention. Plus, you get better at concentration while being mindful of your breathing. 
Read More: 25 Best Work From Home Tips for Women
4. Eases chronic pain issues
Among many issues that occur in summers, one huge problem is the flare-up of chronic illnesses. For example, eczema flare-ups are pretty common in hot weather, which may lead to terrible inflammation.
Similarly, Minivasive Pain and Orthopedics reveal that if you have conditions like arthritis or fibromyalgia, a sudden rise in environmental heat could exponentially increase pain.
Luckily, a daily morning yoga routine could help deal with chronic pain symptoms in summer!
Read More: 3 Minute Beginner Morning Yoga Routine
A systematic review on the benefits of morning yoga for low back pain conducted in 2022 concluded that yoga is good for relieving chronic pain, disability issues, and improved body functionality. 
Light morning yoga sequence could help you survive the summers with optimal health when applied as a complementary intervention. In addition, it may ease distress caused by swelling and reduce tenderness of arthritic joints.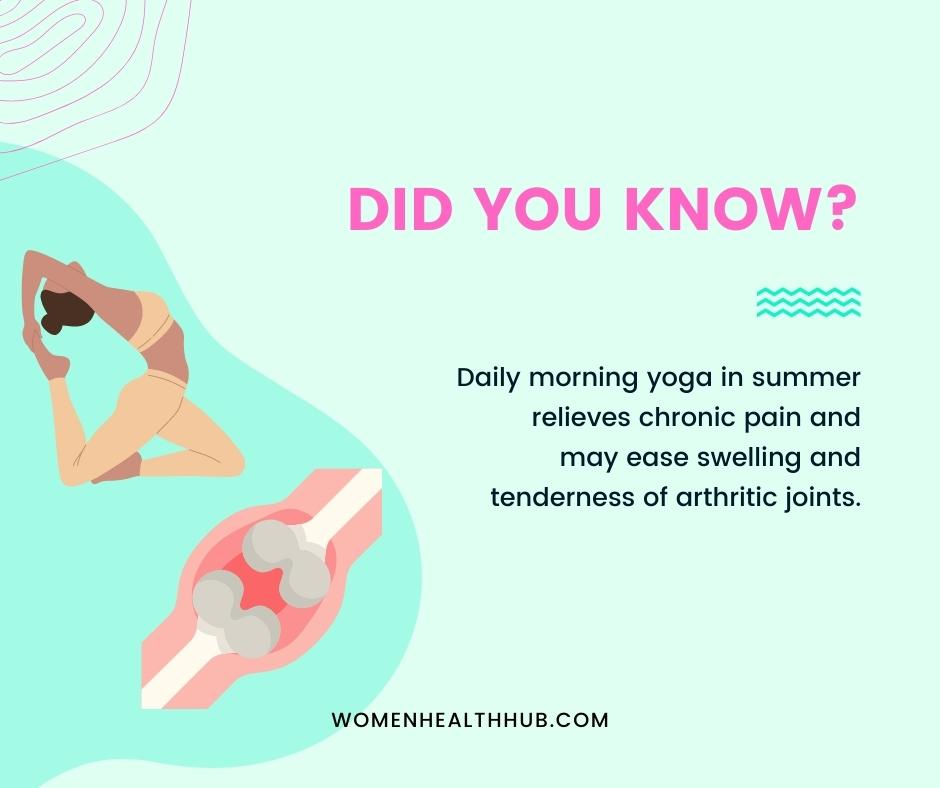 5. Keeps the heart healthy
Summers can also wreak havoc on your heart health. Elevation in temperature is mainly associated with a higher heart rate, increased risk of heat stroke, and more chances of experiencing heart attack symptoms. 
Research also shows that your heart works a whole lot faster in heated temperatures as compared to normal. You may even experience shortness of breath if the weather is too hot.
Luckily, the benefits of morning yoga can boost heart performance in summer too. It may lower your blood pressure, reduce heart rate, and even balance your cholesterol levels.
6. Regularizes periods
Ever experienced irregular or heavy periods during hot summers? You're not alone!
Seasonal changes and hot temperatures can affect menstruation. If your body is exposed to sunlight or high temperatures for a long time, you may miss some periods and have an irregular cycle.
In other women, heavy bleeding is also possible during the summer season. This is because warm temperatures trigger the excess release of follicle-stimulating hormone (FSH), which is responsible for ovulation. Hence, you may either have heavy bleeding or frequent periods within a month.
But don't worry!
A daily yoga routine at the start of the day can help tackle these reproductive problems. Various poses can induce periods or make your periods regular. The benefits of morning yoga also extend to easing menstrual cramps. Since yoga calms the mind and relieves stress, it may directly regularize your cycle. 
Read More: 8 Tips for Feminine Hygiene in Summer
7. Boosts sex drive
In summer, you might also notice reduced sex drive. According to an article published in the Evening Standard, your body releases serotonin in sunlight. On the one hand, serotonin makes you happy and boosts various functions, but on the other, excess serotonin can lower your sex drive.
Additionally, your body also produces excess melatonin on sunny days. Melatonin is also known to reduce libido.
Fortunately, one of the most notable benefits of morning yoga is that it helps increase your libido and improves sexual health. Harvard Health states daily yoga may increase sensuality, promote arousal and flexibility in sex positions, and even help you enjoy orgasmic intercourse. 
8. Removes bodily toxins and enhances the glow
Many women experience severe skin problems such as breakouts, rashes, and redness in hot weather. In addition, when mixed with sweat, you may get clogged pores.
You may not know this, but another benefit of morning yoga is a body free of toxins along with beautiful skin. The entire practice of yoga is actually detoxifying. The breathing and various poses promote the release of toxins from the body through sweat production.
Plus, the movements put pressure on the tummy, which aids in better digestion and emptying bowels of the toxins.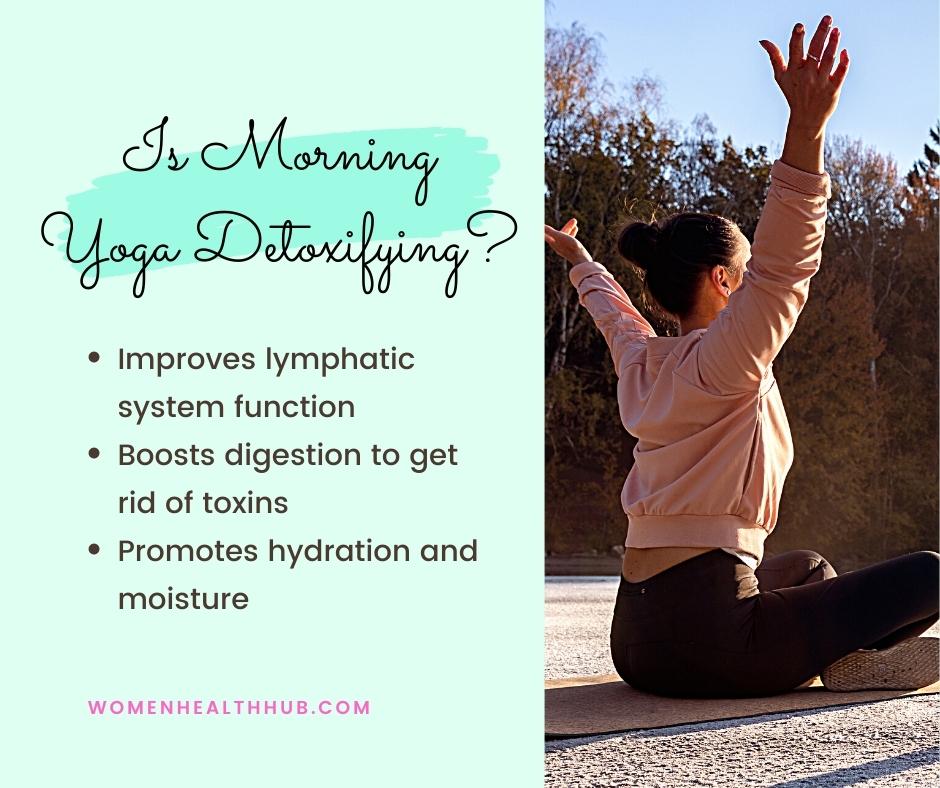 In addition, some morning yoga sequences primarily target the lymphatic system. Lymph nodes are the main regions that temporarily store the toxic stuff and get rid of them through sweat, urine, etc.
Doing facial yoga can show remarkable results for summer skin. It may reduce swelling, promote hydration and moisture, boost collagen development, and allow the lymph system to release toxic build-up from the body, eventually bringing radiance to your skin. 
Read More: 8 Best Beginner Yoga for Back Pain Poses
9. Reduces intense headaches
High levels of temperatures can cause frequent headaches during summers. A 2021 study published in the World Journal of Psychiatry stated that practicing daily yoga might help with frequent headaches, particularly during summers.
The study showed a reduction in:
Frequency
Pain level
Headache severity
Vascular resistance, as may be found in headaches and migraines, can reduce oxygen availability to the brain. But the various mind-body techniques offer incredible benefits in morning yoga for boosting oxygen levels and blood circulation to vital organs. As a result, you may notice considerably less frequent or intense headaches in hot weather.
Ideal Beginner Morning Yoga Poses in Summer
Here are some of the best yoga poses you can practice in summer to gain the benefits of morning yoga:
Back bend: With your arms extended upward and back arched, reach up while taking a deep breath in and exhale and fold in the forward position.
Downward dog: After your back is nicely stretched, take a step back and fold into a downward dog by bending one knee after the other. This pose significantly stretches the legs and helps wake them up!
Twisted lunge: Continue detoxing your body by stepping one leg forward and twisting on the same side, stretching your arm toward the sky. 
Forward fold pose: After twisting and stretching, sit back on your yoga mat and do a forward fold. It stretches and relaxes your entire body while leaving you completely refreshed towards the end.
Now that you know the incredible benefits of morning yoga in summers, it's time to begin a daily yoga routine. It will help you become mentally focused, physically stronger, and emotionally happier – ready to fight the heat and survive the hot season in the best way!
References:
https://www.allergicliving.com/experts/controlling-eczema-flare-ups-in-the-summer/
https://www.cdc.gov/nchs/data/databriefs/db325-h.pdf 
https://www.reuters.com/article/us-yoga-benefits-idUSSAT87408420071231
https://pubmed.ncbi.nlm.nih.gov/29037637/ 
https://www.yogajournal.com/practice/yoga-sequences/12-poses-for-staying-cool/